Posted by Lindsey Scoggins Studio on Jun 8th 2021
CUSTOM DESIGN STORY: A DIAMOND LOCKET

BY LINDSEY SCOGGINS STUDIO

THE STORY OF A CUSTOM PAVE DIAMOND LOCKET THAT HOLDS LOVED ONES AND MEMORIES CLOSE


Could there be a more perfect Mother's Day gift than a diamond locket? Our client thought so too. The initial design for this special piece included a full side of pave diamonds and a plain side that could be engraved or worn on the reverse side for a more modest look. The locket opens up to hold photos and memories close to heart. This is definitely not a traditional locket that you might find in a vintage store or in your grandmother's jewelry box. Read the full custom design story behind this special piece below.
This piece was originally listed on our site as a necklace available for commission, so we didn't have too many adjustments to make to the original concept. We had been dreaming of bringing this piece to life for a while, so it was fun to watch that happen. We have to say that the outcome was even more beautiful than we expected.
The final locket is an absolutely beautiful heirloom that is sure to hold our client's dearest memories and loved ones close to her heart for a lifetime and beyond. In a beautiful shade of 18 karat rose gold that highlights the 95 pave diamonds on its face, this locket sparkles brilliantly and catches the light from every angle. Before shipping it off to its forever home, we loved pairing it with our hand-dyed silk ribbon but it also looks beautiful on any one of our signature styles of chains. We love it on our classic Goddess chain or one of our new Capsule chains. We hope this locket will be worn as a reminder of how special and loved the wearer is each and every day.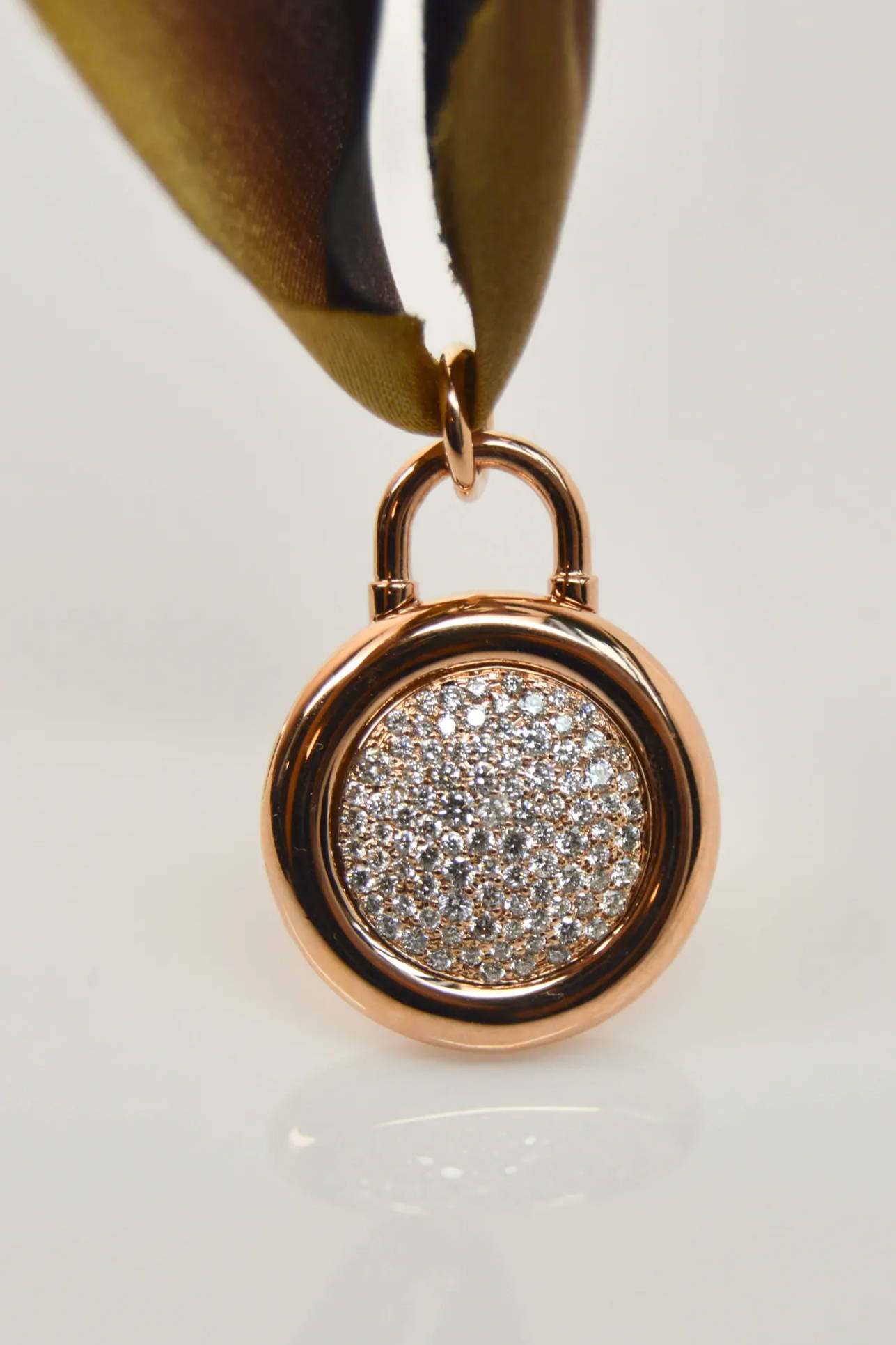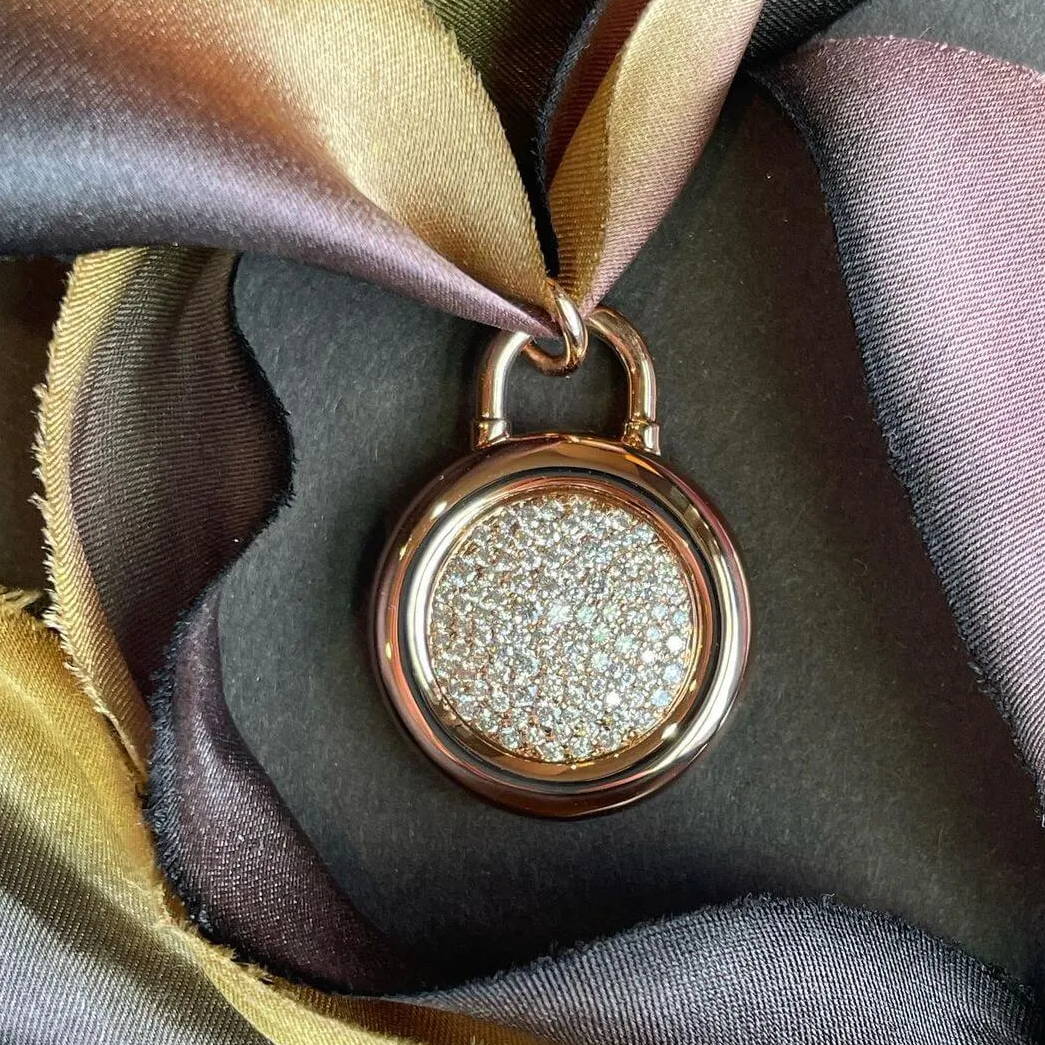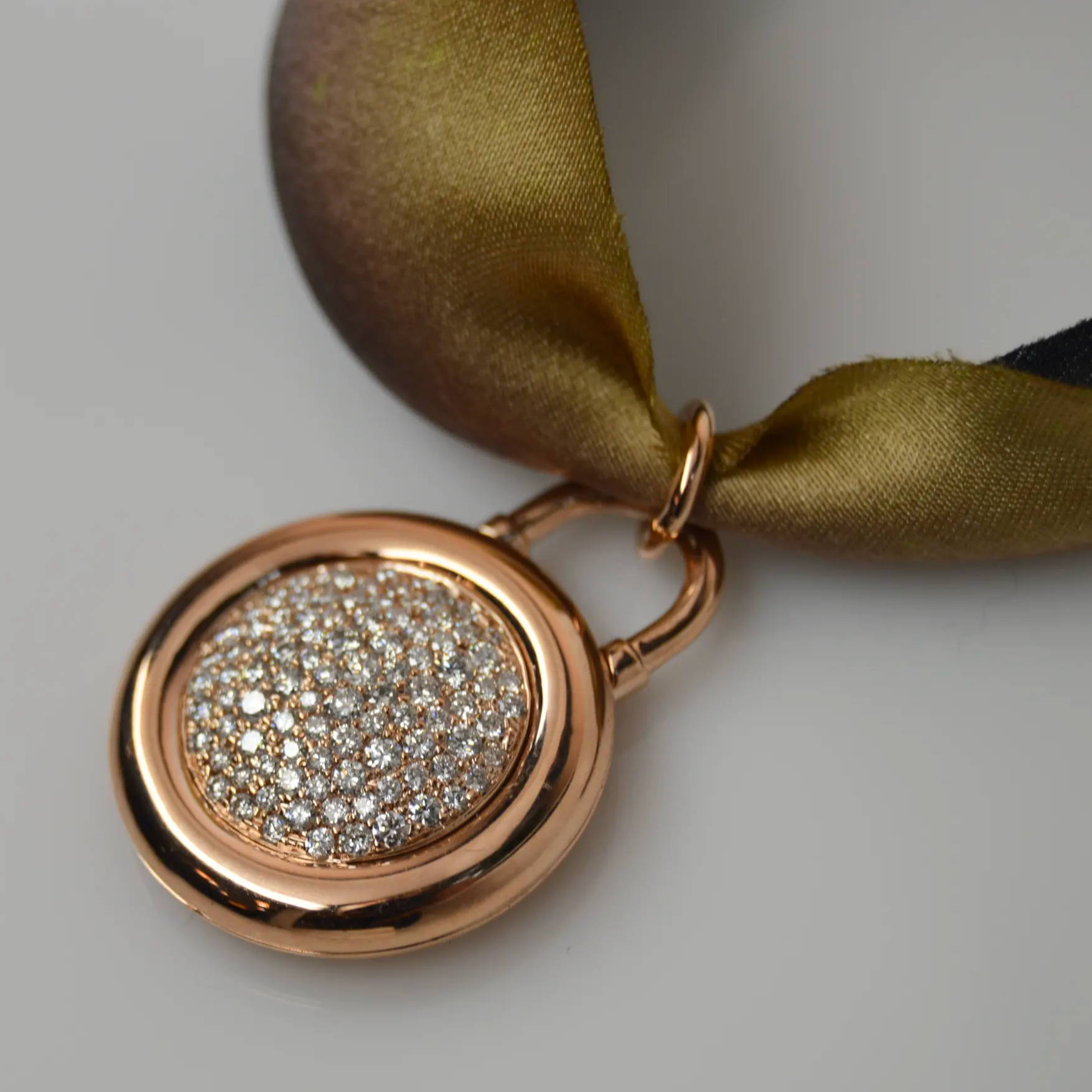 The locket looks even more beautiful in person. We love how these diamonds sparkle and capture the light— no filter required.
Contact us to inquire about commissioning a unique version of this pave diamond locket for yourself or for someone special. While we think rose gold and diamonds are the perfect combination, we'd also love to design this piece with multicolored sapphires, rhodium and varying sizes of diamonds, or incorporating inherited stones as part of a reset design.
DISCOVER MORE PENDANTS AND NECKLACES AVAILABLE FOR COMMISSION

All of these pendant designs can be made in any unique gemstone or diamond and metal color of your choice. Each design can also be customized or engraved to the exact specifications that you are looking for— add pave, enamel, or unique details to make each piece your own. All of our jewelry is made just for you, so it will be perfectly sized and tailored to you. We are happy to accommodate special requests if you are looking for something specific. Discover more below.
Contact us to commission a unique one of a kind piece of your own, or for more information on any of the jewelry shown here.