Posted by Lindsey Scoggins Studio on Mar 25th 2021
CUSTOM DESIGN STORY: A POWERFUL PINKY RING

BY LINDSEY SCOGGINS STUDIO

THE STORY OF A CUSTOM PINKY RING THAT REPRESENTS BEING BOLD, AND IS A REMINDER OF THE GENIUS AND POWER WITHIN

Lindsay's custom pinky ring is so much more than just a beautiful design. After receiving her ring, she shared her story with us and told us about what her new ring represents to her. Read the story of Lindsay's reset custom Oath pinky ring below...
"The morning you texted me the mock-up of the custom Oath pinky ring was only hours after an especially hurtful break up, and the idea of doing something for myself, and making an oath to myself was especially prescient.
One of my favorite quotes is: "Whatever you can do or dream you can, begin it; boldness has genius, power and magic in it."
-Johann Wolfgang von Goethe
I find that oftentimes I hesitate following through on big ideas or things I want to do in my life, and I constantly remind myself to be bold; push through the doubts and what ifs and just DO.
The ridges of this custom pinky ring remind me to: BE BOLD and of the GENIUS and POWER that are within me. It's even more special that a diamond my parents gave me when I was young is included in the ring, and is a reminder of their unconditional love, support and encouragement that have made me who I am today.
I have never worn a pinky ring, so I'm constantly aware of its presence on my finger, which then constantly reminds me to honor these commitments to myself. So, it makes me happy to rub my thumb against the backside of the ring, and repeat my oath to myself: boldness, genius and power, and that they are within me at every moment."
-Lindsay Fitz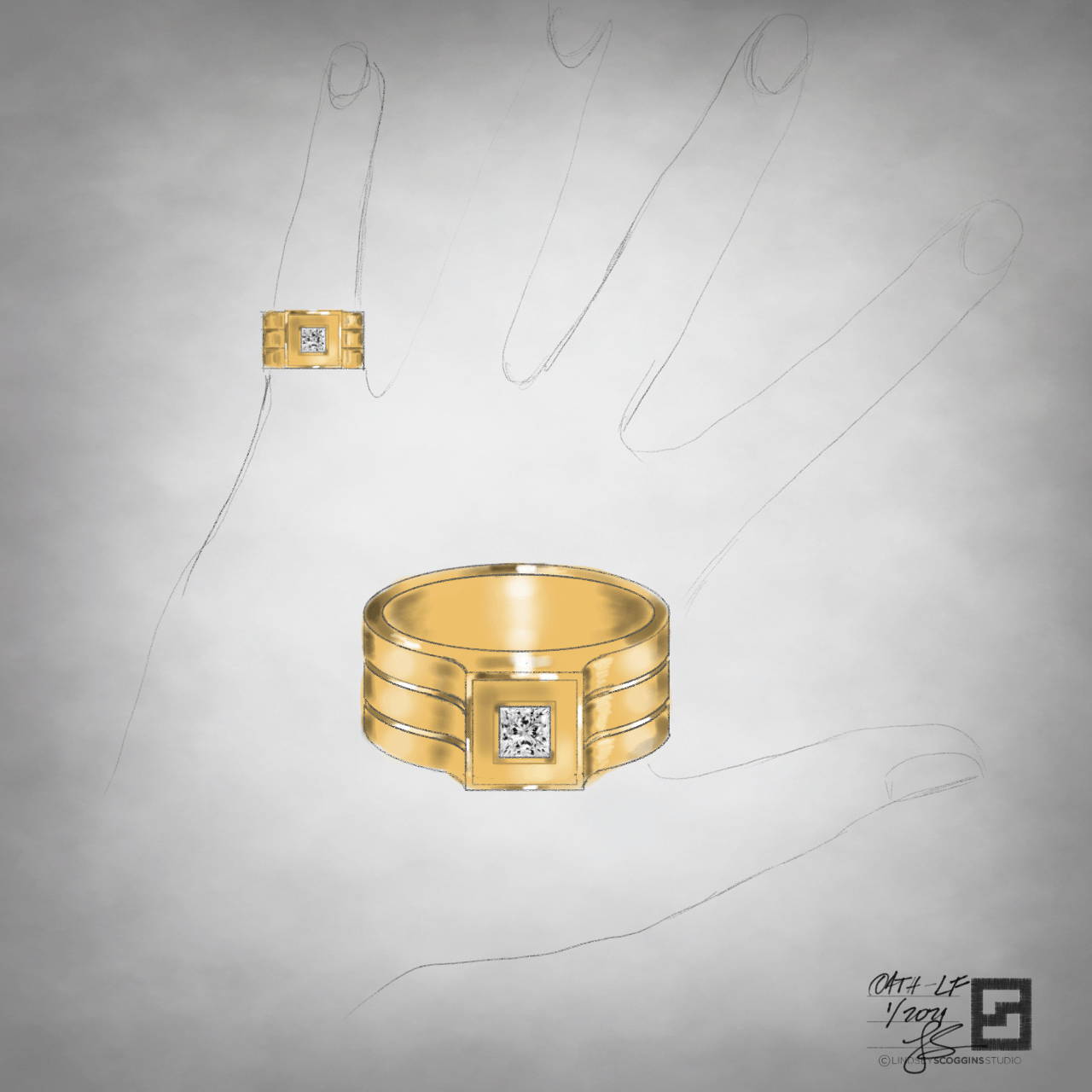 The design of Lindsay's custom pinky ring
A close-up of this custom pinky ring
DISCOVER MORE CUSTOM PINKY RINGS AND JEWELRY FROM OUR OATH COLLECTION

Contact us to commission one of our custom pinky rings, an heirloom revival of your own, or for more information on any of the jewelry shown here.