Posted by Lindsey Scoggins Studio on Aug 2nd 2021
CUSTOM DESIGN STORY: A SIGNATURE ENGAGEMENT RING

BY LINDSEY SCOGGINS STUDIO

THE STORY OF A SIGNATURE ENGAGEMENT RING STUDIO DESIGN BROUGHT TO LIFE


The story of this absolutely stunning emerald cut halo engagement ring starts in our favorite place, the Engagement Ring Studio. Our client had been exploring engagement ring options and had an idea of what type of ring he was looking for. He knew that his soon to be fiancee wanted an emerald cut diamond and he liked the idea of something that was a little more traditional and with a halo. He used the Engagement Ring Studio to design a few options and to explore setting and band possibilities. Read the full custom design story behind this emerald cut halo engagement ring below.
After designing a few different options in the Engagement Ring Studio, our client reached out to Lindsey and they had a more in depth conversation about the band style and metal color. After deciding on the design, an emerald cut diamond with a wrapped halo and a single row Three Phases band in 18 karat yellow gold, we discussed diamond options. We went back and forth for two or three days and after a more in depth conversation about a few diamond options, our client decided on a 3.01 carat emerald cut diamond with H coloring and VVS1 clarity. One of the deciding factors on this nearly perfect diamond was the length to width ratio. A halo tends to make diamonds look more square so the proportions of this specific diamond make the emerald cut more pronounced.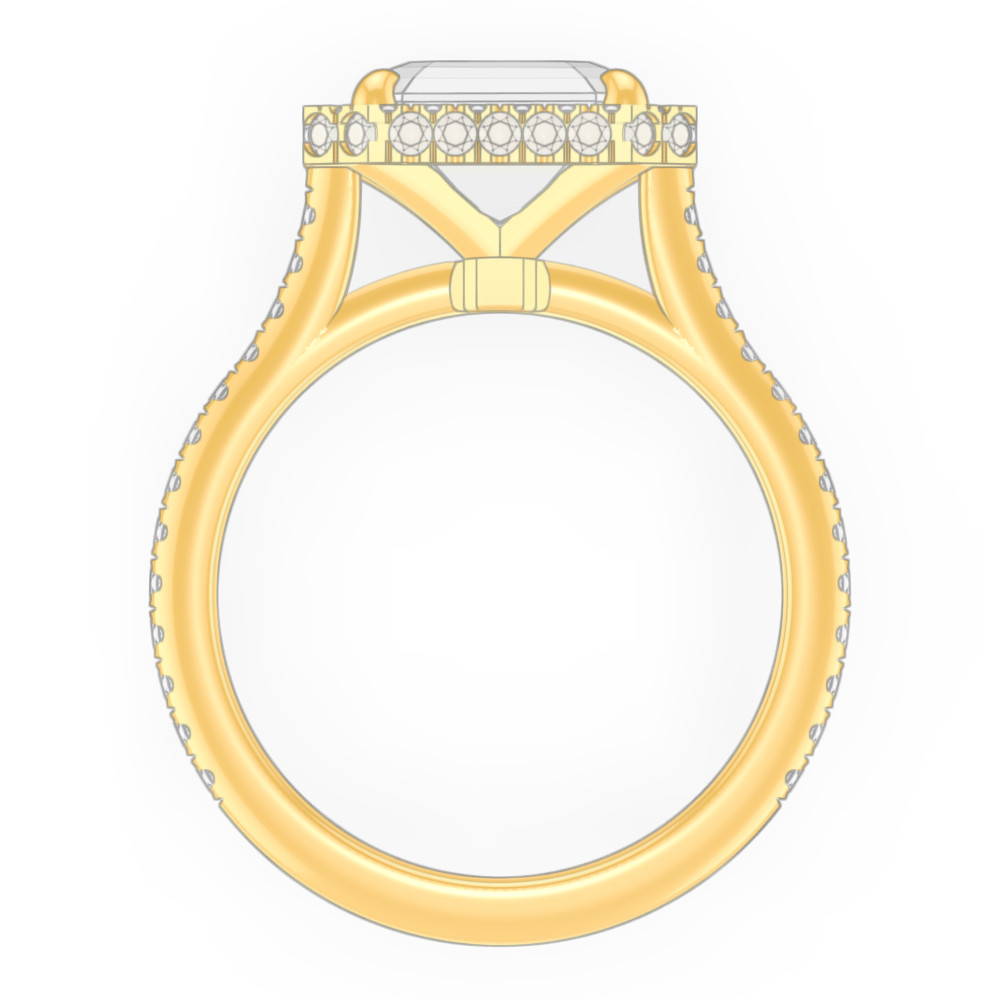 The front view of the design for this emerald cut halo engagement ring.
The top view for the emerald cut halo engagement ring design.
This specific diamond was not listed on our website's inventory list. There were very similar options but after going over what our client was looking for we sourced one that was more specific to his specifications. Our diamond list is set up to give you transparency into what stones we feel comfortable selling but we really appreciate the personal conversations that we can have when it comes to the actual decision making process to make sure clients feel even more confident about their purchase. We can always source any specific diamond or gemstone that you are looking for even if it is not listed in our Engagement Ring Studio.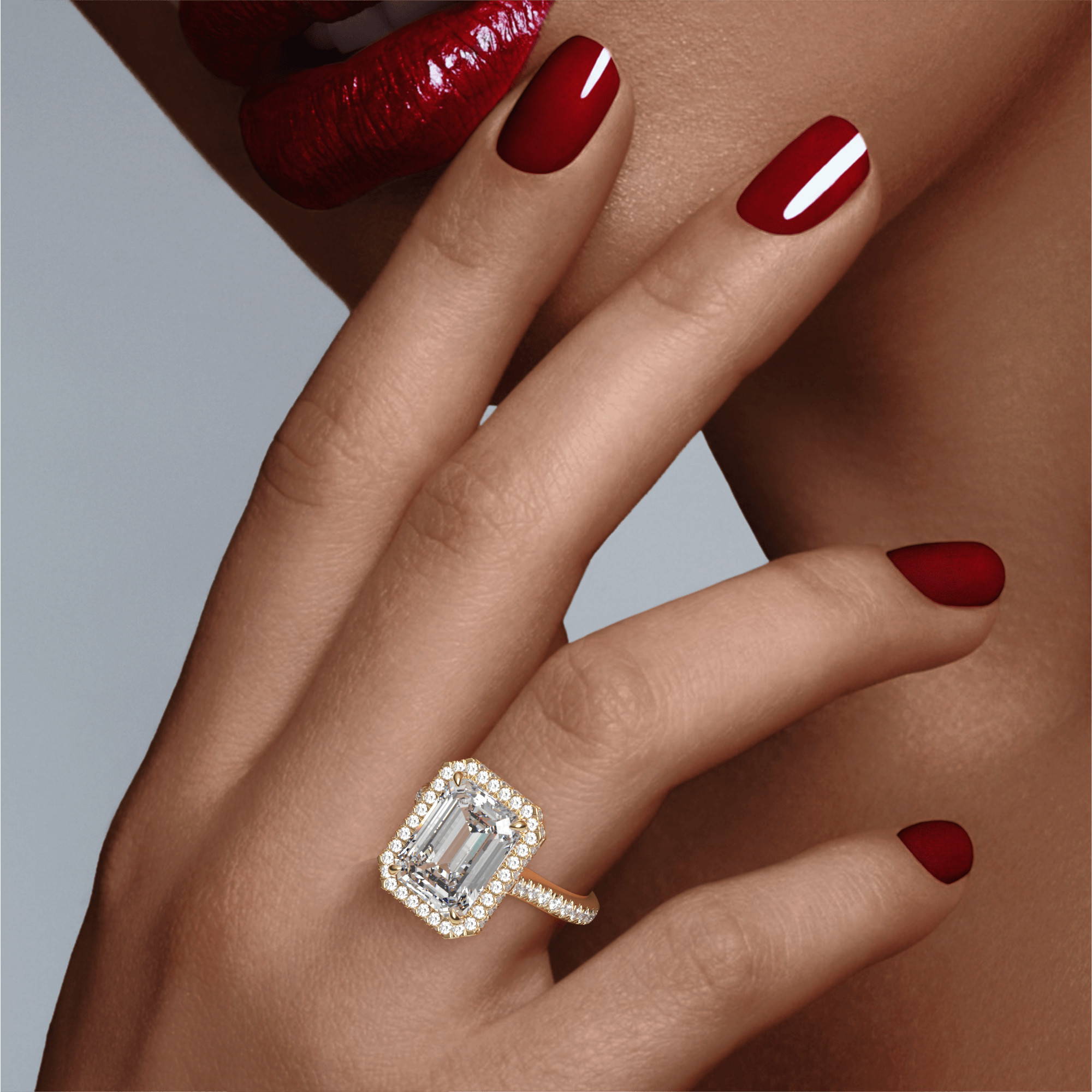 The studio also lets you see what your ring would look like on your hand and in different skin tones.
This isn't the exact diamond that our client chose but this is an example of one that was listed on our diamond feed. You can see videos, diamond stats and the GIA report all in one place.
Once all of the design and diamond decisions were made, this ring was brought to life in about three weeks. We love that the ring is clearly a show stopping piece but is also a timeless design. This emerald cut halo engagement ring is even more stunning in person and is a beautiful testament to the love between an even more beautiful relationship.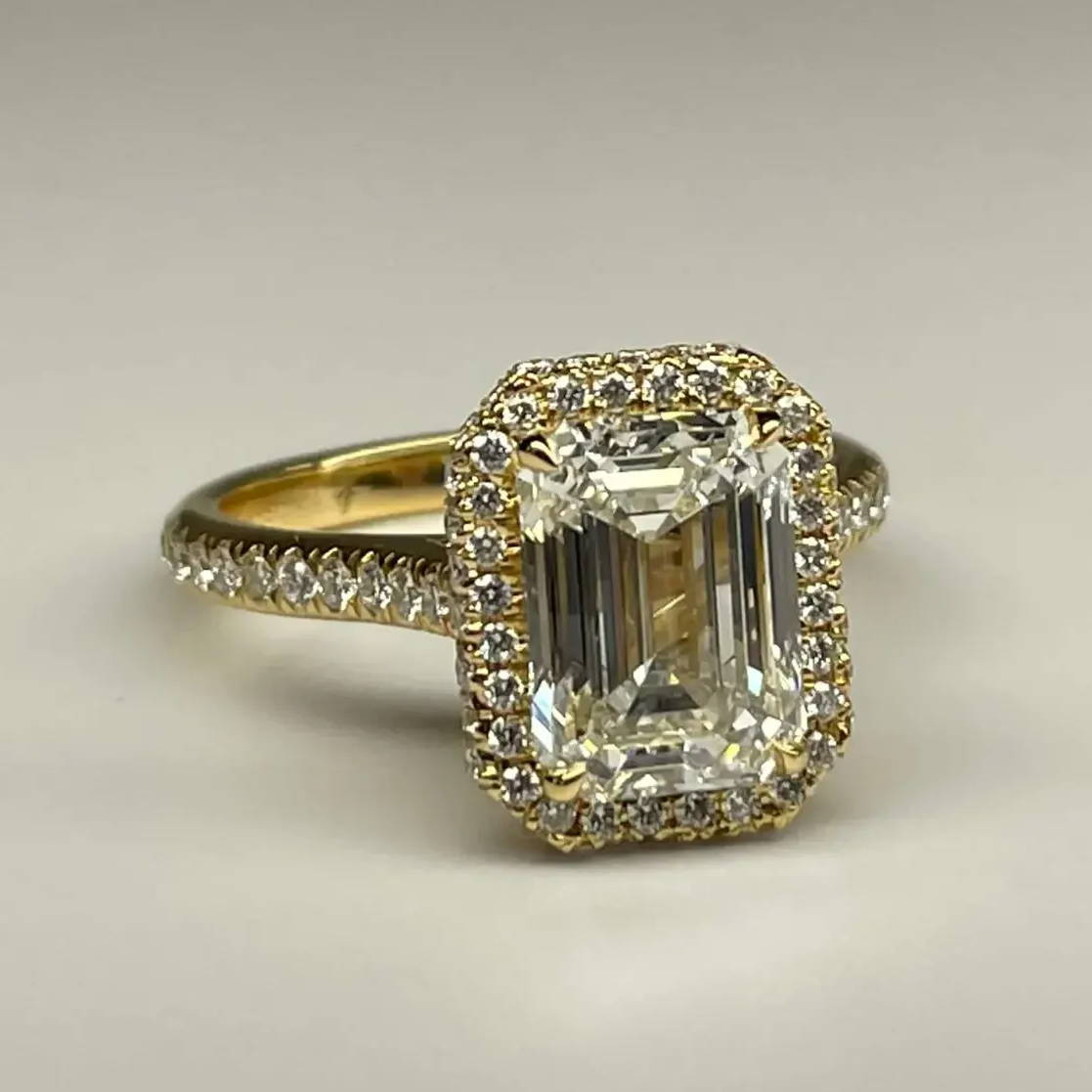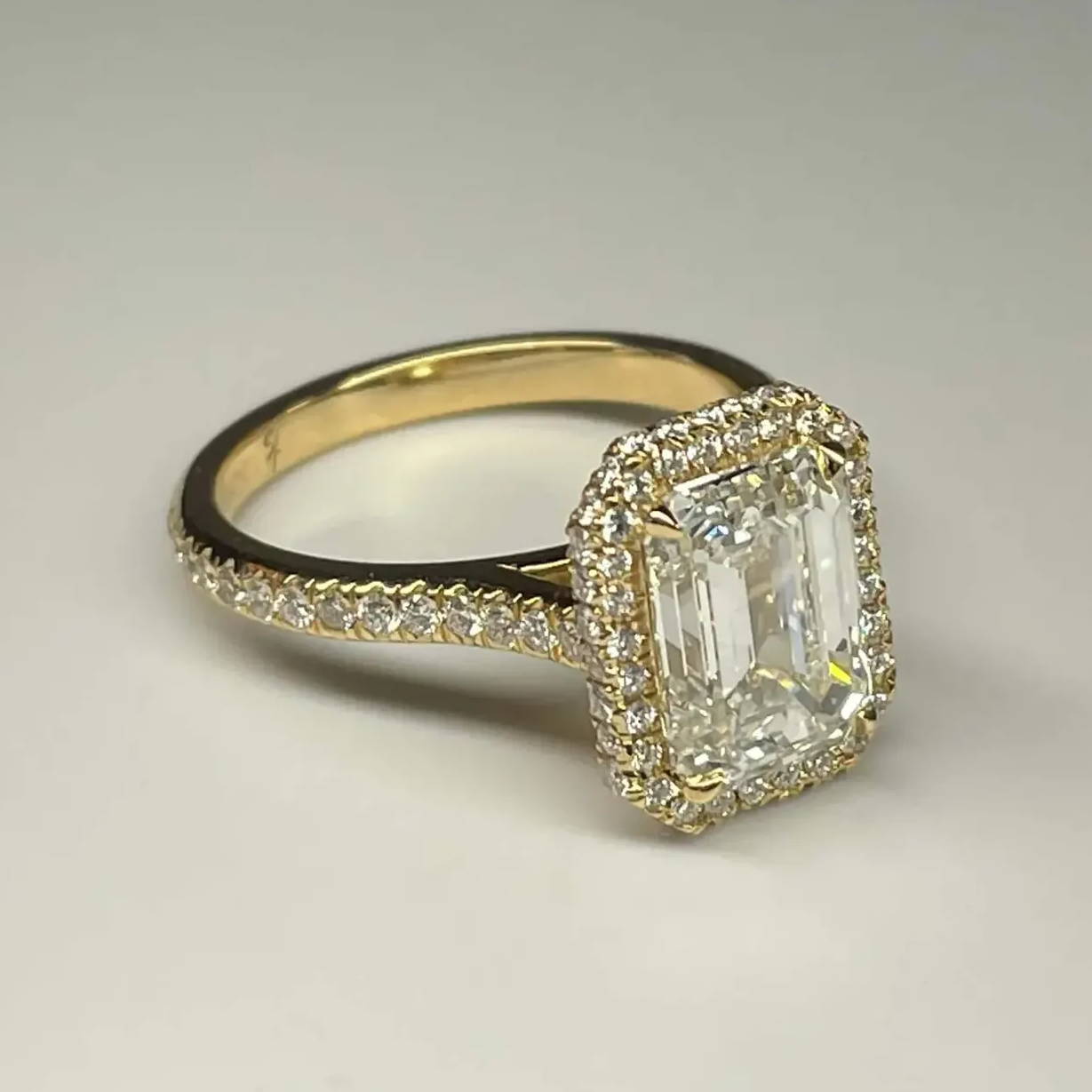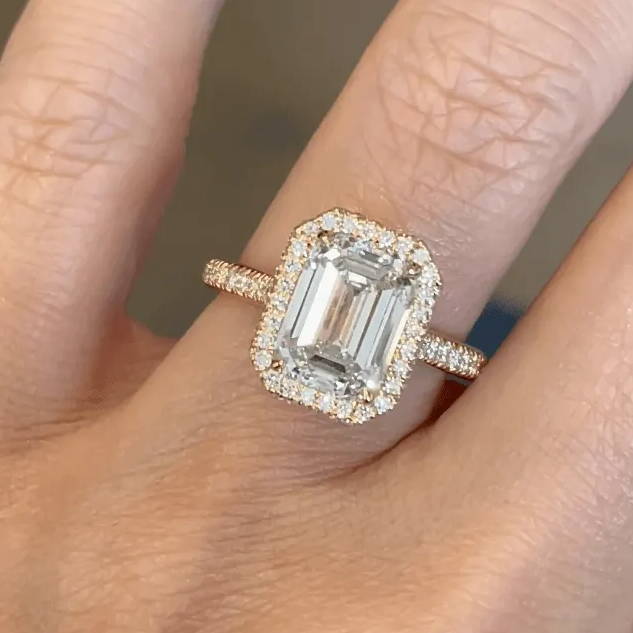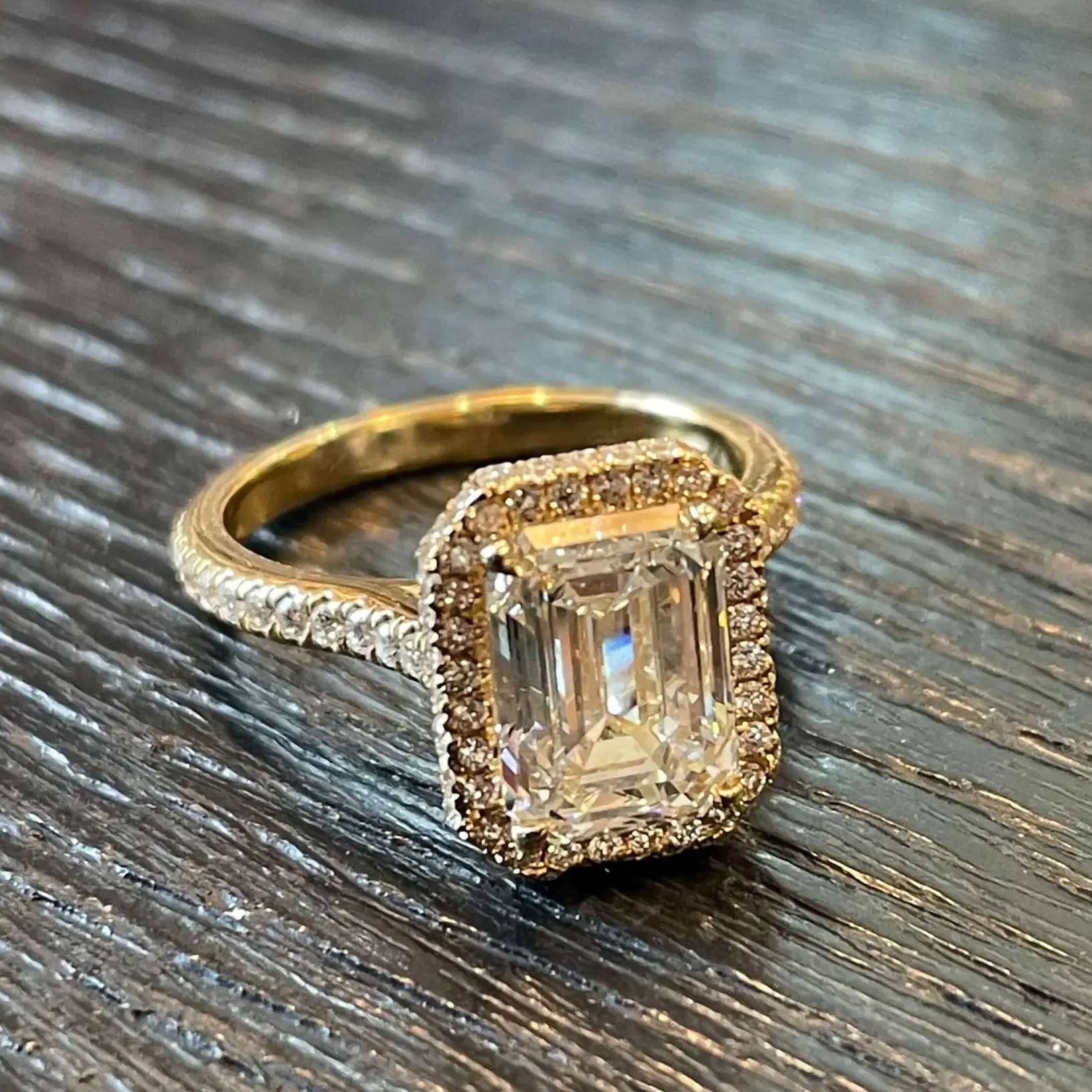 DISCOVER MORE EMERALD CUT HALO DIAMOND ENGAGEMENT RINGS AVAILABLE FOR COMMISSION FROM THE ENGAGEMENT RING STUDIO

Contact us to commission an emerald cut halo engagement ring of your own, or for more information on any of the engagement rings available for commission.