Posted by Meredith Jayme on Feb 17th 2022
CUSTOM DESIGN STORY: A VINTAGE INSPIRED OVAL HALO ENGAGEMENT RING

THE STORY OF A VINTAGE INSPIRED OVAL HALO ENGAGEMENT RING (MY OWN!)


This custom design story just so happens to be my own! While I'm usually the one writing about client's custom design stories, I thought it would be nice to share my personal experience of bringing my dream engagement ring to life so you can hear firsthand what the custom design process is like from start to finish.
Because I work in the jewelry industry and for a jewelry designer (the amazing Lindsey Scoggins!) I had a pretty specific vision in mind for my ring. My now fiance knew that I would want to be involved in the process so we met with Lindsey together and talked about what I wanted- an oval center stone with a large halo that had a bit of a vintage feel. I have two unique vintage rings with halos that I collected while traveling over the years and have loved wearing so I wanted something with a similar look. The footprint of the ring was also important to me. I think that I have large fingers and joke that there is a lot of surface area to cover so I wanted something with a substantial presence on my hand. We talked about Galaxy halo rings that Lindsey had designed in the past. These were made using colored asscher cut and round stones so they had a bit more of a cocktail ring look but were the perfect reference for the halo setting with larger diamonds combined with delicate pave accent diamonds in between.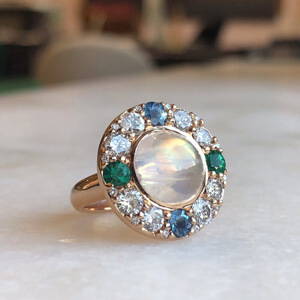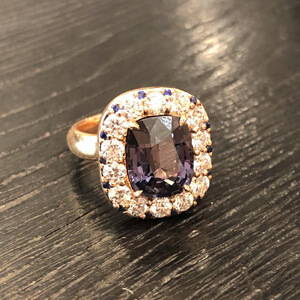 The first galaxy halo rings featuring a round moonstone and cushion cut spinel.
Once we had decided on the concept for the ring Lindsey sourced diamonds for us to choose from working within our budget and priorities. My now fiance, Dave, just wanted me to be happy (throughout this entire process) so he made sure that I was involved in choosing the diamond and the final design. The perfect diamond stood out to us right away but I had a bit of trouble deciding on the metal color. I usually wear yellow gold jewelry but envisioned this ring in platinum. Lindsey guided me while I debated the metal color over the course of a few days. I ultimately chose platinum which was how Lindsey and I both originally envisioned the ring. Lindsey wanted to add a split shank and pave diamonds around the band to add even more sparkle. The perfect addition to the ring that I wouldn't have imagined on my own.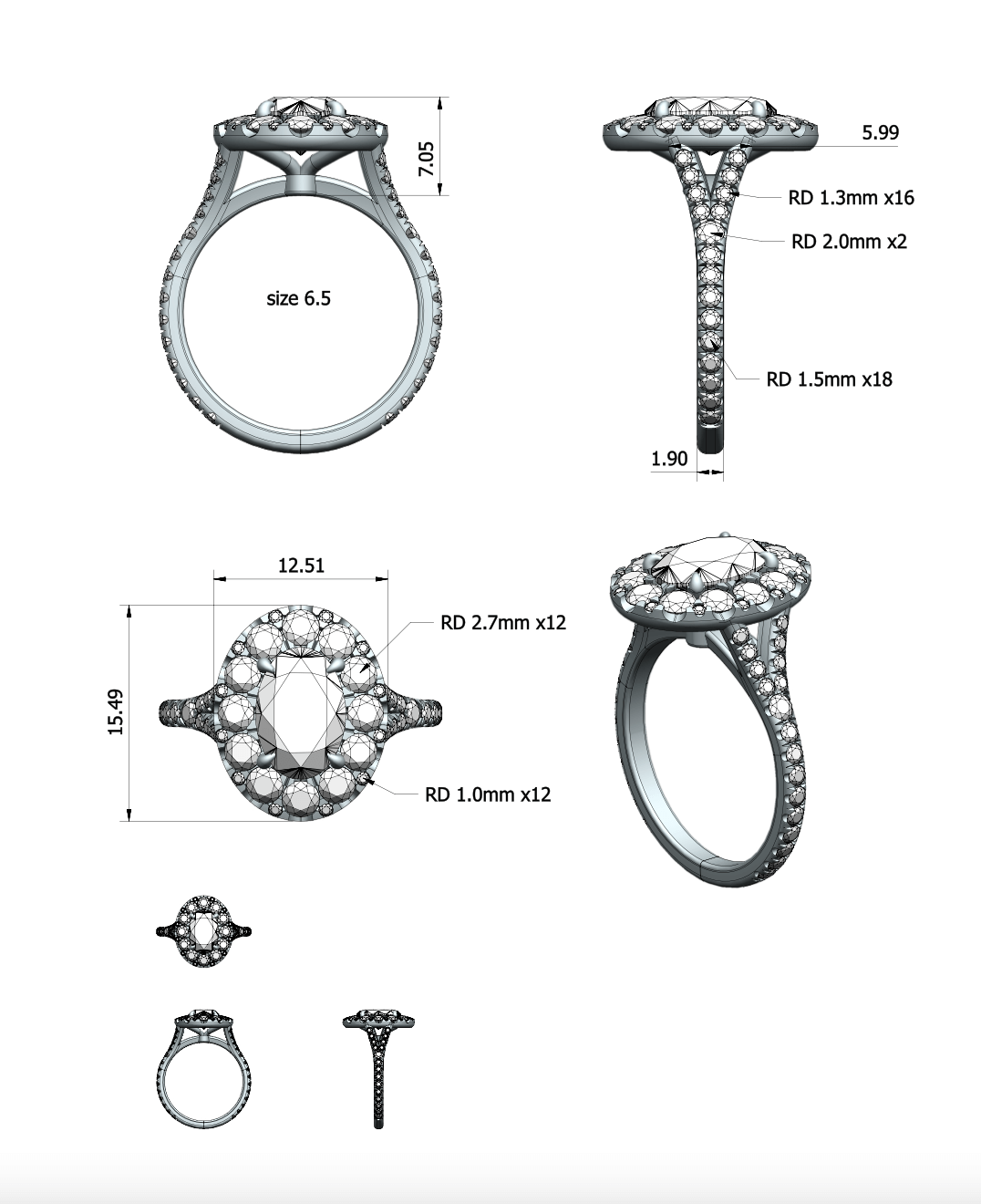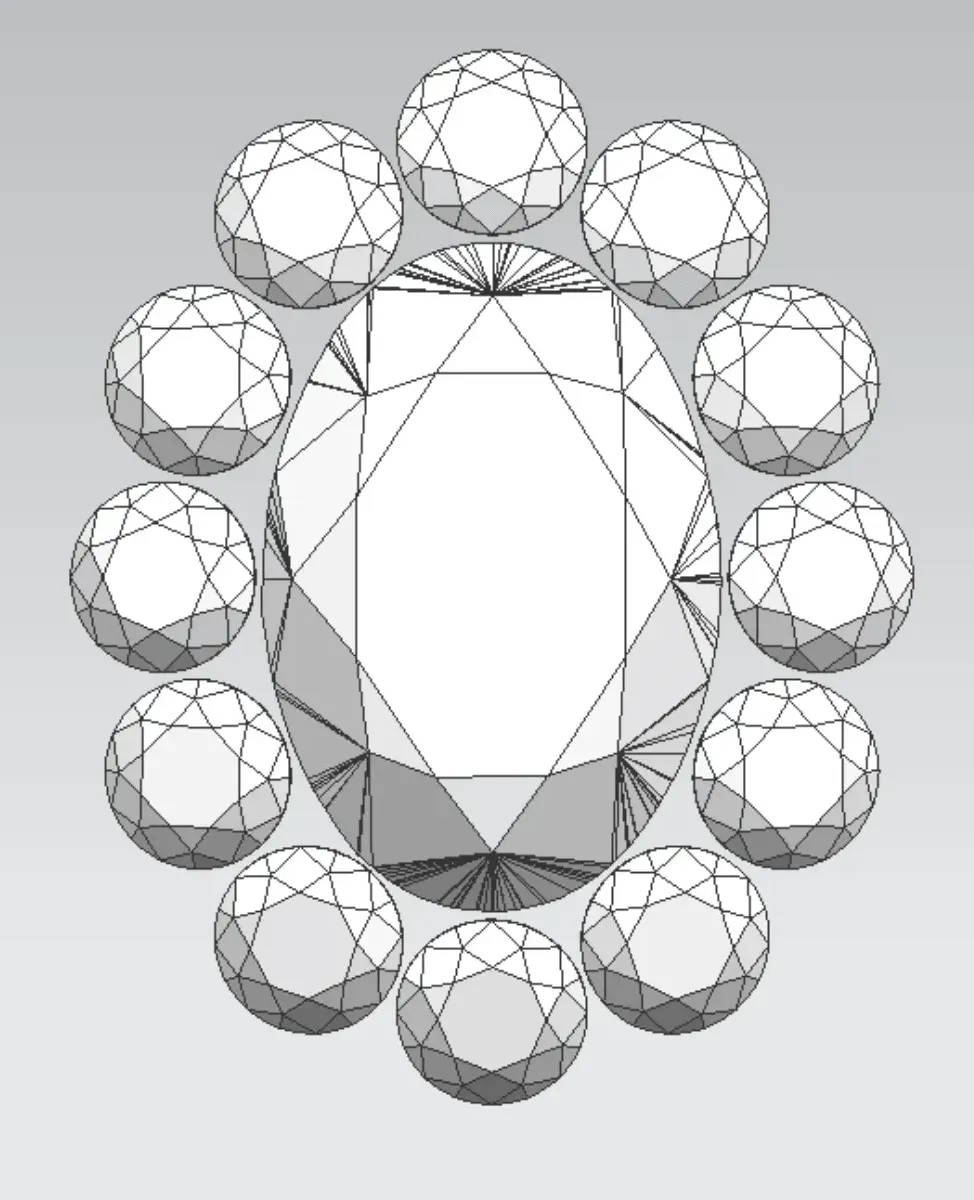 Final oval halo engagement ring CAD and diamond layouts.
Once the design was finalized I did not see the ring in casting, production or any of the final stages. Once complete it stayed hidden away in the safe until Dave picked it up a few days before our Valentine's Day weekend getaway - the tried and true Valentine's Day proposal- cliche, we know! The entire process took about six weeks from start to finish although I had a bit of a head start because I've been dreaming of this ring for just a bit now.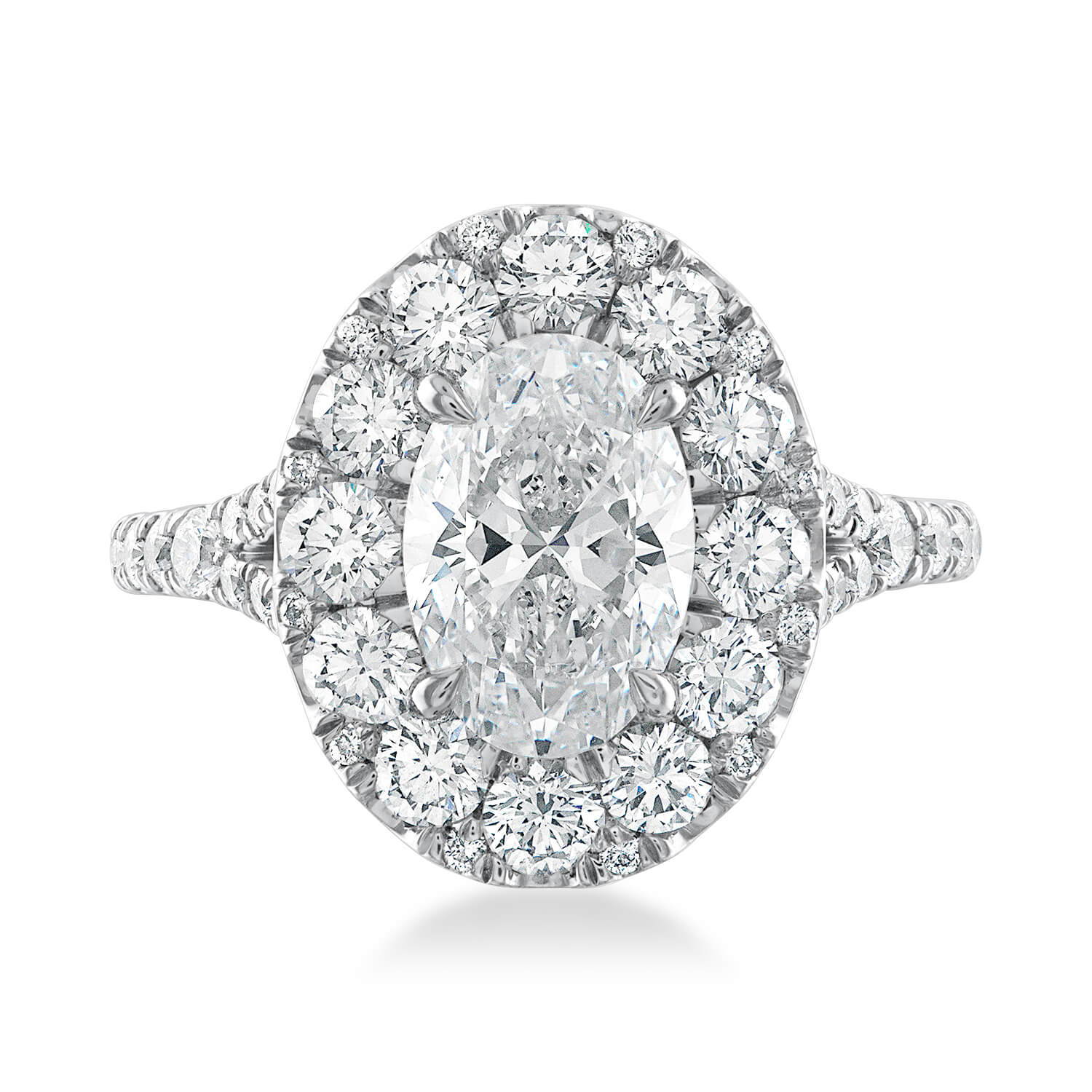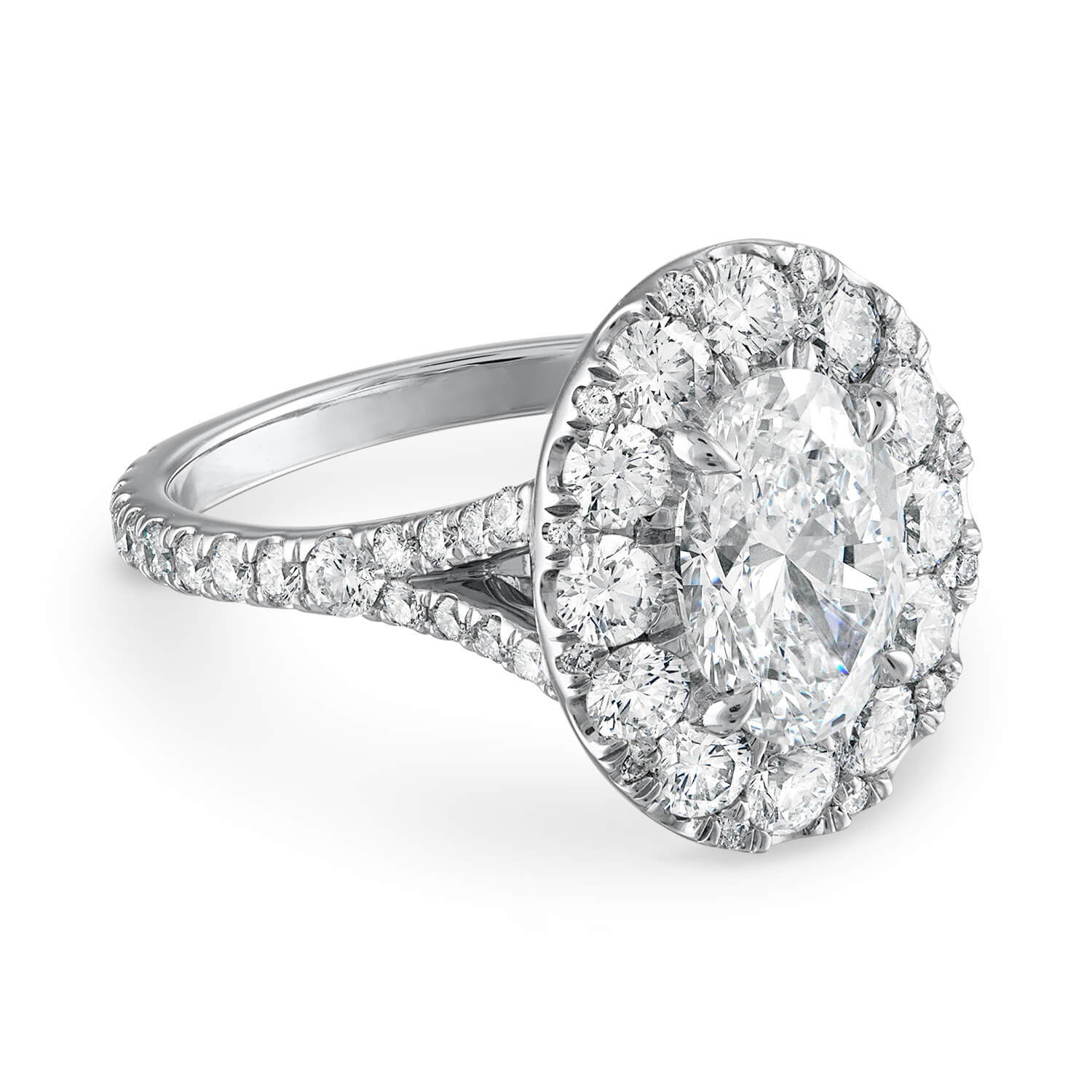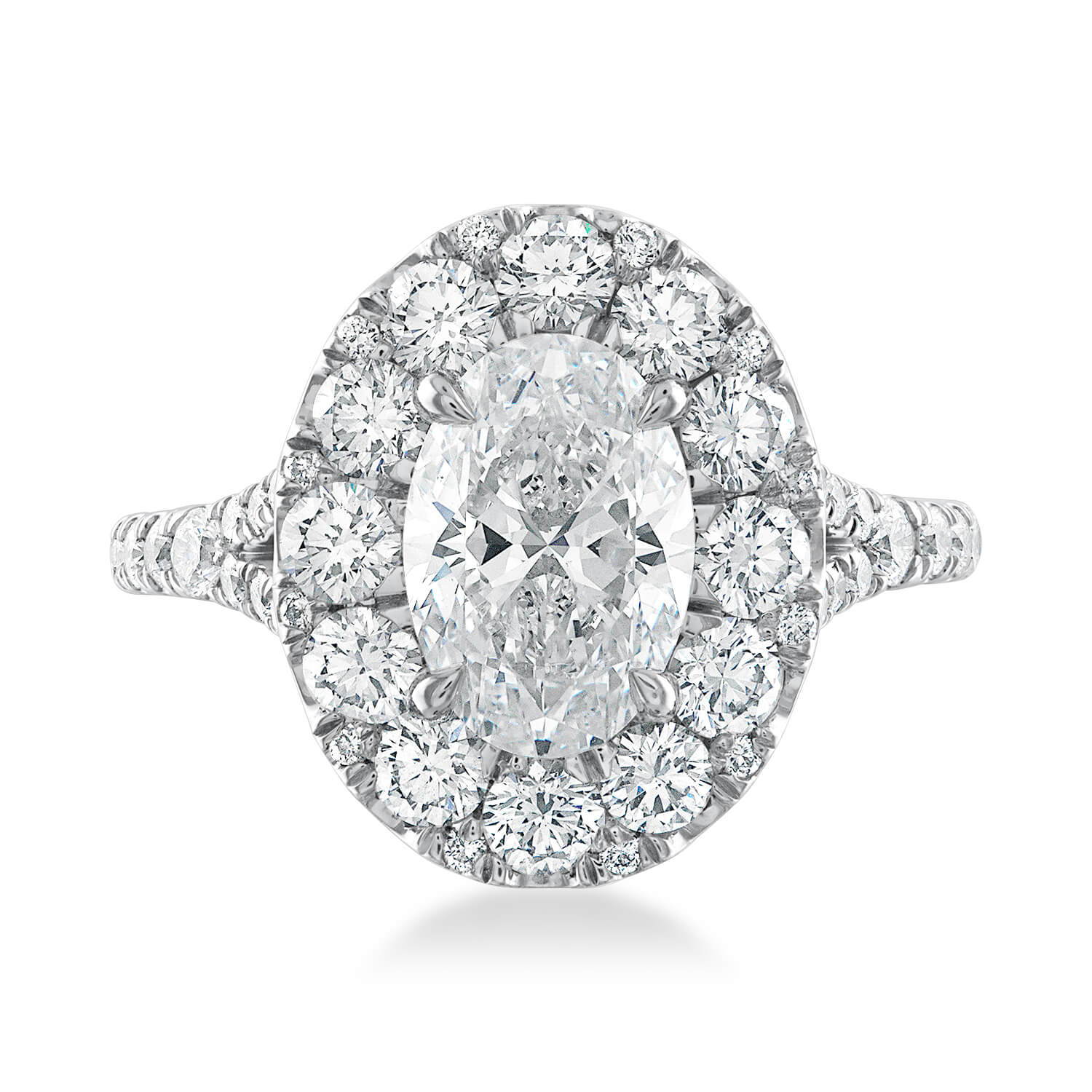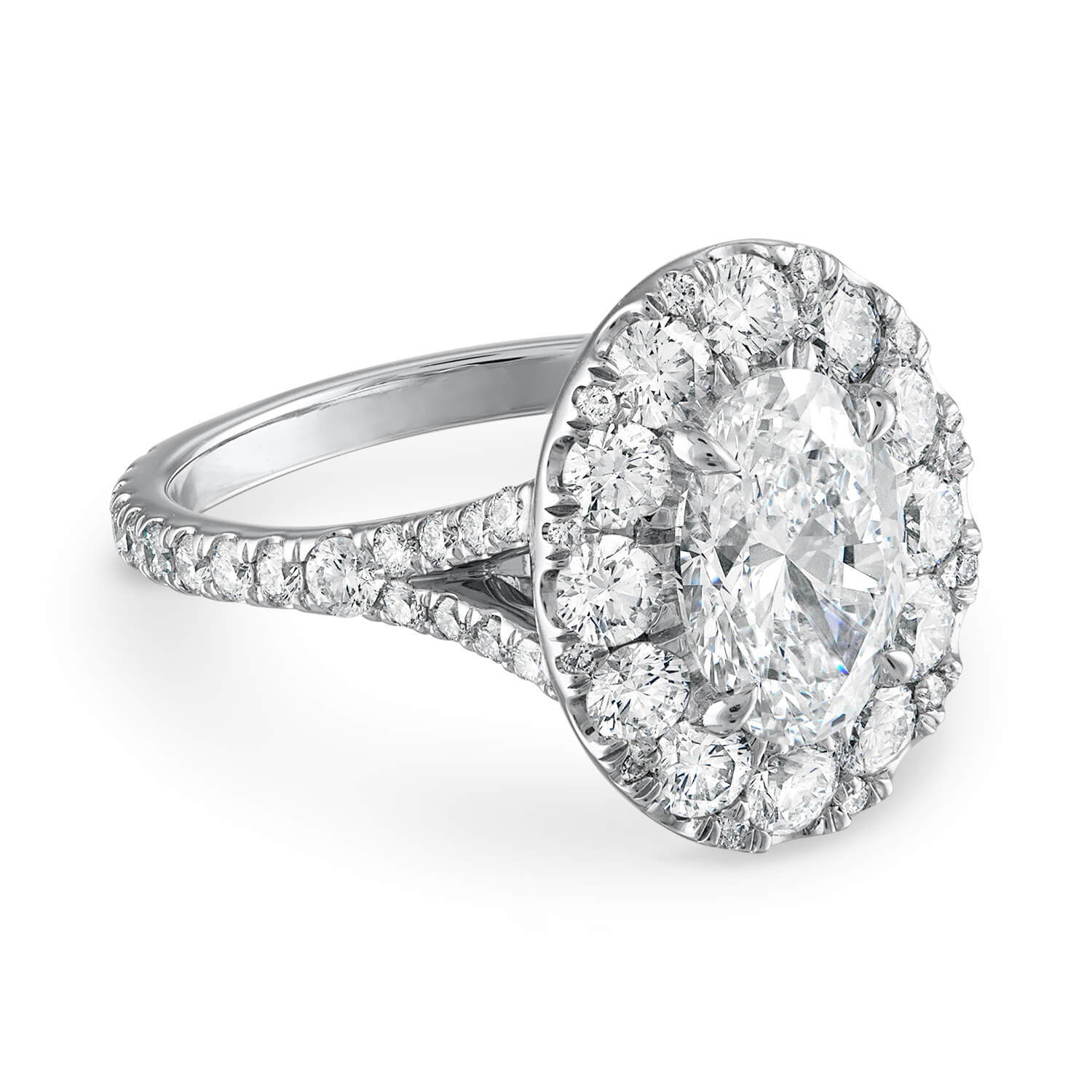 Although I knew what the design would look like in sketch form it was still a totally different and completely magical experience seeing the ring for the first time when Dave proposed in Paris. It was somehow even more beautiful than I had envisioned. In my mind the split shank detailing abstractly resembles the Eiffel Tower which will constantly remind me of my dream proposal. I also love thinking of the galaxy setting concept as a reminder of the magic and beauty of the universe. This vintage inspired oval halo engagement ring is truly my dream ring and beyond x 100000 and I am so grateful that Lindsey brought it to life for us.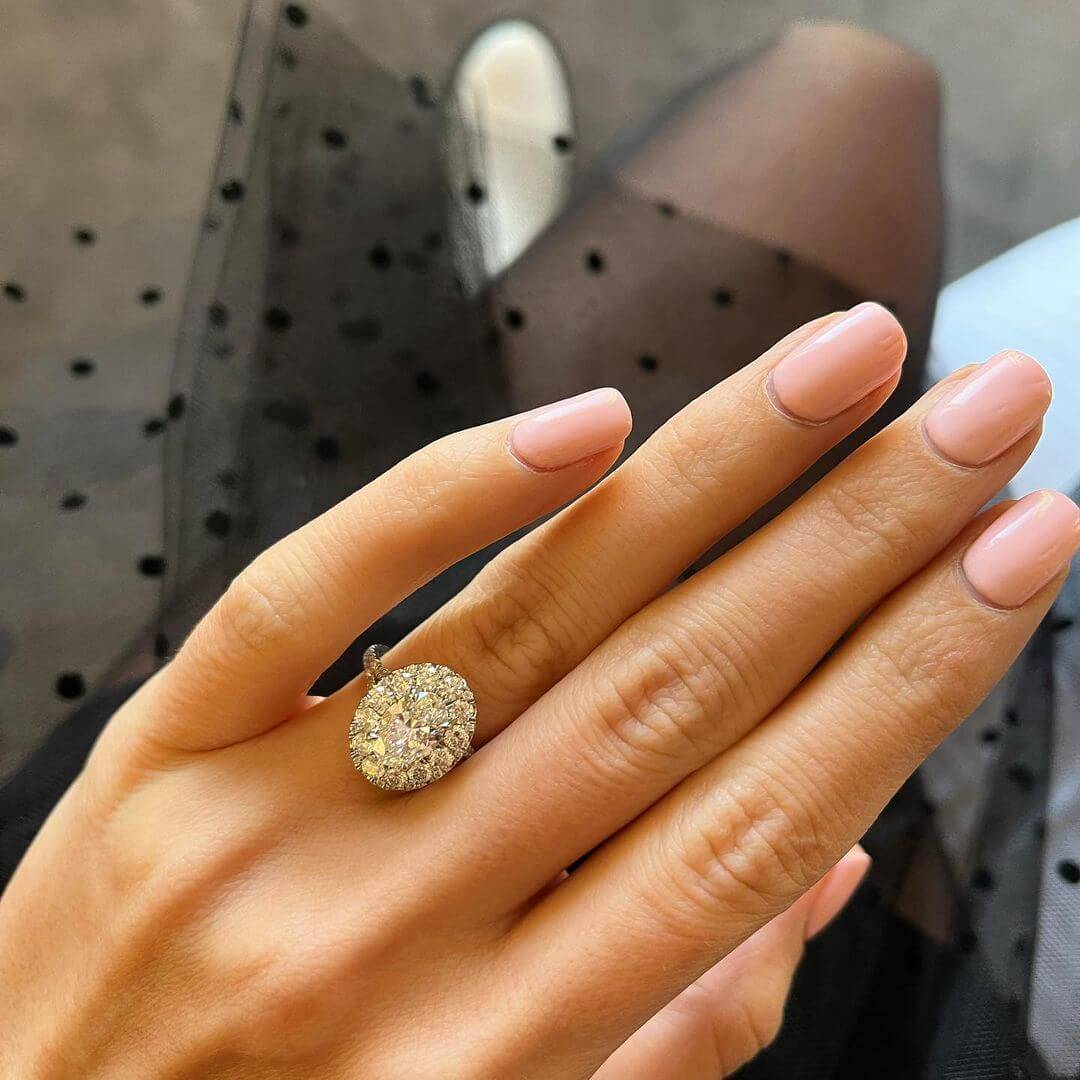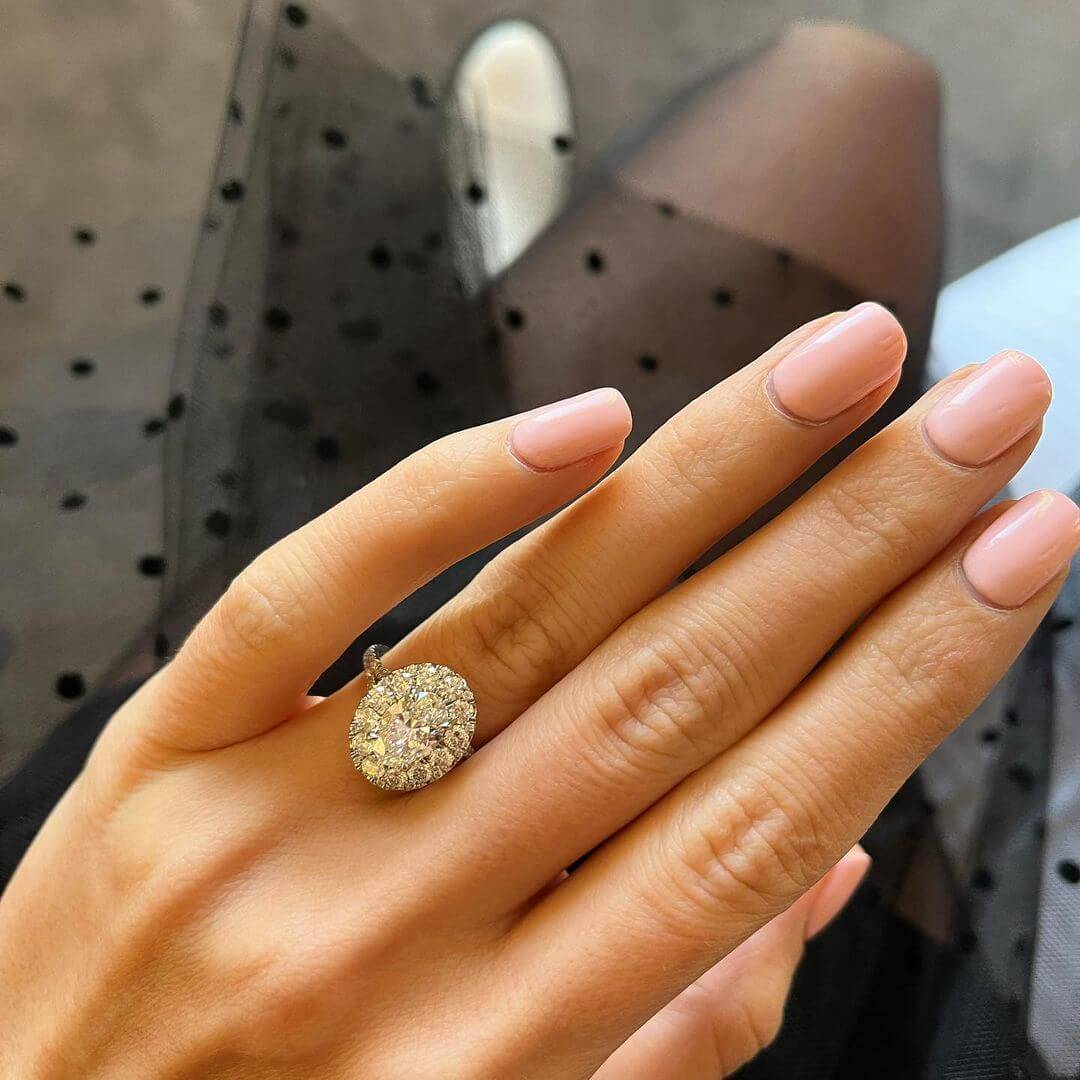 DISCOVER MORE ENGAGEMENT RINGS FOR COMMISSION

While it's still traditional to be surprised with a ring, I loved being involved in the process. I think the one who is wearing the ring should make sure they know and love what they are getting - especially with an investment piece like an engagement ring. Love is an understatement for how I feel about my ring and I want everyone else to feel this way too. Feel free to send your future fiance's our way and we'll be more than happy to help guide them in the right direction if they need a nudge or do what we did and make an appointment to come in together.
Contact us to commission a custom designed vintage inspired oval halo engagement ring, one of a kind ring or any custom jewelry of your own.