Posted by Lindsey Scoggins Studio on Oct 4th 2021
CUSTOM DESIGN STORY: EMERALD CUT DIAMOND TENNIS NECKLACE

BY LINDSEY SCOGGINS STUDIO

THE STORY OF OUR LATEST NECKLACE OBSESSION


We designed this emerald cut diamond tennis necklace for our client who was looking for a diamond necklace that she could wear everyday and dress up or dress down depending on the occasion. We showed her our multicolored sapphire necklace that we designed a few years ago as a starting point. The way the pieces are assembled make it less formal than a regular tennis necklace. The design also accentuates the diamonds really nicely with the setting style that positions the metal under the gemstones and creates a frame to hold each piece together. This necklace is definitely not your average tennis necklace. Read the full custom design story behind this absolutely stunning emerald cut diamond tennis necklace below.
THE INITIAL DESIGN OPTIONS

These are the original designs that we shared with our client showing a close up of the necklace as well as an estimate of what it would look like on her neck.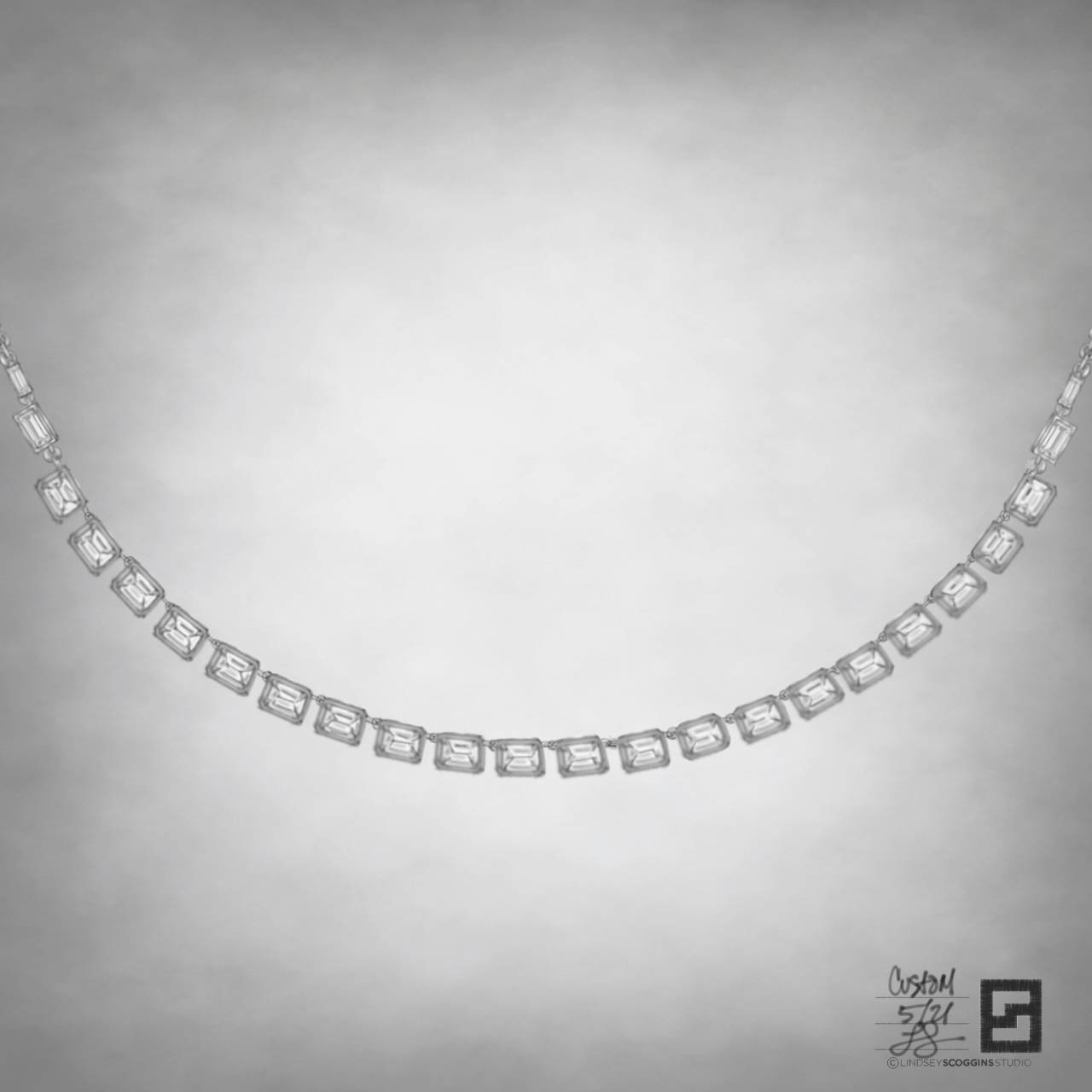 The initial design of this emerald cut diamond tennis necklace.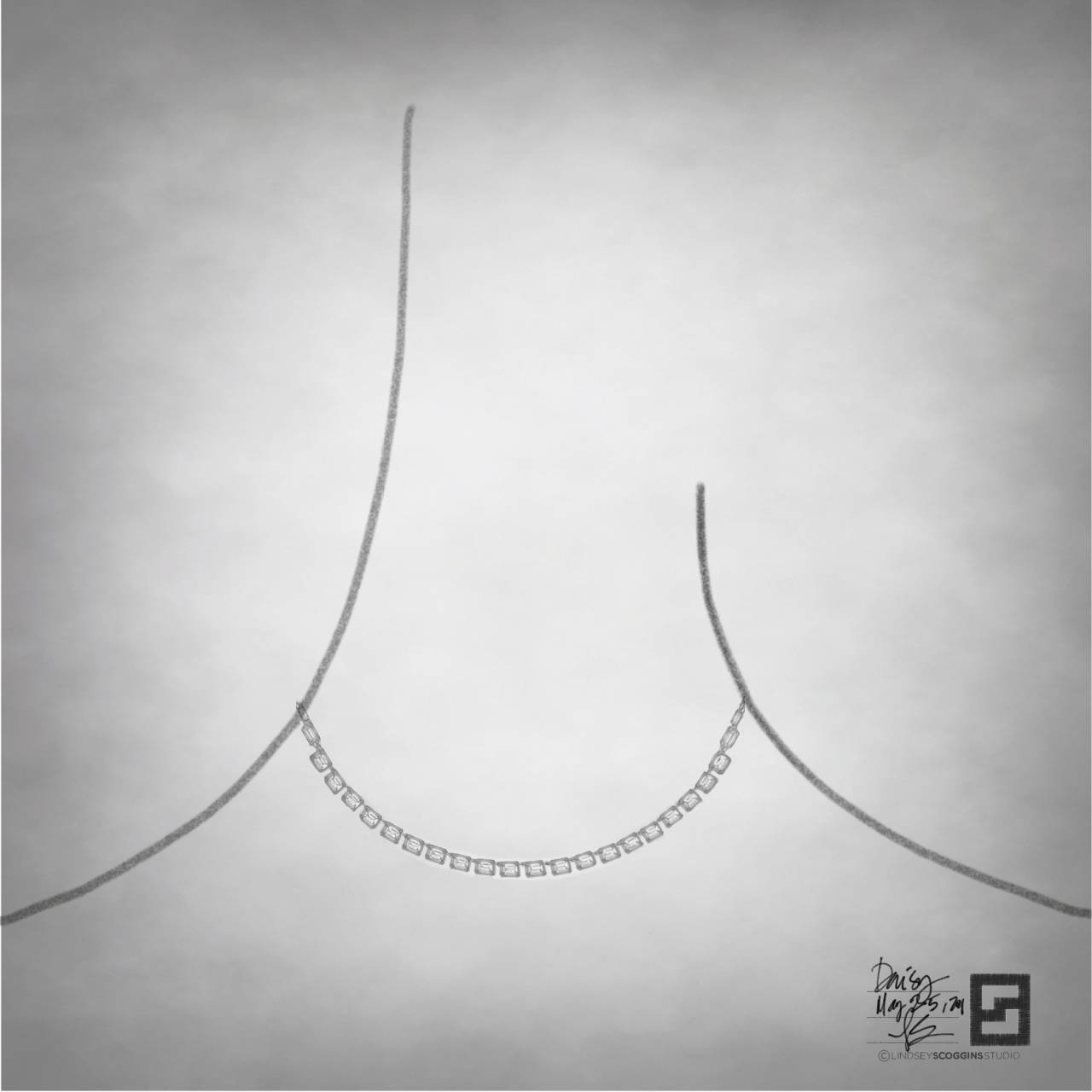 This is the original design showing the necklace when worn.
It all starts with the diamonds. Here are the first selections of emerald cut diamonds that we chose to use in Daisy's emerald cut diamond tennis necklace.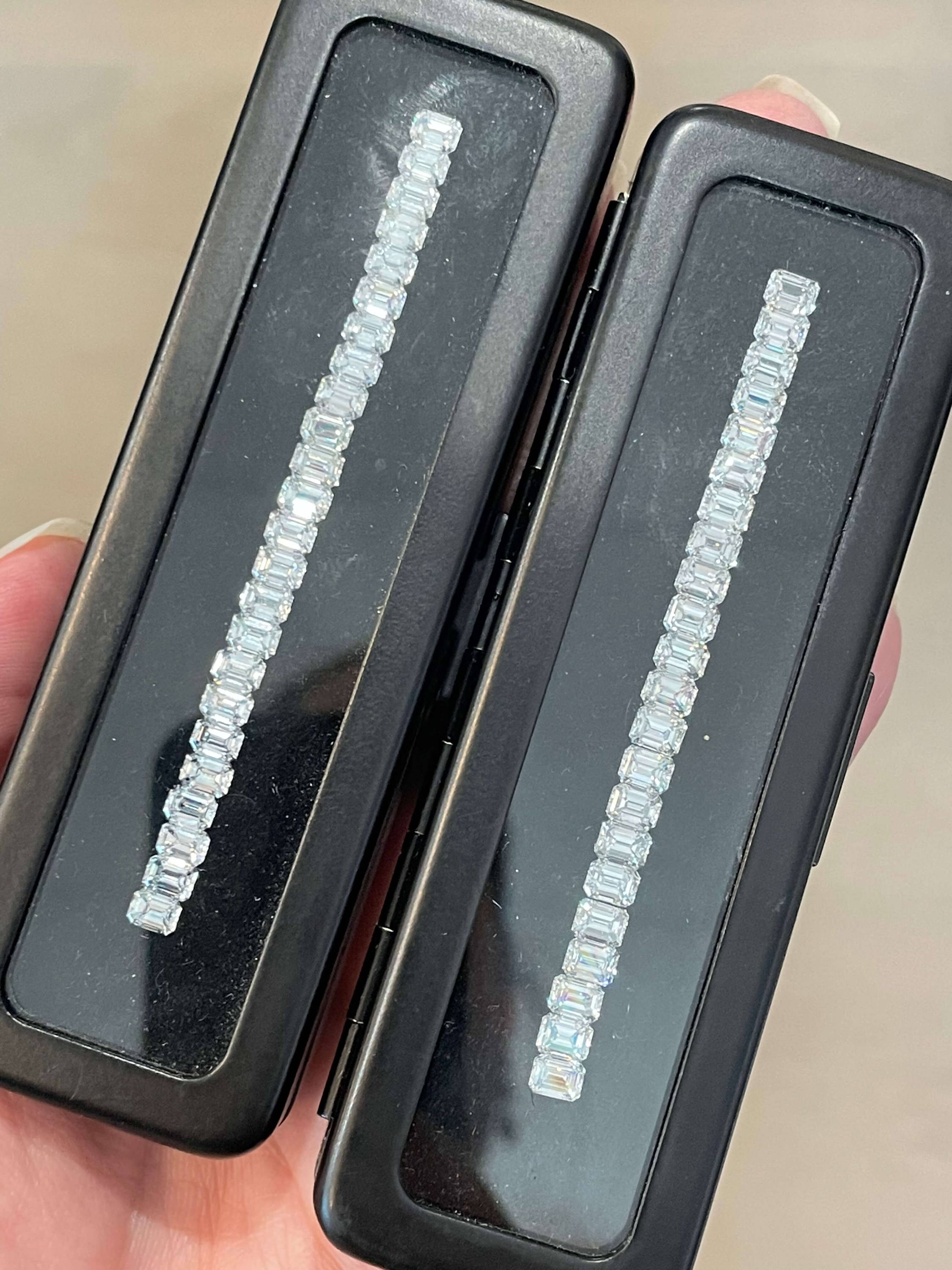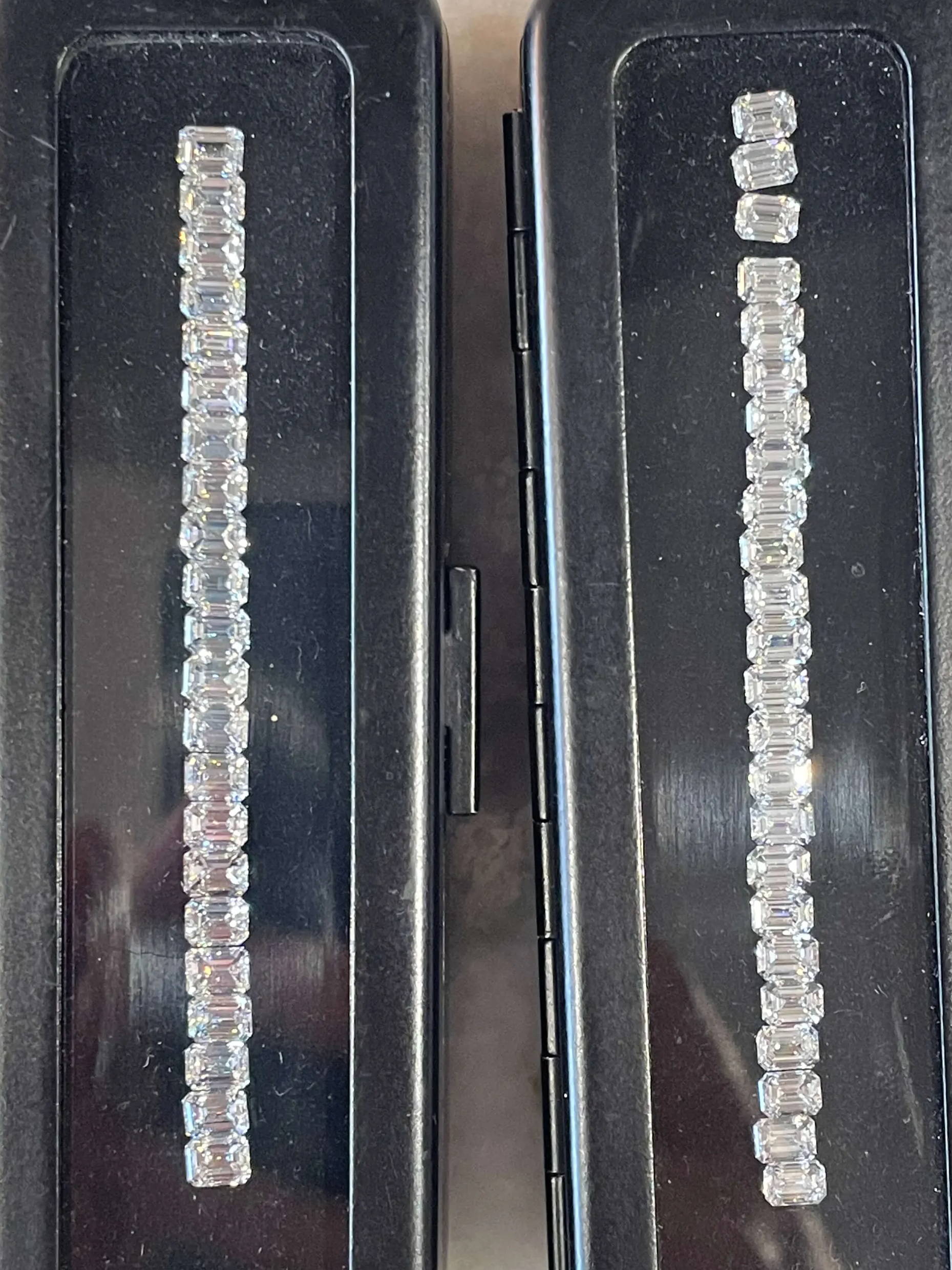 The final piece is a beautiful and unique diamond necklace that we are sure will be a staple in our client's jewelry collection. Although this is a very major necklace with 5 carats of diamonds, it is still casual enough to be worn just about everywhere - except when playing tennis. This necklace is made up of 20 emerald cut diamonds with 4 baguette diamonds. There are two baguette diamonds on each side of the necklace that transition to the platinum chain. The platinum setting almost makes these diamonds appear to float on the neck when worn. This emerald cut diamond tennis necklace can also be worn at three different lengths with the shortest as a choker style look. We were definitely sad to see this special piece leave the studio but are so excited for our client who we can't wait to see wearing this.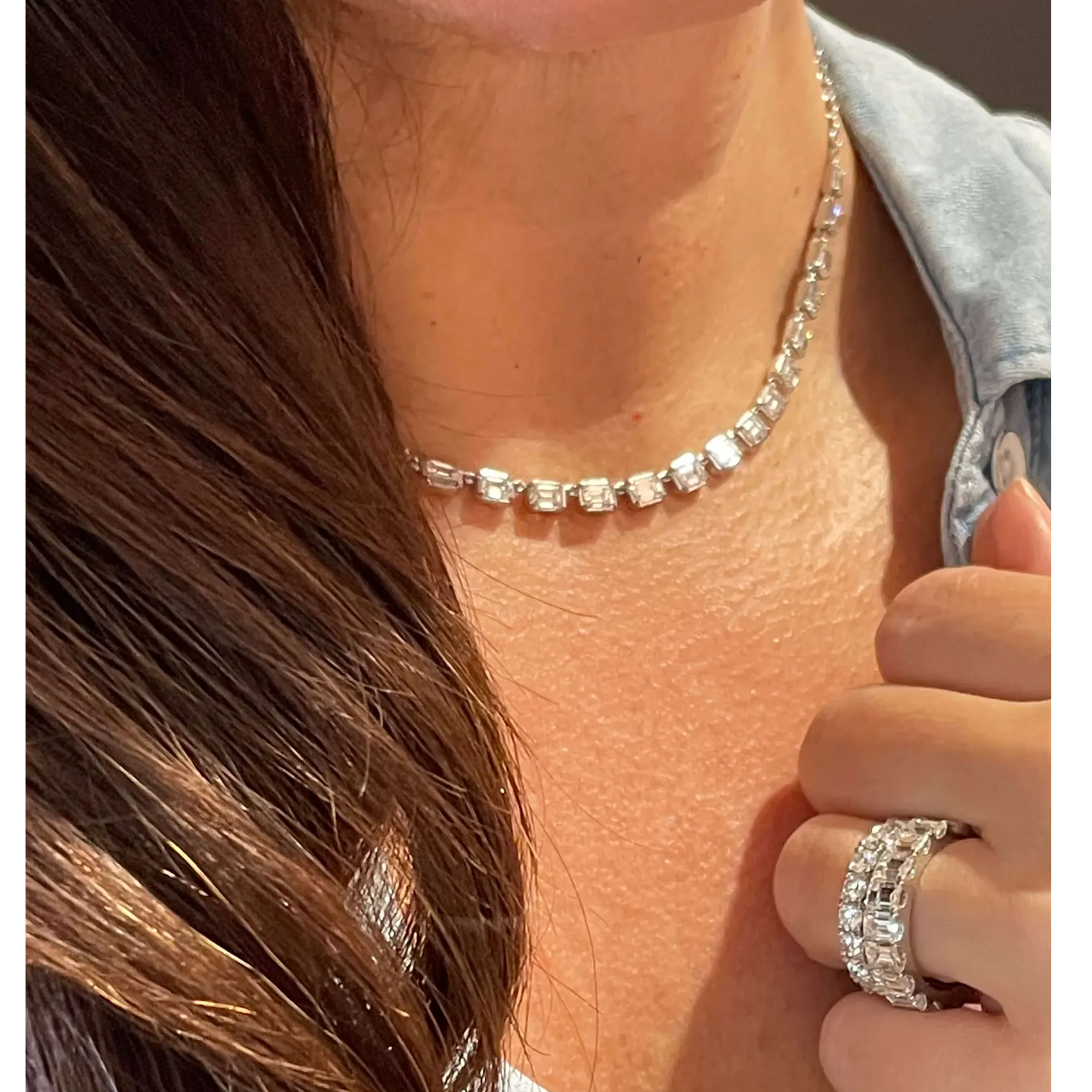 This emerald cut diamond tennis necklace looks so stunning in sunlight.
ORIGINAL MULTICOLORED SAPPHIRE NECKLACE

This is the original version of the necklace that we made with multicolored shaded sapphires that inspired this emerald cut diamond tennis necklace. It is still one of our favorites and looks great paired with the emerald cut diamond version.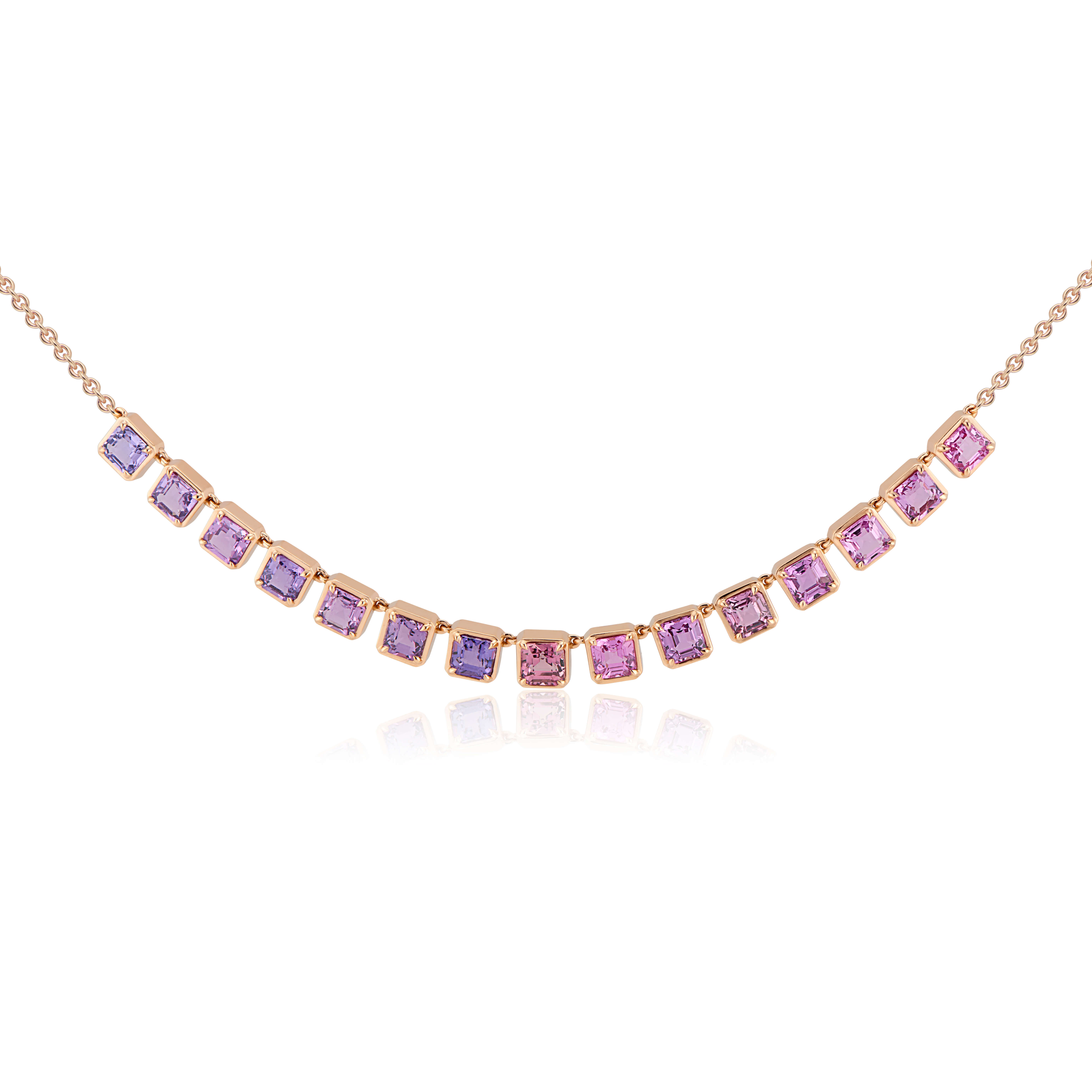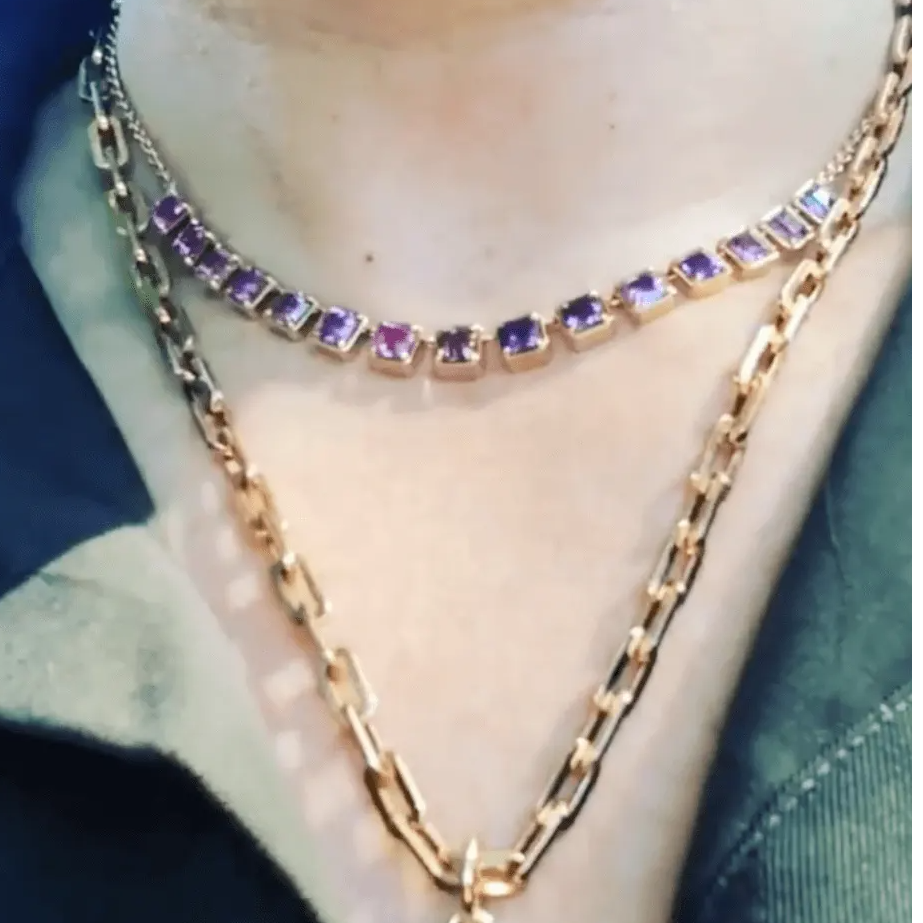 Browse a few more of our necklaces that are available for commission. These styles all look great layered with chains, charms or any other daily necklaces. These designs are also great starting points if you'd like to customize further or get an idea for a totally one of a kind design. Our padlocks can be made with any gemstone or diamond of your choice and our Fable collection can also be customized with unique design details or engraving. All of these designs look great with our emerald cut diamond tennis necklace.
Contact us to commission a custom designed emerald cut diamond tennis necklace of your own, or for more information on any of the jewelry shown here.