Posted by Lindsey Scoggins Studio on Mar 9th 2023
CUSTOM DESIGN STORY: ENDLESS TOWER AQUAMARINE NECKLACE

BY LINDSEY SCOGGINS STUDIO

SCULPTURAL GOLD DUSTED WITH VIBRANT BLUE TOURMALINES COMBINED AT THE MOST PRECISE ANGLES MAKE THIS DREAM NECKLACE THE ULTIMATE HEIRLOOM


This piece goes all the way back to November 2020 when we were launching the site and coming out of pandemic isolation. We wanted to pay tribute to New York for repeatedly being a beacon of resilience as well as the home of great jewelry craftsmanship. We did a capsule of designs with no limitations, all inspired by life in New York - the sounds, the energy, the possibilities. It wasn't so much a product offering as it was a declaration of our priorities - design, function and meaning. We knew we'd get to bring them to life when the right clients came along. That's what happened with this piece and where it all began. Read the full custom design story of this tourmaline and aquamarine necklace below.
We designed the Endless Tower necklace as an ode to New York's skyscrapers, their windows dotting the night sky like metropolitan stars, reminding you that the sky is the limit. The original design uses diamonds. As always, we modify designs to match client preferences.
Instead of diamonds, our client opted for blue tourmalines, custom cut to the most precise angles to match an important inherited aquamarine. Each link of this necklace was specifically engineered to create the correct curvature around the neck - a process that took hours and hours of design work.
The blue tourmalines set within the necklace had to be custom cut to fit perfectly into each setting.
We reset this heirloom aquamarine into a modern Art Deco pendant that can be added to the necklace.
The initial design session let us explore different gemstone color options with our client.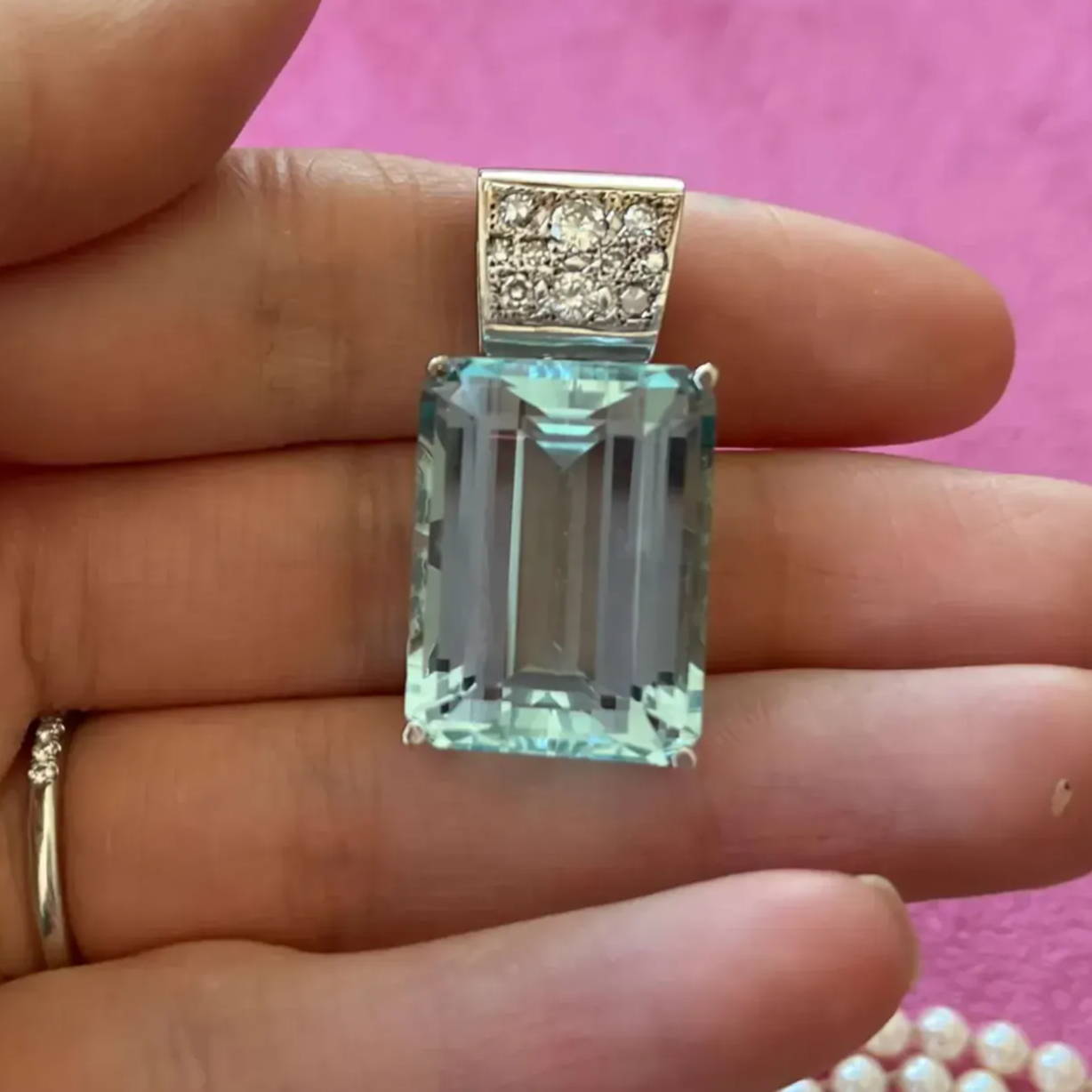 This is the original aquamarine pendant. We reset it in a more wearable east west Art Deco inspired setting.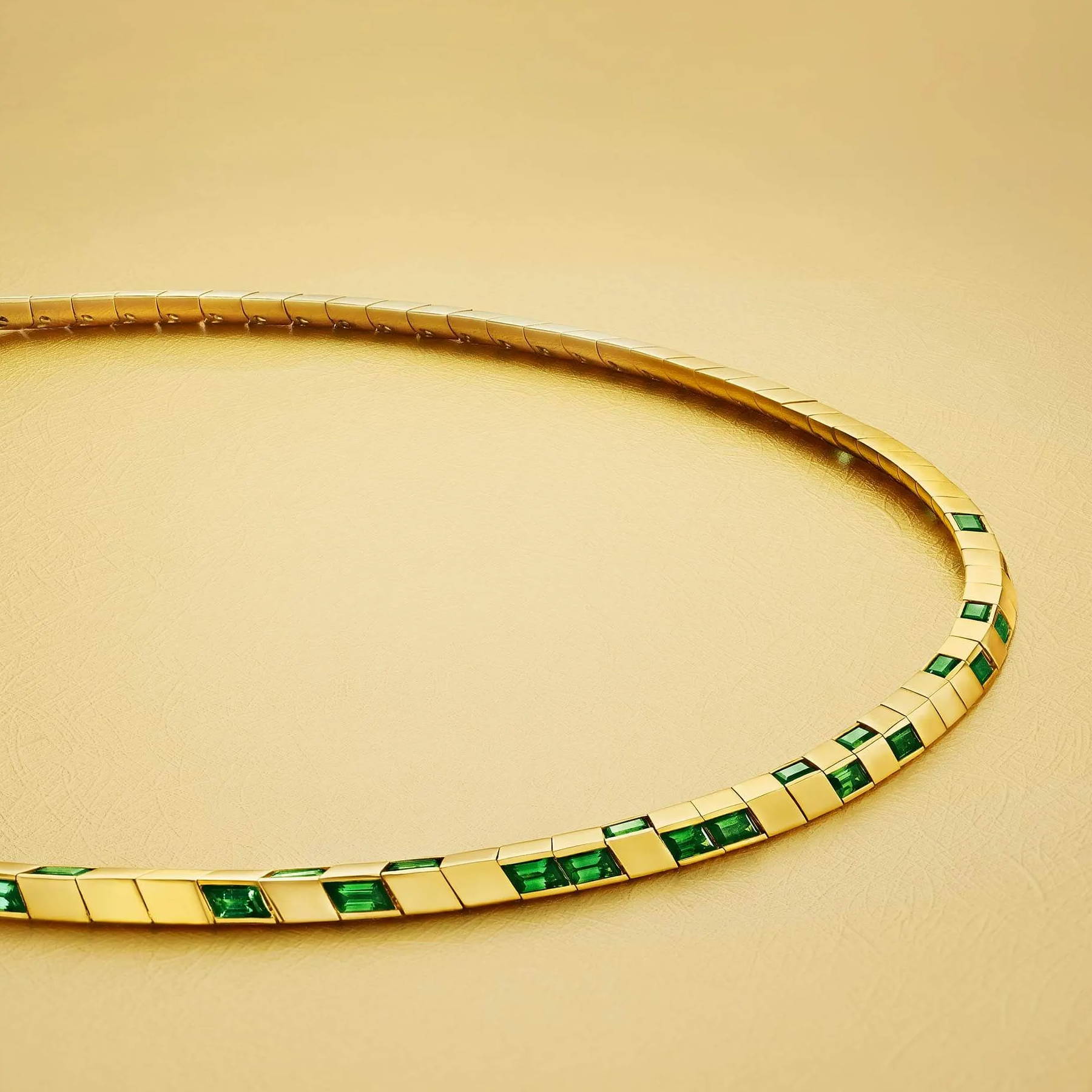 The final piece is a sculputral tourmaline and aquamrine necklace that drapes over the neck like silk. With a liquid-like fluidity, this substantial necklace has a modern wearability while being one of the most intricately designed and expertly crafted pieces we've worked on. It uses about four ounces of gold and took approximately 120 hours at the jewelers bench - yes, there were lots of revisions to get this one just right. The 20+ carat Art Deco aquamarine drop adds another wow and way to wear it. We are so grateful that our clients trust us with the task of reinventing cherished pieces and give us the opportunity to bring these dream pieces to life.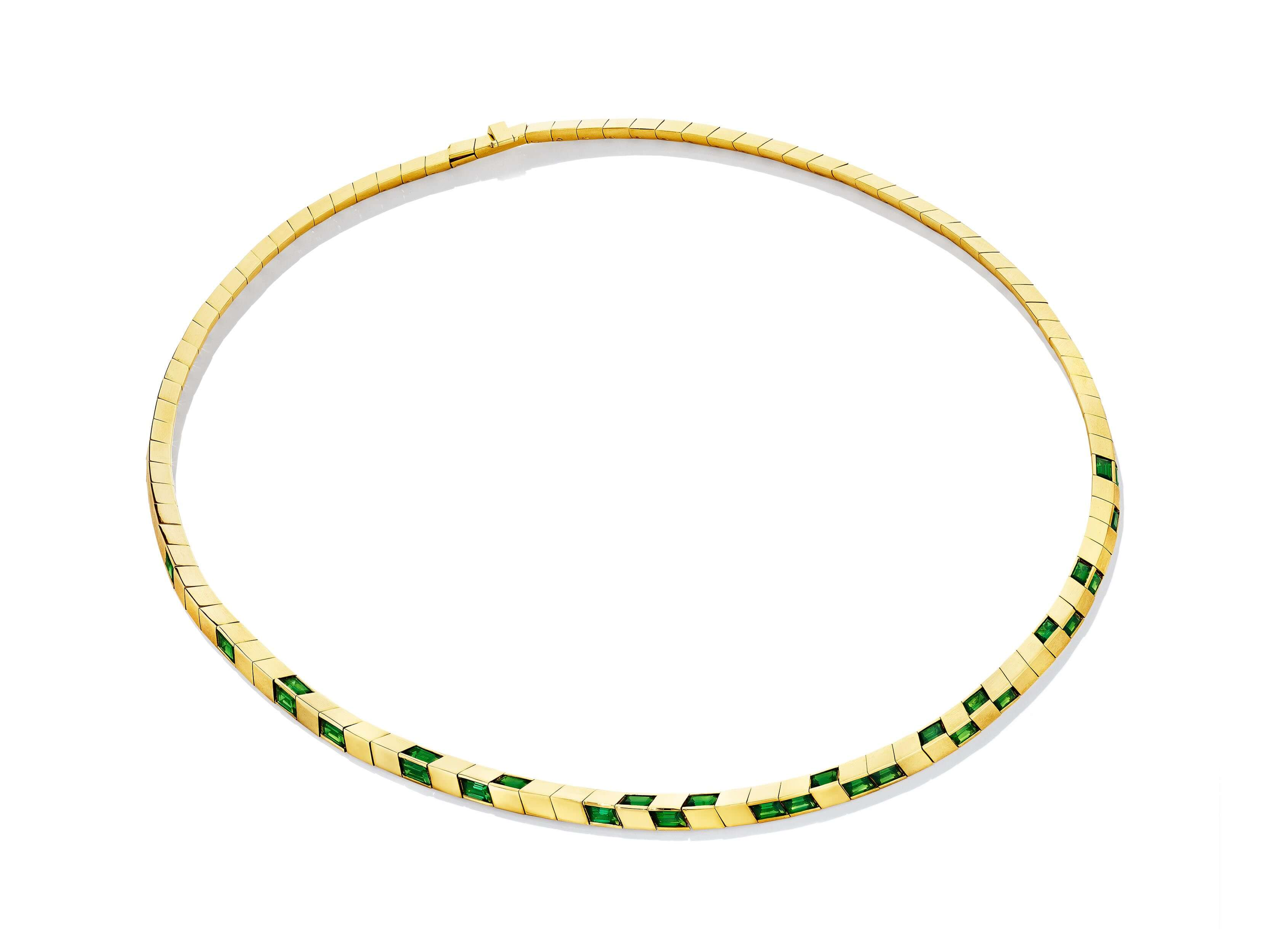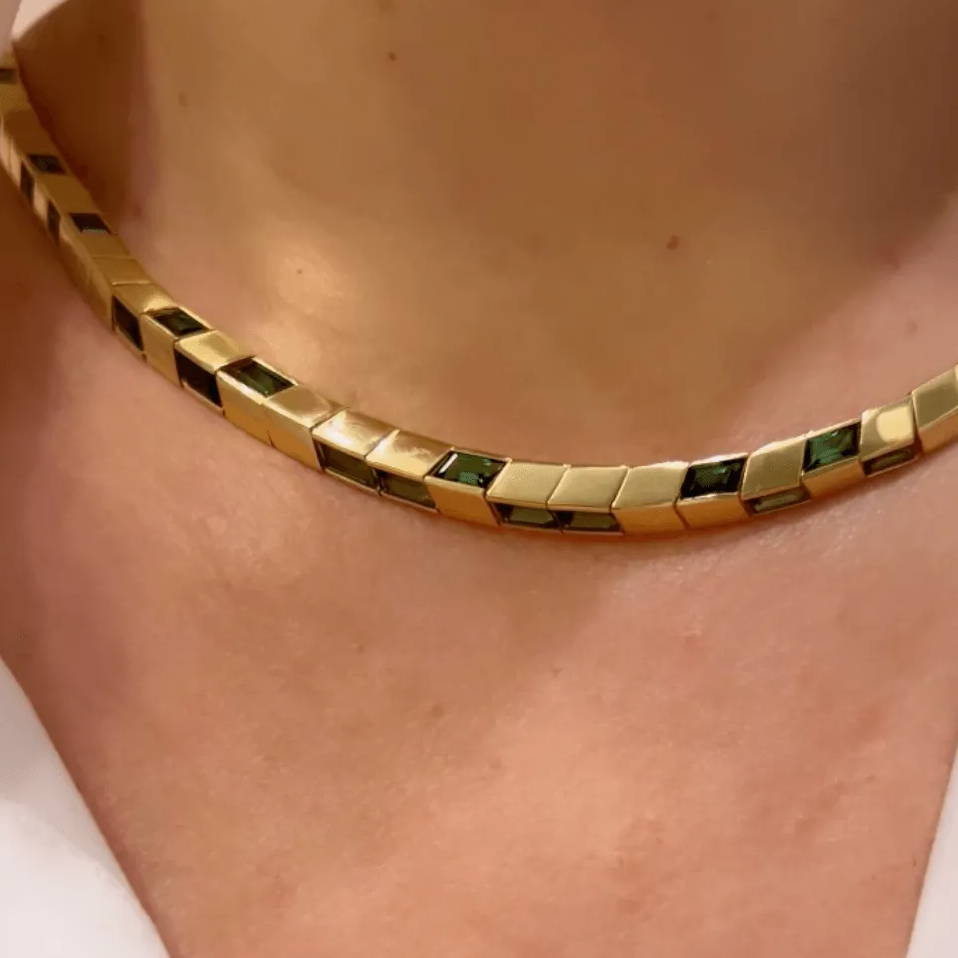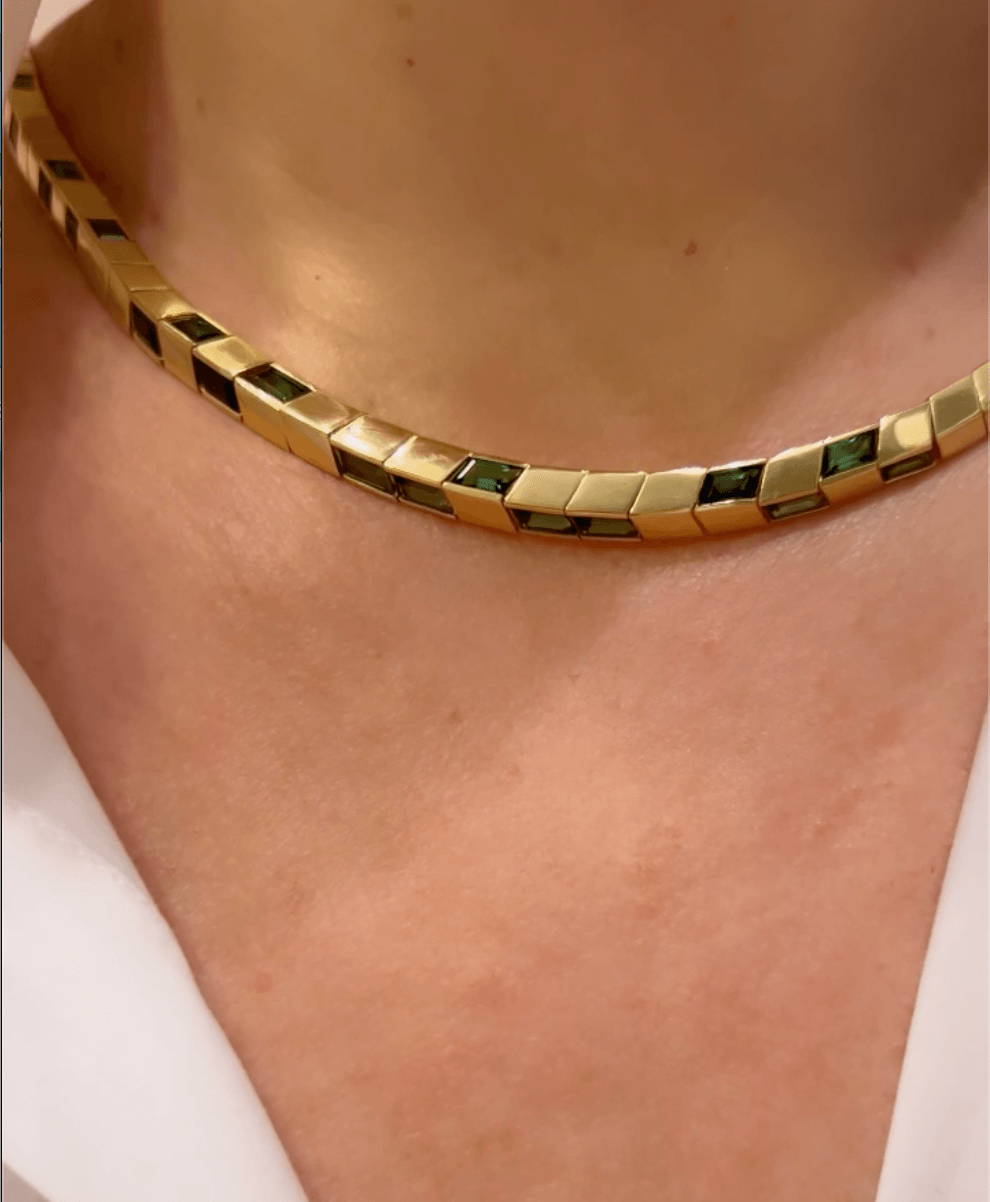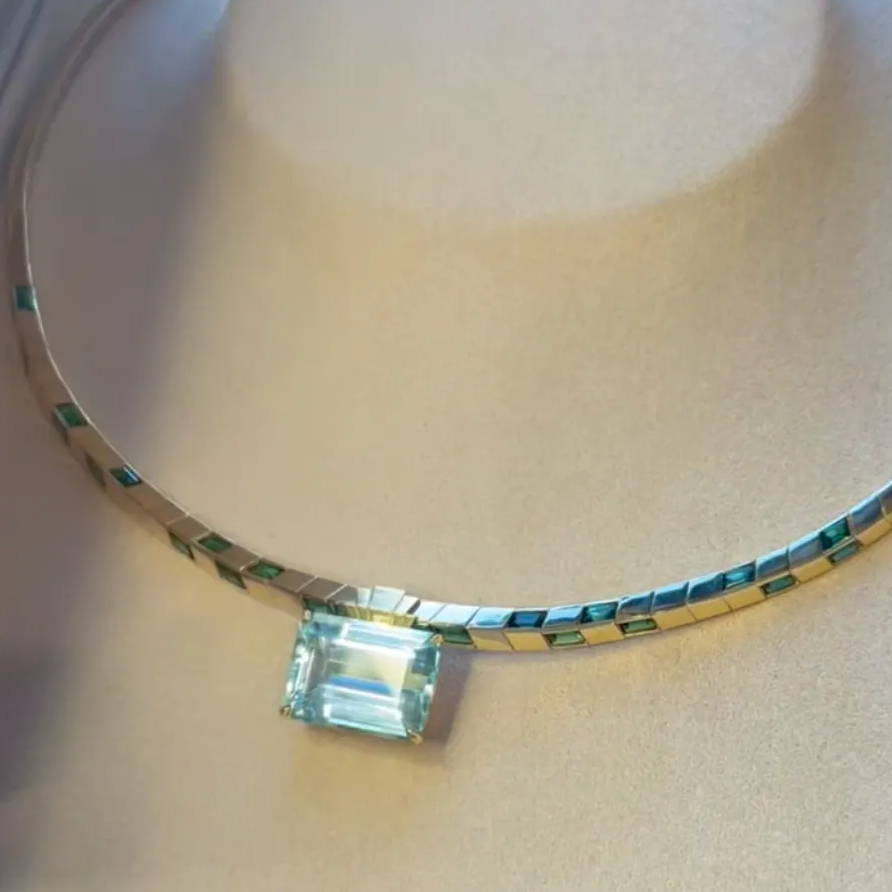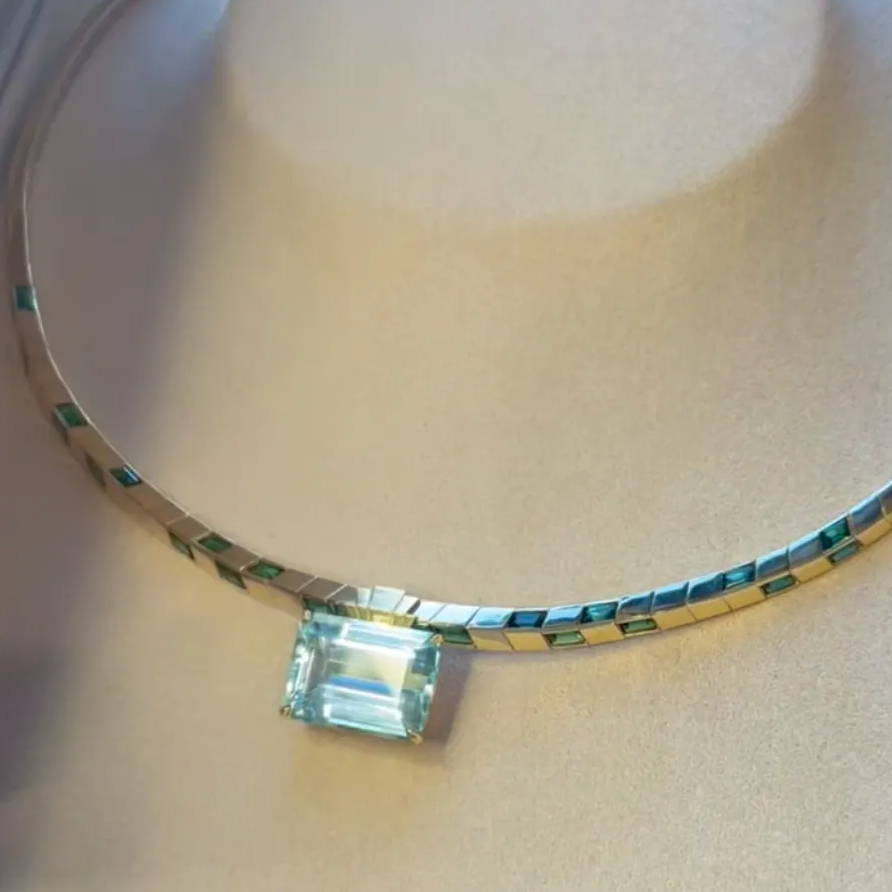 DISCOVER MORE JEWELRY FOR COMMISSION

Whether you're looking for an aquamarine necklace like this one, or something entirely one of a kind, we are here to help. Any of these designs could be made with any gemstones or diamonds of your choice. Contact us to have your dream aquamarine necklace made or to discuss bespoke design possibilities.
Contact us to commission a custom designed aquamarine necklace, to reset an heirloom or for questions about any custom jewelry that you might be dreaming of.