Posted by Lindsey Scoggins Studio on Jan 14th 2021
JEWELRY BOX: JENNY SENTER

BY LINDSEY SCOGGINS STUDIO

TAKE A NOTE FROM JENNY SENTER AND WEAR DIAMONDS EVERYWHERE THAT YOU GO— EVEN TO THE GYM.
In this edition of Jewelry Box, Jenny Senter shares jewelry wisdom and the stories behind some of her most treasured heirlooms with her daughter— none other than Lindsey Scoggins herself. In this interview, Jenny and Lindsey talk about everything from the symbolism and design stories behind some very special pieces to Jenny's wear-everywhere accessory, her diamond hoops, that even accompany her to the gym.

HOW WOULD YOU DESCRIBE YOUR STYLE?
JS: I think I would describe my style today quite differently than I would have described it ten or twenty years ago, I think as I have matured I have grown to like a contemporary style, but my style overall is probably classic with an edge.
LS: I think you're more bold than a lot of people.
JS: I wonder if that's because I live in the South, and you're not living in the South anymore and it seems a little bolder to you...
LS: No, I mean it's definitely contemporary. I think I get some of my style from you because I'm also a little more linear and less organic. And I also think you also have a slight bit of masculinity in your taste for jewelry.
JS: I don't know if that's a good thing or a bad thing but…
LS: No I like it.
WHAT DO YOU LOVE ABOUT JEWELRY?
I think one of the greatest things about jewelry is that it transforms your wardrobe from perhaps daytime to nighttime so easily. It gives a different vibe to what you're wearing. I could be wearing something that's fairly classic and monochromatic and you can put on ten different pieces of jewelry and it changes the whole outfit up. So, I think of jewelry- it really is the word wardrobe that you need to keep in mind when you're thinking about your jewelry.
AND I KNOW YOU HAVE SOME HEIRLOOMS THAT YOU GOT FROM FAMILY- WHICH ONES ARE YOUR MOST PRIZED?
JS: Well, I think that everything becomes a prize when it's more relevant to you, so my most recent prize, my most recent feeling of heirloom, is the heart that you made for me. It's a heart pendant and it has my mom's stones out of one of her rings, and so I think its not only beautiful, but it's very meaningful. We have a story about my mom and her creativity- she was a great seamstress, and she had labels made that said "made especially for you by Dede" and so my necklace is so personal to me because it's made especially for me and inscribed with that on the back. It's made by Lindsey so it gives me that complete tie in to different generations and the people that I love.
LS: I also really like the bar bracelet. I wish you would have that cleaned.
JS: Oh, my Dad had that. That was his bracelet when he was in the navy. We used to call them ID bracelets. I don't know what they call them now
LS: They're still ID bracelets.
JS: It's a great piece and I would love to modernize it- of course I have a daughter that does jewelry, so maybe she can help me out with that. I love the chunkiness of it and I love the fact that it is engraved with his name on it.
LS: My favorite thing is that they spelled navy wrong.
JS: I think the engraving has worn off- I don't think it's misspelled.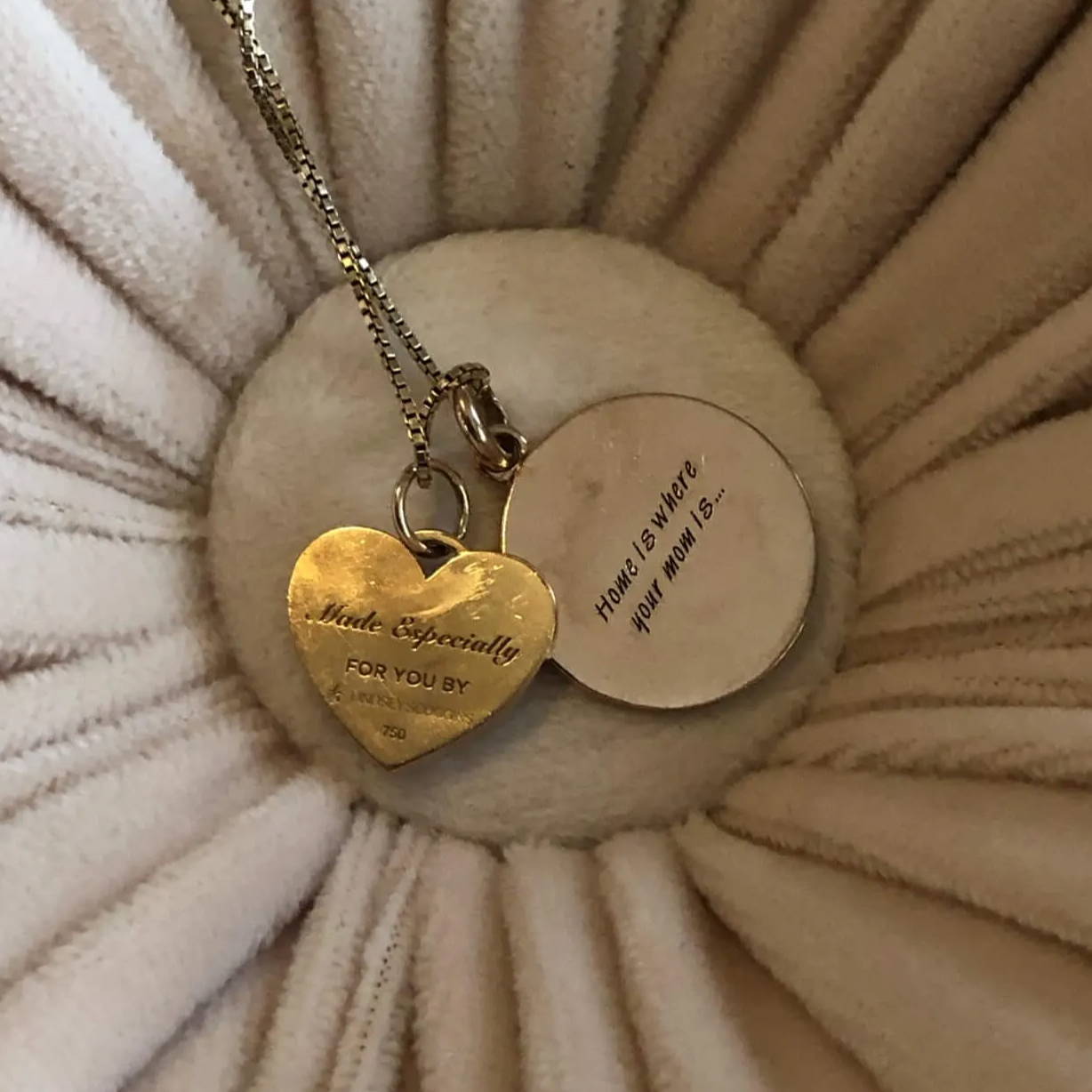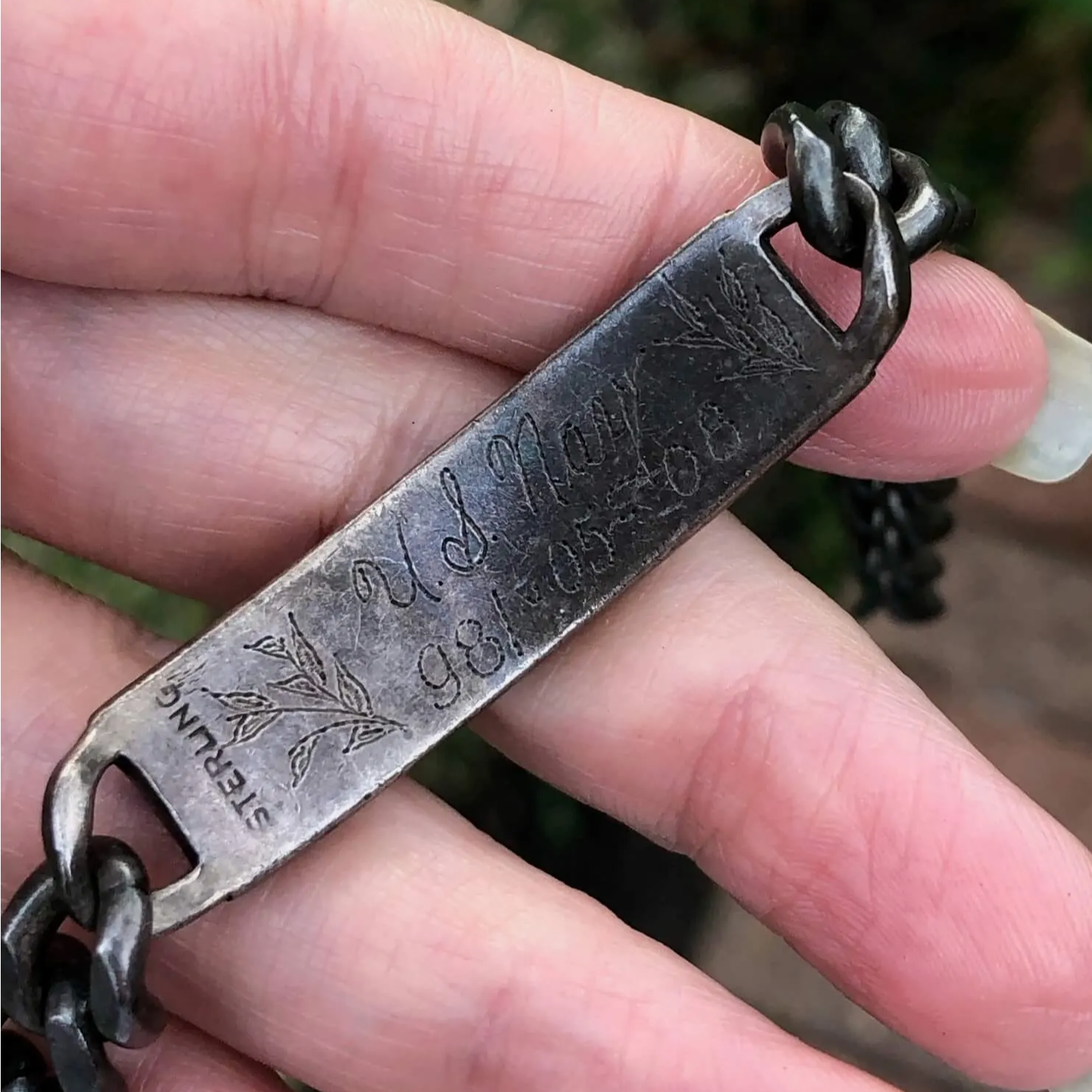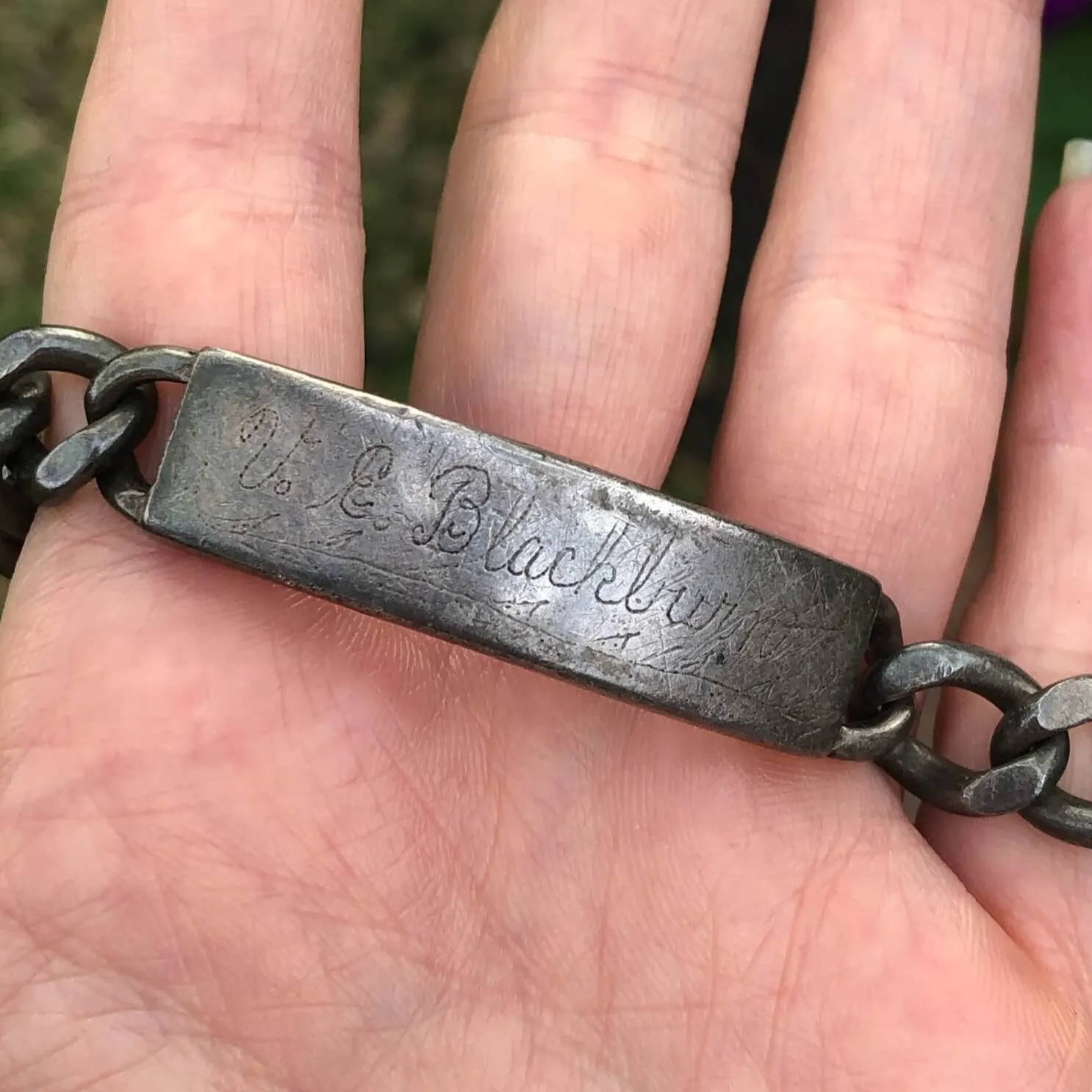 WHAT IS YOUR DECISION MAKING PROCESS WHEN YOU PURCHASE JEWELRY?
JS: Well, sometimes it's a whim because you see something and it just sings to you and so you gravitate to it and you think oh I have to have it. To me that's a true heartstring that you get, not necessarily one of the most reliable ways to make a decision on your jewelry, but when I'm looking at jewelry it has to be something that's in my style element that attracts me to it. I'm practical so that also means that I have to think what am I going to do with this piece once it's in my jewelry collection– am I going to wear it everyday, or is this something that's for a special event. I like things that I can wear often, so I want it to have versatility.
WHAT MADE YOU WANT TO DESIGN OUR RINGS WHEN WE WERE ALL 21?
JS: When you girls, well when you and Leslie turned 21, and then as well when your younger sister Shelby turned 21, I wanted each one of you— it was like giving you a piece of myself. It was a ring that I had, and I just wanted us all to share in it, and so that was my connectivity— being able to have a ring designed and each one of us had a part of it, so it was a puzzle piece that was once one piece and turned into four.
LS: I wish we had gotten at least a picture of Leslie's.
JS: While Shelby's coming, but I don't know if hers is as photographic.
LS: No I want all three of them together.
JS: Well, one of these days, Leslie might find hers.
LS: And you had a few pieces custom made yourself… like that bar ring I really like.
JS: Yes. You call it a bar ring but I think it's a modern cluster because it's multiple diamonds but it's very lean…
LS: That's a masculine ring.
JS: It is. I didn't realize that until somebody asked me if that was a man's ring once, and I never thought of it like that, but it could have been- easily- so I kind of like the fact that it could go either way.
LS: Yeah, and I guess when I say that you like more bold stuff, I think it's a little more like muted masculinism. It's not like Texas bold it's clean bold.
JS: I like it to be clean lines. Not that Texas bold is bad by any means but…
LS: No, I love Texas bold.
JS: I like the fact that most of the time when I look at something I like angular pieces or shapes and I'm pretty streamlined in the fact that I like things to be symmetrical, so you have much more of the aesthetic of creativity on your side...
LS: I'm still very symmetrical.
JS: Symmetry is important, and balance- maybe that's a personality problem we have.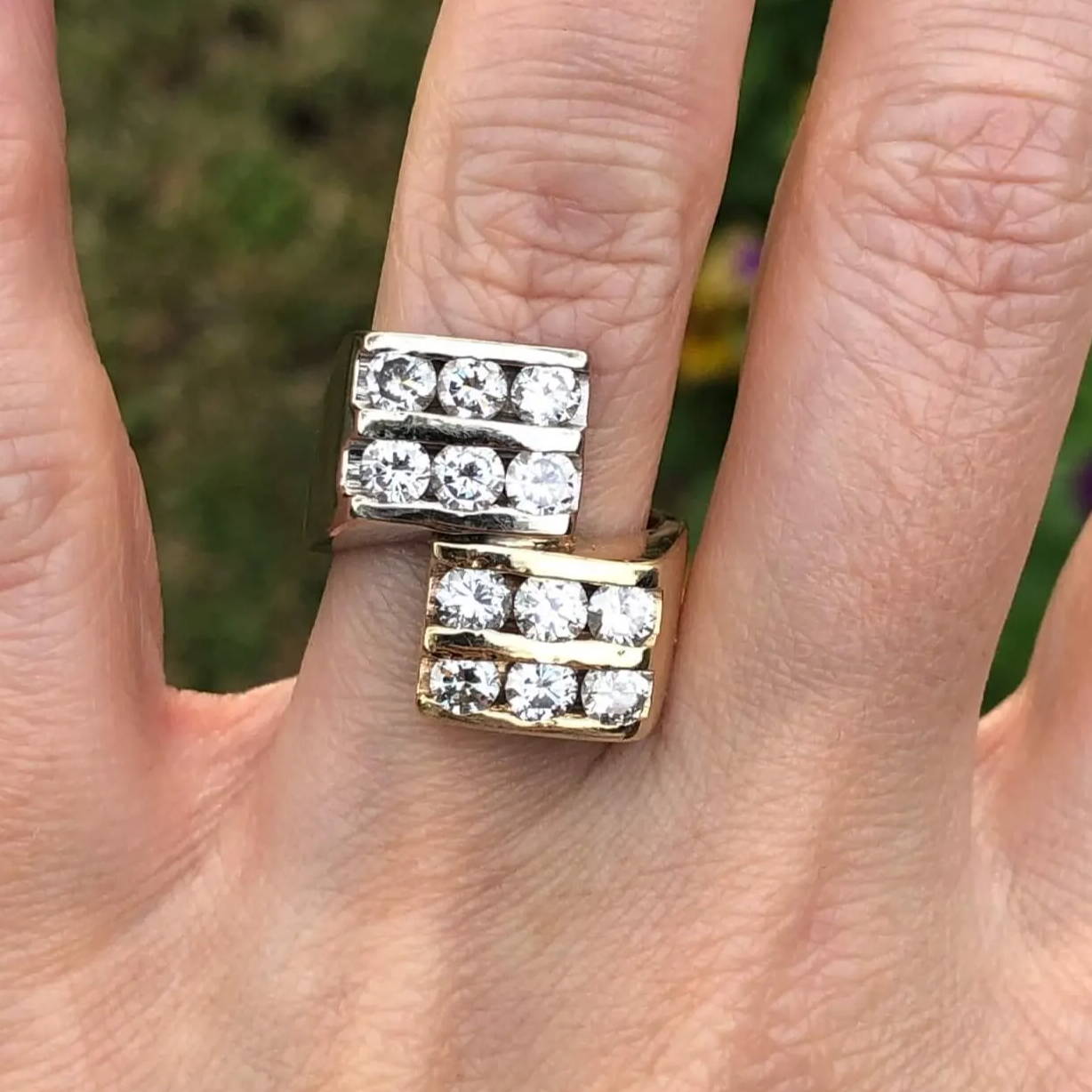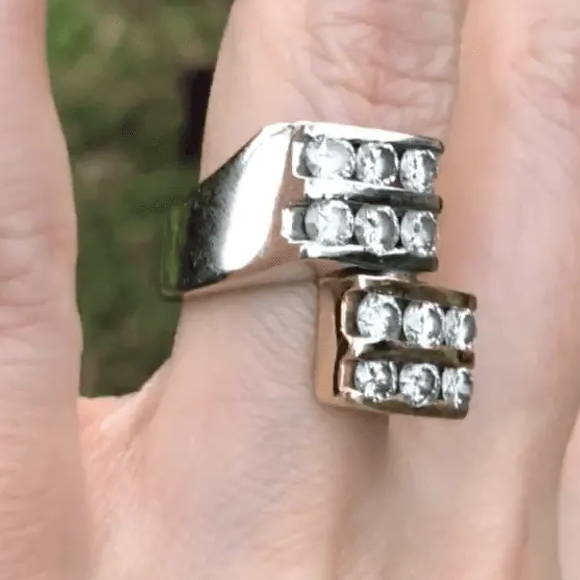 YES, I IMAGINE. AND THE GOLD BRAIDED NECKLACE WHICH IS MY ALL TIME FAVORITE. HAVE YOU EVER HUNG SOMETHING FROM THAT?
JS: I haven't, but you mentioned that would be a good option…. You know as we mature- I like to use that word over grow old- but as we mature I think that our needs in our jewelry also change. And having something that's more of a collar around my neck is not as attractive to me as having something that perhaps hangs down and has more of an angled appeal to my neckline. That's a fun piece and it's multifaceted as far as- it's white gold, yellow gold, and rose gold mixed and it has flexibility so it's a comfortable necklace… But maybe that's what I need to do. I need to hang something from it and that would give me a little bit more of a drop.
LS: It's really pretty with… I mean I think everyone should just wear button downs with really fun jewelry.
JS: It's a good piece for that.
LS: Yeah, It's a good piece for that if you had a really nice medallion hanging from it…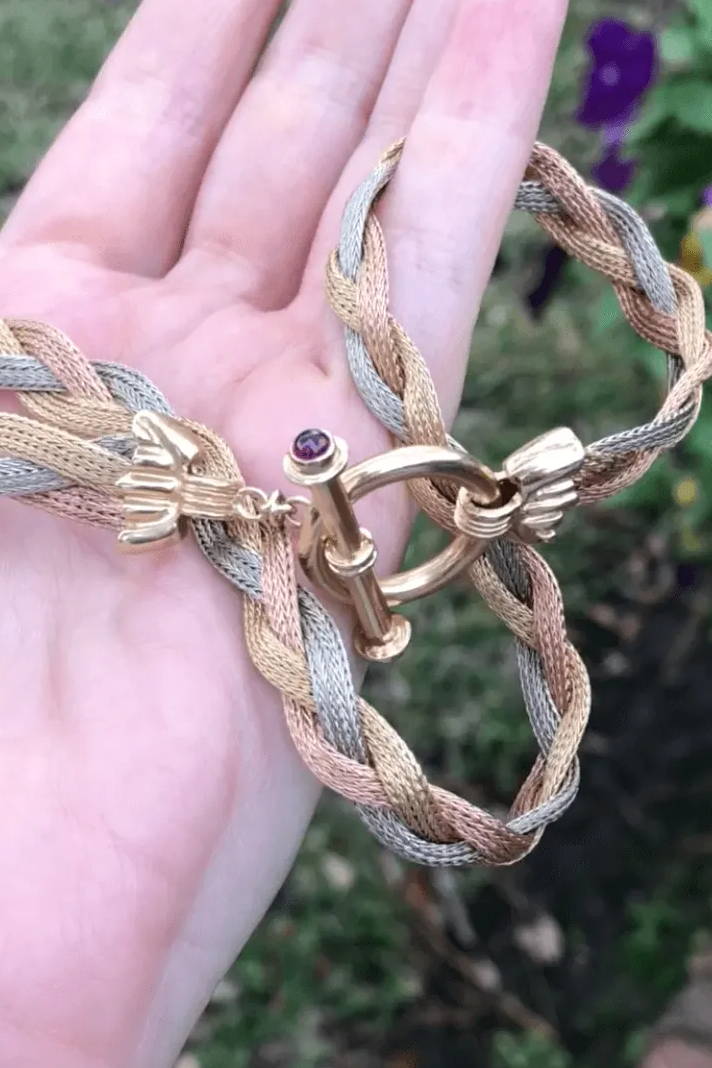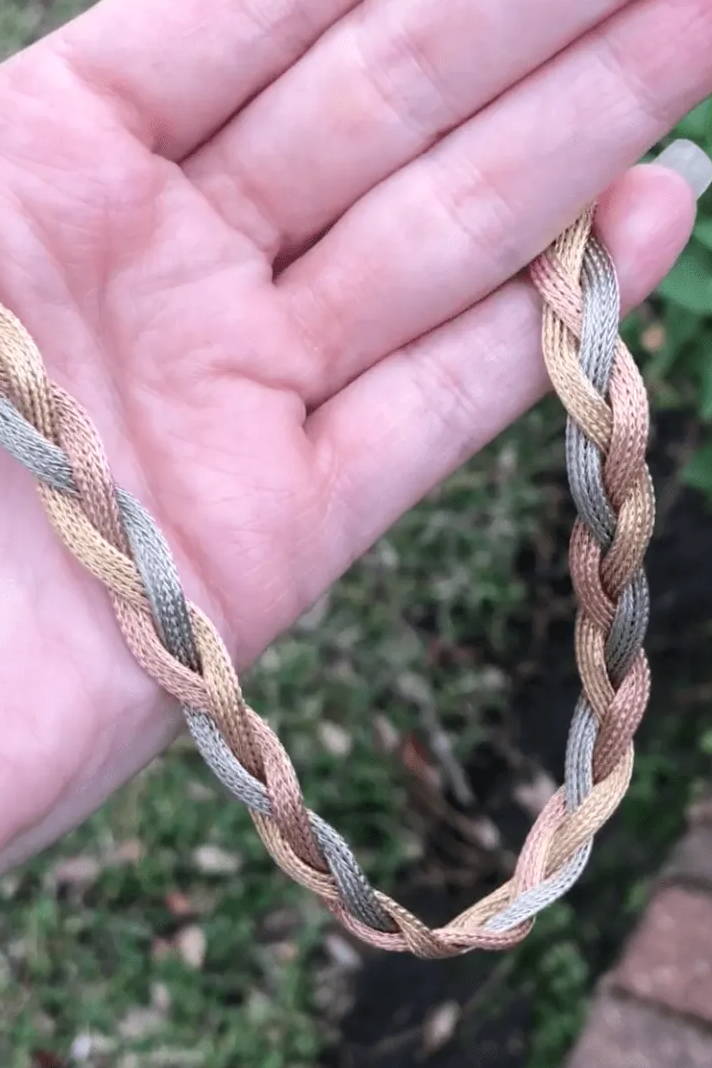 WHICH PIECES DO YOU WEAR THE MOST OFTEN OF ALL YOUR FINE JEWELRY?
JS: I wear my wedding band everyday, every night, I don't take it off ever. We've had this conversation with my friends recently. Some of my younger friends, they always take their jewelry off every night and I just keep my wedding band on.
LS: You sleep with it on?
JS: Sleep with it on, shower with it on…
LS: Don't do that.
JS: I think diamonds are durable, that's another good thing about them, so anyway it's part of me.
LS: I mean, that is true that they are durable so the materials themselves are not necessarily at risk or anything, but they get dirty.
JS: Well that's why you have somebody that has a jewelry cleaner that can take care of that for you, but I wear my wedding band everyday. Most days, recently, I wear my heart pendant that you made for me as well as my map. Those are sort of my connected pieces to my heart.
LS: Those are your mom pieces.
JS: Yes. And then I wear my watch everyday. I'm still a watch girl.
LS: And you wear your bangles a lot.
JS: My bangles make me feel like I am going someplace worthy of wearing my bangles. My bangles were my 60th birthday present from the three girls- there's three of them, and they each have 60 diamonds in them, and so it's kind of interesting. It's kind of like I hold my mom to my heart with my necklace, and I have my girls on my bracelet, and I have my husband on my hand, so it's a family tree of jewelry.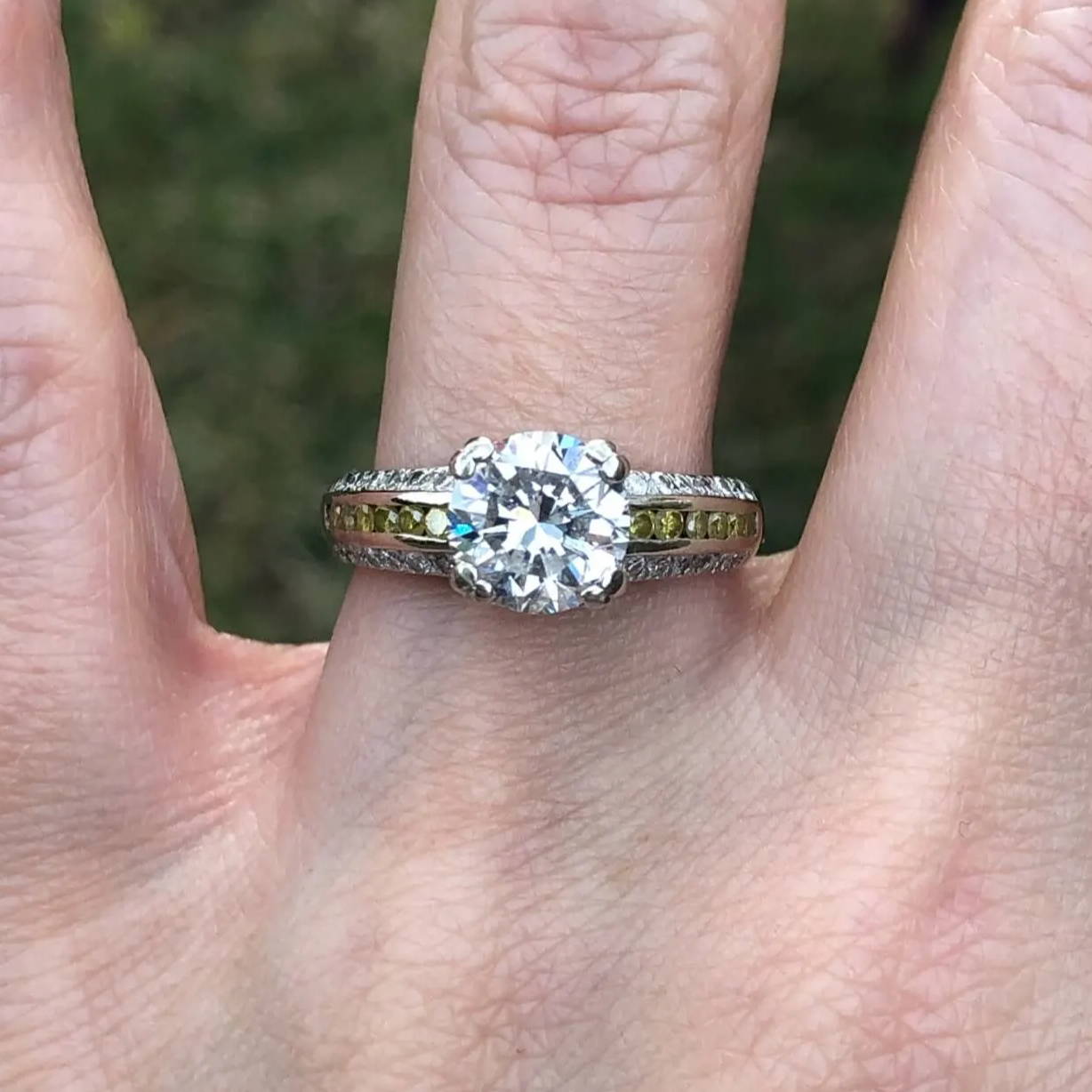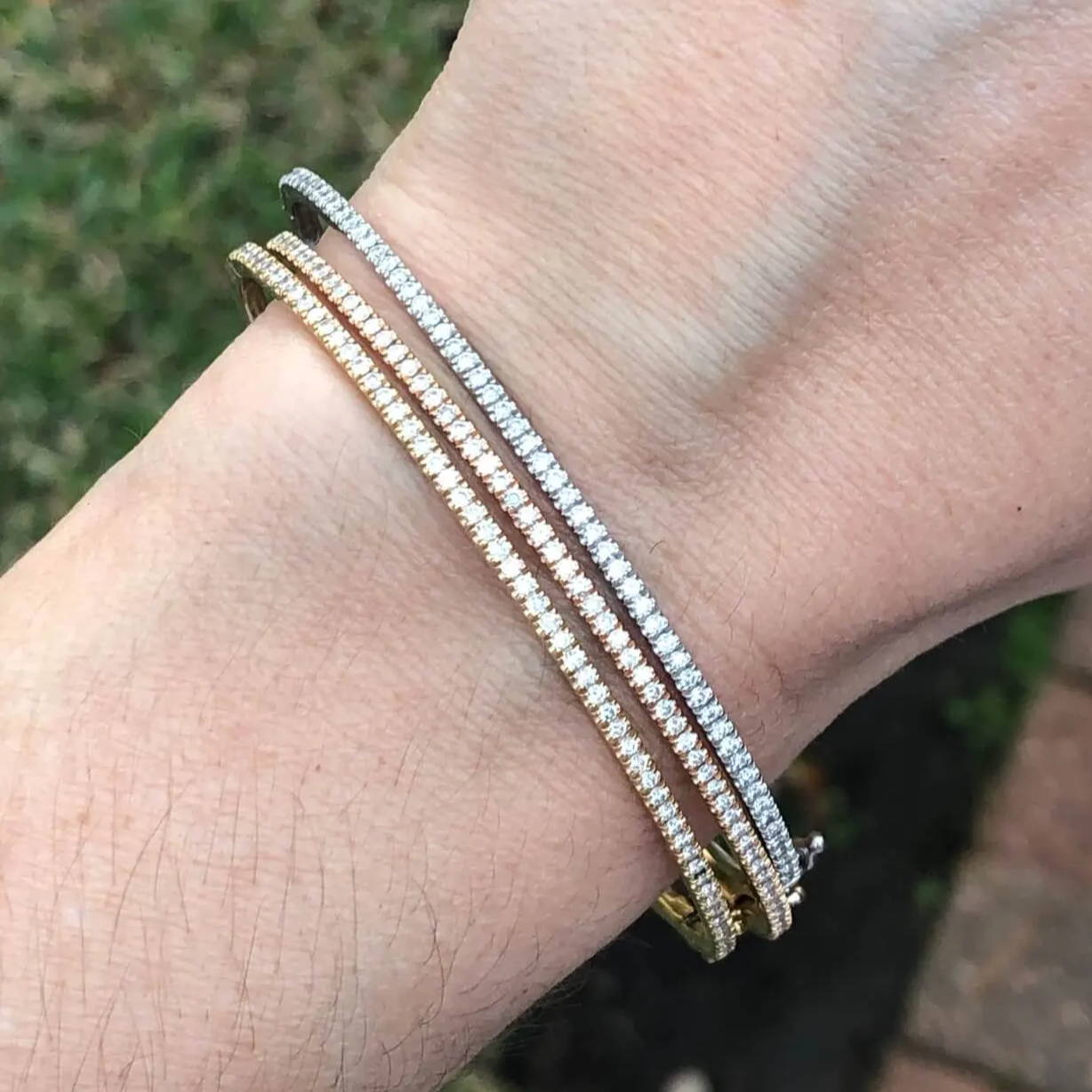 WHAT PIECE DO YOU THINK IS MISSING FROM YOUR COLLECTION THAT YOU WOULD LIKE TO HAVE NEXT?
JS: Hmm… well I'm thinking about new earrings.
LS: You wear those hoops a lot.
JS: I do, and I love those.
LS: The diamond hoops- she wears the diamond hoops to the gym.
JS: They're not huge- and you know we're talking Texas again as you say, but they're lightweight and I don't ever want to go out without having earrings in my ears. They're pierced, I don't want them to appear that they don't have earrings in them. To me, it's like having naked ears if you don't have earrings in. So, I think that from an everyday standpoint I have some diamond studs that I like very much and Lindsey has made them a little bit more festive with the…
LS: The hidden halo around it. It's not a hidden halo, it's just a seamless halo.
JS: Here's another thing about aging- I feel like I need to have something on the side of my face that's a little bit longer because it makes my face look slimmer— and what looks better than diamonds anyway? It makes everybody look better.
LS: So what kind of earrings are you wanting?
JS: Maybe some new... What do you call the diamond earrings that have diamonds on the front and back?
LS: Just like the ones you have?
JS: Only bigger.
LS: Okay, so you want some inside out hoops.
JS: See those are gym earrings and then everyday earrings.
LS: But you want them to be round?
JS: When you look at a loop that hangs linearly…
LS: Oh yeah, you call them loops.
JS: I know, I've always done that and you call them hoops…
LS: But you want them to be longer instead of round?
JS: I think an oval shape.
LS: That's a little more elegant.
JS: So that's probably on my radar screen. And then I don't do a lot of colored stones. I like white diamonds but I've really started liking the mixture, so I'm thinking a gemstone would be a nice addition.
WHAT KIND OF GEMSTONE WOULD YOU DO? AN EXOTIC COLOR OR A CLASSIC PRECIOUS RUBY, SAPPHIRE, EMERALD, OR TOURMALINE?
JS: Well the tourmaline, you've brought so many new, different options in play when I look at your jewelry. I like some of those newer gemstones that I'm not familiar with, but the tourmaline's beautiful.
LS: Tourmaline is so pretty.
JS: I don't know that I really want a sapphire or ruby, etc, but something a little different. You did some earrings or a necklace for Shelby that has peach sapphires in it.
LS: It's pretty. I feel like it's definitely her style, it's not…
JS: Oh it's not me because it's pastel. I'm not a pastel girl but I love the idea of… I mentioned to you earlier that I had a friend years and years ago that had a ring that was more of a black enamel or onyx with diamonds- stunning. And you know we wear so much black these days, and white, and that really stands out. That would be a fun thing in a ring.
LS: With a diamond or gemstone?
JS: No, I think I'd like to have something black with white diamond- stark.
LS: With enamel. But it has to have some metal in it. Like yellow gold?
JS: Well I don't like anything but yellow gold. I mean I'll wear rose gold in a small accessory piece but if I'm going to invest in something I want it to be yellow gold. I'm old school- I like that.
LS: Yeah, I do too. I don't really sell a lot of white.
JS: Do you think your younger clients like it though?
LS: Younger clients still like white metal. It's younger clients that have had a little bit less time to develop their own style in jewelry. I mean there's not a lot of time to develop style in your jewelry when you don't buy it yourself. And then when women start buying things for themselves they want gold to look like gold and not silver.
WOULD YOU EVER WEAR THE LOCKET?
JS: The locket's a memory more than it is a piece I would want to wear. It's not my style but it has value to me from a historical perspective. It has great memory and great connectivity to my younger days, but not so much.
LS: You could layer it.
JS: You could, if you wanted to. But you know I'm also at the stage of my life where I kind of want to simplify. I don't want to wear 42 pieces of jewelry. I want something that's…
LS: Your jewelry collection would beg to differ.
JS: But I just want to wear something that's comfortable and easy. Layering necklaces is a very big trend right now, and I think it looks awesome, beautiful on most people. I do it about once every three weeks because it's fussy. I have three necklaces that I like to layer and it's great to do it once in a while, but I don't want to do it every single time I put on jewelry. I don't want to take all that off...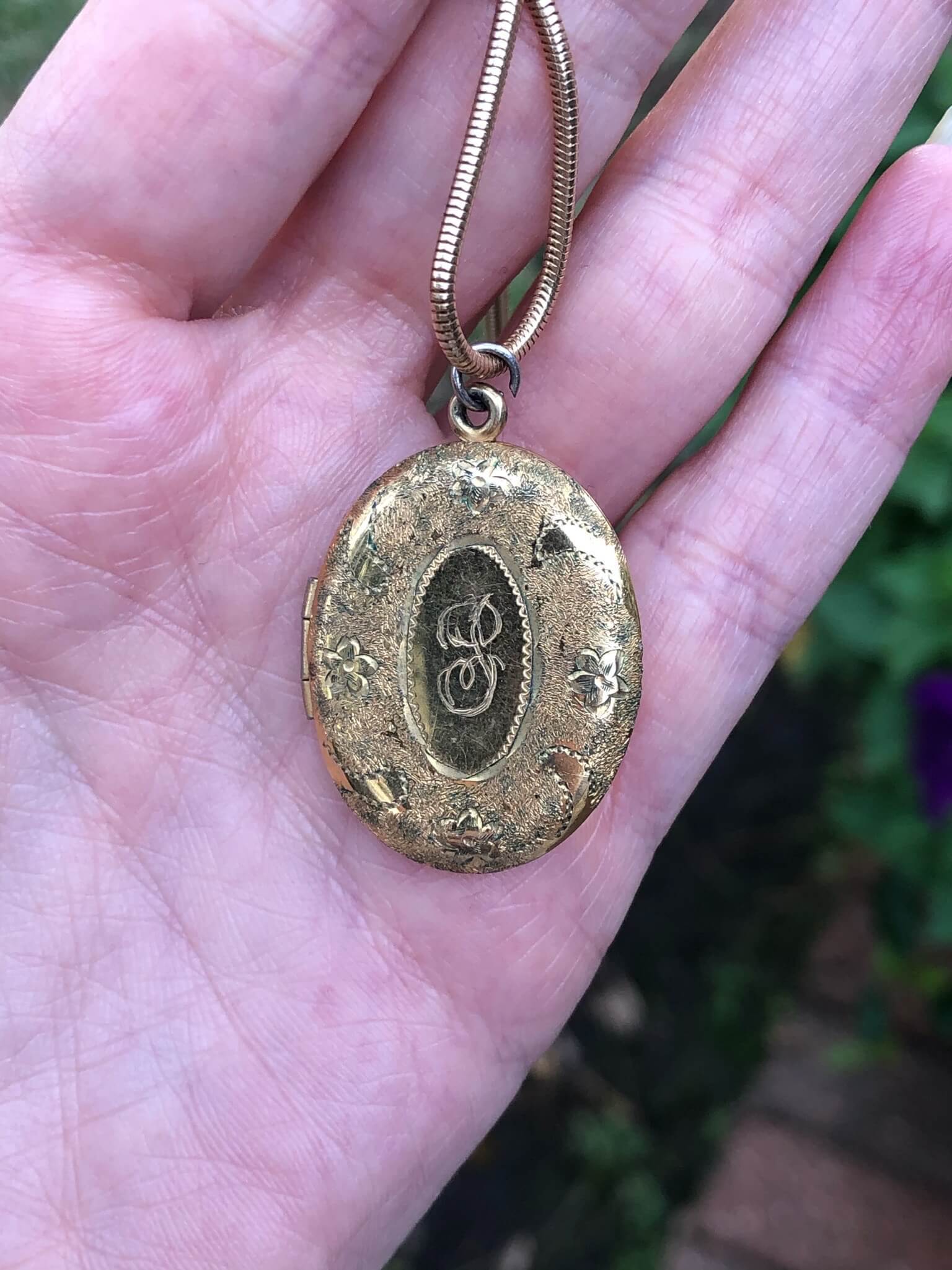 In true form, the interview was interrupted by an incoming phone call. Jenny's jewelry box is a beautiful portrayal of a family tree that holds her loved ones close no matter where they are. I think that we can all be inspired by her attitude of staying true to her personal style through jewelry choices, the beauty of reinventing and sharing her heirlooms, and remembering that diamonds are appropriate for every occasion. I'm feeling very inspired to find a pair of gym friendly diamond hoops...
HIGHLIGHTS FROM JENNY'S JEWELRY BOX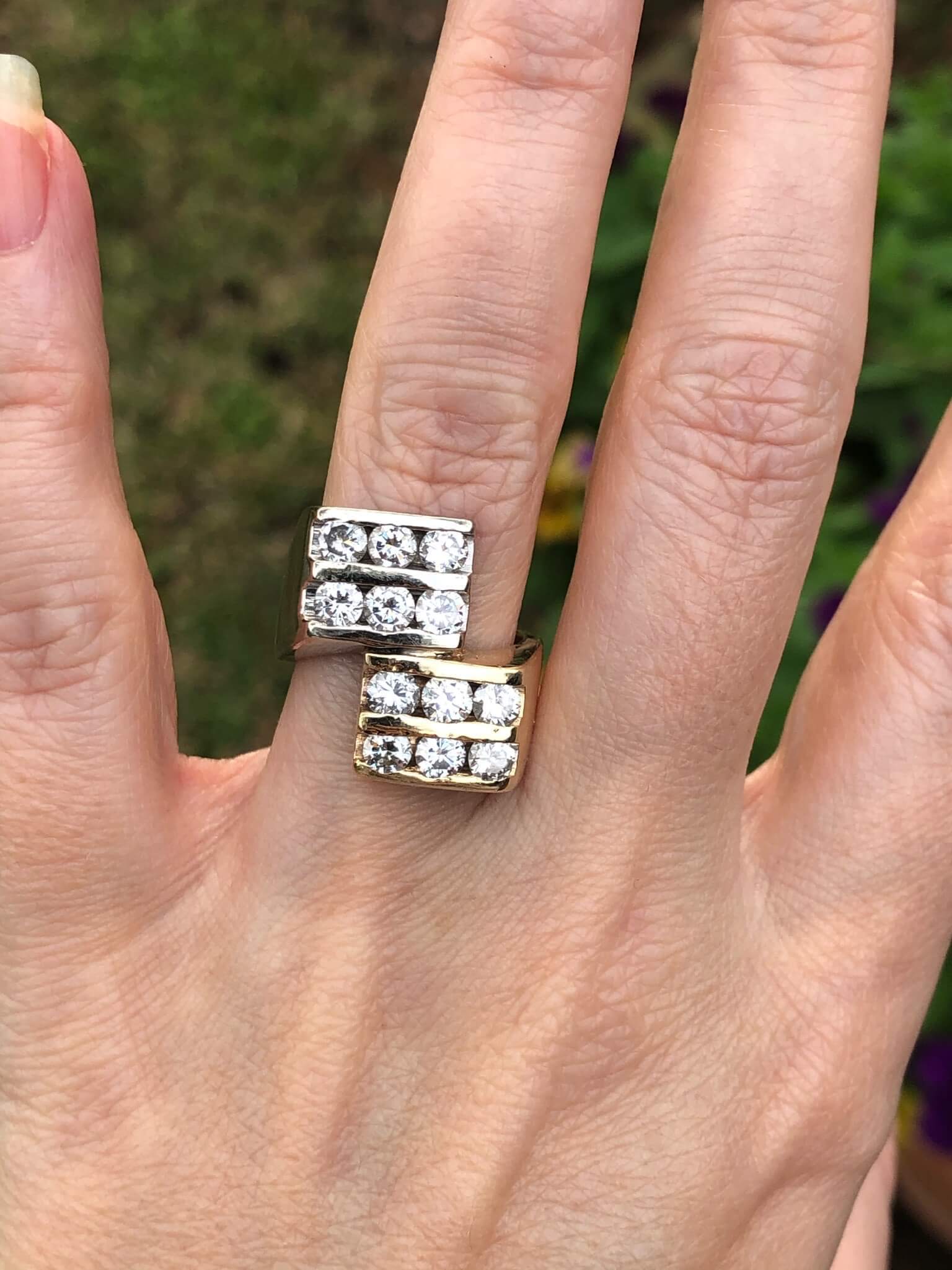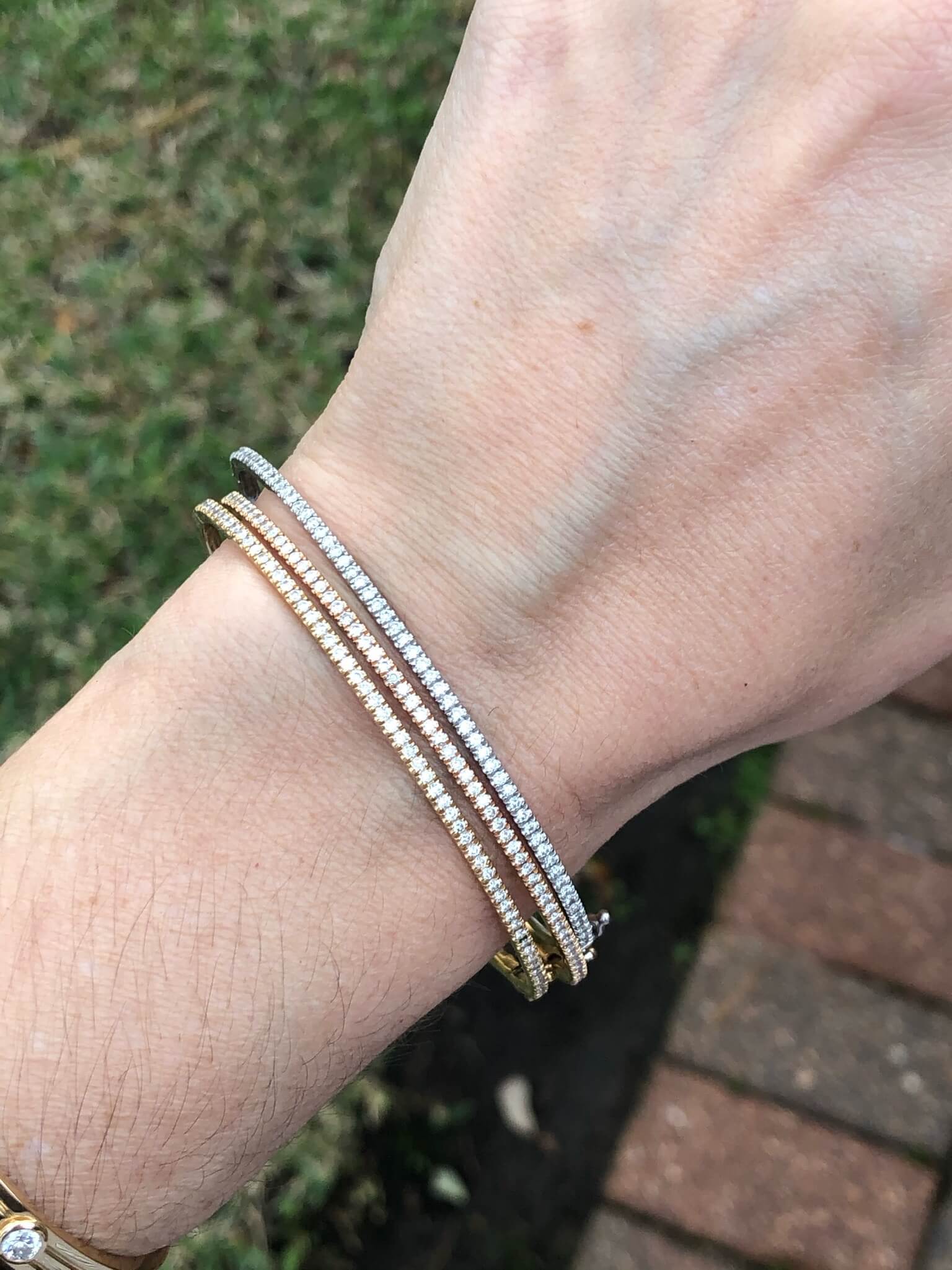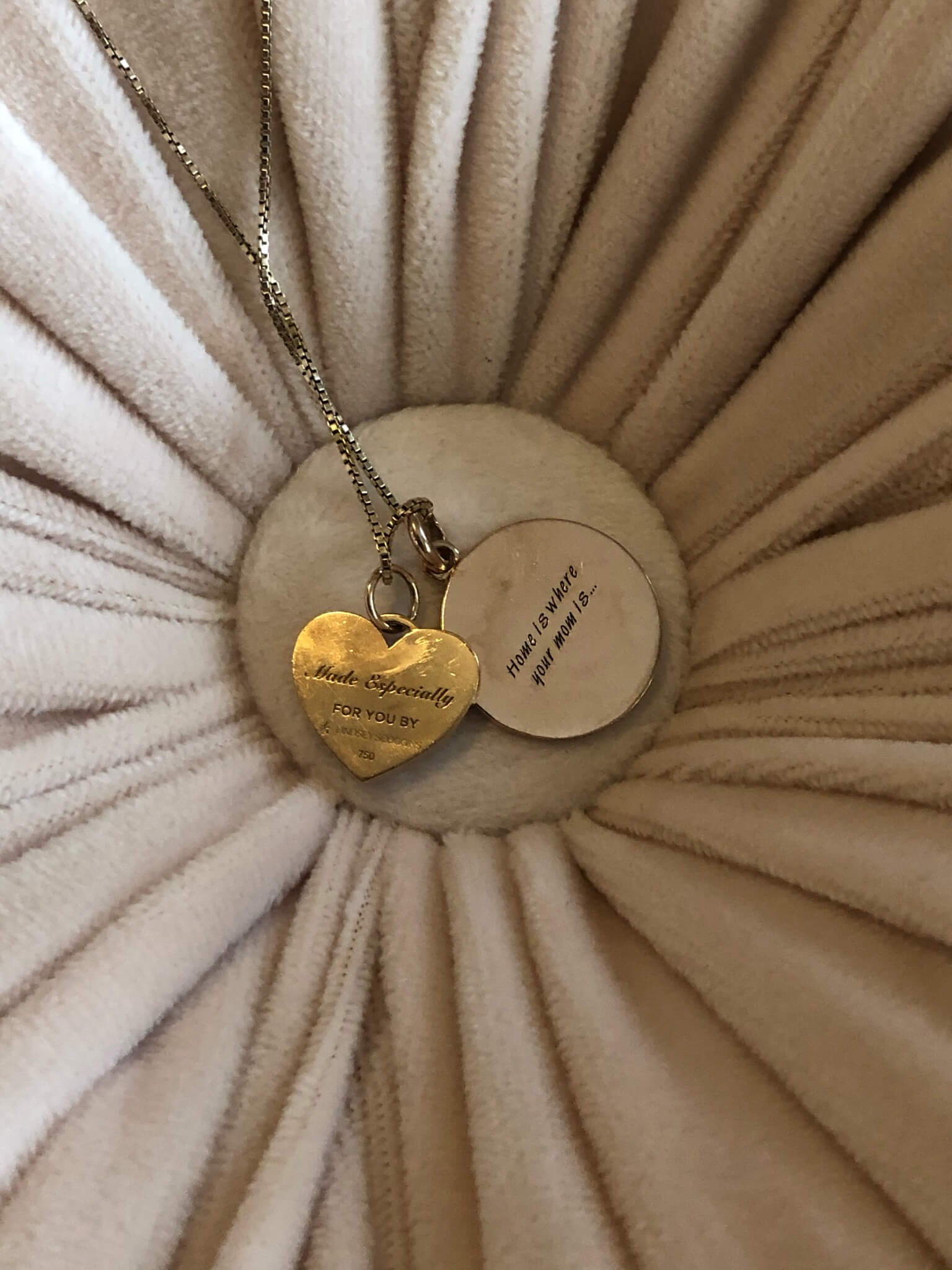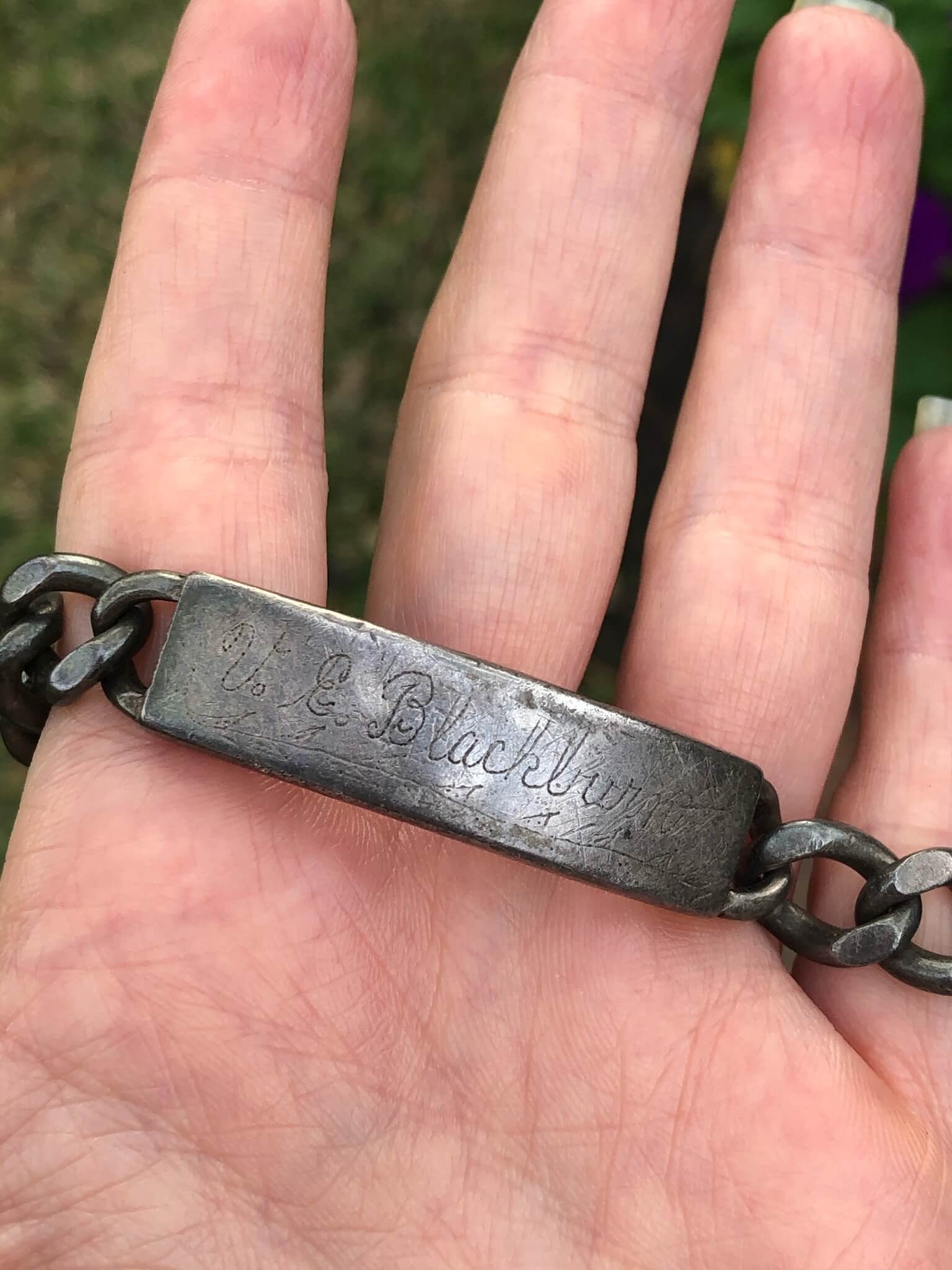 BROWSE SOME DESIGNS FOR COMMISSION THAT WOULD MAKE GREAT HEIRLOOMS
Contact us to inquire about any of the pieces shown here or to commission something new for your jewelry box.