Posted by Meredith Jayme on Jun 29th 2021
JEWELRY BOX: JENNY OLIVER

JENNY OLIVER'S JEWELRY COLLECTION INCLUDES A MIX OF FAMILY HEIRLOOMS, SPECIAL SELF PURCHASES AND TRENDY INSTAGRAM-WORTHY PIECES.

Jenny Oliver works in the social media industry and is currently the community manager for a brand that you most likely have in your fridge, PepsiCo. Aside from being a social media queen, Jenny is also the type of friend that is a go-to if I need advice on anything from career and relationship dilemmas to which dress I have to add to my wardrobe. Jenny and I caught up over rosé and carbs at Cecconi's in Dumbo and chatted about her love of jewelry, personal style and favorite pieces. Get to know Jenny and take a peek into her jewelry box below.

WHAT DO YOU LOVE ABOUT JEWELRY?
I love how I can express myself with jewelry and I love pieces that I know I'll have forever and that I can wear every day.
HOW WOULD YOU DESCRIBE YOUR STYLE?
I would say it's a mix of trendy and classic because I have a few pieces that I think are really trendy but they're also very me, so I know I can wear them forever. My style is classic because I definitely have a lot of pieces that are timeless.
MJ: I feel like your style is also really feminine.
It's definitely feminine too.
DO YOU HAVE ANY HEIRLOOMS THAT YOU INHERITED FROM FAMILY? I KNOW THAT YOU HAVE YOUR RING AND BRACELET, ANY OTHERS?
Okay, well, these earrings, they were my grandma's. They're huggies with gold and diamonds. This ring was passed down through generations. First it was my great grandma's, then it was my grandma's, then my mom's, and then for me. We each got it when we turned 16, so I got it on my sixteenth birthday.
A crazy story is that I was wearing it when I was meeting a friend for dinner a few years ago and it slipped off of my finger because it was too big because we didn't have it sized appropriately. I freaked out that I didn't have it at the end of the dinner, so I went back and retraced my steps and I actually found it on the ground. Someone had stepped on it but the diamond was still intact. We took it to a jeweler and had it fixed and now I have it fitting tightly on my finger.
I also have a gold bracelet that was my great aunt's that I found in my mom's jewelry box and I asked to wear it and I just never took it off, so it's become mine. My mom also gave me this ruby bracelet that has matching earrings. They were the first pieces of fine jewelry she bought herself. I've been wearing the bracelet for years now and it's so special.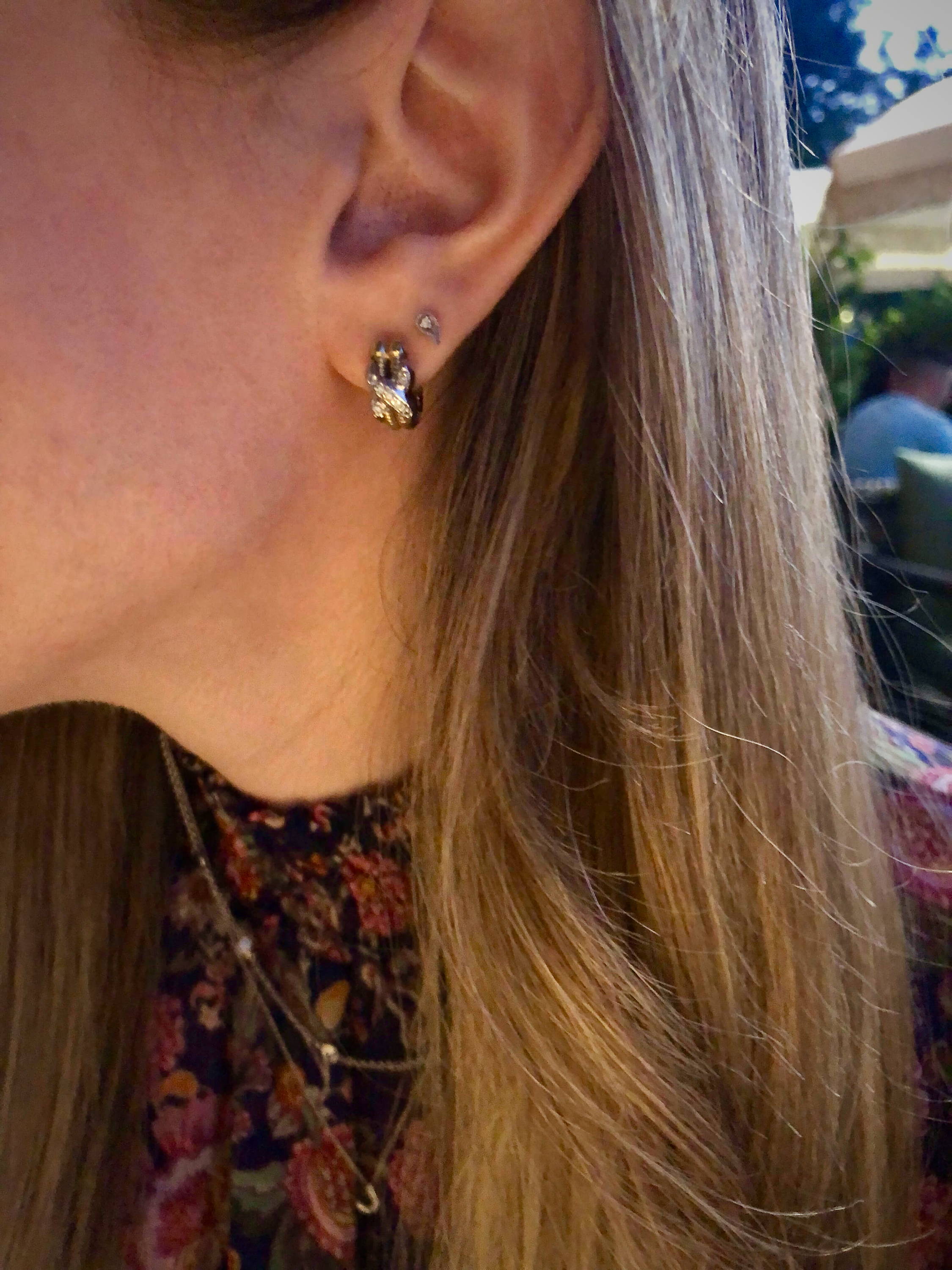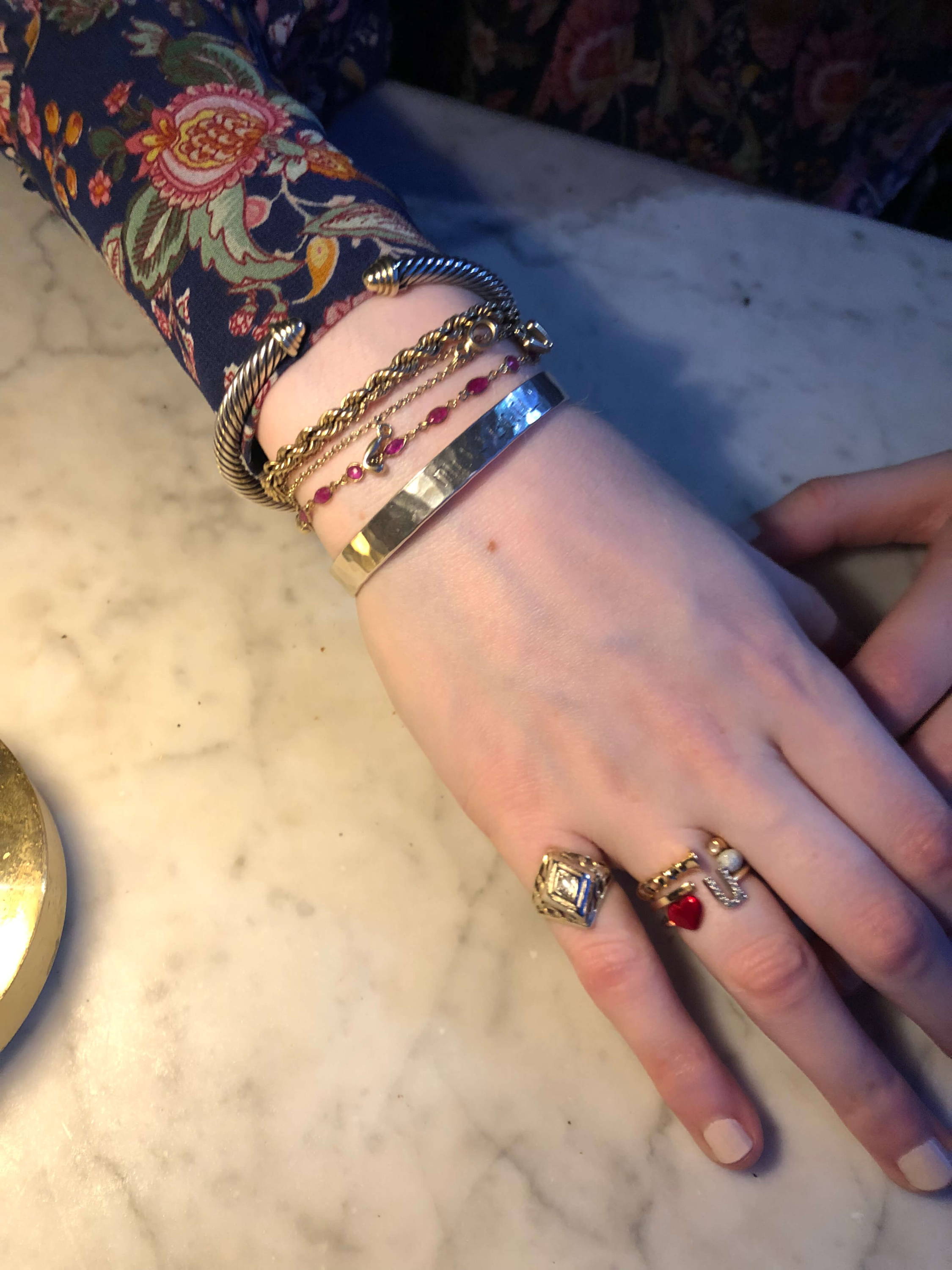 Jenny's huggies from her Grandmother and daily bracelets and rings.
HOW WOULD YOU DESCRIBE YOUR DECISION MAKING PROCESS WHEN PURCHASING JEWELRY?
So I'm definitely a planner and I plan out my purchases based on things like birthdays and Hanukkah. I really think about what I want because I know that I'm going to wear it every day and I'll have these pieces forever, so I'm really careful about the pieces I pick and I plan out really far in advance.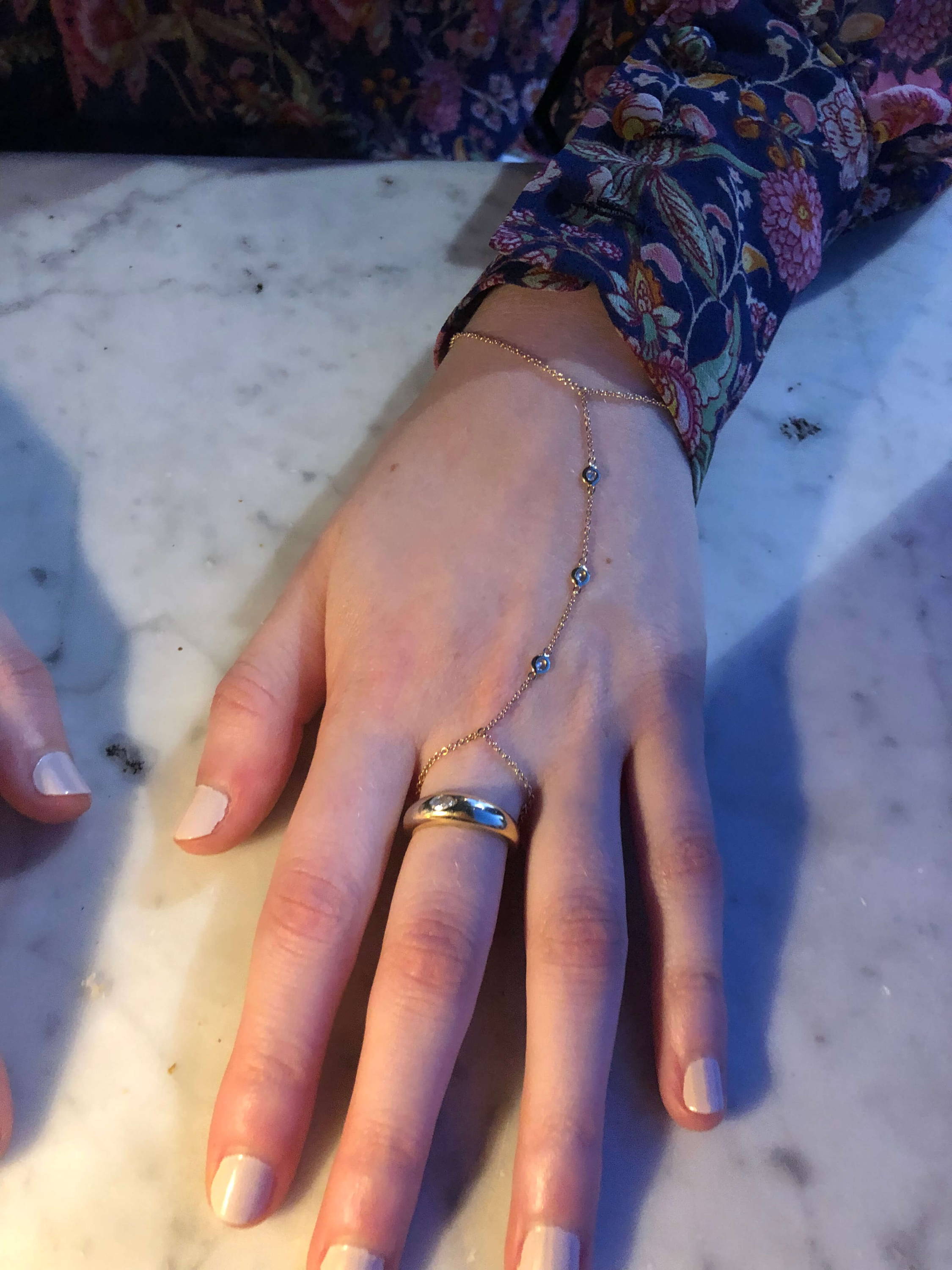 Some of the jewelry that Jenny was wearing during our interview.
WHAT PIECE OR PIECES DO YOU WEAR MOST REGULARLY?
So basically you know I like something if I wear it and literally never take it off. So I have these Alison Lou stacking rings that I've gotten throughout the years and I wear them every day. And I recently got a Jacquie Aiche finger chain that I literally never take off- I shower and sleep in it. I also have a Jacquie Aiche ring and then I have two necklaces. I have a diamonds by the yard necklace that was my mom's and she had it made through loose diamonds or extra diamonds, so some are from my grandma, my great grandma, and pieces that she's had that she's remade into this necklace. And then I wear a little diamond Roberto Coin "J" and then a bunch of bracelets too- a full stack. One of my bracelets is from Hadaya which is an Israeli brand. My mom and I both got one when we went on a family trip to Israel 13 years ago. the front has my Hebrew name and the inside is engraved "this too shall pass" in Hebrew. I never take it off!
DO YOU HAVE A FAVORITE PIECE AND WHY?
That's really tough... Probably my Alison Lou "heart you" ring. I'm obsessed with Alison Lou. I interned for her and I think she's so cool and creative. This ring I got for my 21st birthday and it was really special because I was studying abroad in Florence at the time and I really wanted this ring and my parents bought it for me. The Alison Lou girls wrote a birthday card for me and it was really sweet. It was just really special.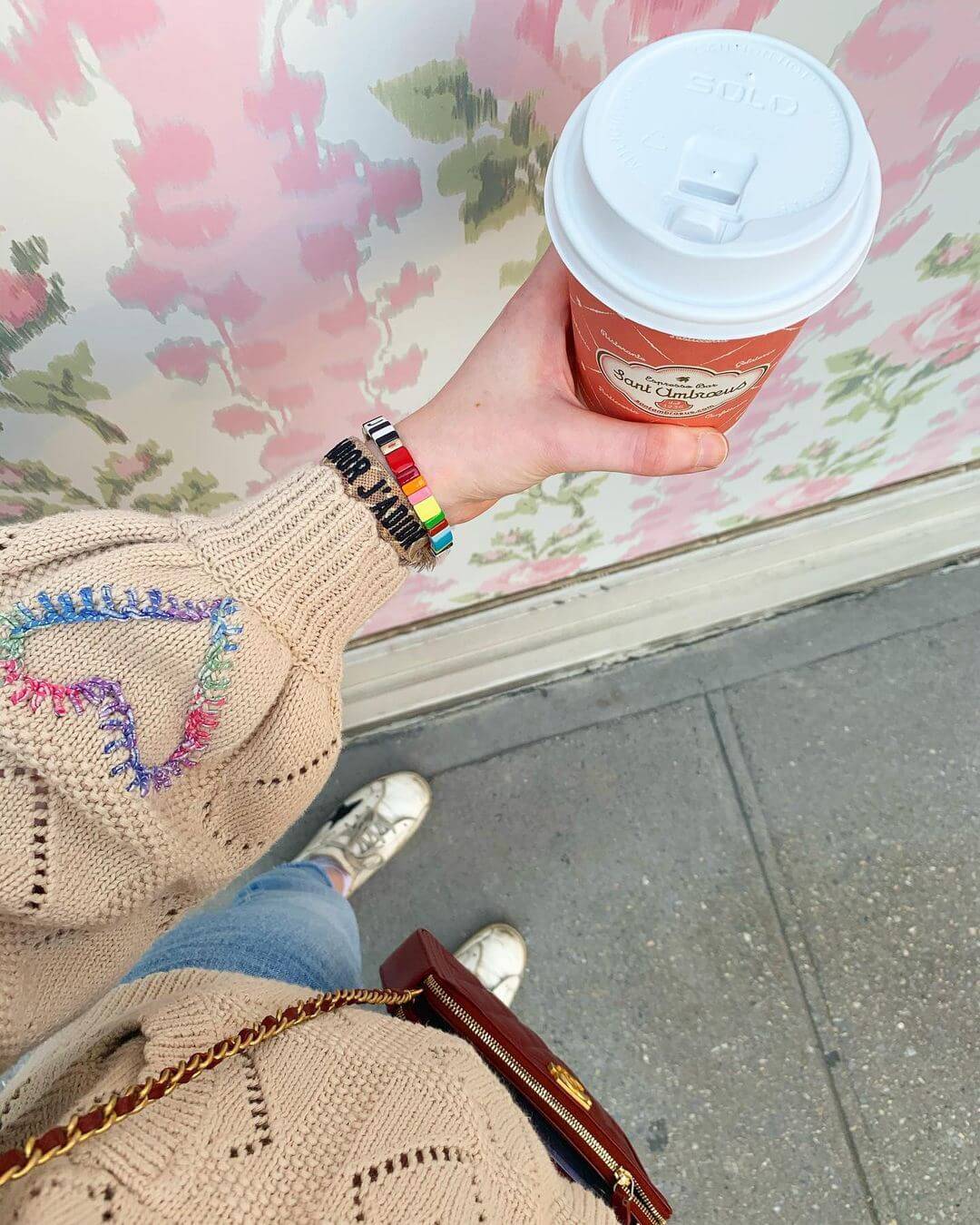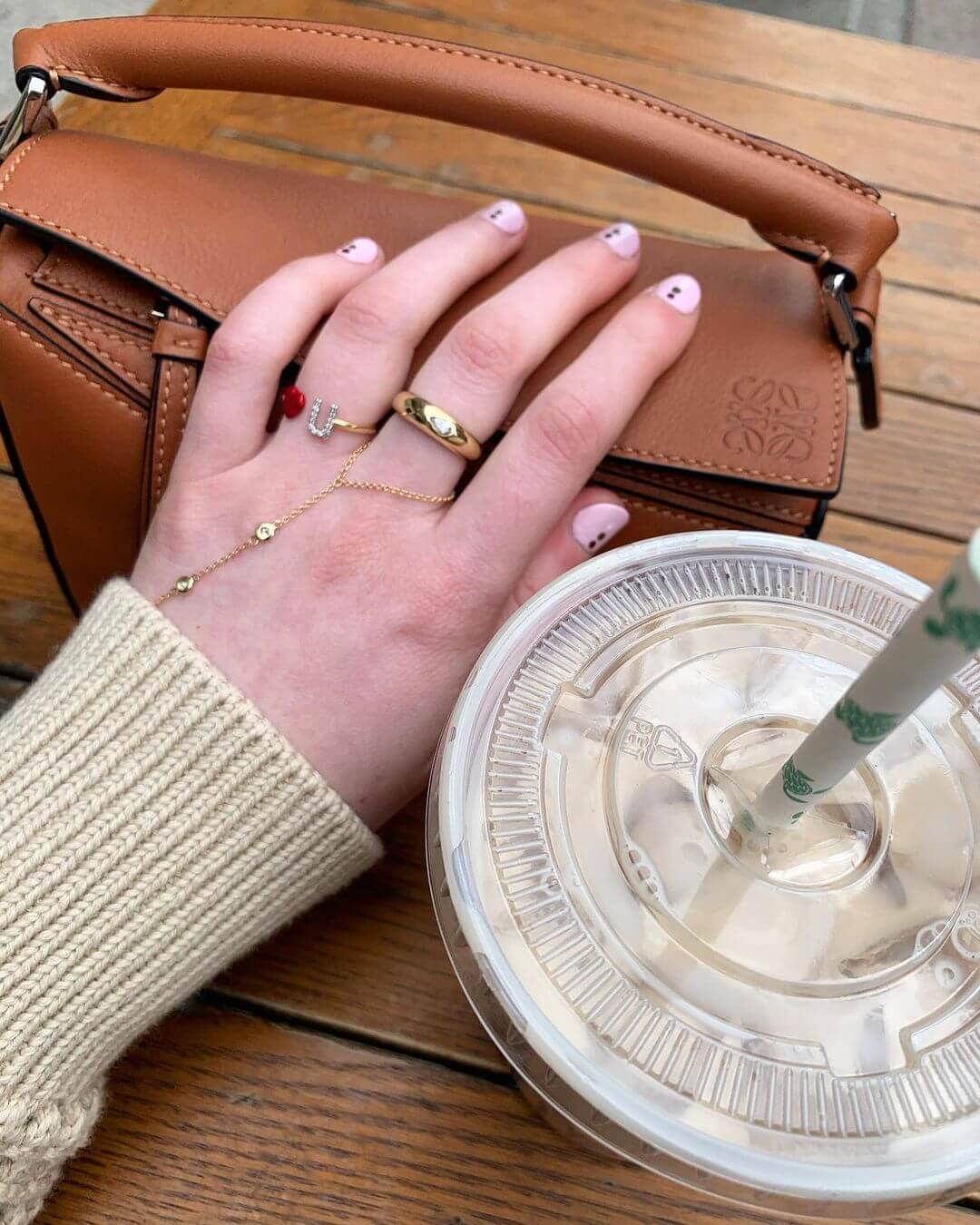 Some of Jenny's very chic coffee and jewelry moments.
WHAT PIECE OF JEWELRY DO YOU PLAN TO INVEST IN NEXT AND WHAT IS MISSING FROM YOUR COLLECTION?
So there are two things I want next. One is a yellow gold and white gold thick necklace chain because I have a couple of charms. One is from my dad's mom. It's a heart locket that I want to put on a chain and then grow a charm necklace, but first, I need the chain. And then, I also want another Jacquie Aiche finger chain because I like the look of it layered, so that's on the list too.
DO YOU HAVE ANY BEST OR WORT JEWELRY MEMORIES?
Yeah, worst was losing the pinky ring for sure. And then I think best was when there was this bracelet that I wanted when I was really young. I was in like the sixth grade and I went to this really nice jewelry store with my mom and I loved this bracelet. It's just this bracelet and it says "love" and it used to have enamel on it. It was around Valentine's Day and I really liked it, but she told me she wasn't getting it for me. Then my birthday was a couple of months later and my grandfather came to my house and had a jewelry box from the store and it was the bracelet that I wanted, so that was a really special memory.
ANYTHING ELSE YOU'D LIKE TO MENTION?
I'm a big jewelry lover and I've had a couple of internships in jewelry. It's always been something that's been really important to me just from my mom's collection to curating a collection of my own.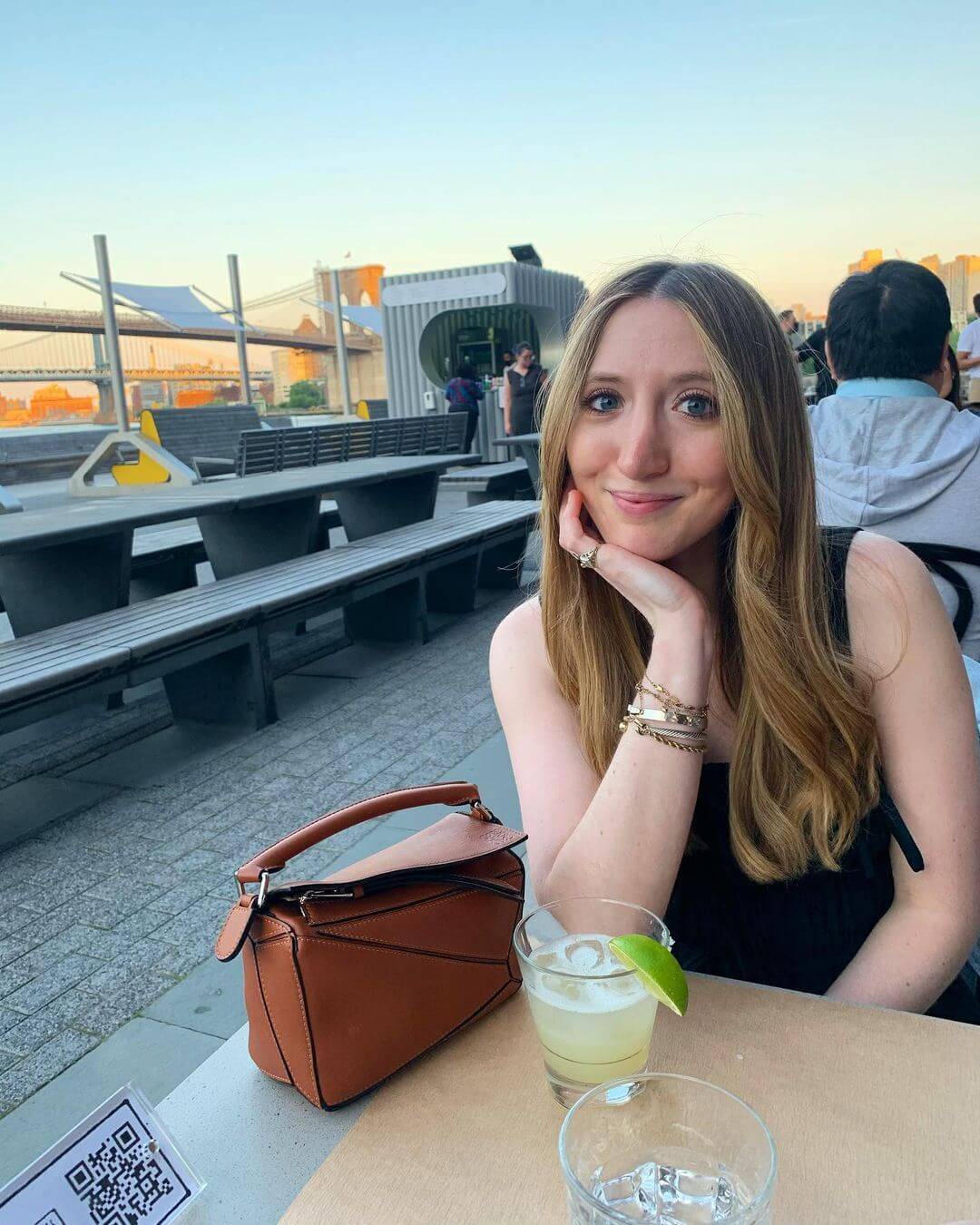 MORE JEWELRY MOMENTS FROM JENNY'S INSTAGRAM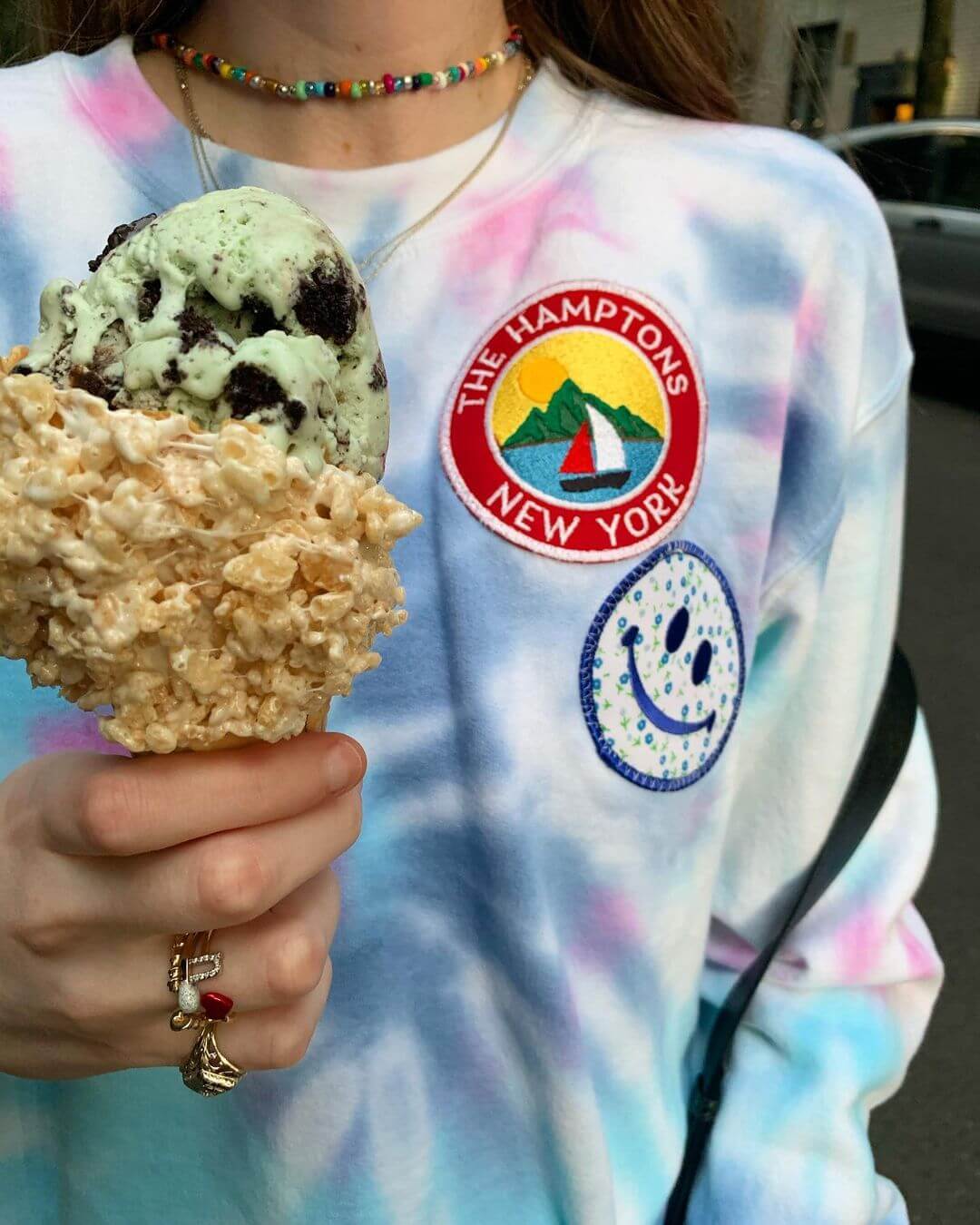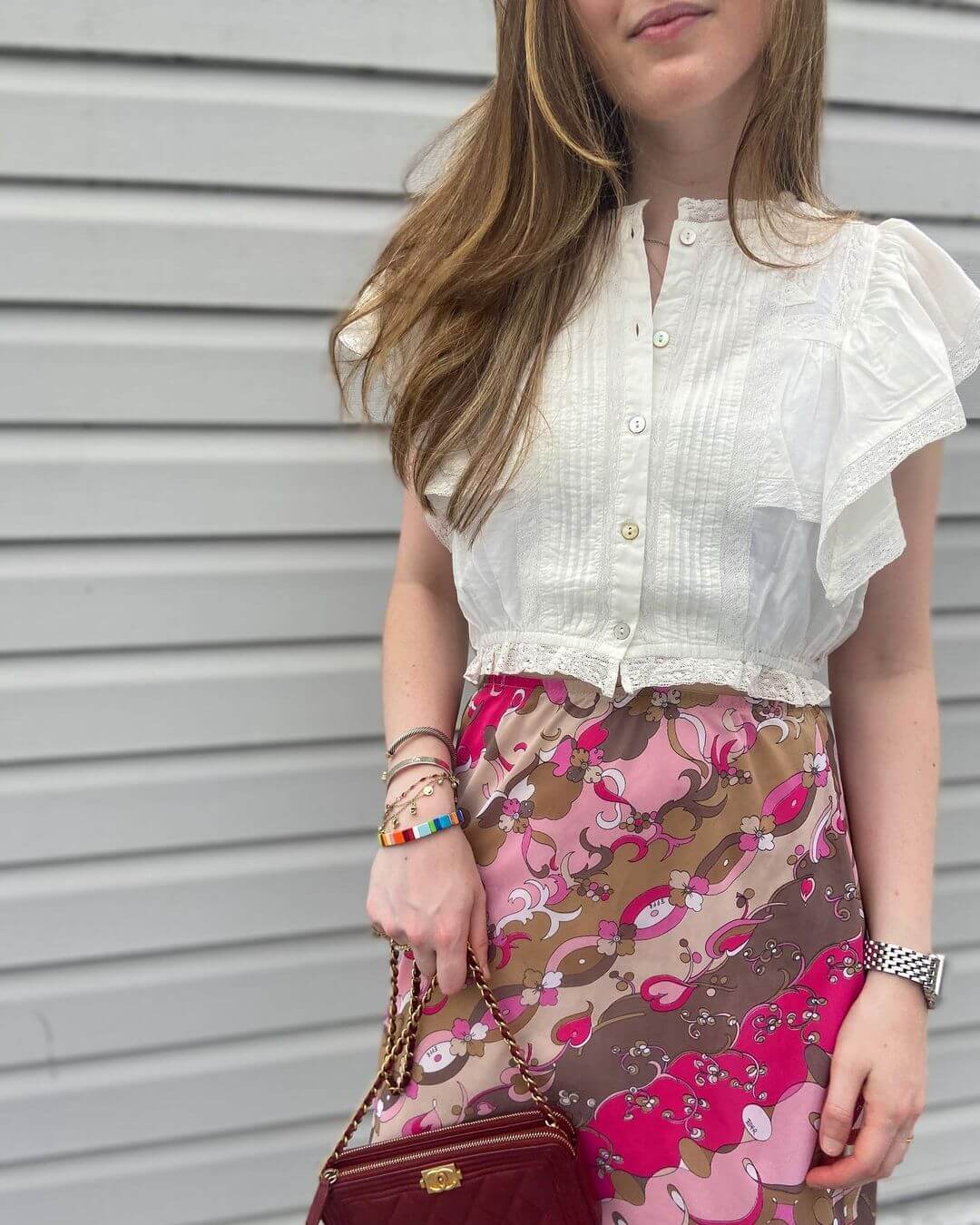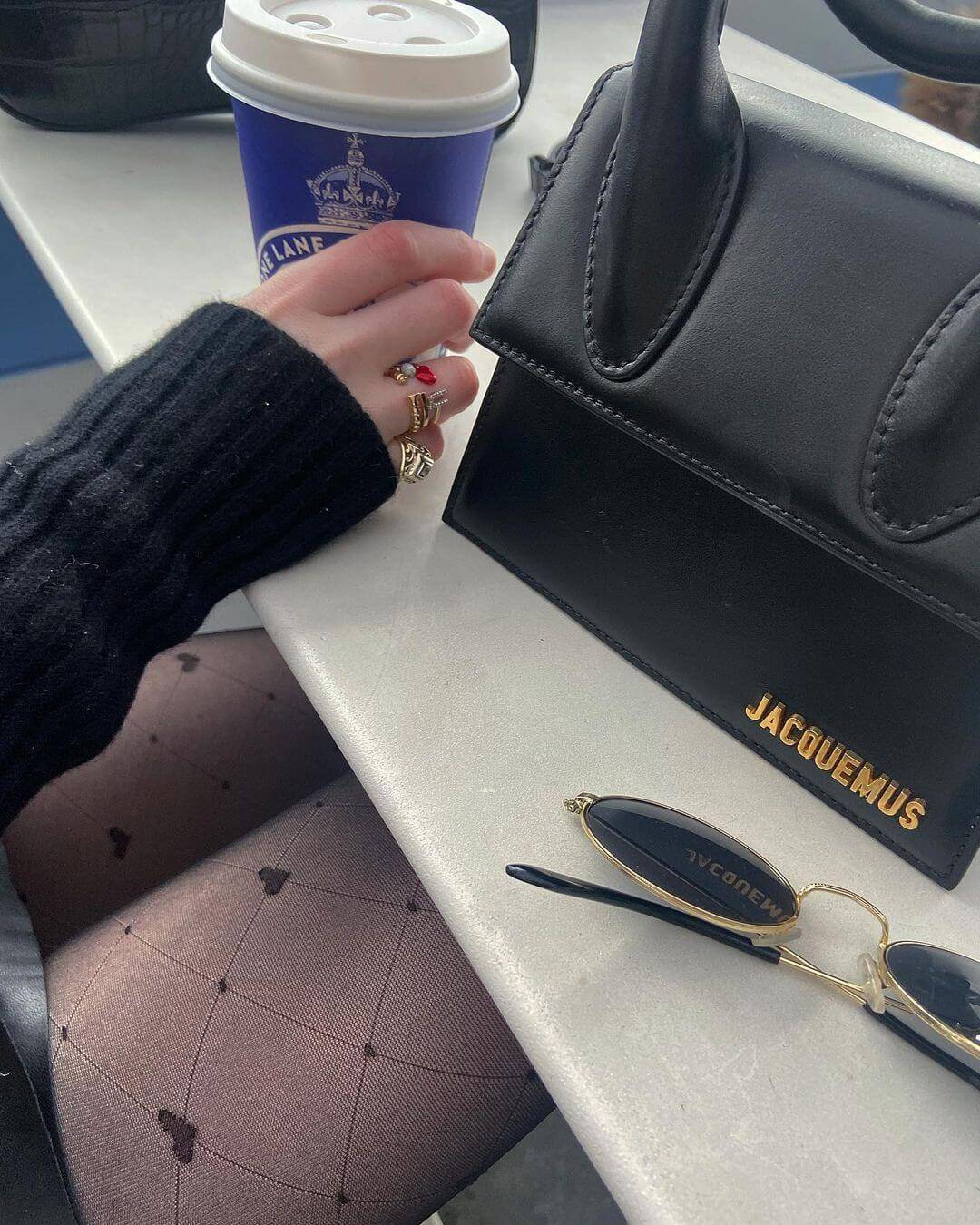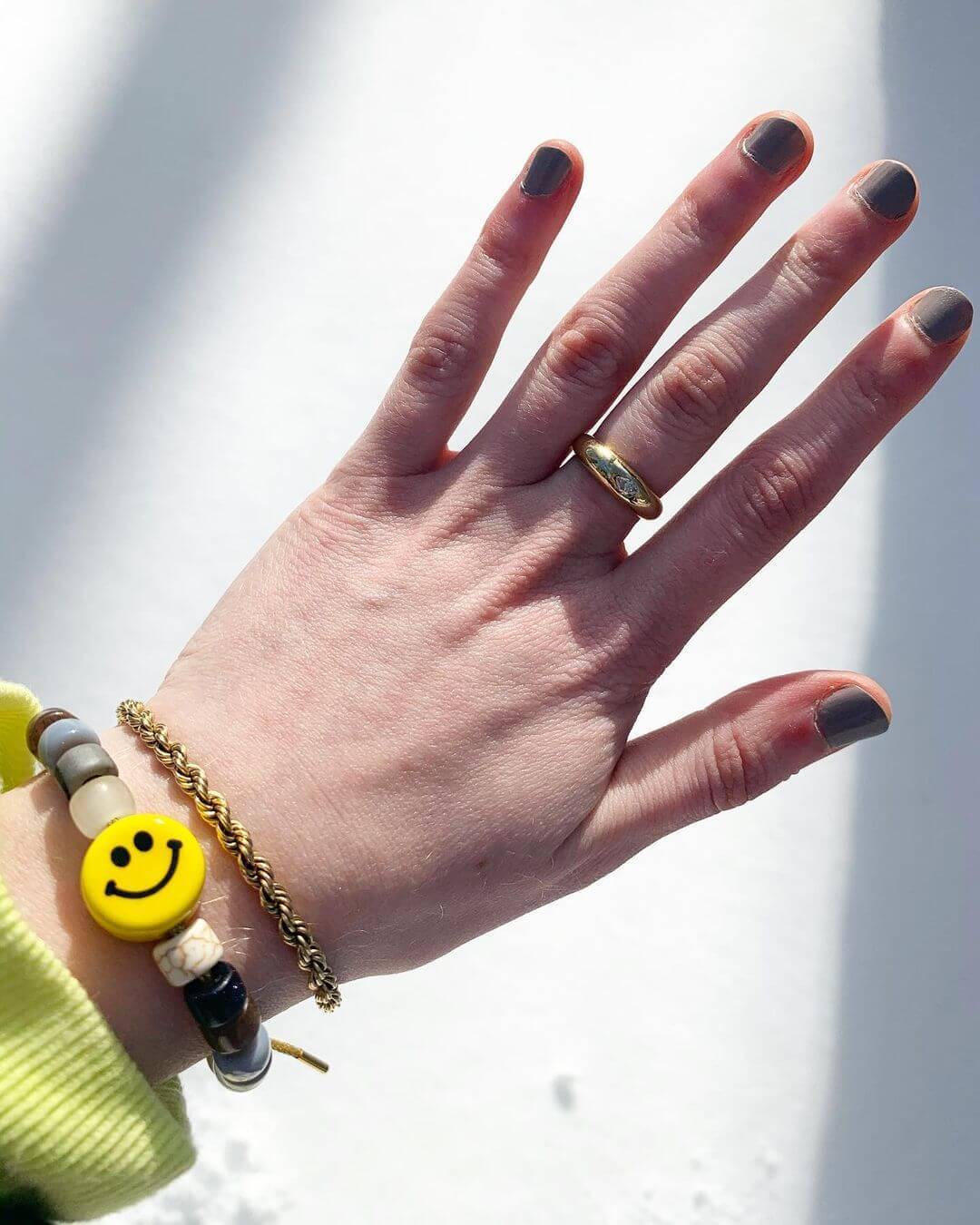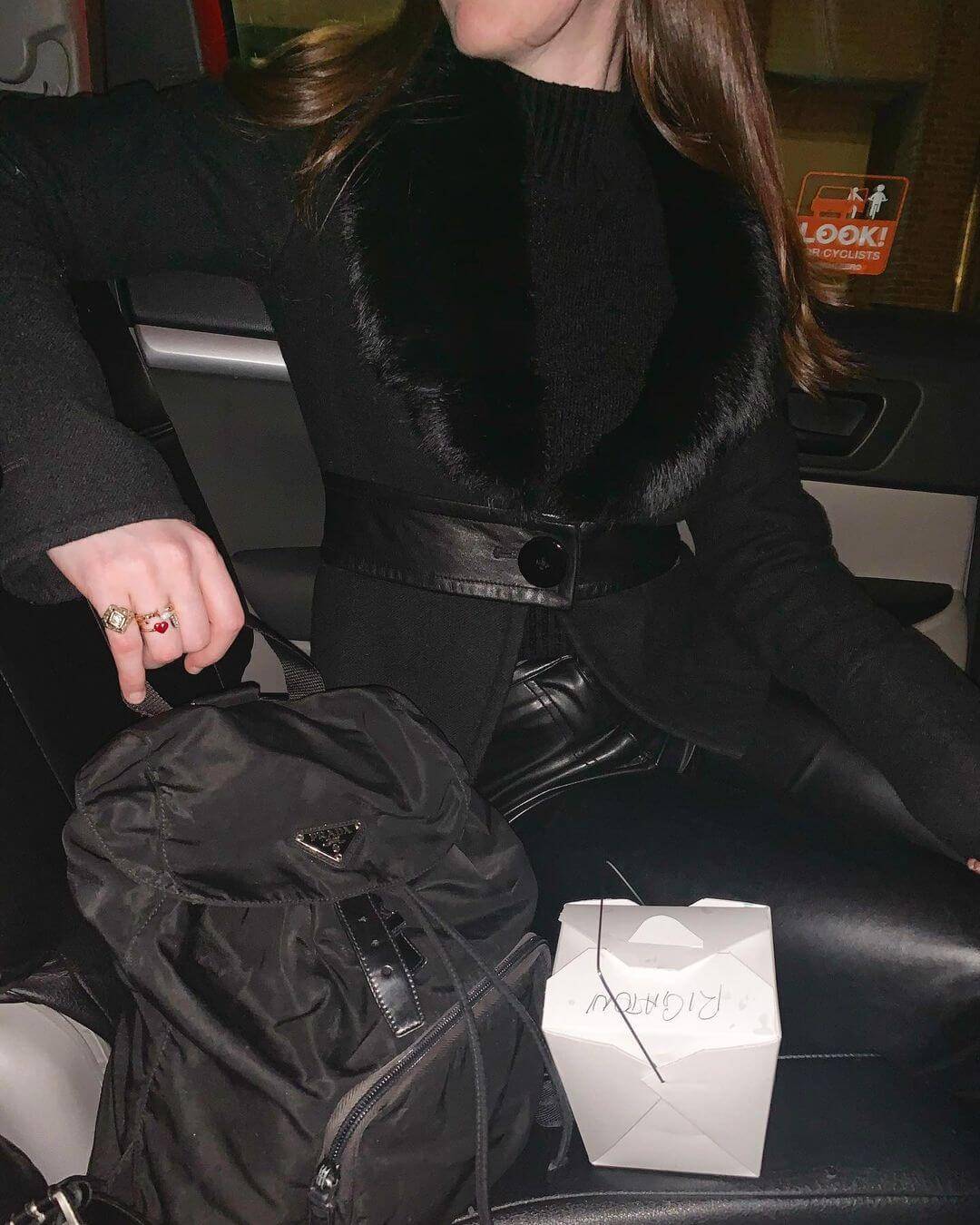 BROWSE SOME DESIGNS FOR COMMISSION THAT WE THINK WOULD LOOK GREAT IN JENNY'S JEWELRY COLLECTION
Contact us to inquire about any of the pieces shown here or to commission something new for your jewelry box.