Posted by Meredith Jayme on Jun 21st 2021
JEWELRY BOX: JESSICA KIRALY

IF JESSICA KIRALY WAS A REAL HOUSEWIFE HER TAGLINE WOULD BE "I'VE NEVER CARRIED A GARMENT BAG IN MY LIFE BUT I HAVE CARRIED MILLIONS OF DOLLARS OF JEWELRY ON THE SUBWAY."

A Virginia native, Jessica Kiraly is a jewelry girl. She's spent her career in the industry and is currently the Director of Public Relations at Mega Mega Projects. She looks the part, with well curated ring stacks, perfectly paired earrings, layers of necklaces, and an Instagram-worthy manicure at all times. As we caught up over wine and truffle mac and cheese, we talked about everything from Jess's love for pearls and opals to her most cherished family heirlooms. Get to know Jessica Kiraly and read her Jewelry Box interview below.

WHAT DO YOU LOVE ABOUT JEWELRY?
So I've only ever been in jewelry. I've never done anything else. If I was a real housewife and I had a tagline it would be that I've never carried a garment bag in my life but I have carried millions of dollars of jewelry on the subway.
Jewelry for me, it fits for the most part, 99% of the time, it fits everyone whereas you know I've found that clothing doesn't really and I've never been a sample size. With jewelry, I've never walked out of a jewelry store empty handed where I've walked out of so many clothing stores. Jewelry fits everyone and you can always find something. I kind of just fell into working in the industry and now I can't imagine doing anything else.
HOW WOULD YOU DESCRIBE YOUR STYLE?
I'm a very everyday jewelry wearer. I like a gold, a diamond, an opal, and a pearl. The pieces I have on, I wear everyday - I sleep in. I just recently started taking my rings off when I sleep but earrings and my herringbone necklace, that is from my grandmother, I keep on just because they're difficult to take off, especially with my nails. The longer necklaces I obviously take off to sleep in but for the most part I wear everything everyday.
DO YOU HAVE ANY HEIRLOOMS THAT YOU INHERITED FROM FAMILY?
I do, so I actually got a lot over the summer when I was with my parents. I have an opal ring from my grandmother and then two months ago when I went home I got a gold bangle. It's from 1919. My great grandfather bought it for my great grandmother and we still have the original packaging it came in with a little note. We can't figure out if the emblem on it is an "H" or an "L" because their last name is Lance but her name was Hazel. None of us can figure out what it is. It's kind of rose gold and I don't really wear rose gold but it's fit in. It's also something that's very hard to take off because it has a clasp that's hidden and you press it in and there's a wire so I actually can't take it off too many times otherwise that wire is going to break, and I'll eventually have to get it redone.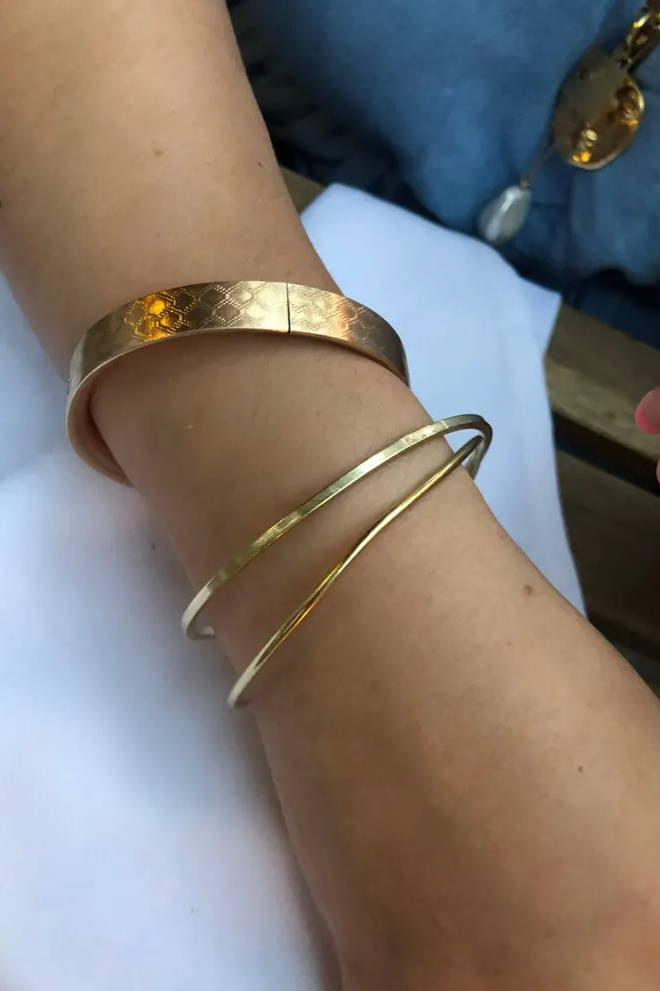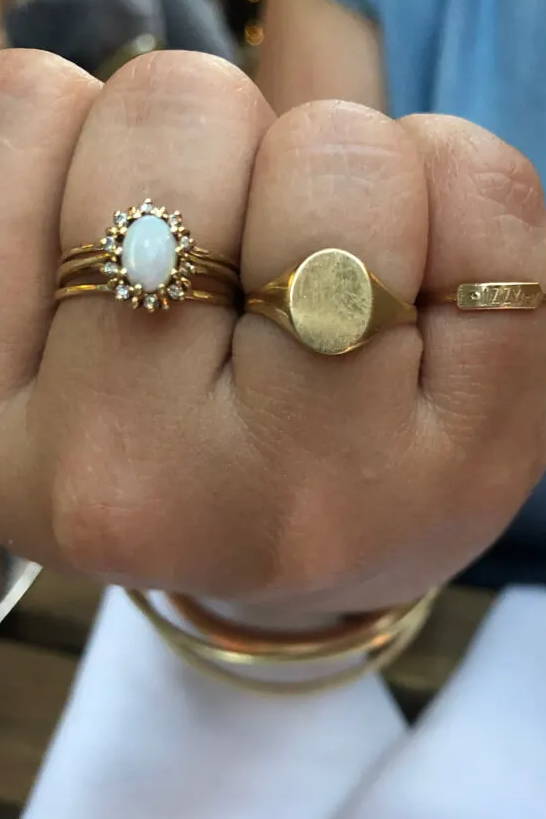 Jessica's gold bangle and opal ring from her Grandmother.
HOW WOULD YOU DESCRIBE YOUR DECISION MAKING PROCESS WHEN PURCHASING JEWELRY?
I have a hard time purchasing jewelry because I'm in the industry. I have a very hard time going to a store and just saying, "okay, let's do that" when I have a lot of friends that I know could do custom work for me or I know someone else who could do it. But I think at the end of the day, I enjoy supporting smaller designers. And it's something that because my style is an everyday style, I ask if it's something I can wear every day. I also think about the durability of it, which is funny because I like pearls and opals, but I think about how is it going to fit in on my stack. I don't really change things up a whole lot so I really think about it that way. I also try to buy from the designer directly.
I'm like the anti millennial, I don't know if I've ever bought a piece of jewelry online without going to a store and looking at it or really trying it. I have to feel things. Luckily enough, the majority of jewelry I own comes from designers that I've worked with, so I've been able to feel it and touch it and also wear it before actually purchasing.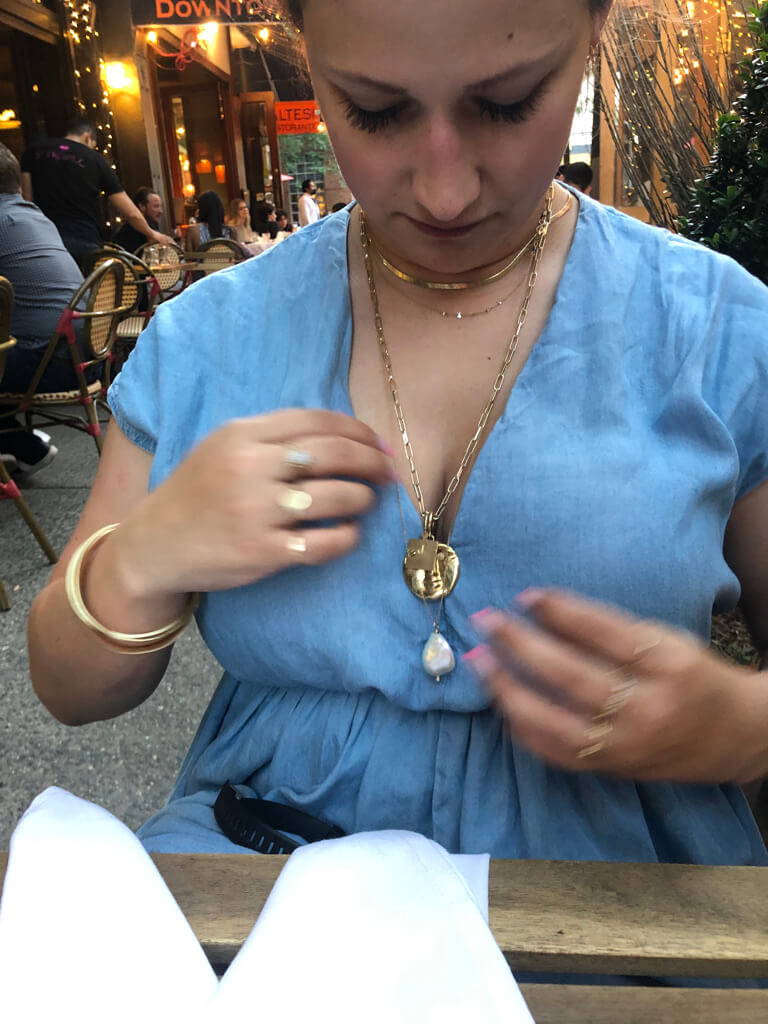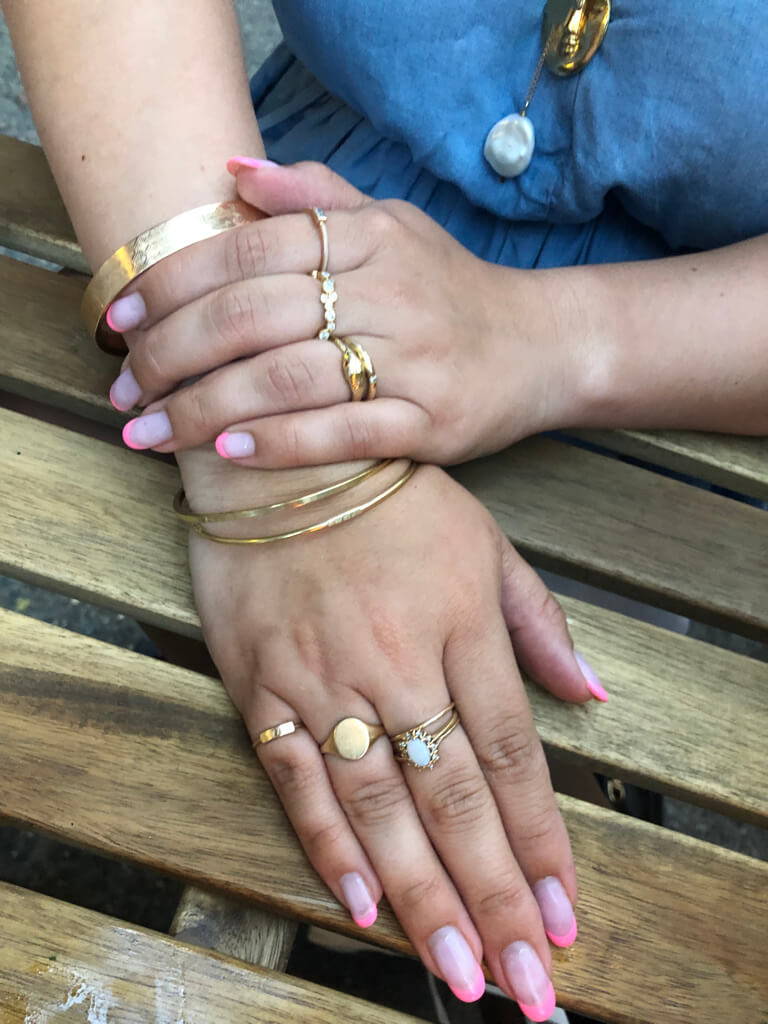 A few of Jessica's jewels that she was wearing during our interview.
WHAT PIECE OR PIECES DO YOU WEAR MOST REGULARLY?
Well, like I said, I basically wear the same things every day. I have a Pamela Love snake ring, a Bruce ring, and I have a little ring that was custom that has my dog's name on it. I also have my opal ring from my grandmother, my bracelet from my great grandmother, and a herringbone necklace from my grandmother. I'm wearing a Milamore puzzle piece that the designer gave to me as a gift after helping to launch his jewelry in the US with PR this summer. I also have a Mary MacGill pearl necklace that I always wear. Today, I put on a Harriet pendant from Rush Jewelry Design and it's not actually mine, it's a loaner, however, I think I'm going to ask her for the price because I think it needs to be added to my collection. And then I had a little cannoli charm that I had from Catbird that I got in honor of my grandmother and I lost it on Tuesday, so I'll have to replace that soon.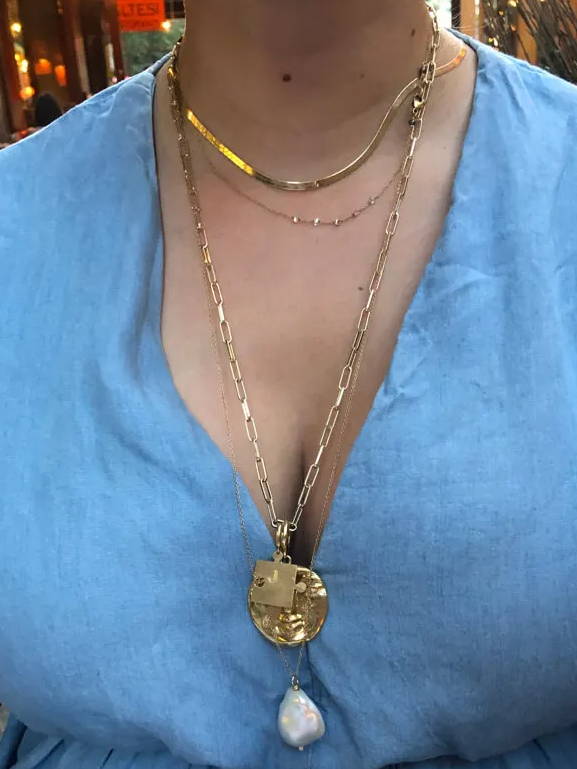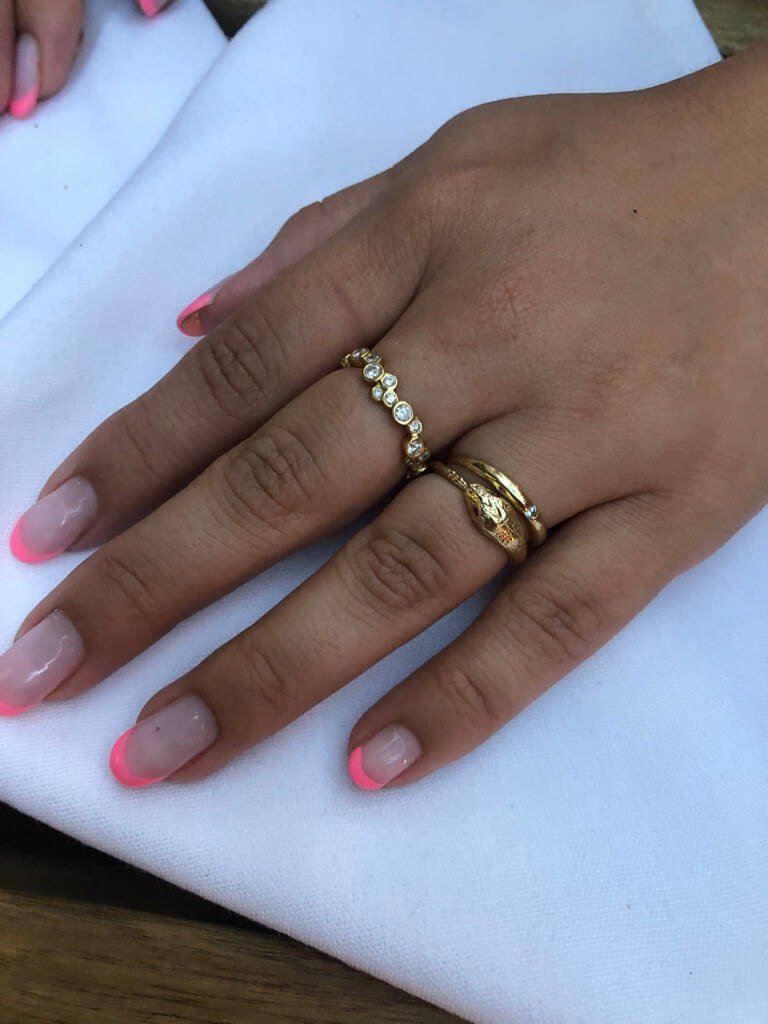 A closer look at some of Jessica's daily jewels.
DO YOU HAVE A FAVORITE PIECE AND WHY?
Honestly, probably the pieces that I have from my grandmother. You know, as a kid, I always liked jewelry, but I don't think I really ever valued the preciousness of it. I guess as a kid, I was only ever allowed to play with costume stuff and I only ever saw this (fine jewelry) from far away and it was something that my grandparents never wore on a daily basis because back then you didn't wear that kind of stuff. So having it now is very special to me. And it's important. Actually both of my grandparents recently passed away and so because they have so many grandkids, they took their rings and they broke them apart. Each grandkid has a handful of diamonds and a handful of stones. I have sapphires and diamonds from both sides so I'm actually going to make something, probably a band that's just for me that has both combined so it's basically both sets of grandparents and will be something special for me.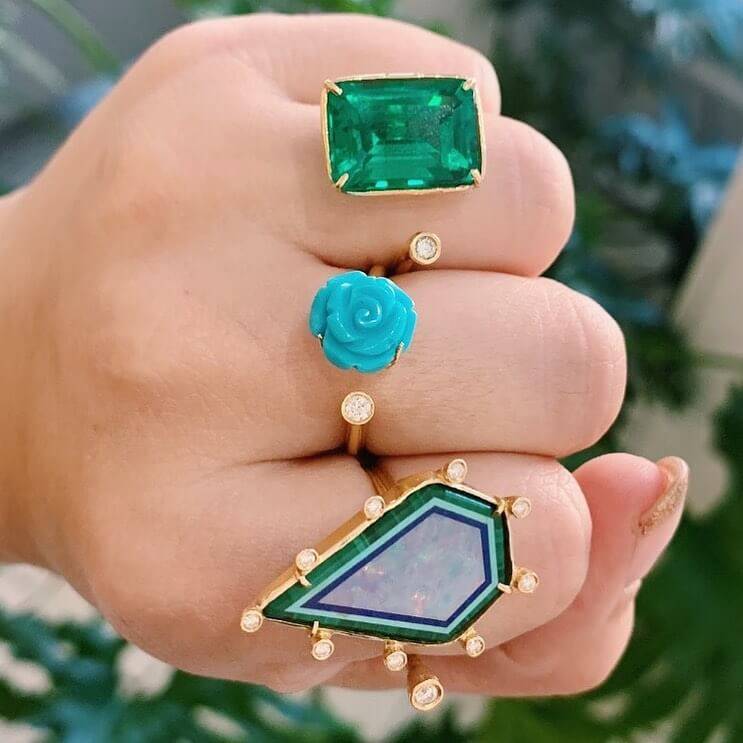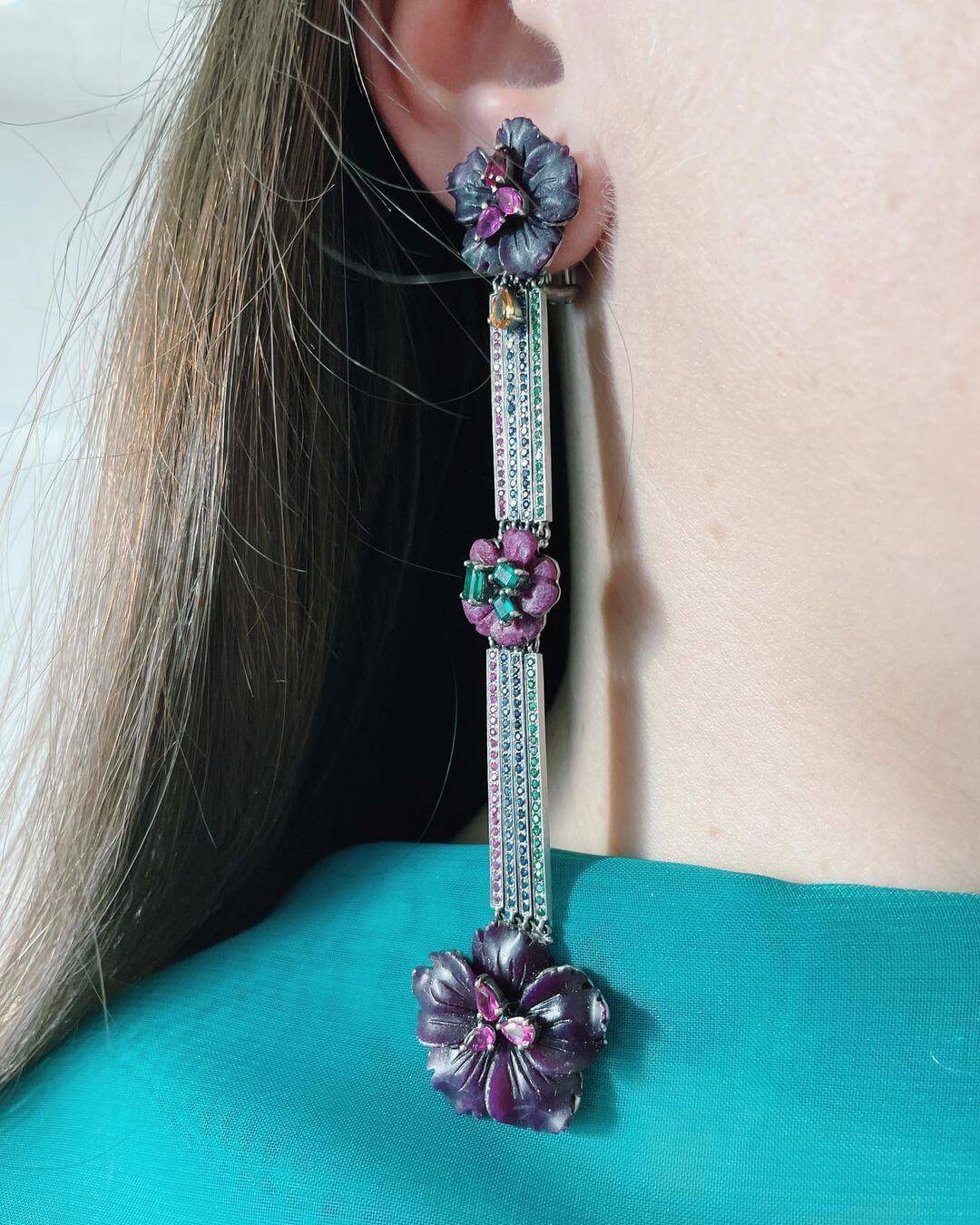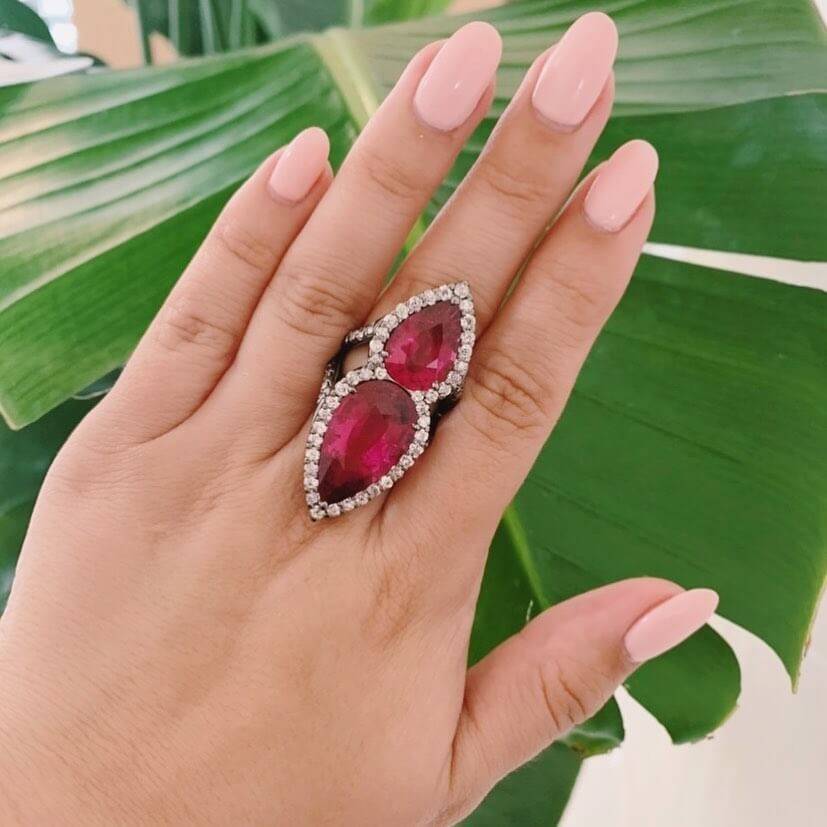 Some major moments from Jess's Instagram. Follow her for more jewelry content @jessicakiraly.
WHAT PIECE OF JEWELRY DO YOU PLAN TO INVEST IN NEXT AND WHAT IS MISSING FROM YOUR COLLECTION?
So I want a yellow gold bangle. I want a chunky, chunky bangle. I almost want to say Cartier but not a Love bracelet. I want it to be more rounded... a big, thick, rounded gold bracelet.
DO YOU HAVE ANY BEST OR WORT JEWELRY MEMORIES?
Best memories? Nicole Kidman Sag Awards 2020 wearing five of my designers. The firm that I work for, we focus more on editorial and digital. Celeb PR can be very difficult and is almost a different beast. So Nicole's team said that they needed jewelry and I said okay and shipped it to them on Friday to get there overnight on Saturday. On Saturday, I was having brunch with another fellow jewelry PR girl, and thank God I was with her because our food came and I didn't eat any of it. I sat outside of the restaurant on the curb fighting with FedEx, because they said they delivered Nicole's jewelry and they didn't. So I basically sat on the curb yelling at FedEx for about two hours. I eventually got to the point where I had a dispatcher on the phone and I told her this is Nicole Kidman's jewelry and you have to get it to her. They were eventually able to re-deliver it but I thought that it was probably going to be too late and that she's not going to get it, but the next day, that Sunday, at the SAG Awards, she was wearing five of my designers, five independent designers.
My worst memory... diamonds ending up in trash cans.
DOES YOUR FAMILY UNDERSTAND YOUR RELATIONSHIP WITH JEWELRY?
No. My boyfriend has a tough, tough journey ahead of him. I will say that, but with a little bit of guidance, I think he'll make it.
My dad is absolutely clueless. He still will text me the day before Mother's Day or the day before my mother's birthday and say, "What can I get?" And I say I work with fine jewelry, you need to give me some time here. My mom is starting to understand, like I said earlier, my mom over the summer when I was super busy with things, we would sometimes get jewelry to our house that I would have to package up and put away and she she thought it was fun to pack it up and send it out for a shoot. She started to learn and I think over the years they have accepted and understood. They also know never to buy me jewelry without asking me first.
ANYTHING ELSE YOU'D LIKE TO MENTION? ANY FAVORITE DESIGNERS?
I can't say a favorite because there are too many. But I think one thing that I enjoy about the industry is that I'm always finding new designers. I also think this year it's become really connected and it's been a real support system. Whether it be a designer themselves, whether it is a celebrity stylist, or whether it is another PR lady, we all know each other, we all work in the same industry and the friends I've made in the jewelry world, they truly care. I get people commenting on my Instagram posts that are like, this is great, congratulations and it's a much more uplifting environment which is just another reason why I've always enjoyed this industry.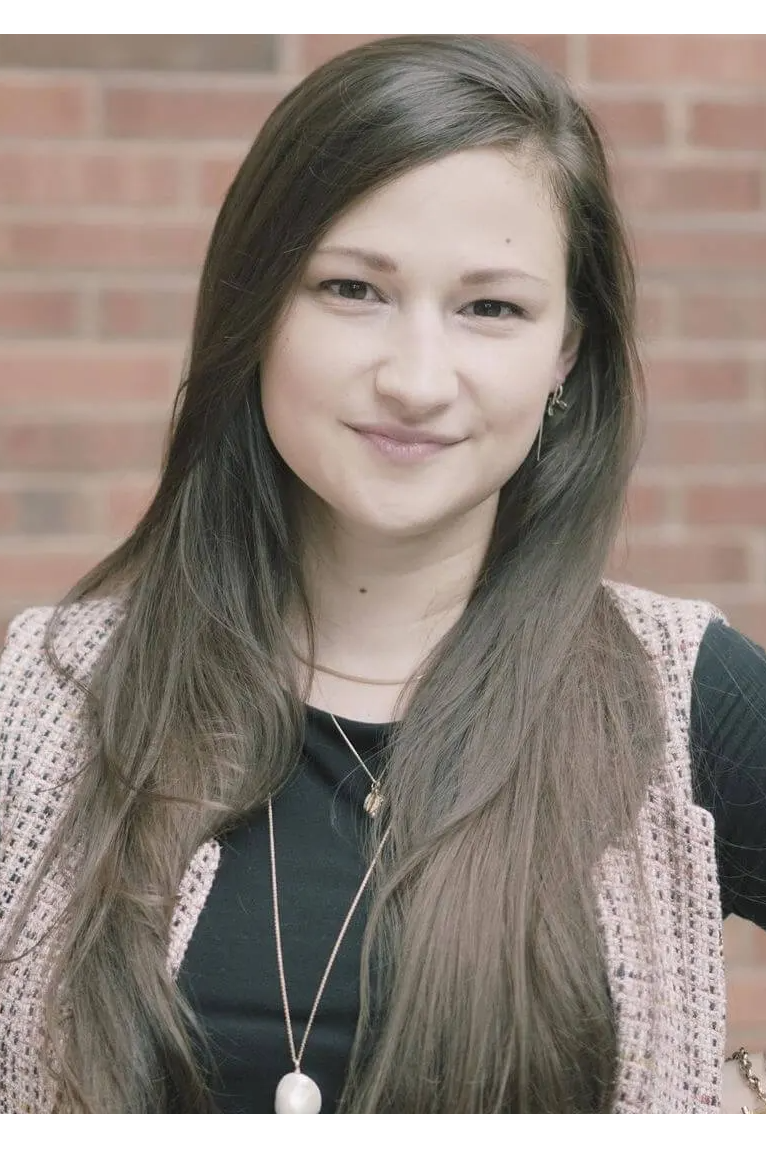 DOGS IN JEWELRY STARRING JESS'S DOG IZZY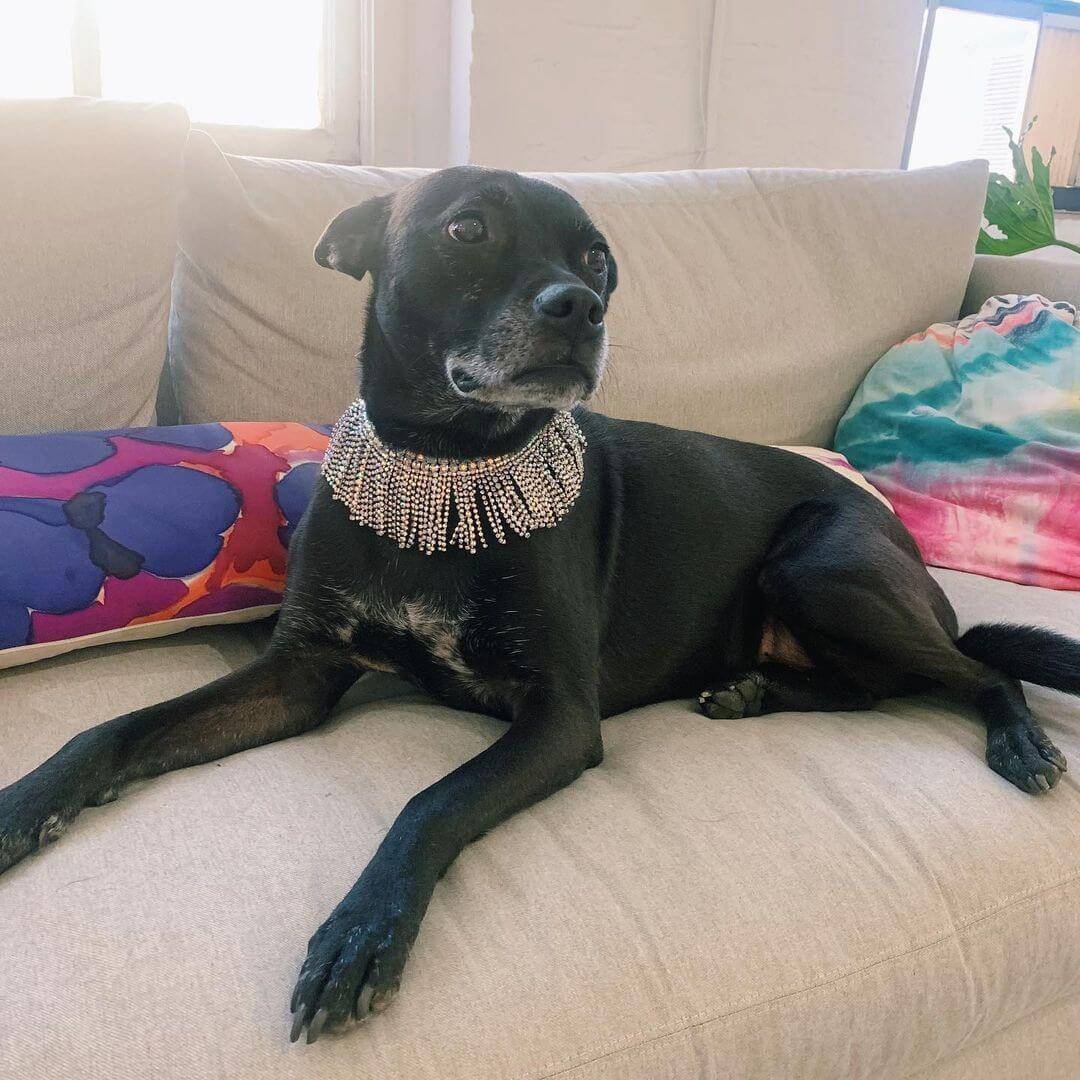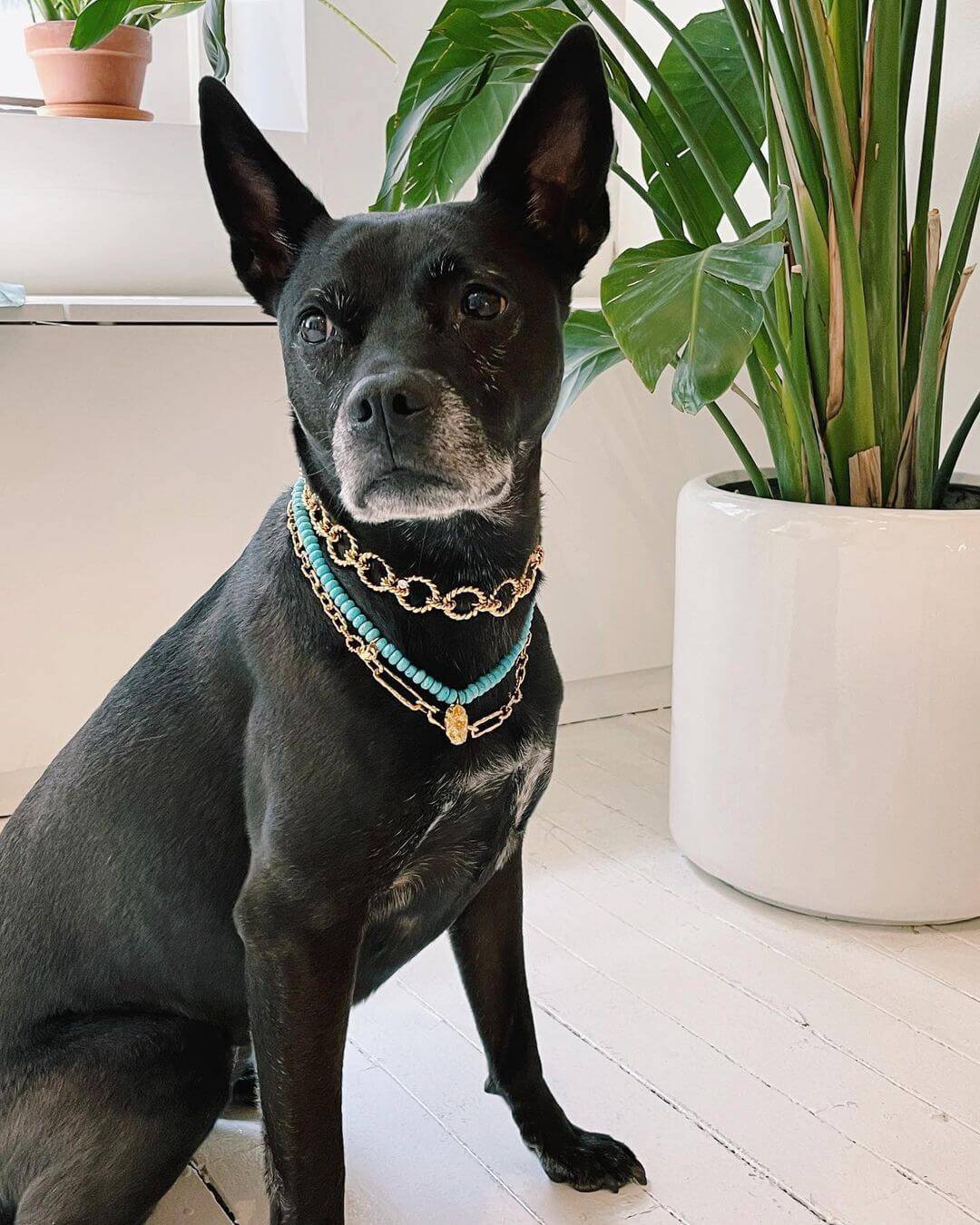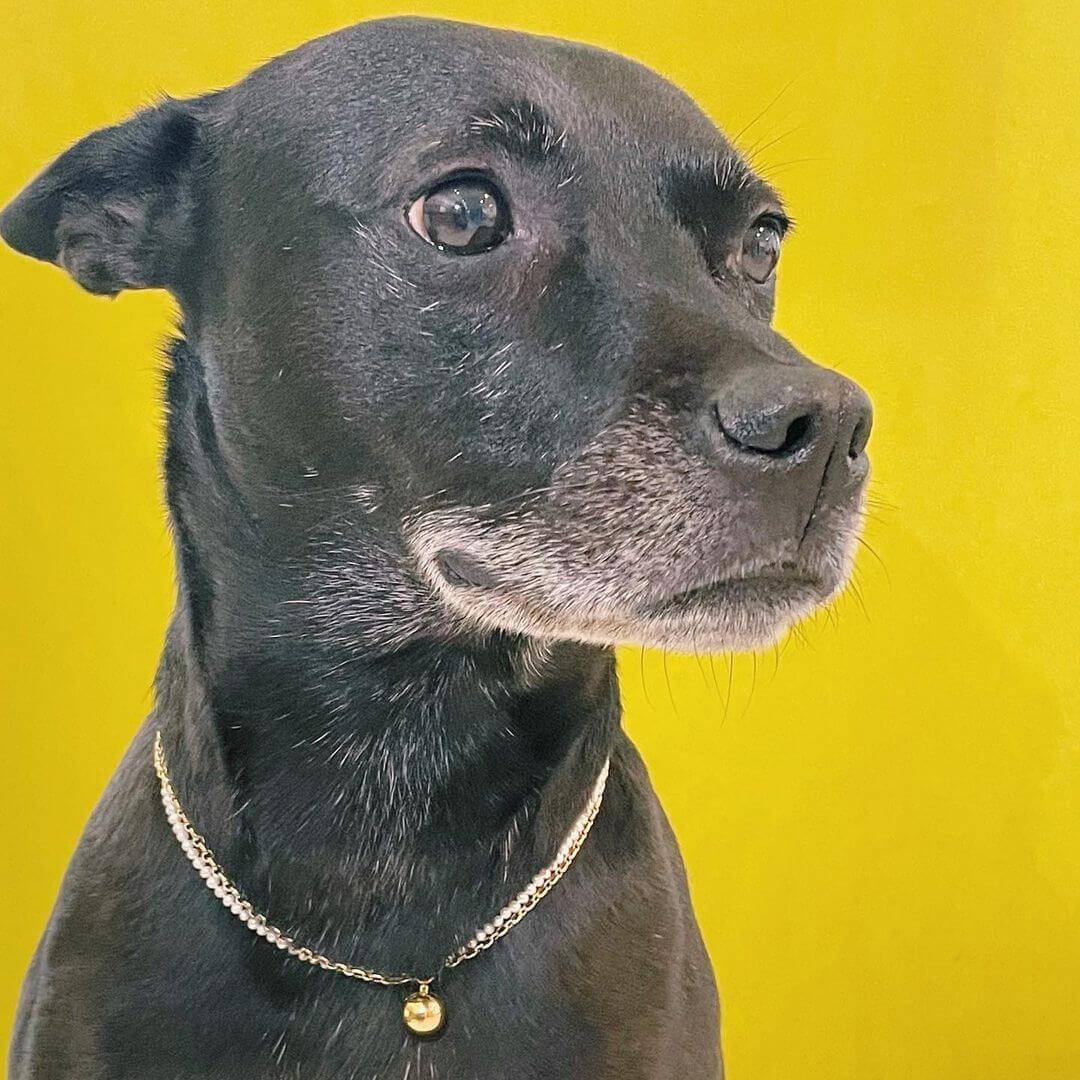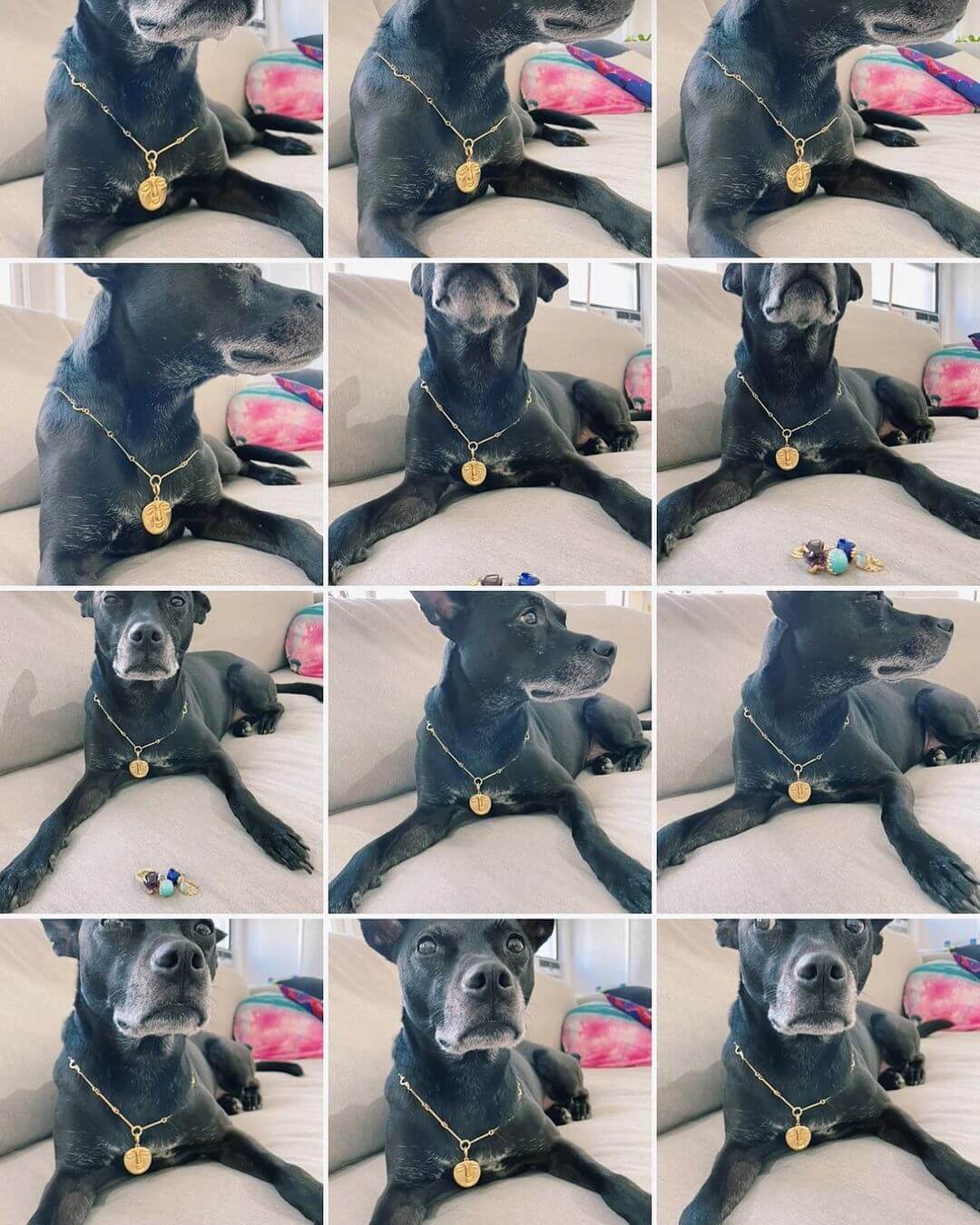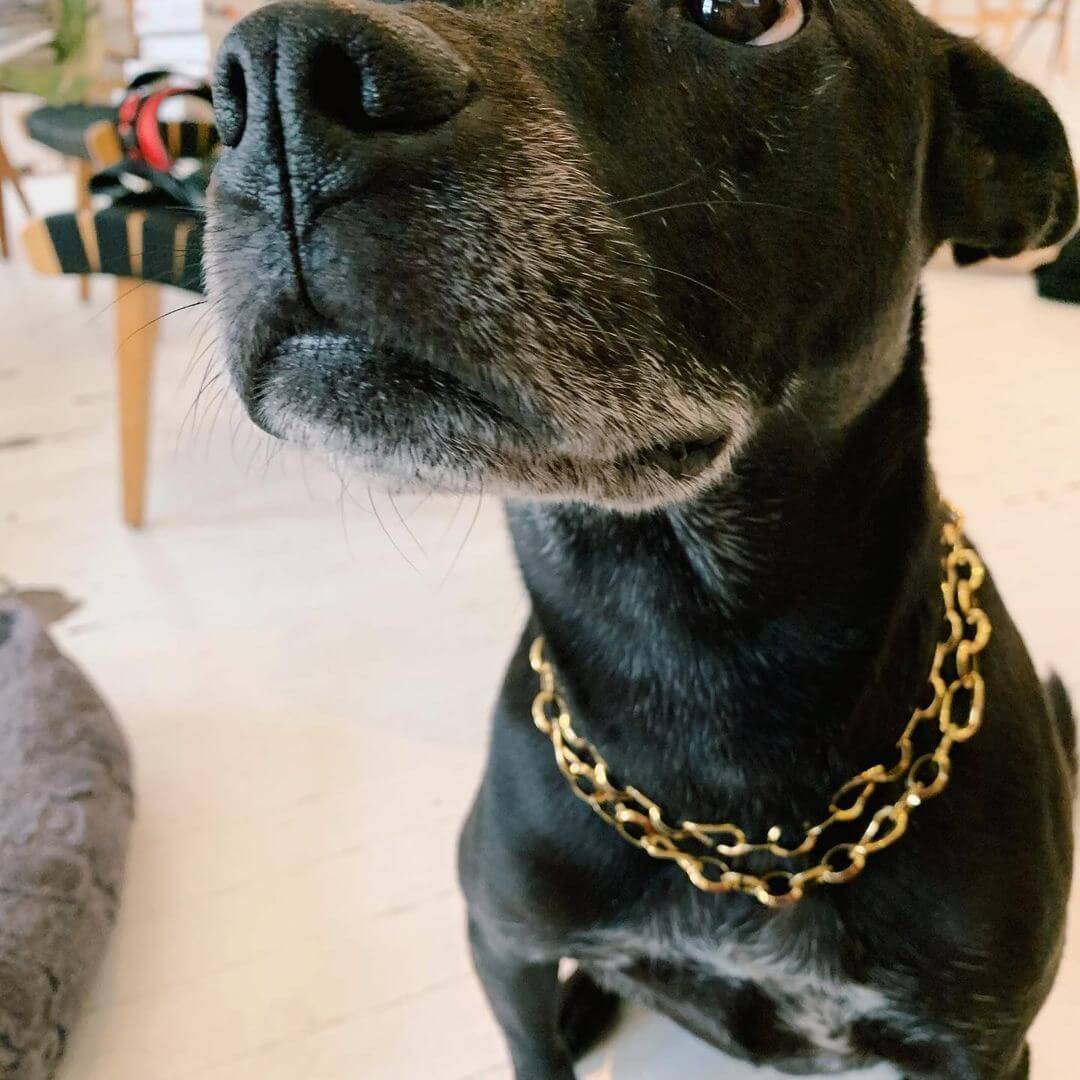 BROWSE SOME DESIGNS FOR COMMISSION THAT WE THINK WOULD LOOK GREAT IN JESSICA'S JEWELRY COLLECTION
Contact us to inquire about any of the pieces shown here or to commission something new for your jewelry box.