Posted by Meredith Jayme on May 12th 2021
JEWELRY BOX: LAUREN MAXWELL

TAKE A PEEK INTO THE WORLD OF A JEWELRY PUBLICIST WHOSE COLLECTION INCLUDES HEIRLOOMS, SENTIMENTAL SELF PURCHASES AND JEWELRY FROM HER CLIENTS
Originally from Arizona, Lauren Maxwell followed her heart to NYC and started her career living the dream and working for Vogue Magazine. She later transitioned into the jewelry industry, working for some of the largest diamond and jewelry companies, De Beers, Forevermark and Lagos. She has since branched out on her own to start a new chapter as an independent jewelry publicist. With experience dressing celebrities at the Oscars, working the MET Gala, and so much more, Lauren has seen more sides of the fashion and jewelry worlds than most ever will have a chance to. In this interview, Lauren and I chatted about a few of her favorite pieces, what she's looking forward to adding to her jewelry collection, and the feelings of connection and sentimental value that her favorite pieces remind her of. Pretend you're enjoying a glass or rose in SoHo with us as you take a peek into the jewelry box of Lauren Maxwell.

HOW WOULD YOU DESCRIBE YOUR STYLE?
I think my style is very reflective of how I'm feeling depending on the day. For the most part I just wear what I'm excited about. I'm very much into classic staple pieces that aren't going to go anywhere. And like I mentioned, I love a good accessory. I love a good pair of shoes. I love jewelry. I love something that's just going to stand out, but I mean I'll wear a $5 t-shirt and wear you know a $5,000 ring or something, very incredibly high low. I think it's just how I'm feeling that day if I want to go all out or if I'm going to the post office.
WHAT DO YOU LOVE ABOUT JEWELRY?
I don't know what there isn't to love. I think ultimately, the story it tells, that it can be passed down and that the story can change while it continues to have a deeper meaning. The pieces that I wear everyday, there's a reason for it. I love them and they're pretty, but I wear them because I choose to wear that piece versus something else because it actually means something and I get to carry it with me.
SO YOU FEEL A SENTIMENTAL CONNECTION?
Oh, yeah. I'm not the kind of person that cares about hair or makeup or anything like that. I mean, I like to plan my outfits but to me accessories are kind of it and I feel like jewelry, unless you do something crazy, it's never going to be destroyed. And so to me jewelry is what matters most of anything that I put on.
DO YOU HAVE ANY HEIRLOOMS THAT YOU INHERITED FROM FAMILY?
I have a ring that I wear everyday, which I guess I can't consider an heirloom because my mother, thankfully, is alive and well. But, it's a ring that my father had gotten her for one of their major anniversaries and I wear it everyday. It has three stones on it, which I don't necessarily think means anything to her when it was purchased, but for me, I see it as my mom and then I have a sister, so there's three stones and it's the three women in the family. And they're not together anymore, which is fine, but I think for me now I can wear it and kind of keep the story alive a bit. And if I'm ever having a bad day, I just kind of touch the piece or put it on or look at it and I instantly feel better. I suppose I feel like it's like my mom is with me.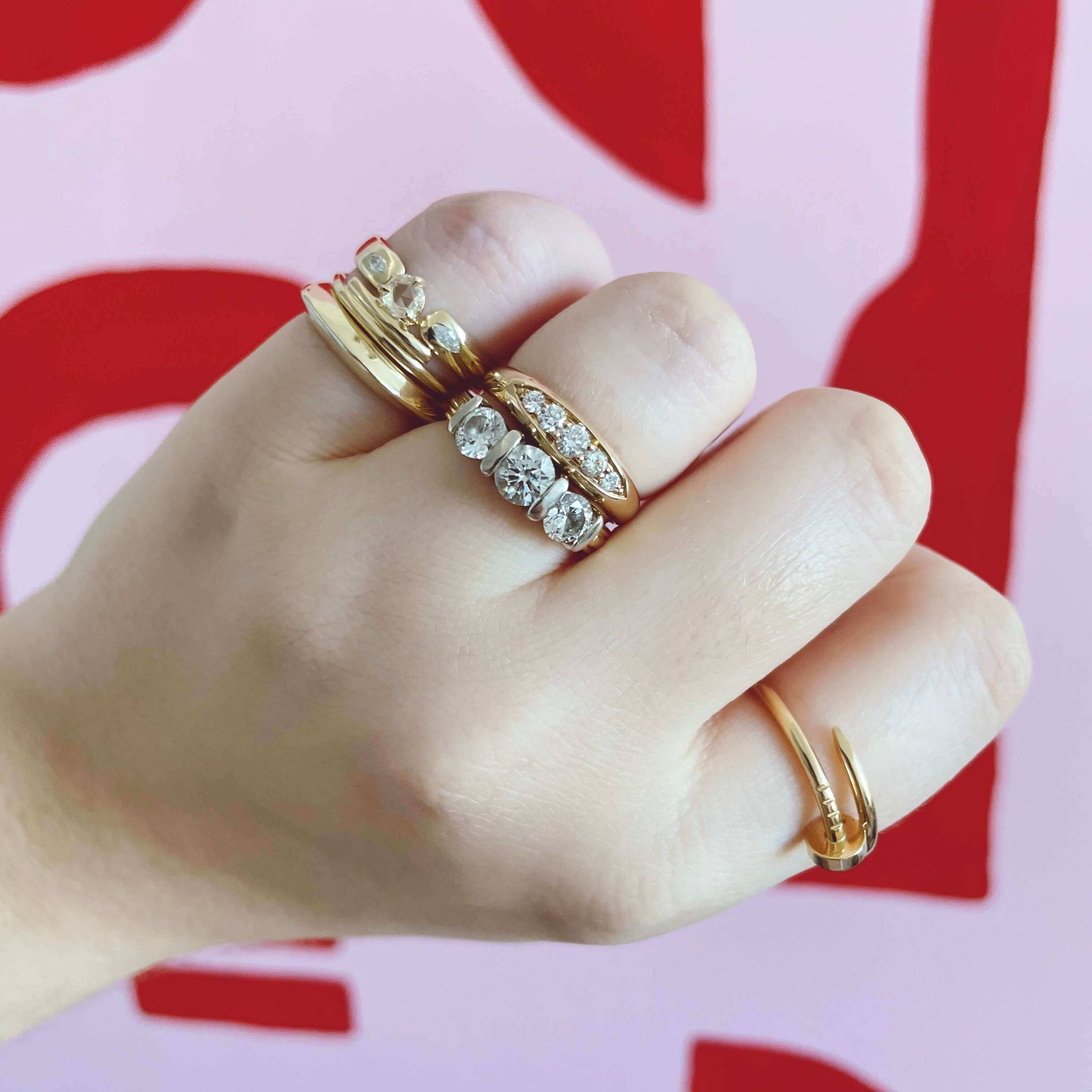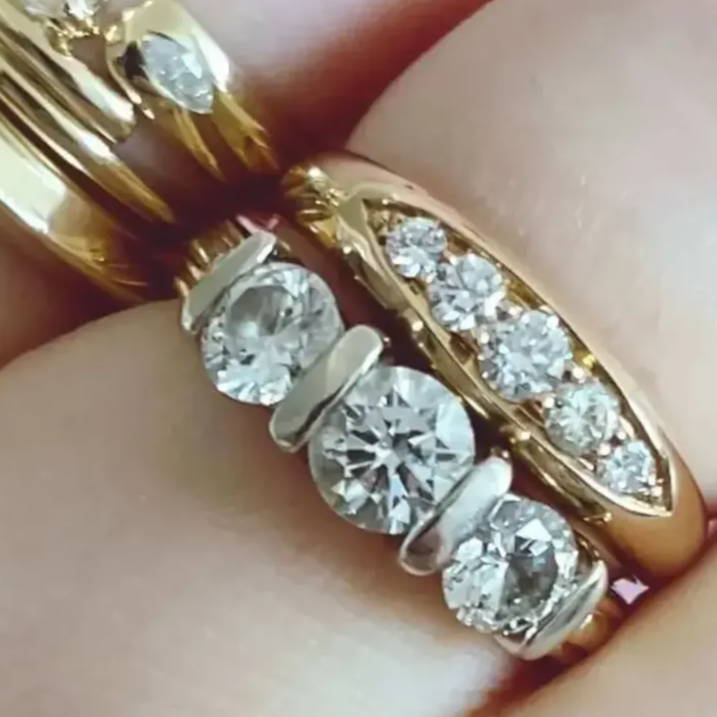 Lauren's ring stack with a close up of her heirloom three-stone ring.
HOW WOULD YOU DESCRIBE YOUR DECISION MAKING PROCESS WHEN PURCHASING JEWELRY?
Well, first I think in general obviously aesthetically, how it speaks to me. I think everyone has those standout pieces, but obviously what I can afford is a different question. When I want something, whether it's trendy or not is not a concern. I just want it to have a deeper meaning, speaking to some kind of story about myself, or my style, or my life, or just something deeper than just the aesthetics of it because again, it's definitely a big investment.
I'm all about self purchasing. For example, I have a necklace that I typically wear everyday— today I'm not weirdly, but I wear it every single day since I've had it for over three years. I have mine in yellow gold— that's my go to, I love yellow gold. My mom likes white gold and platinum and my younger sister loves rose gold, so we each bought the same diamond shape. We got a marquee as the little pendant on the necklace, but we each got our own gold color to make it kind of personal to ourselves.
So I feel like that's what I like about jewelry because again, I think it's something that can continuously be worn and passed down. And so what I find, I plan on having forever. It means more than just, oh, I put this necklace on because it looks good with something. It has to be a classic piece that I also can feel excited about and tell the story of it to someone. If I'm going to dinner, you know and someone comments on it, which if they do, that's so kind but then I'm automatically in a happier mood and I'm more excited because it's not just oh yeah, thanks, I picked this out because it's a popular shape right now. It's no, I picked this jewelry out because it's something that I needed to have. And honestly, if I don't wear my necklace, I feel so disconnected. I like to touch jewelry and know that it's there. It's really reassuring. It's weird, I'm a sentimental person, but I'm not like a religious, spiritual person. I'm not a "what's your sign" or something like that, but I think with jewelry, if there's a nice weight to it, you know it's there and it can remind you of something and so for me, I think it's grounding. I literally pick pieces because I needed to add to something I might be missing, like my sister and my mom being far away.
I have another necklace that I wear, actually from one of my clients. It's a talisman which again, that's not normally something I'm really into however, one I just love it. It's a beautiful piece. But two it's the Patron Saint of the Anxious. And I'm a person that's always been incredibly anxious and something I've dealt with for so long, but it has this feeling to it and I literally can hear it moving on the chain when I sleep at night. Even though it's the middle of the night, which again, sounds so stupid but, I literally hear it as I'm turning in bed sleeping. And I'm like, oh yeah and it's just this relief. So it's like to have that necklace on while I'm wearing something that I know my mom and sister both have is very connected. It's bigger than just jewelry and it's not going to deteriorate. That's very serious, I take it very seriously. I'm brainwashed maybe, I don't know. I have drunk the Kool-Aid.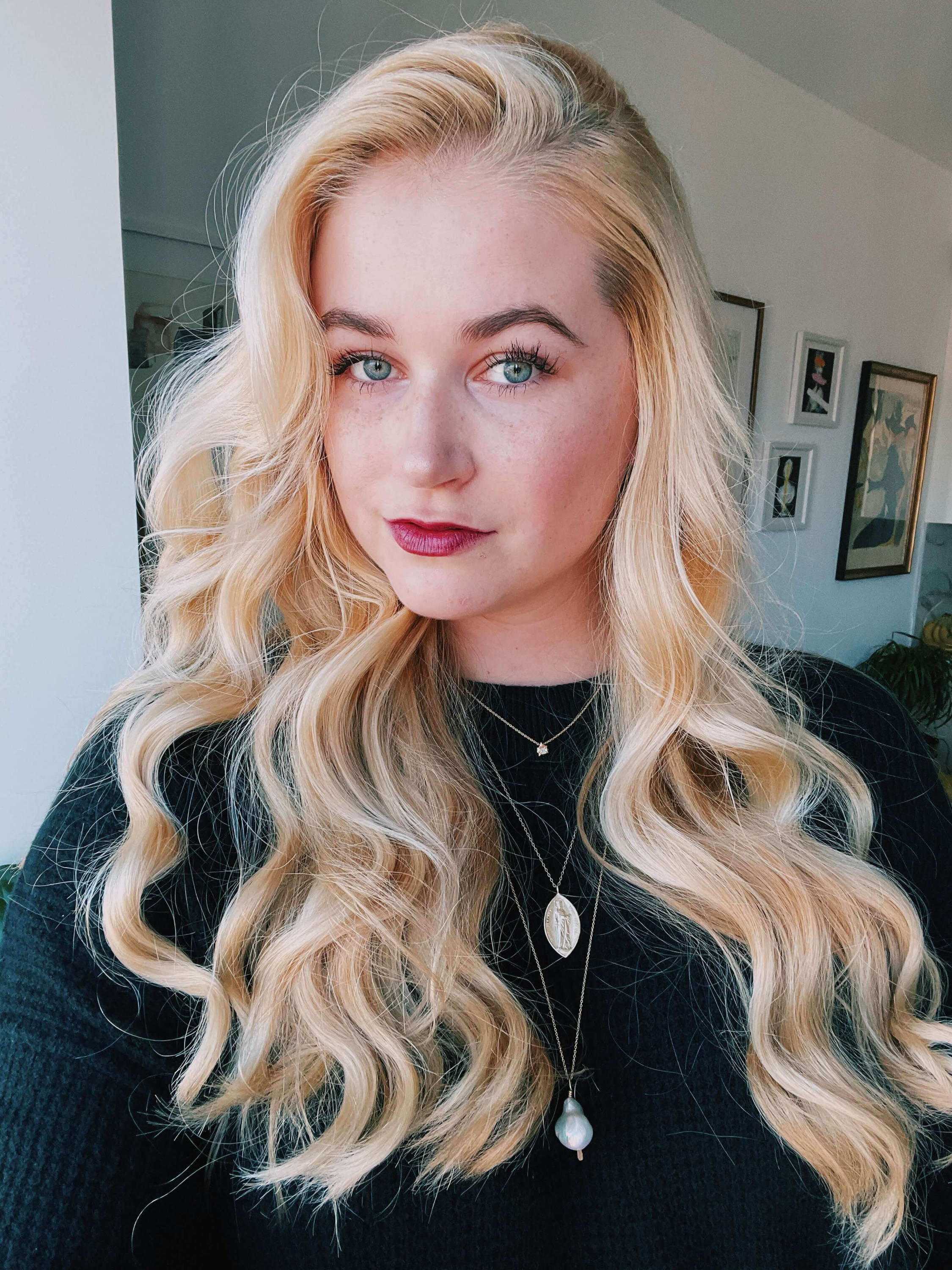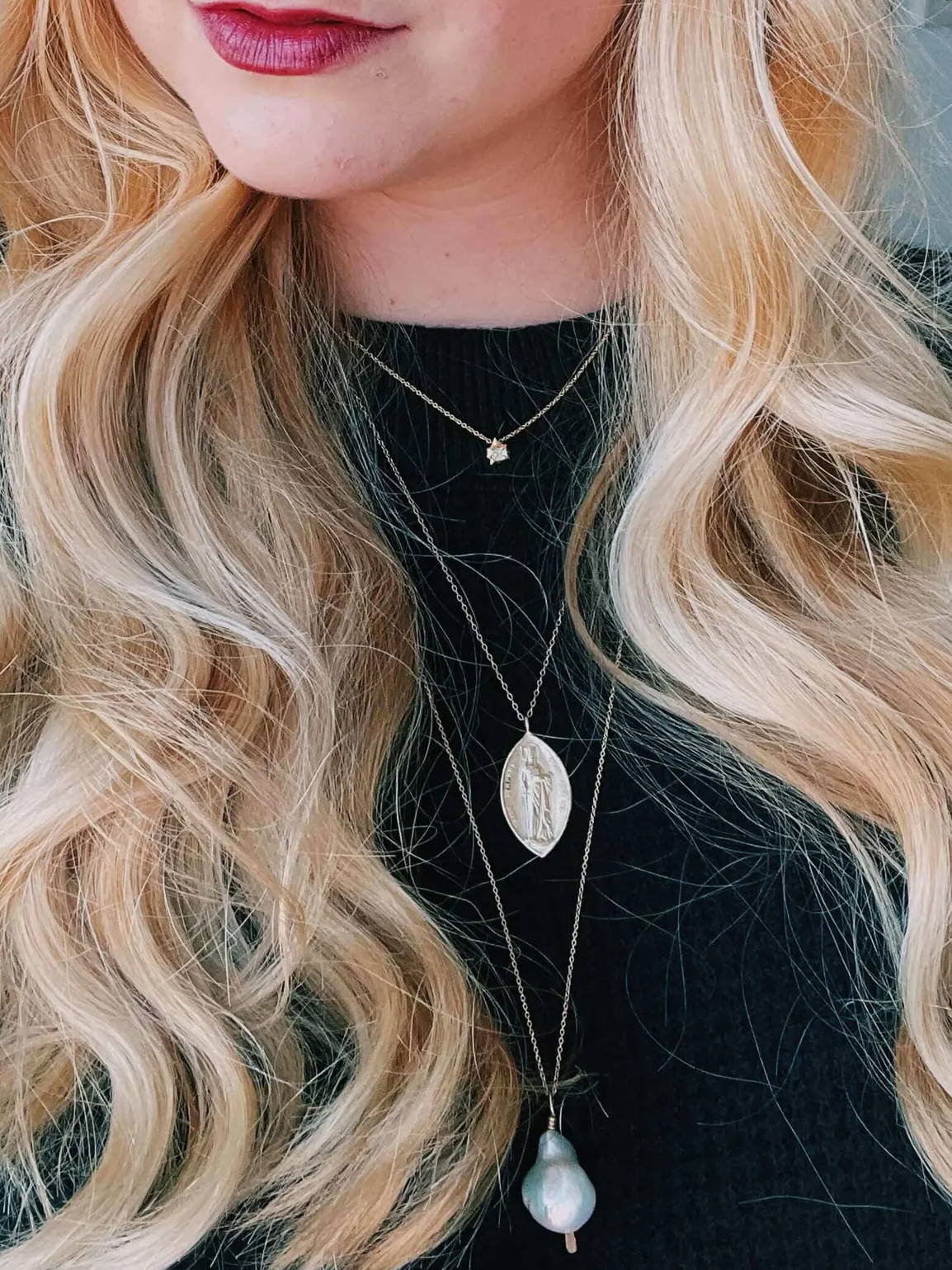 The necklace that Lauren shares with her mom and sister is at the top and her talisman pendant is below.
WHAT PIECE OR PIECES DO YOU WEAR MOST REGULARLY? YOUR THREE-STONE RING?
LM: Yeah, so my three stone ring, I wear every day. Anytime I take it off to wash my hands I have a miniature heart attack inside.
MJ: Do you have a tan line around it?
LM: So I actually rotate it. You know, this is actually a funny tidbit. Maybe I'll say this. So I already talked about this being my favorite piece, but I actually wear it some days depending on my mood. Typically I wear it on my right hand, kind of as a– not to be that person— but like a female empowerment thing. Like an independent woman, I'm capable. It reminds me of my mom who worked in a male dominated field when I was a child, in banking and finance. So for me, I kind of aspired to be her and now that I'm wearing something that was always in her wardrobe, I feel like I can kind of carry that torch in a way. So on certain days I'll wear it on that hand as a reminder of her, but also of me and what I can kind of contribute to the world and what I carry within myself.
But then on certain days I live with my boyfriend, who has been my partner of almost four years now and this poor man, I am constantly trying to get an engagement ring out of him, but until then, conveniently this ring actually fits on my fourth finger, my ring finger, and so I can also wear it on my left hand. So days when I'm really feeling him and love him more than normal, or just whenever I'm just so pleased and in love, I'll put the ring on that finger because I'm like, okay, this represents this deeper meaning and love. So it just depends on my day. But it started off as I would flip hands because I didn't want to get an imprint on one finger and then now it's either go mom, or go my boyfriend I guess.
MJ: Do you sleep in it?
LM: Oh, I don't take it off. I literally will take it off just to wash my hands.
MJ: What about your other jewelry? Do you sleep in that too?
LM: Yeah, well, some of it I do. So there's one other piece, I always wear my necklace that I share with my mom and sister. I always wear that and I always wear my mom's ring. But then I got, it's actually a pretty normal ring, if you will, I got a Cartier Juste un Clou for Christmas from my mom and boyfriend. They actually both got it for me because my mom was like, "What do you want for Christmas if you can have anything?" and so naturally, I was like Cartier jewelry, and then lo and behold, I actually had a piece for Christmas. I'm sure it was the most affordable thing in the store but I'll take it. I wear it everyday. So I sleep in that one and I typically wear it on my pointer finger, but then in the night, I don't know why I think I'm going to be hitting something if I'm in bed, but I'll put it on one of my middle fingers because I don't want it to rub on anything. But again, the reason I'm wearing that one over anything else, it always just comes back to why and it's something that my mom and partner went in on together. It also means that they were communicating and having their own thing without me which I like because it speaks to the relationship I also have with him but that they can have together. That's obviously something I want in a partner so it's really special.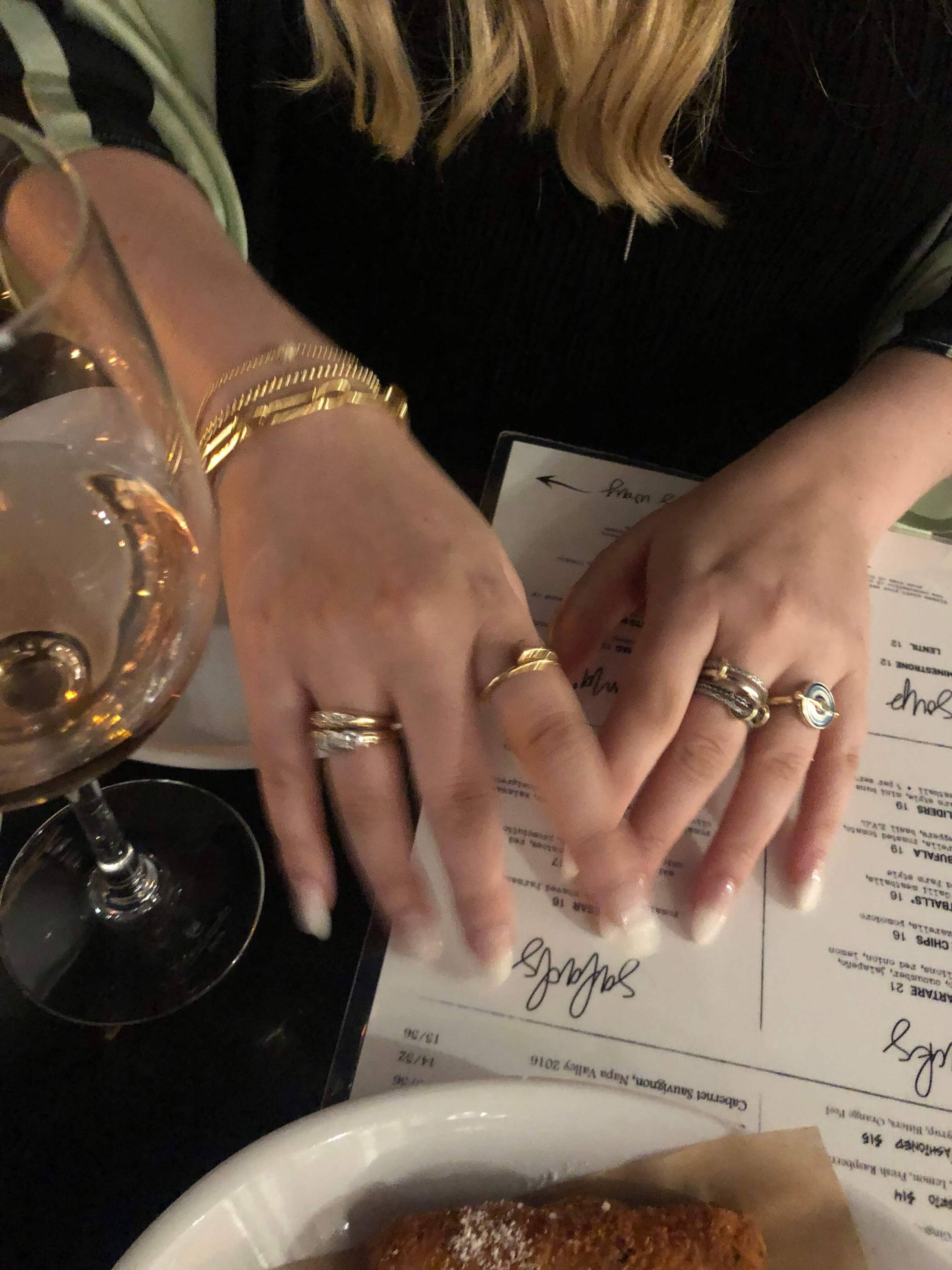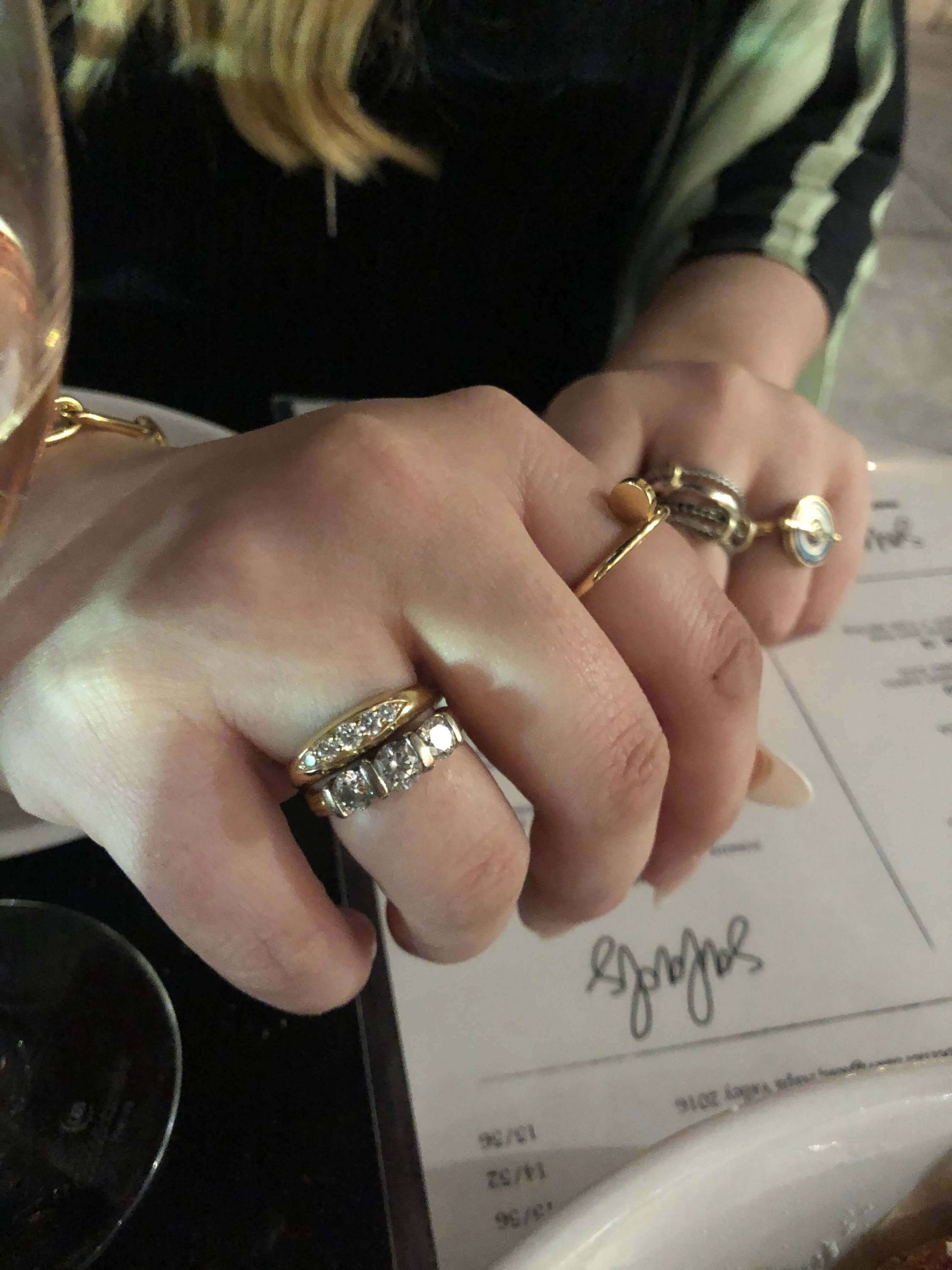 A few of Lauren's jewels that she was wearing during our interview.
ANY OTHER PIECES THAT YOU WEAR EVERYDAY?
So I wear a ring that I got myself, it's a Spinelli ring. I actually bought it for myself for Christmas one year. This was when I was working in-house at a really big diamond company in PR and I felt like I wanted to reward myself and I didn't really need a reason to do it. And it wasn't even the company that I was working for which is funny. I could have bought something that I had some insane discount with and that had a bigger diamond or something, but I think I just wanted something that spoke to me and that I was excited about and wanted to wear. So this piece I definitely wear every day. It's something that I put on and I'm proud of it because obviously it looks great, but also because I bought it and it doesn't actually have anything to do with anyone else. It's just a reminder of what I can be capable of in so many ways— and it's cute.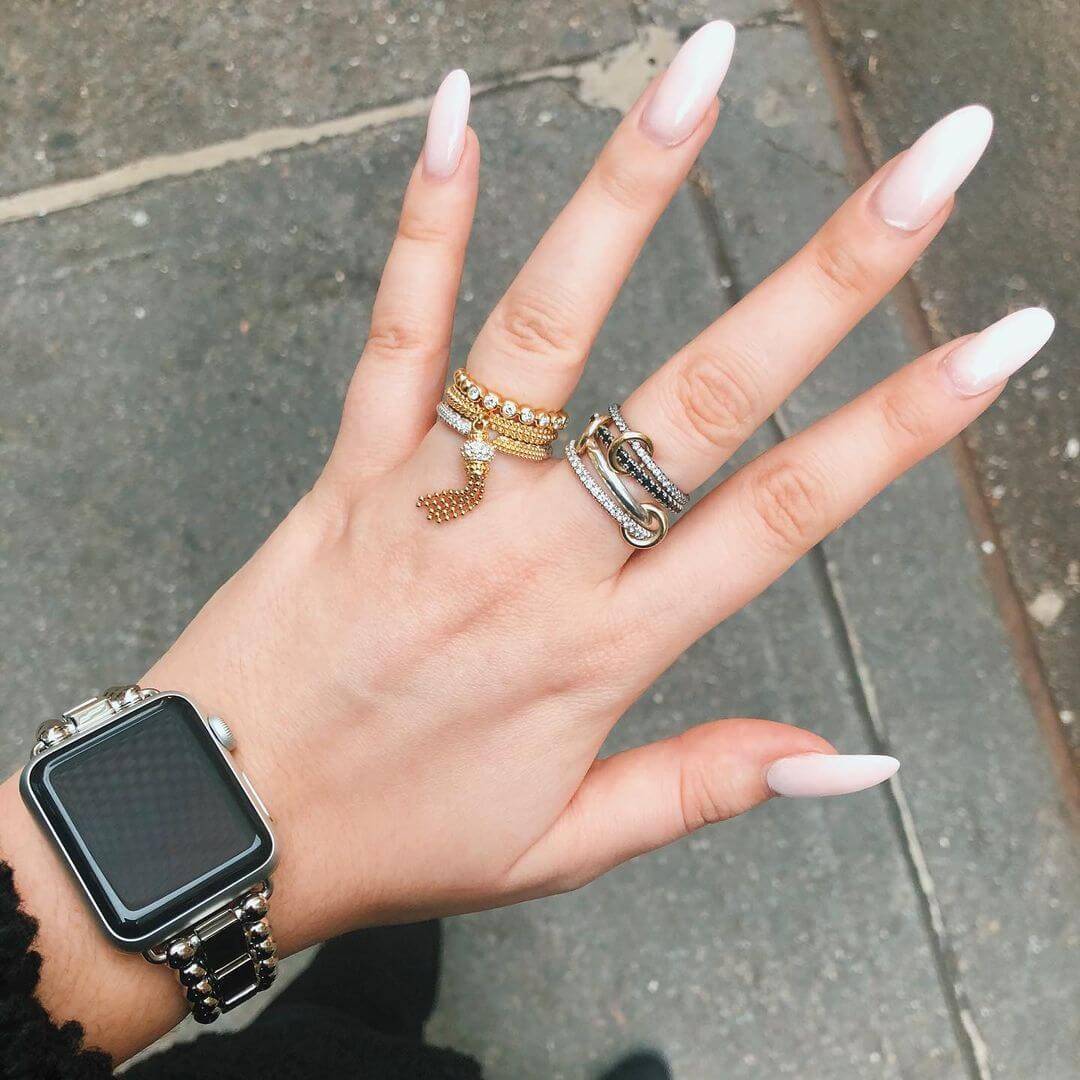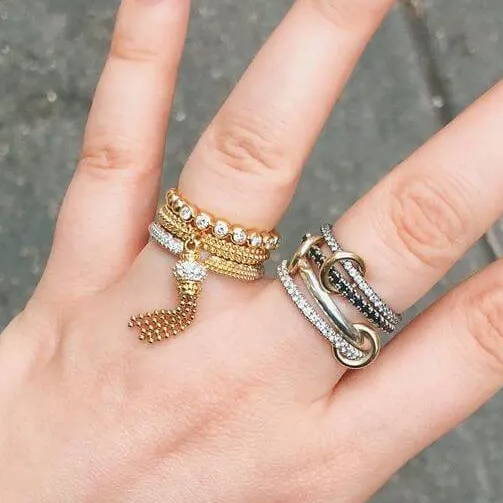 Wearing Lagos jewelry and her Spinelli ring.
WHAT IS YOUR FAVORITE PIECE? THE THREE-STONE RING?
Yeah, I would say that and again, it's not even mine, it's indefinitely on loan to me, so ideally one day I'll have a piece that is mine, but I have a pair of earrings. This was the first piece of jewelry actually that I ever bought myself. It's when I was working at Forevermark, De Beers. I bought myself these earrings that are classic. You could wear them everyday. They are somewhere in between studs and a hoop. They're almost this reverse concept where you have the hoop coming through the front and then you have three diamonds in almost stud settings floating behind my ear. So on the backside I have these diamonds and then the front is this long hoop. That's when I was working for a company where everyone had all this jewelry and I felt so naked. I felt so not in the club in a way, which is silly because I don't think it's about how much jewelry you have or how flashy it is. But it was the first piece I bought myself and I had only one piercing on each ear for literally my whole life, for 27 years. And so those earrings were it. You can wear a ton of rings, you can layer necklaces, bracelets, things like that, but these were the earrings and so for me I felt like they were unique enough to my own sense of style, but I could wear them everyday and be so proud of them. And they're definitely not my most expensive thing but they're like my little children, my babies. I just love them and I'm always going to look back fondly on like that time in my life.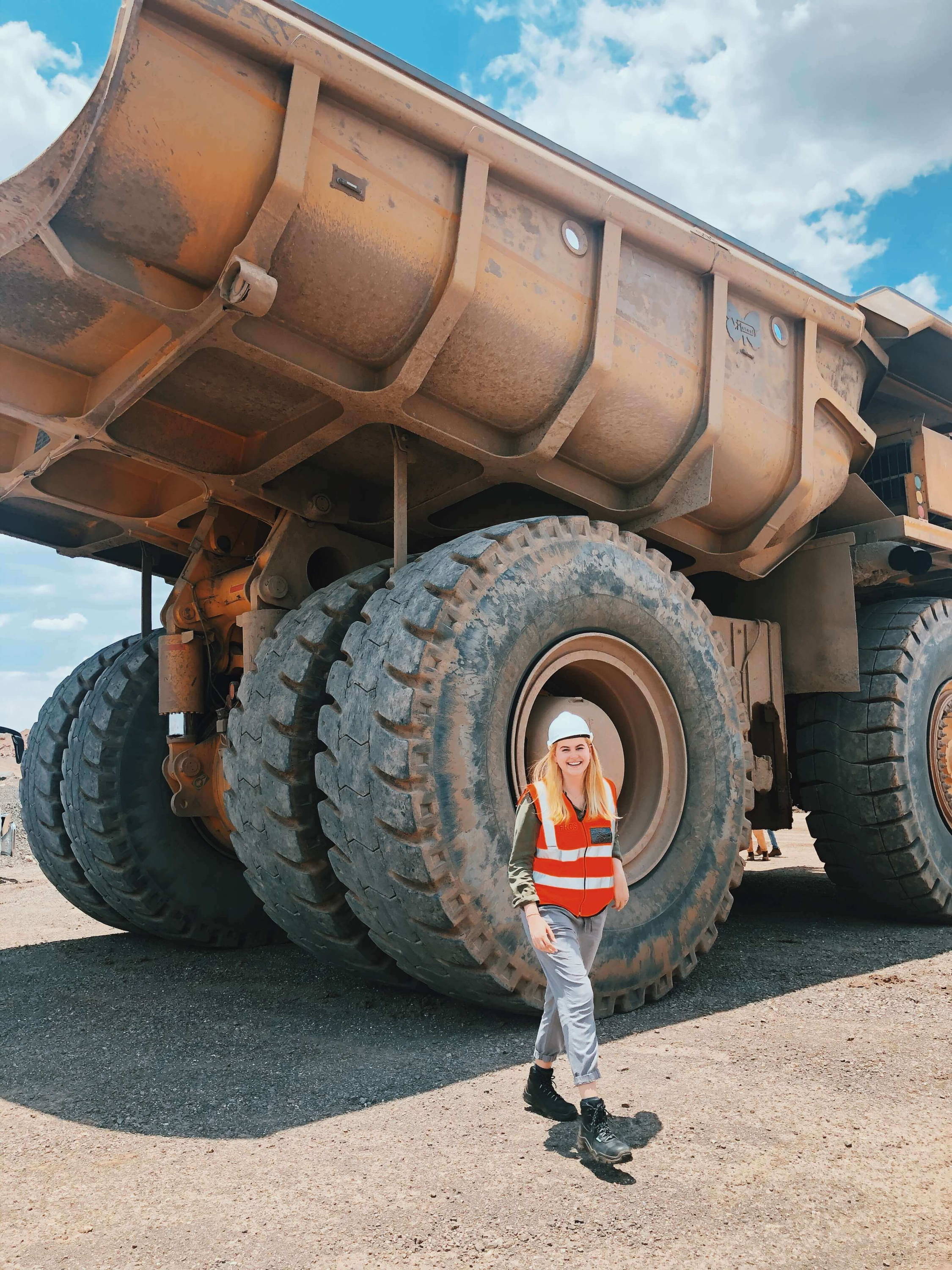 Lauren on a trip to Botswana visting a De Beers Group diamond mine.
Lauren with a casual 352 carat rough diamond.
WHAT PIECE OF JEWELRY DO YOU PLAN TO INVEST IN NEXT AND WHAT IF ANYTHING IS MISSING FROM YOUR JEWELRY COLLECTION?
An engagement ring [laughing] I actually would love a pair of stud earrings. I literally only had one stud on each side since forever, since I've seen you. This is new this year. I got a second and then third holes and then I got this, I don't even know is that a cartilage? Hidden helix? I basically got tired of wearing the same pair of earrings every day and I'm a tall lady. I have a lot of surface area going on and I wanted to wear more. I like to mix and match. I like things that don't have to be mirrored, they can be different shapes, sizes, weight, and styles. On the left side, I'm feeling one way and on the right side I'm feeling another. But I would love a classic stud, just a solid diamond stud. I mean, I would love a fancy shape. I love a fancy shape. I'm partial to emerald but I want something that I'm going to have for a long time. So I feel like just a round diamond that was in a martini three prong setting that accentuates your shape. But that's definitely an investment, if I'm going to get it, I want a big stud. It needs to be worthwhile.
DO YOU HAVE ANY BEST OR WORT JEWELRY MEMORIES?
Um, so by far the worst jewelry memory, oh, God, it was awful. I was going through my first quarter life crisis— I've had many— and this was after I left my like cushy job at a fancy fashion magazine and was not sure what I wanted to do with my life. So I thought maybe I'd move back home to Arizona and give up for a bit and in the midst of that move I managed to somehow lose, misplace, I don't know, do something with my grandmother's wedding ring. And she had passed away already then and so I was terrified of rings for years. I think that's where it hit me that the value is past the actual dollar amount. I learned it so early, I was like, 22. I mean, it was awful. I learned so early on, and I never want to do that again. It was such an awful feeling. So it's taken me a long time to trust myself with jewelry, which is the irony that now I work in jewelry.
The best things... in my career now in jewelry I've dressed insane celebrities for the coolest red carpet moments, the Oscars, which is something I grew up watching as a child, as I'm sure many people did, but I mean, I'm talking 2pm pre-pre red carpet show, all the way to the post red carpet show. I live for that. But now, that's what I've been doing. I mean, I'm putting $2 million earrings on people and a million dollar bracelet and it doesn't even feel real sometimes. So it's just crazy to see that stuff that I looked up to, in a way just the concept of it.
ANYTHING ELSE YOU'D LIKE TO MENTION OR ANY THOUGHTS ON THE JEWELRY INDUSTRY AT THE MOMENT?
I think what I like about jewelry right now is that it's so many brands, I mean, I obviously have my favorites but no matter the brand, I'm noticing that so many people are open to not just customization but truly making something feel individual and unique to the wearer and feel like they have a say in the process. So even if it's really just 15 options to choose from and you can mix and match, that's a ton of options that you could go with and for the person that's creating it that's what makes it special for them. They're not just buying something on the rack that everyone could get, it's something that they feel is made just for them.
I think that's kind of the magic behind it because for me, I'm very into diamonds and there's no two diamonds that are going to be the same, just like no person is the same, no one's style is the same. Someone could have the exact same piece and we're going to exude something completely different from one another. We're going to wear it in a different way, we're going to style it in a different way, and it's going to mean something different to us, as it should. That's how I think of it. It's not just like you're wearing a pair of shoes.
And so I think with jewelry, it doesn't really matter what outfit you're wearing. It's how you carry yourself and hold yourself.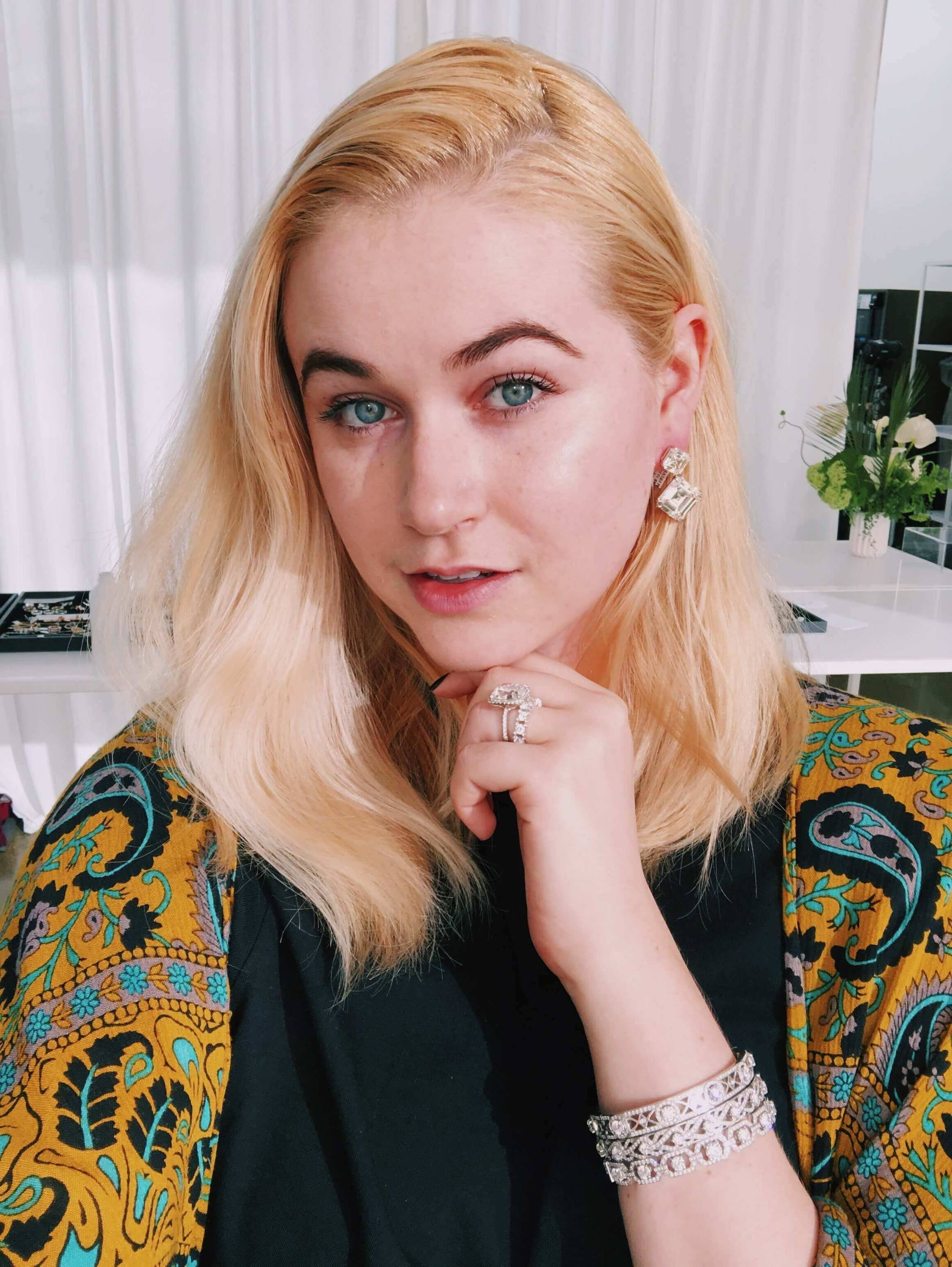 JUST A FEW MORE OF LAUREN'S MAJOR JEWELRY MOMENTS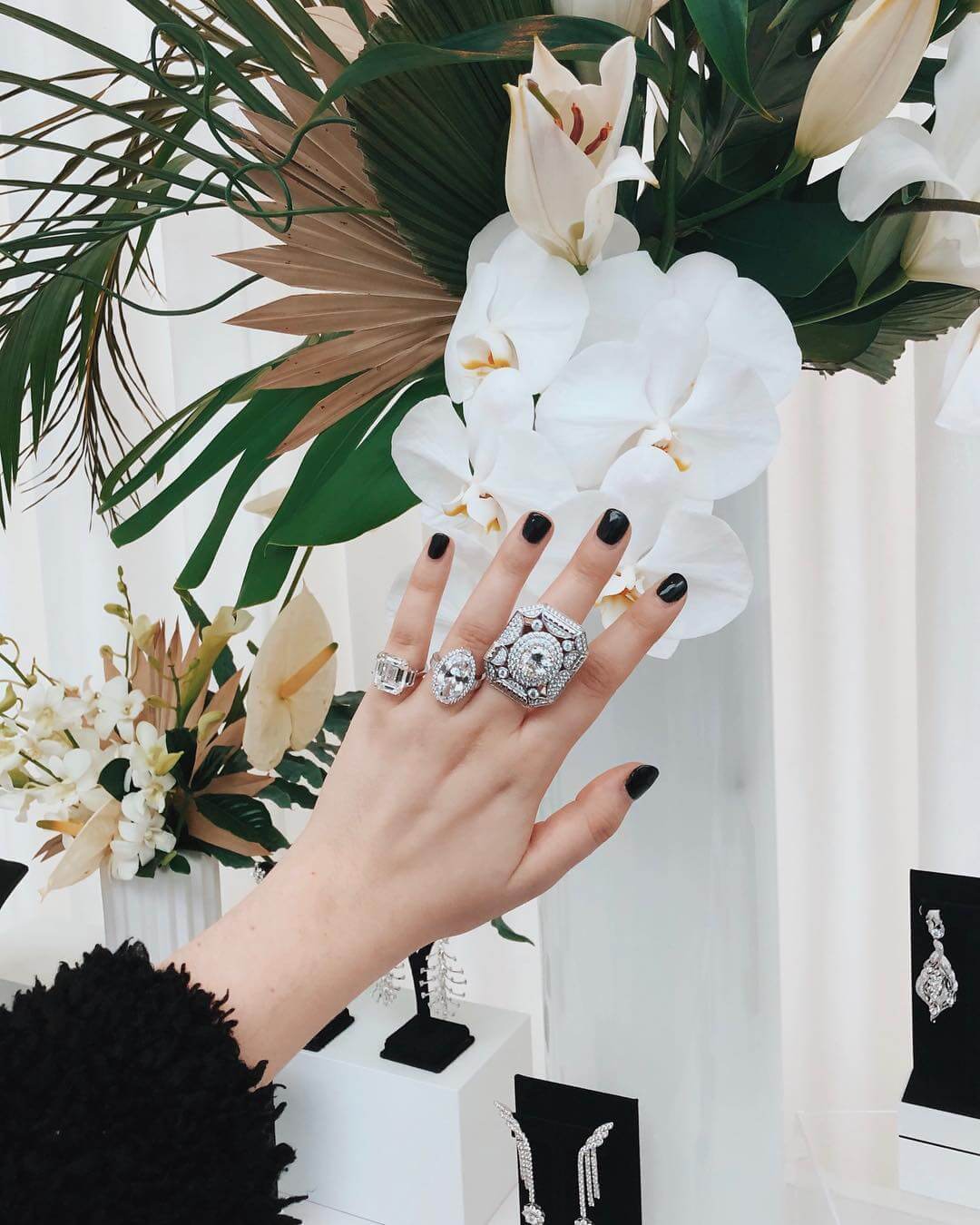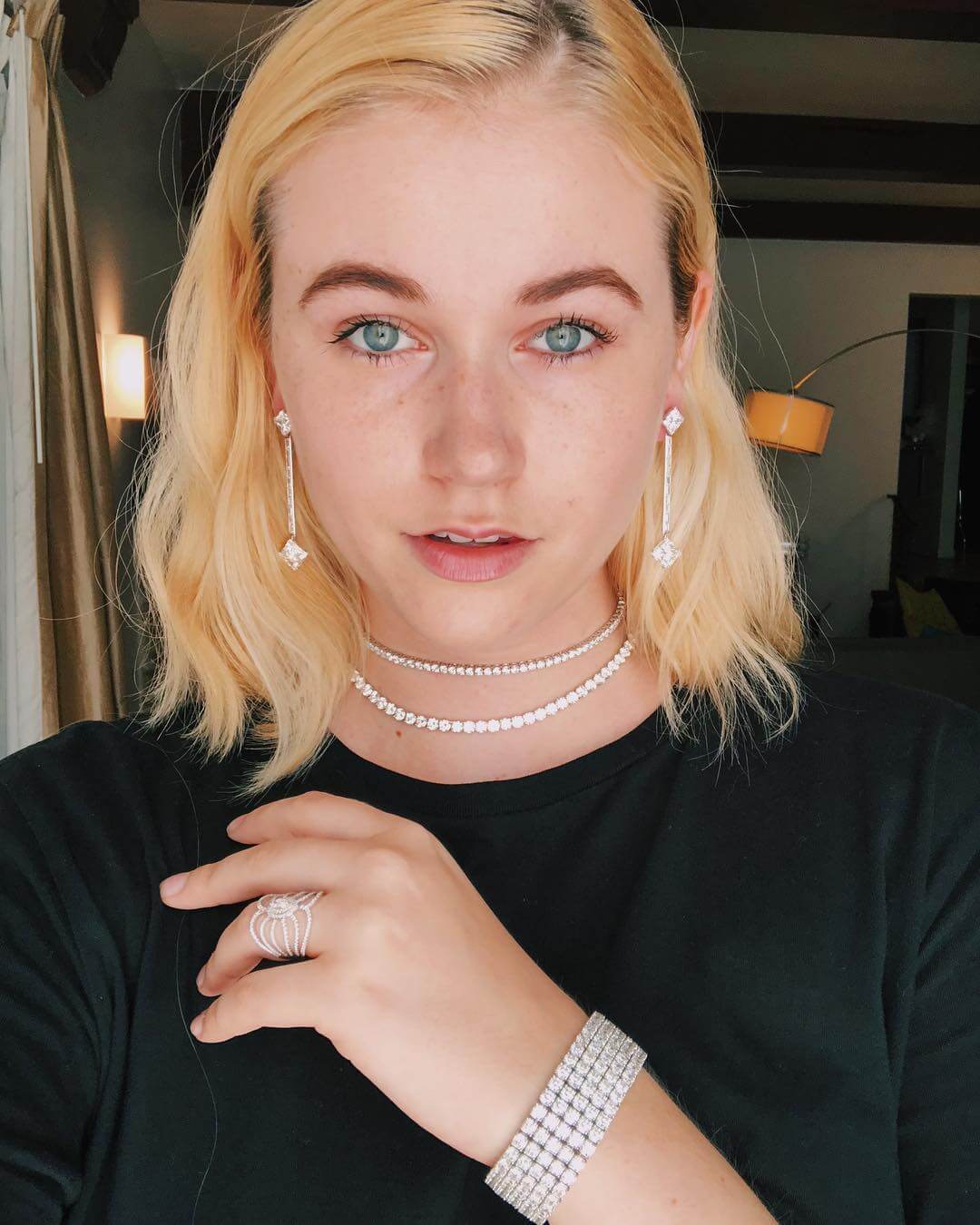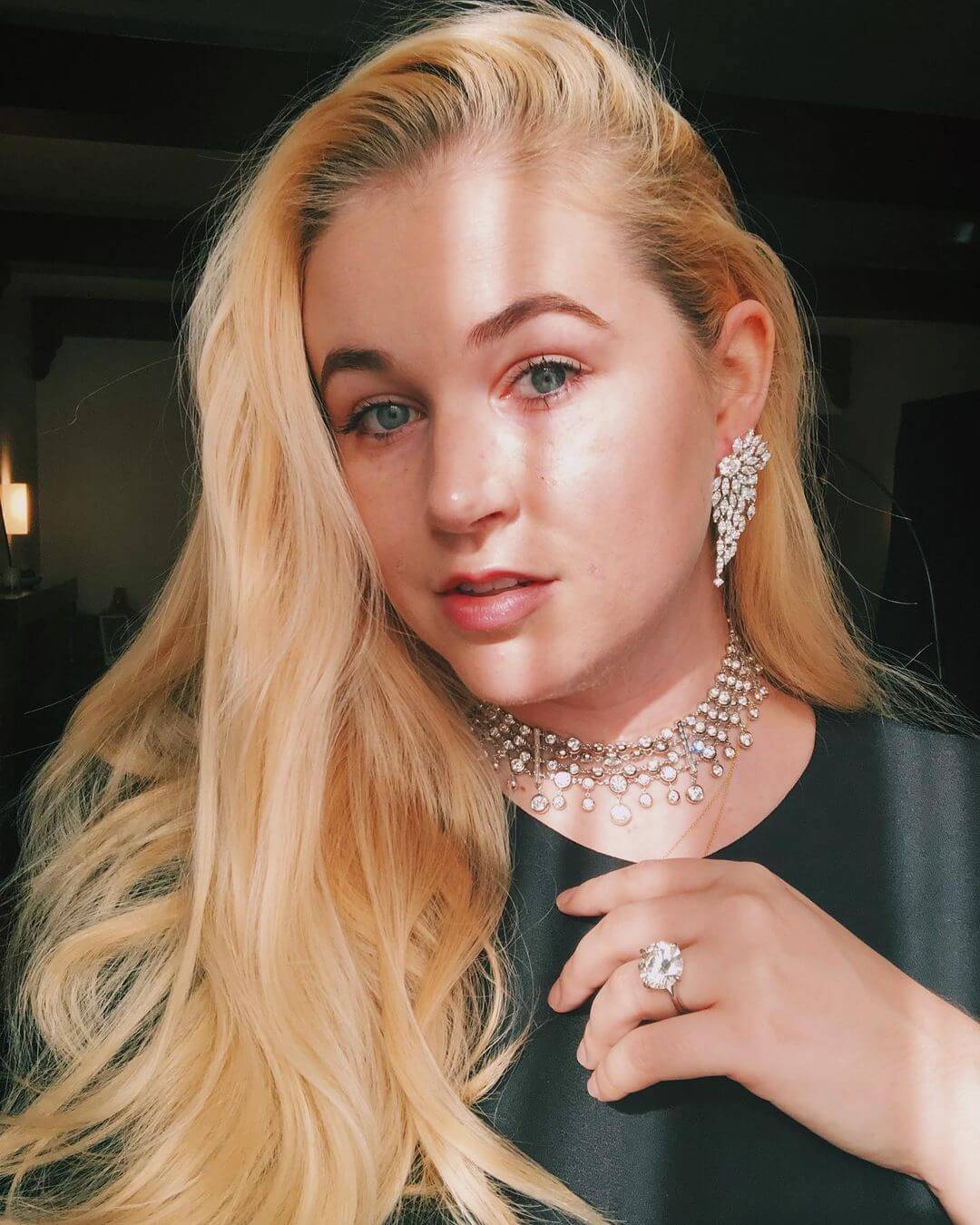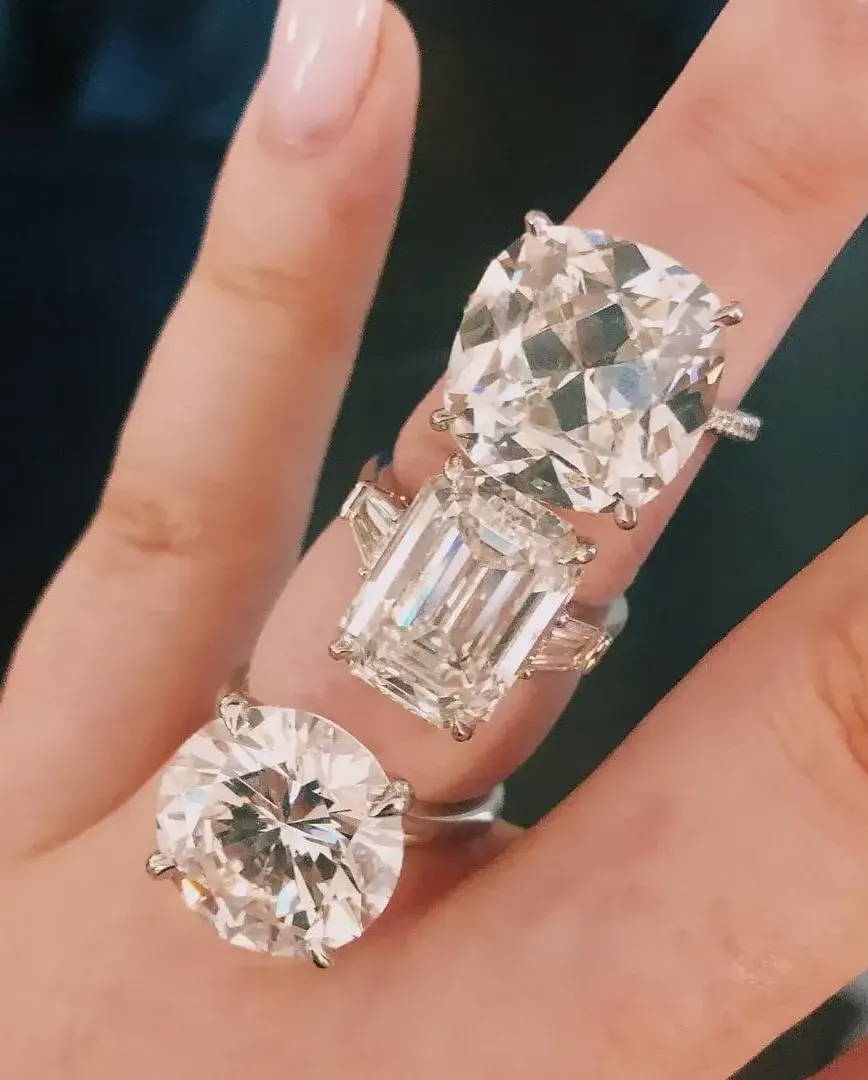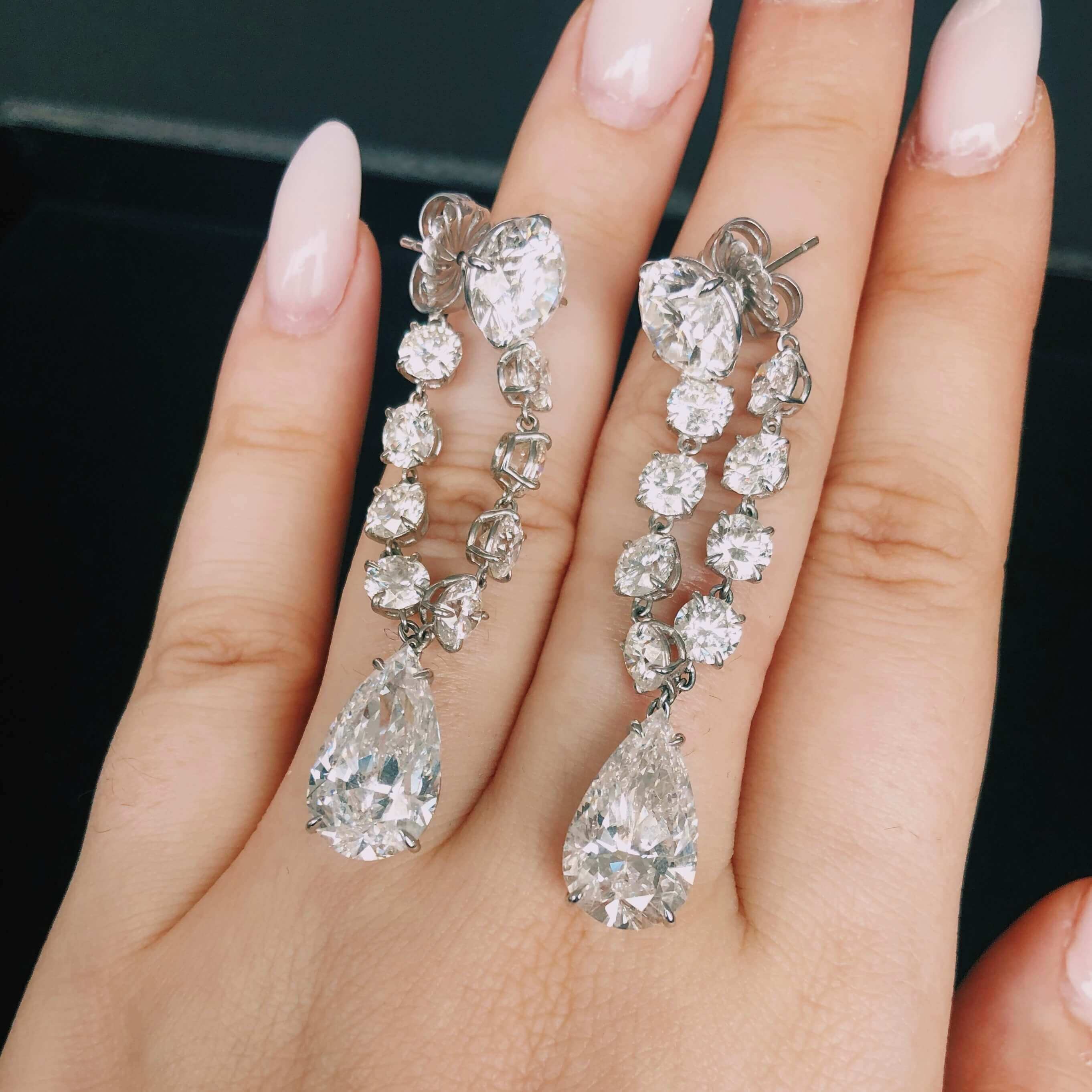 "A pair of Forevermark x Anita Ko earrings that Scarlett Johansson wore to the Oscars in 2020 that are worth $2.1 million. Definitely one of my favorite pieces I've ever come across. I was in LA working with her stylist to place them on the red carpet!"
Another very major ring stack from Lauren's time with Forevermark.
BROWSE SOME DESIGNS FOR COMMISSION THAT WE THINK WOULD LOOK GREAT IN LAUREN'S COLLECTION
Contact us to inquire about any of the pieces shown here or to commission something new for your jewelry box.