Posted by Lindsey Scoggins Studio on May 3rd 2022
OUR TOP 9 THREE STONE ENGAGEMENT RINGS

BY LINDSEY SCOGGINS STUDIO


Three stone engagement rings are a classic yet unique style. We prefer the look of a three stone ring with oval diamonds, emerald cuts or round diamonds but as always can accommodate any custom request. Discover some of our signature three stone oval engagement rings, three stone round engagement rings and three stone engagement rings with emeralds below. We love pairing a three stone with our polished or pave Chance collection bands, slim or three row pave Three Phases band or on our mini 16 link band. We've also made custom three stone engagement rings with diamonds and sapphires and love the idea of making three stone rings with gemstones for a ring that has more of a cocktail ring type of feel if you are looking for a three stone ring that is meant to mark a milestone in your life and feels less traditional than a full diamond three stone engagement ring.
Oval Three Stone Engagement Rings
A three stone oval engagement ring is an elegant three stone engagement ring option. The oval diamonds elongate the finger and create a stunning presence on the finger. We love pairing an oval three stone engagement ring with a pave band for additional sparkle or a traditional polished metal band to maintain a classic feel.
This three stone oval engagement ring is set on our pave Chance collection band in 18k yellow gold. This ring is perfect for someone looking for a classic with feminine and modern details.
Three Stone Engagement Ring with Emeralds
A three stone engagement ring with emeralds is a statement making style with an architectural feel. Add a pave band to sparkle even brighter or let your three stones reflect the light from all angles. Our signature styles include three emerald cut diamonds or an emerald cut diamond flanked with trapezoid cut diamonds for a style that fluidly leads to your band.
This three stone engagement ring with emeralds is set on our slim Three Phases band in platinum. Three diamonds is all that you need on this stunning design.
Three Stone Round Engagement Ring
A three stone round engagement ring is the most traditional three stone style of them all. Our settings can maintain the traditional feel or modernize your ring with the addition of our links band, Chance band or pave Three Phases band.
Bespoke Three Stone Engagement Rings
These are two one of a kind three stone engagement rings that we have made for clients in the past. The first frames a deep blue oval shaped sapphire with two oval diamonds for a more classic look. The second is a unique twist on our Axis collection and adds two oval blue sapphires to an oval diamond center stone set on a pave band. This unique design creates a major statement and we love the pop of color.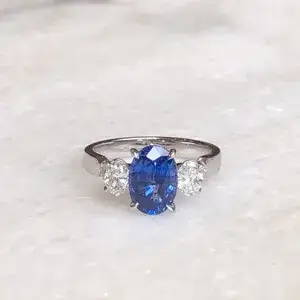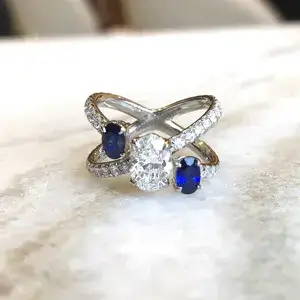 Contact us to inquire about any of the three stone engagement rings shown here or with any questions about our engagement rings or customization possibilities.