Posted by Lindsey Scoggins Studio on Jul 6th 2021
SPOTLIGHT ON... THE GYPSY SETTING

BY LINDSEY SCOGGINS STUDIO

DISCOVER A FEW OF OUR FAVORITE GYPSY SETTING JEWELRY DESIGNS INCLUDING GYPSY RINGS, PADLOCK NECKLACES AND MORE.


The gypsy setting is a beautiful way to set jewelry in rings, bracelets, pendant necklaces and more. It frames your gemstone or diamond to create a setting so that your stone is flush with the metal. This setting is very secure so the risk of a diamond or gemstone falling out is lower than with many other types of settings. The gypsy setting is similar to a flush bezel setting with gold or platinum wrapping around to create a thick setting to hold your center stone in place. Gypsy style engagement rings are a unique choice that are gaining popularity and are a stunning way to set a large diamond or precious gemstone. Our new Oath collection includes the gypsy setting in padlock medallion necklaces, gemstone rings, pinky rings and more. Discover some of our gypsy setting jewelry below.
Gypsy set rings and engagement rings create a beautiful piece of jewelry that is statement making yet versatile enough for everyday wear. Our gypsy link rings with substantial gemstones make for a modern cocktail ring that has a unique style with intricate scored line and link detailing framing heirloom worthy gemstones. This is a great design to reset old gemstones or diamonds and design an heirloom that is sure to be treasured for generations to come.
Our gypsy set padlock necklaces take a classic solitaire style necklace to the next level. These gypsy necklaces are the perfect piece to add to your collection and wear everyday. They enhance your gemstone or diamond with a heavy gold frame and have a substantial weight so you never forget that you're wearing it. These pair perfectly with existing charms, medallions and chains and can be added to your daily jewelry rotation. This is another great option for an heirloom revival or reset design.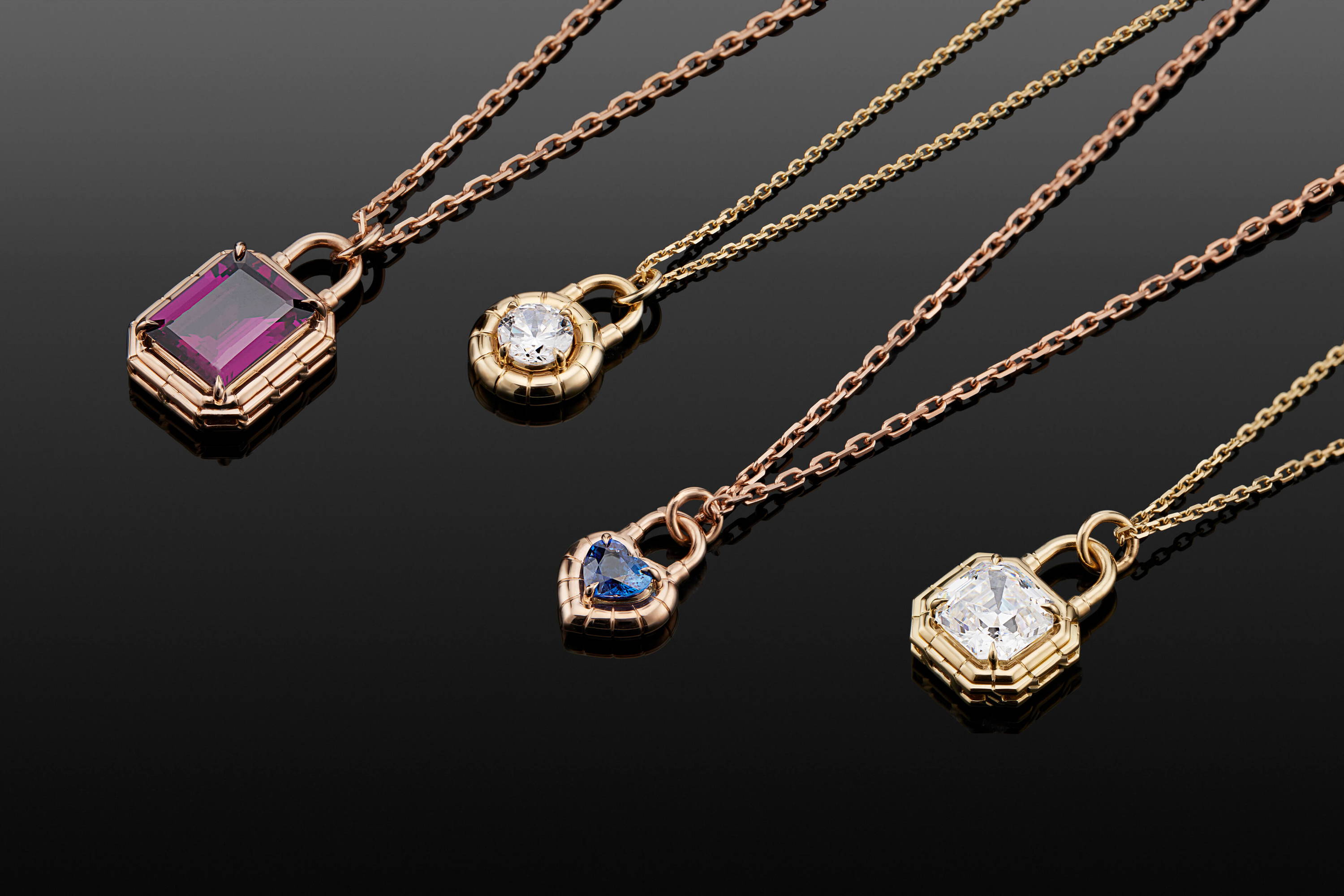 GYPSY SETTING: ONE OF A KIND RINGS

These custom designs use the gypsy setting to frame gemstones and diamonds. These gypsy rings beautifully highlight the center stones and are modern heirlooms. Read the custom design stories behind these pieces below.
GYPSY SETTING: ENGAGEMENT RINGS

Gypsy style engagement rings are a beautiful choice for a bride looking for a contemporary yet classic engagement ring style. Below are a few designs that are available for commission. These designs can be made with any metal color, gemstone or diamond of your choice so pricing will vary depending on your preferences. Our Emerald Cut Oath engagement ring and Emerald Gypsy Link ring designs are great choices if you are looking for a design using an emerald cut diamond. For a round diamond, our Ripple Effect engagement ring or Endless Loop engagement ring settings are unique and beautiful options. Browse through all of our engagement rings available for commission to see some additional gypsy setting options.
SHOP ALL GYPSY SETTING JEWELRY

Whether you're looking for a gypsy style engagement ring, gypsy necklace, gypsy ring, or something entirely original, we can make your vision a reality. Contact us to inquire about any of the jewelry shown here or to begin the custom commission process to design an entirely new piece.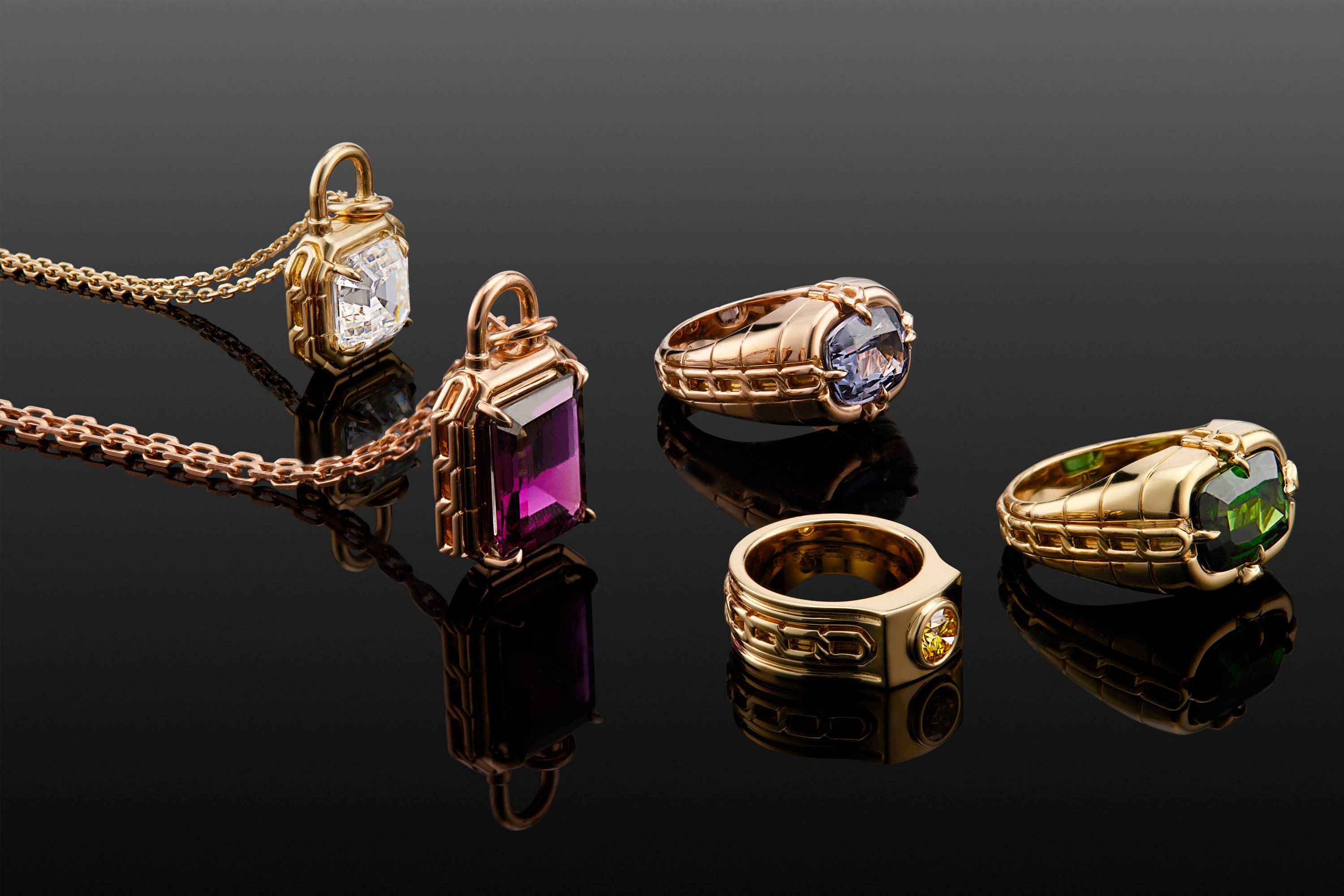 Contact us to inquire about any of the gypsy setting jewelry shown here or to commission a new design.