Posted by Lindsey Scoggins Studio on Jul 31st 2023
STYLING ENGAGEMENT RINGS: ELEVATING THE EVERYDAY


Styling engagement rings is an art that gives you the flexibility to change the look of your ring based on ocassion or as your personal style changes. Whether you're heading to the office or attending a special event, learning how to style your engagement ring will make it versatile and ensure that you'll continue to be just as excited about your ring as you were the first time you wore it. In this blog post, we will share valuable tips and ideas on styling engagement rings, creating looks that reflect your personal style and celebrate the beauty of your commitment.

EMBRACE THE ART OF STACKING

One of the trends of the moment in styling engagement rings is stacking. Discover the art of stacking multiple rings and bands to create a unique and personalized look that showcases your engagement ring. Experiment with mixing different metals, gemstones or diamonds, and styles to achieve a unique stack that complements your engagement ring and matches your unique personal style. The best way to do this is to try on other rings to see how they pair with your engagement ring. We recommend trying a variety of styles and considering the design details of your ring like diamond shape, size, band style and more.

CONSIDER COMPLEMENTARY RINGS & JEWELRY
When styling your engagement ring, consider complementary jewelry pieces that enhance its beauty. Pair your ring with earrings, bracelets, or necklaces that harmonize in style, metal type, or gemstone and diamond colors. By choosing jewelry pieces that complement your engagement ring, you can create a cohesive and elegant look that showcases the beauty of each piece however you choose to wear it.
Color coordination is essential when styling your engagement ring. Consider the metal color and gemstone hues of your ring when choosing other rings or jewelry to pair with it. Opt for colors that complement or create a contrast to make your engagement ring stand out. We also encourage mixing metals and gemstones - there is no right or wrong way to style your jewelry.
When styling your engagement ring, it's important to consider your lifestyle and daily activities. If you have an active lifestyle or work with your hands, opt for practical and secure ring settings that won't snag or get in the way. Eternity bands are a beautiful choice but can be damaged easily if precautions aren't taken to protect your ring. By choosing a ring setting that suits your lifestyle, you can confidently wear and showcase your engagement ring without any concerns.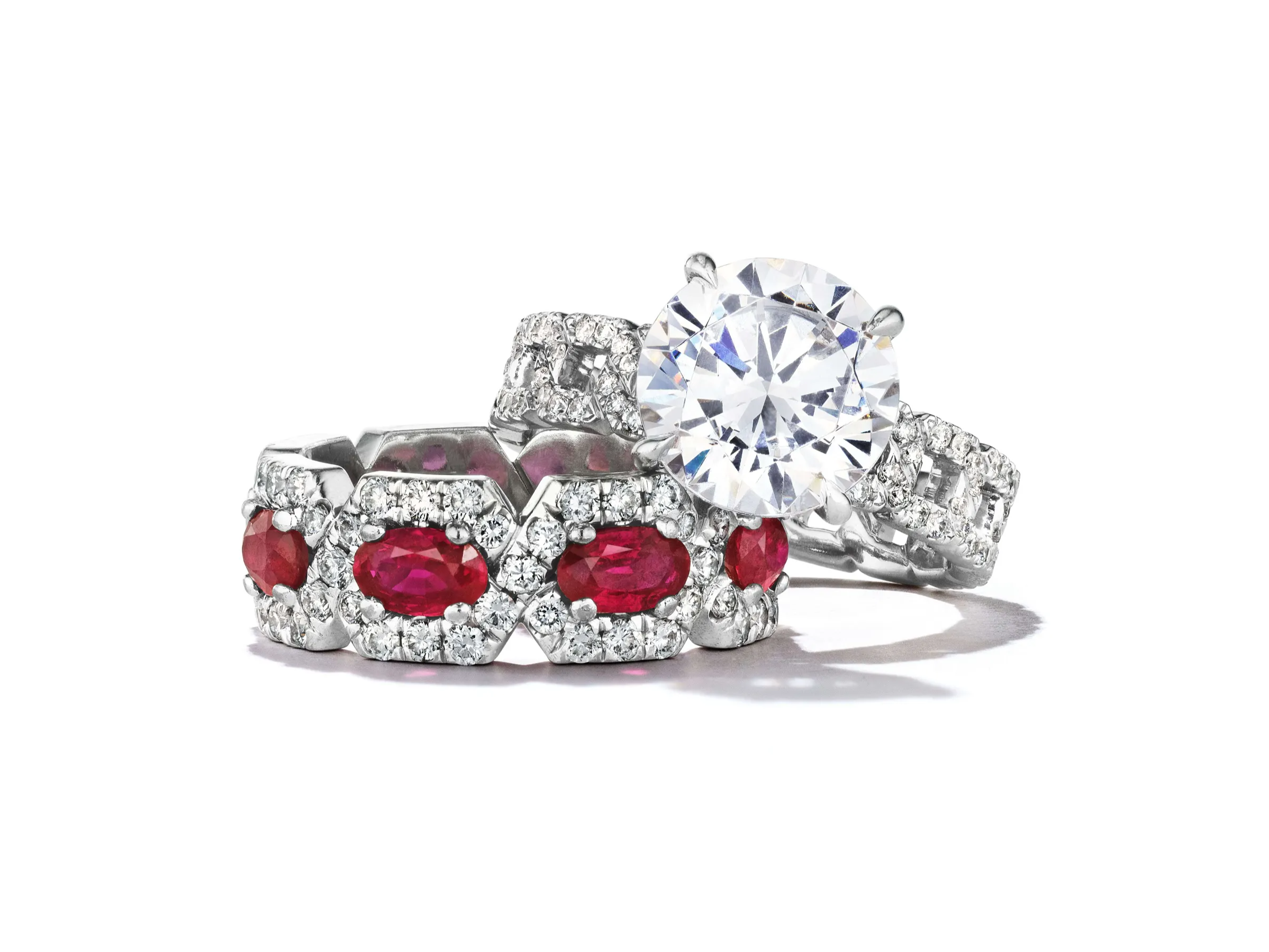 Above all, remember that confidence is key when styling your engagement ring. Wear and style your ring in ways that reflect your unique style and personality. Styling your engagement ring is an opportunity to express your personal style and creativity. By embracing the art of stacking, considering complementary jewelry pieces, paying attention to color coordination, and showcasing your ring with confidence, you can create unique looks that celebrate the beauty of your engagement ring. Remember, it's all about expressing yourself and allowing your engagement ring to be a shining symbol of love and joy in your everyday life.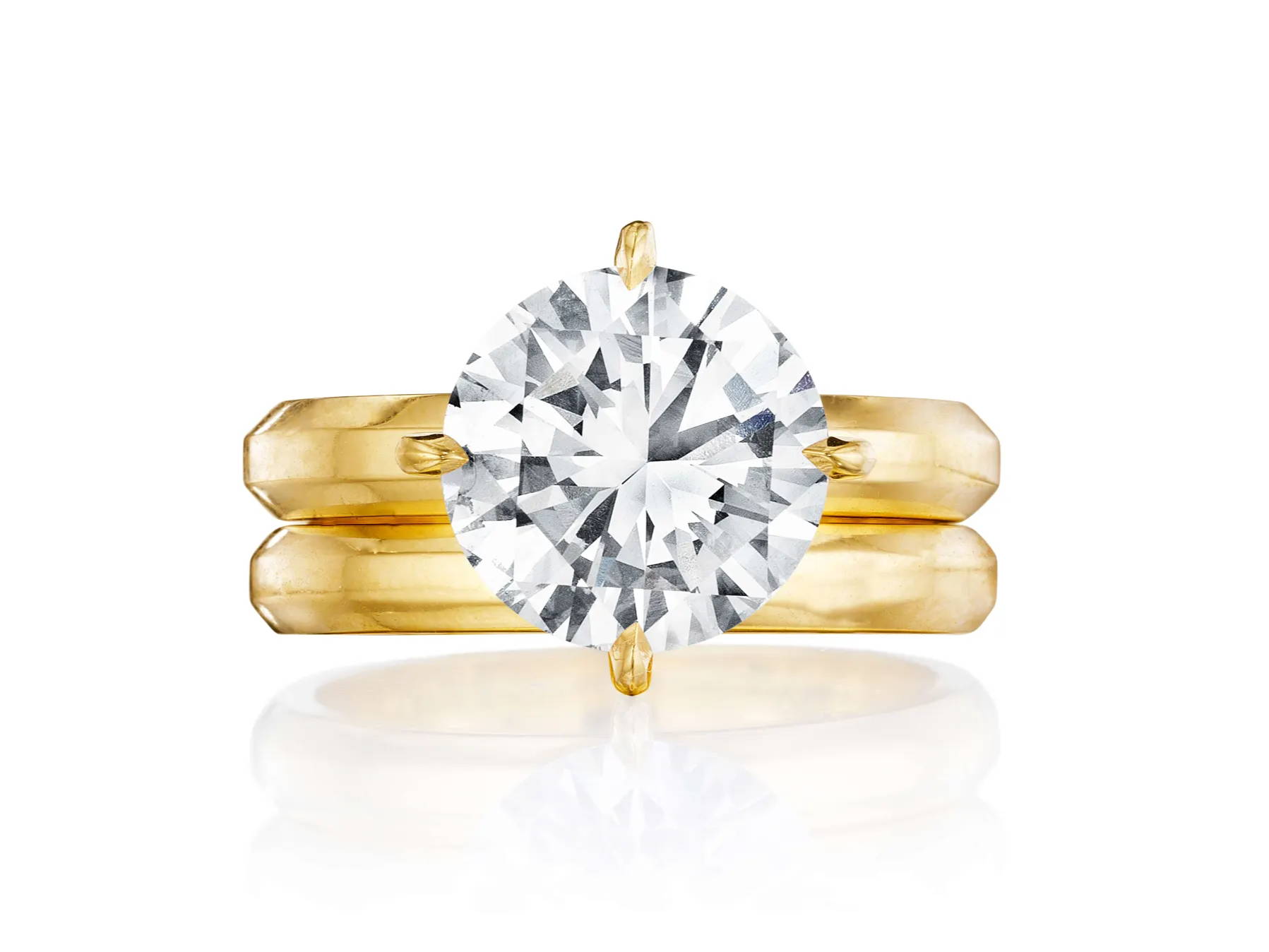 DISCOVER MORE RINGS TO PAIR WITH YOUR ENGAGEMENT RING
Contact us for more information on engagement ring styling or with any other inquiries on any of the rings or jewelry shown here.