Posted by Lindsey Scoggins Studio on Jun 1st 2023
THE ART OF CUSTOM ENGAGEMENT RINGS: EXCLUSIVITY AND PERSONALIZATION

BY LINDSEY SCOGGINS STUDIO


When it comes to expressing the depth of your love and creating a symbol that is as unique as your relationship, there is no better way than through the art of personalization in designing luxury engagement rings. At Lindsey Scoggins Studio, we specialize in crafting one-of-a-kind luxury engagement rings through a meticulous customization process that ensures each ring is a true reflection of your unique love story.
ABOUT THE CUSTOMIZATION PROCESS
Personalization is the key to crafting a luxury engagement ring that reflects your individuality, captures your shared memories, and represents your journey as a couple. By embarking on our customization process, you have the opportunity to create a ring that resonates with your emotions and holds a deeper significance.
One of the most remarkable aspects of our customization process is the freedom it offers to bring your vision to life. It starts with a custom design consultation where you sit down with Lindsey (or meet virtually) to discuss your ideas, inspirations, and preferences for your luxury engagement ring. We take the time to understand your unique story, your style, and your dreams for the perfect ring.
During this collaborative process, sketches are carefully crafted, allowing you to visualize your unique design concepts for your luxury engagement ring. We will guide you through the possibilities of diamond and gemstone choices, metal options, and intricate detailing, all while keeping the essence of luxury intact.
A few luxury engagement ring designs

THE FINEST DIAMONDS, GEMSTONES & MATERIALS
The selection of diamonds and gemstones plays a vital role in the customization process of luxury engagement rings. Gemstones can add a touch of color and individuality to your ring. Whether you prefer the classic elegance of diamonds or the captivating allure of colored gemstones, we will assist you in choosing the perfect center stone that complements your design and reflects your personal style.
Once the design is finalized, our master jewelers meticulously bring your ring to life. With their exceptional skills and attention to detail, they transform the finest materials into a stunning luxury engagement ring that exceeds your expectations. Every step of the process, from selecting the precious metals to the precise setting work, is executed with the utmost precision and artistry and is personally overseen by Lindsey herself. All of our jewelry is made in New York's Diamond District.
Just one example of a diamond that we can source for you but the possibilites are truly endless. We will work within your budget and cut, quality, clarity and of course size preferences.
THE MOST SPECIAL HEIRLOOM
When the moment of unveiling arrives, the culmination of your personalized journey takes center stage. As you lay eyes on your unique luxury engagement ring, you witness the manifestation of your love and the artistry that has brought it to life. The ring becomes a tangible symbol of your commitment, reflecting your journey and creating a lasting reminder of the love you share.
Beyond the joy of wearing a luxury engagement ring that is uniquely yours, personalized rings hold sentimental value for generations to come. They become treasured family heirlooms, passed down from one generation to the next, carrying with them the stories and emotions of your love.
Just a few examples of custom luxury engagement rings that we've made for clients.

DISCOVER OUR SIGNATURE COLLECTIONS
At Lindsey Scoggins Studio, we take great pride in our customization process, ensuring that each luxury engagement ring we create is a true reflection of your love story. We invite you to embark on the path of personalization, where creativity and craftsmanship intertwine to create a luxury engagement ring that is truly exceptional. Discover our Signature Engagement Ring collections - Three Phases, Chance, Axis and Links for design inspiration.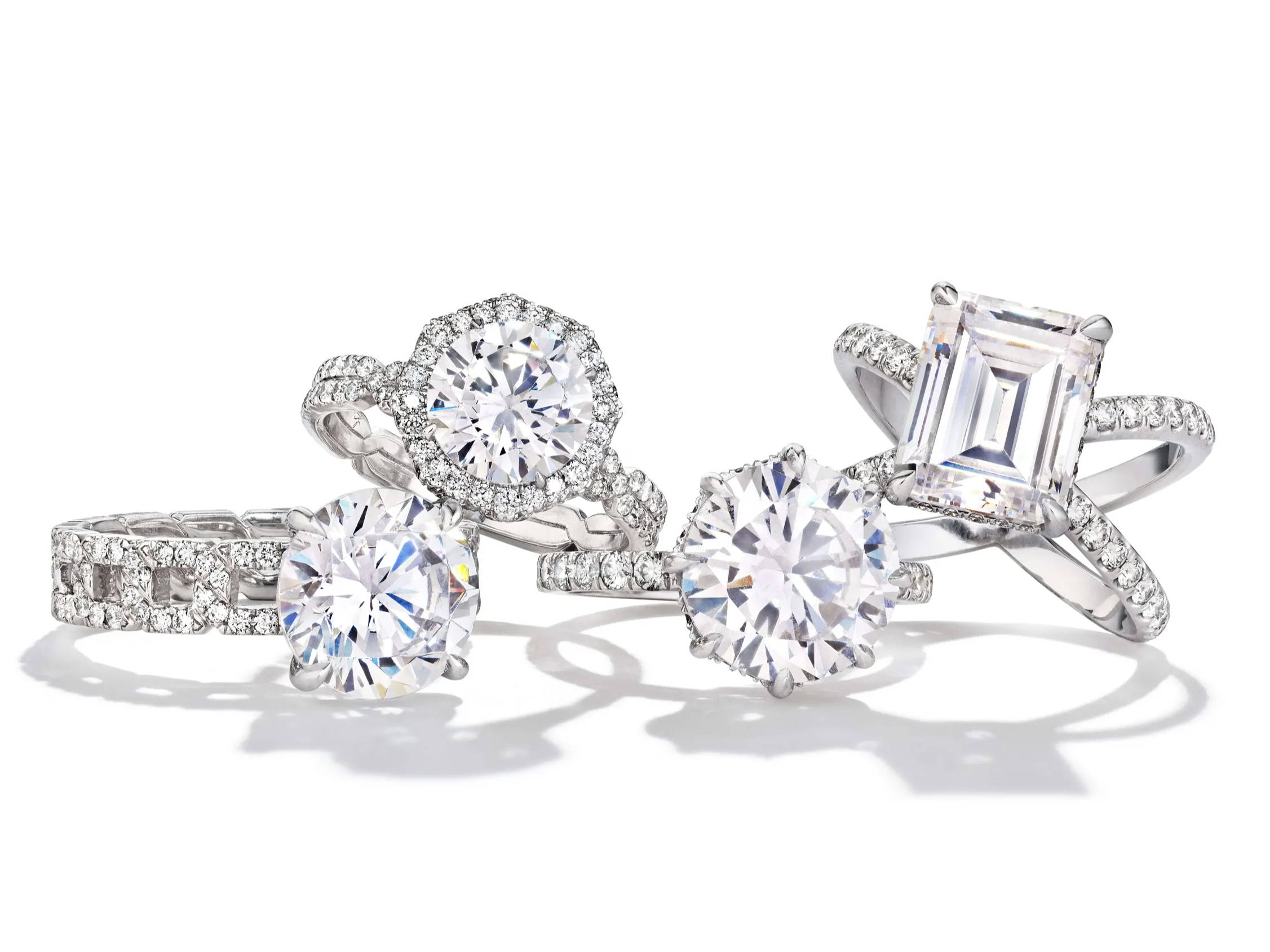 Signature Engagement Rings from the Three Phases, Chance, Links & Axis Collections.
Designing a unique luxury engagement ring is an opportunity to celebrate your love, embrace your individuality, and create a symbol that stands the test of time. Let the art of personalization guide you on this transformative journey, as you craft a luxury engagement ring that is as extraordinary as your love.
DISCOVER MORE LUXURY ENGAGEMENT RING STYLES
Contact us for more information on choosing a luxury engagement ring or with any other inquiries on the customization process.