Posted by Lindsey Scoggins Studio on May 22nd 2023
THE ULTIMATE GUIDE TO CHOOSING A LUXURY ENGAGEMENT RING

BY LINDSEY SCOGGINS STUDIO


Selecting a luxury engagement ring is a significant milestone in one's life. The process involves careful consideration of various factors, from diamond quality to ring settings and design trends. This comprehensive guide aims to provide you with the knowledge and tips needed to find the perfect luxury engagement ring that matches your individual preferences and budget.
UNDERSTANDING DIAMOND QUALITY
When it comes to luxury engagement rings, the diamond takes center stage. Understanding the factors that determine diamond quality is crucial. The 4Cs – carat weight, cut, color, and clarity – play a pivotal role. Carat weight indicates the diamond's size, while cut determines its brilliance and outward appearance. Color refers to the absence of color in a diamond, and clarity assesses its purity. In addition to the 4Cs, we also consider a 5th C - curation. We know that it's not only about what's on a grading certificate, which is important for determining the quality and in turn the cost, but the brilliance that comes from inside each diamond and how the light reflects outside the stone ensuring it's lasting value. Educating yourself about these aspects will empower you to make an informed decision when choosing an engagement ring. Read more about our diamond curation process here.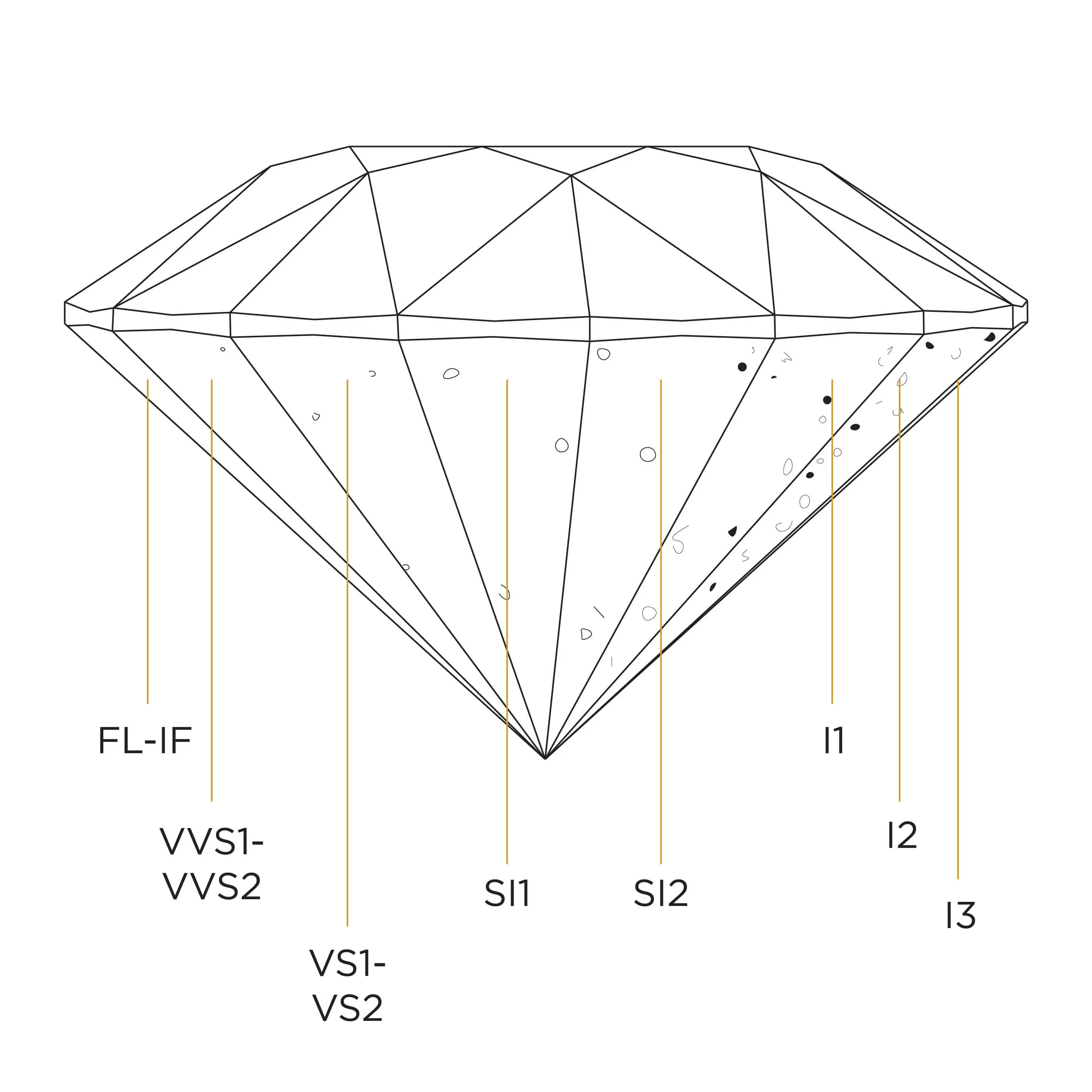 EXPLORING PRECIOUS METALS
The choice of precious metal for the engagement ring setting significantly impacts its overall aesthetic and durability. Platinum, known for its durability and hypoallergenic properties, is a popular option. White gold offers a similar look however we advise platinum for engagement rings because it is more durable. Yellow gold exudes a classic and timeless appeal, while rose gold adds a touch of romance and modernity. We work with 18 karat gold. Each metal has its unique characteristics, and understanding them will help you select the perfect setting for your luxury engagement ring.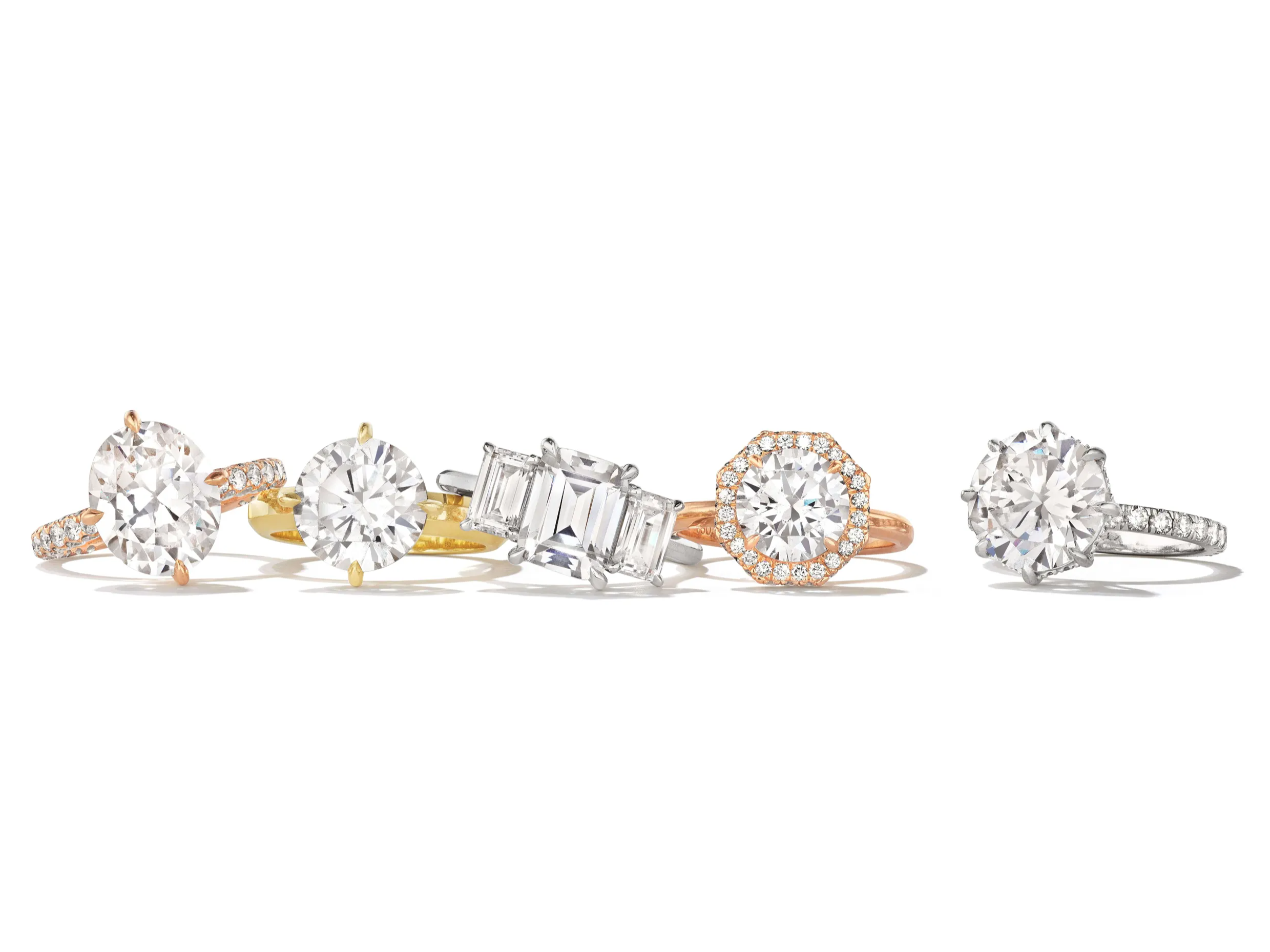 Engagement Rings in 18k Rose Gold, Yellow Gold & Platinum
The setting of an engagement ring not only holds the diamond securely in place but also enhances its beauty. There are several popular ring settings to consider, each with its own allure. The classic solitaire setting showcases the diamond's brilliance, while a halo setting adds sparkle and amplifies the center stone's appearance. Vintage-inspired settings, like our Galaxy setting or our other designs for commission offer a nostalgic charm. Modern options like our Shield bezel or Endless Loop setting provide a contemporary and sleek look. Our signature band collections Links, Axis, Chance and Three Phases also offer unique styles that will stand out from more traditional options. Exploring various ring settings will allow you to find the one that resonates with your personal style.
KEEPING UP WITH DESIGN TRENDS
Design trends for luxury engagement rings continuously evolve, offering an array of choices for the modern bride or groom. Currently, some popular trends include toi et moi styles and East West settings, which bring a modern and interesting touch. Geometric shapes and minimalistic designs have gained popularity among those seeking a contemporary and sleek aesthetic. Unique diamond cuts, such as oval or emerald cut, provide an alternative to the traditional round brilliant cut. Gemstone engagement rings using emerald, sapphire or ruby are a trend for someone looking for a non-traditional engagement ring. Staying informed about design trends can inspire you and guide your search for a luxury engagement ring that reflects your personal style.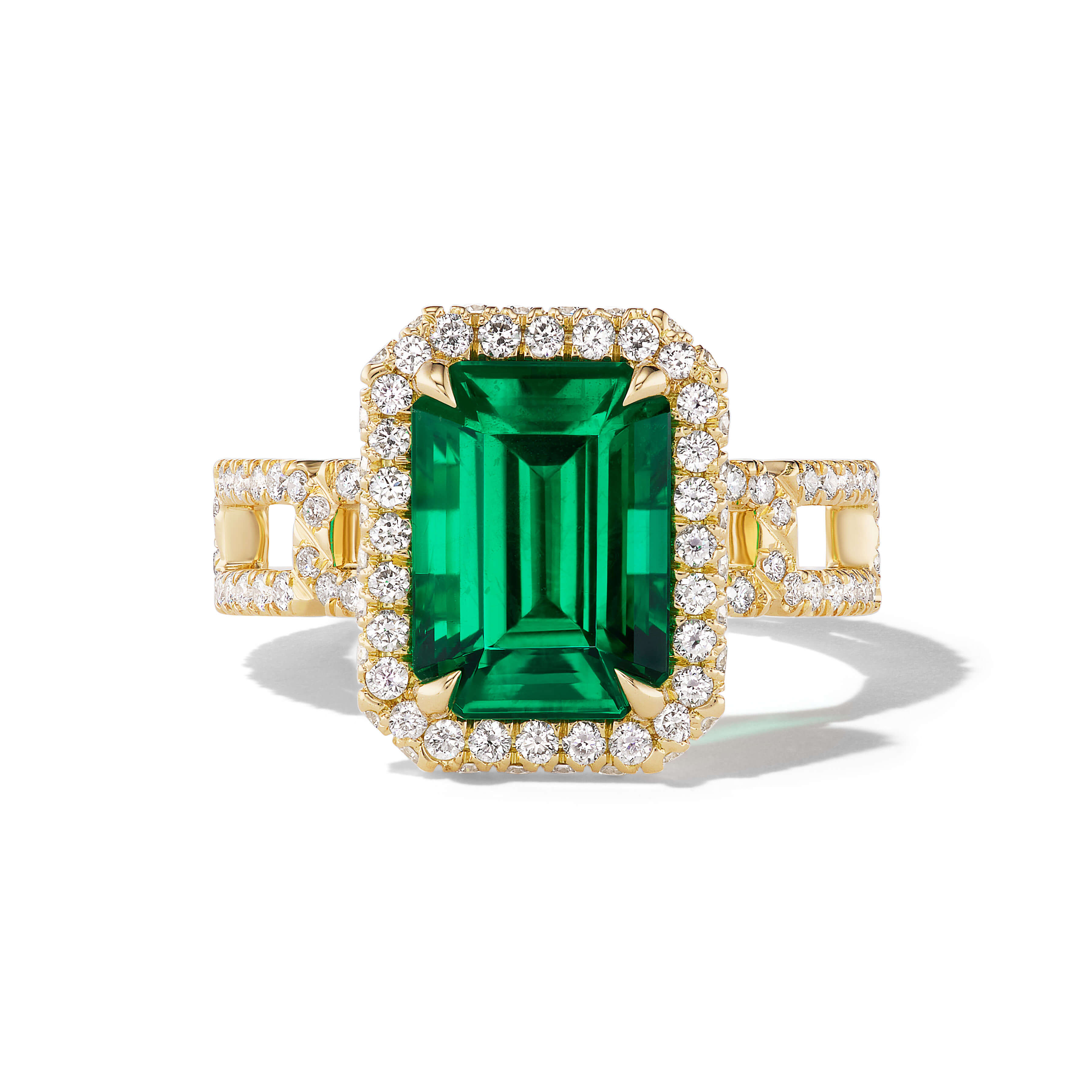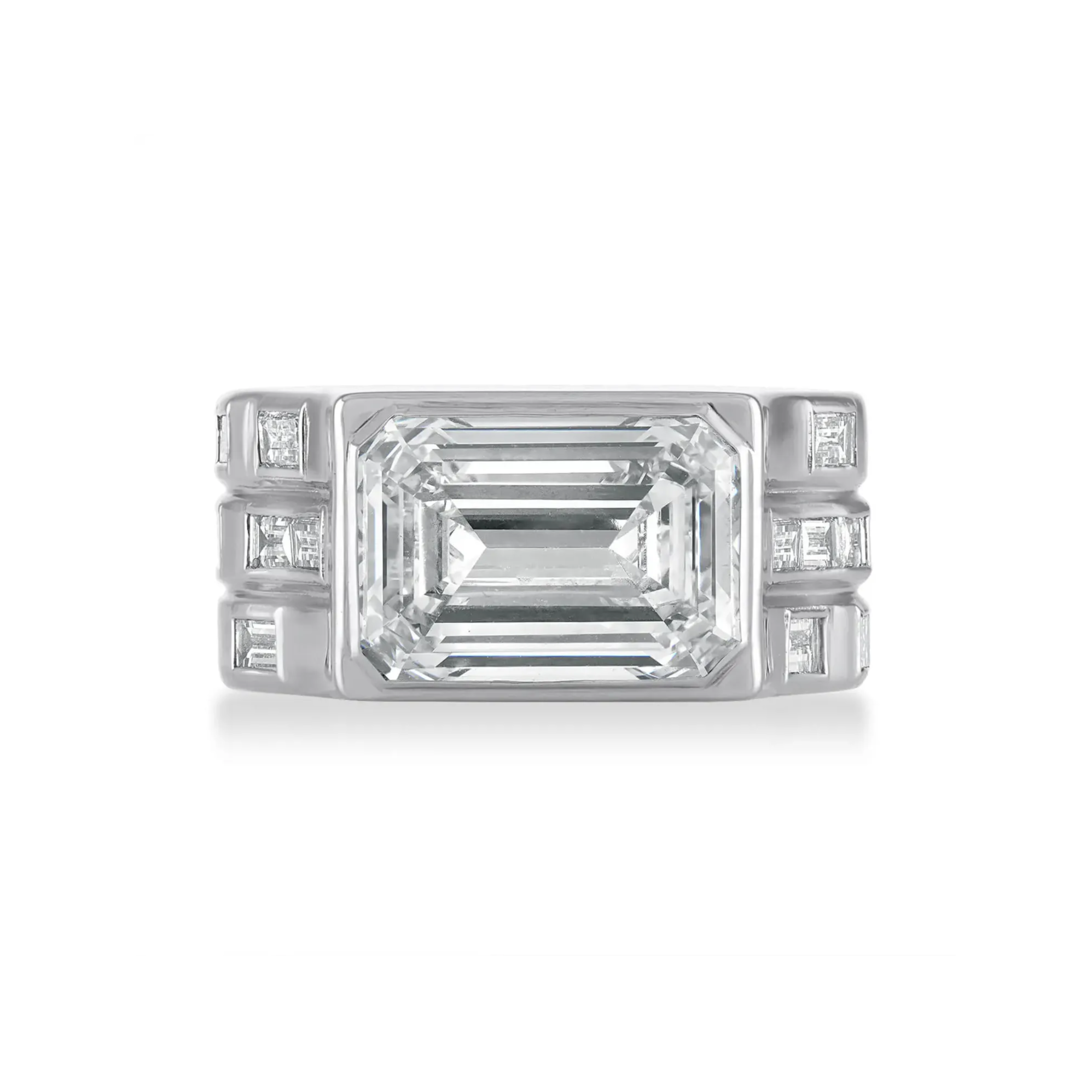 East West Emerald Cut Engagement Ring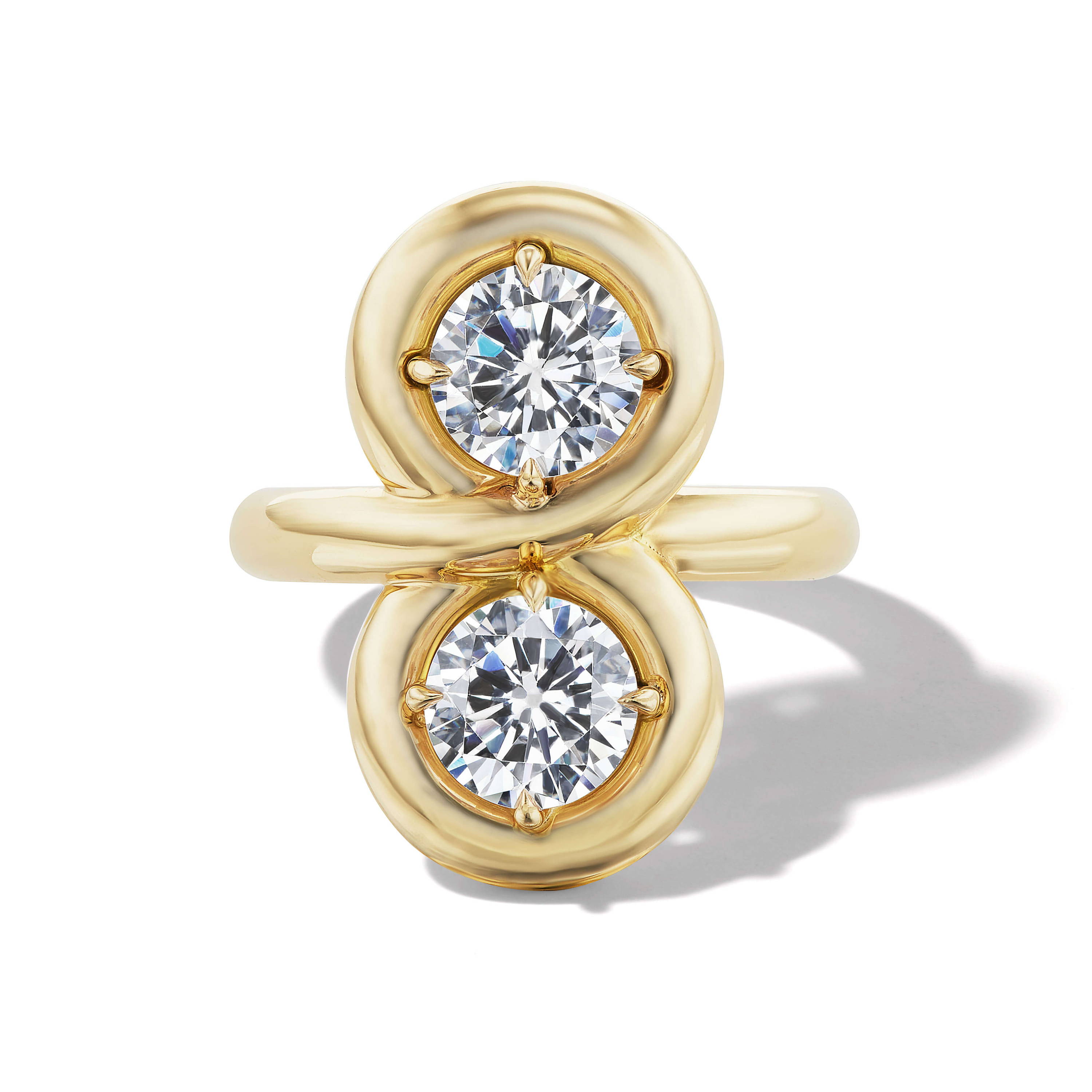 Toi et Moi Engagement Ring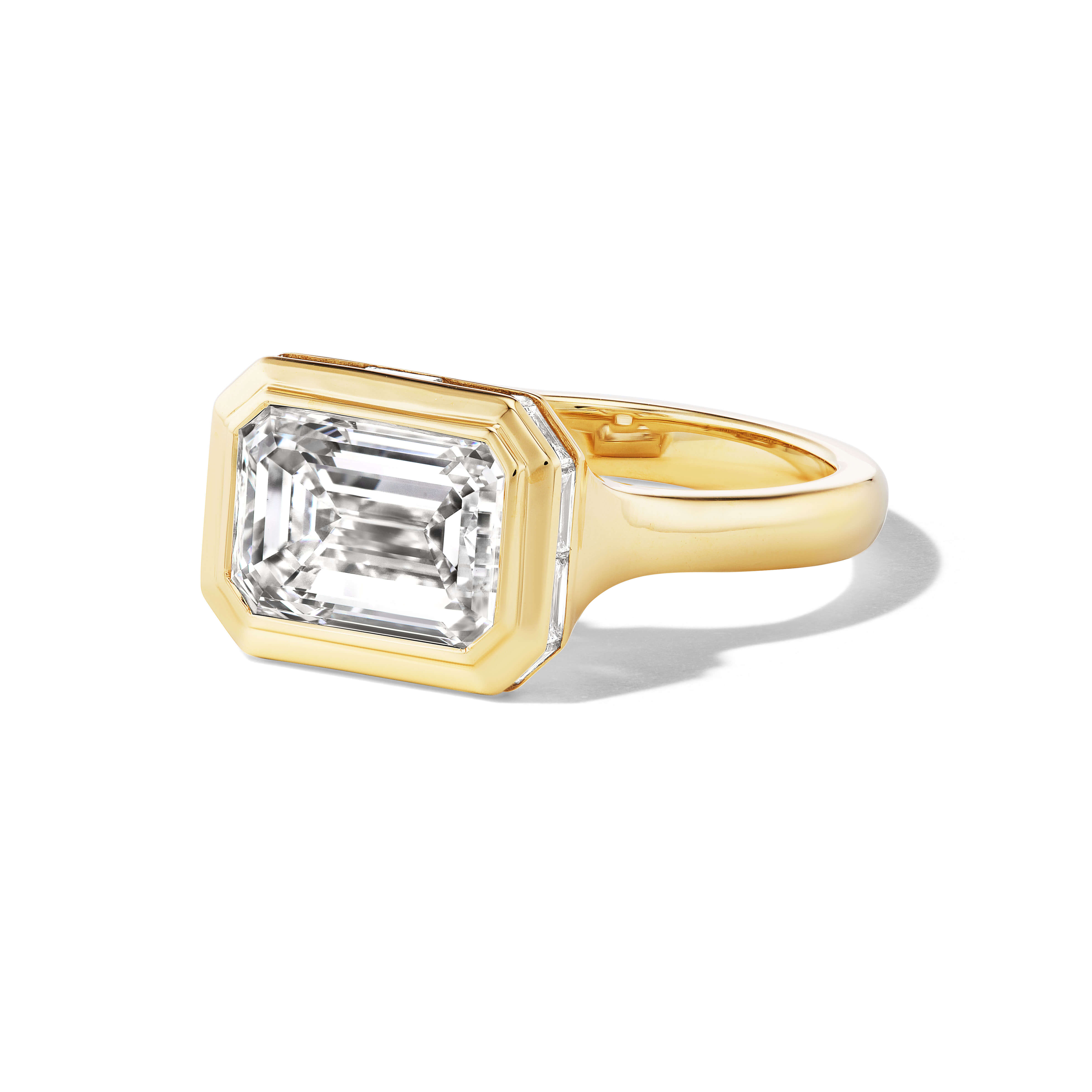 East West Emerald Cut Engagement Ring with a Bezel Setting
TIPS FOR FINDING THE PERFECT RING
Finding the perfect luxury engagement ring requires careful consideration of personal preferences and budget. Here are some valuable tips to help you navigate the process:
Set a Budget: Determine a budget that aligns with your financial circumstances and stick to it. There are options available to suit various price ranges.
Research and Educate Yourself: Take the time to research and learn about diamonds, precious metals, and ring settings. This knowledge will empower you during the selection process and enable you to make informed decisions.
Seek Professional Assistance: Consider consulting with a reputable jeweler or diamond expert who can guide you through the selection process. Their expertise can help you find a luxury engagement ring that meets your specifications.
Consider Lifestyle and Wearability: Think about your lifestyle and how the engagement ring will fit into it. Consider factors such as comfort, durability, and practicality. This will ensure that the ring continues to be cherished for a lifetime.
Personalize the Ring: Consider customizing the engagement ring to add a personal touch. This could involve engraving a special message or incorporating a unique feature that holds sentimental value. Customization allows you to create a one-of-a-kind piece that truly represents your love story.
Try Different Styles: Explore a variety of styles and designs before making a final decision. Visit jewelry stores, browse online collections, and try on different rings to see what resonates with you. This hands-on approach will help you narrow down your preferences and discover the perfect luxury engagement ring.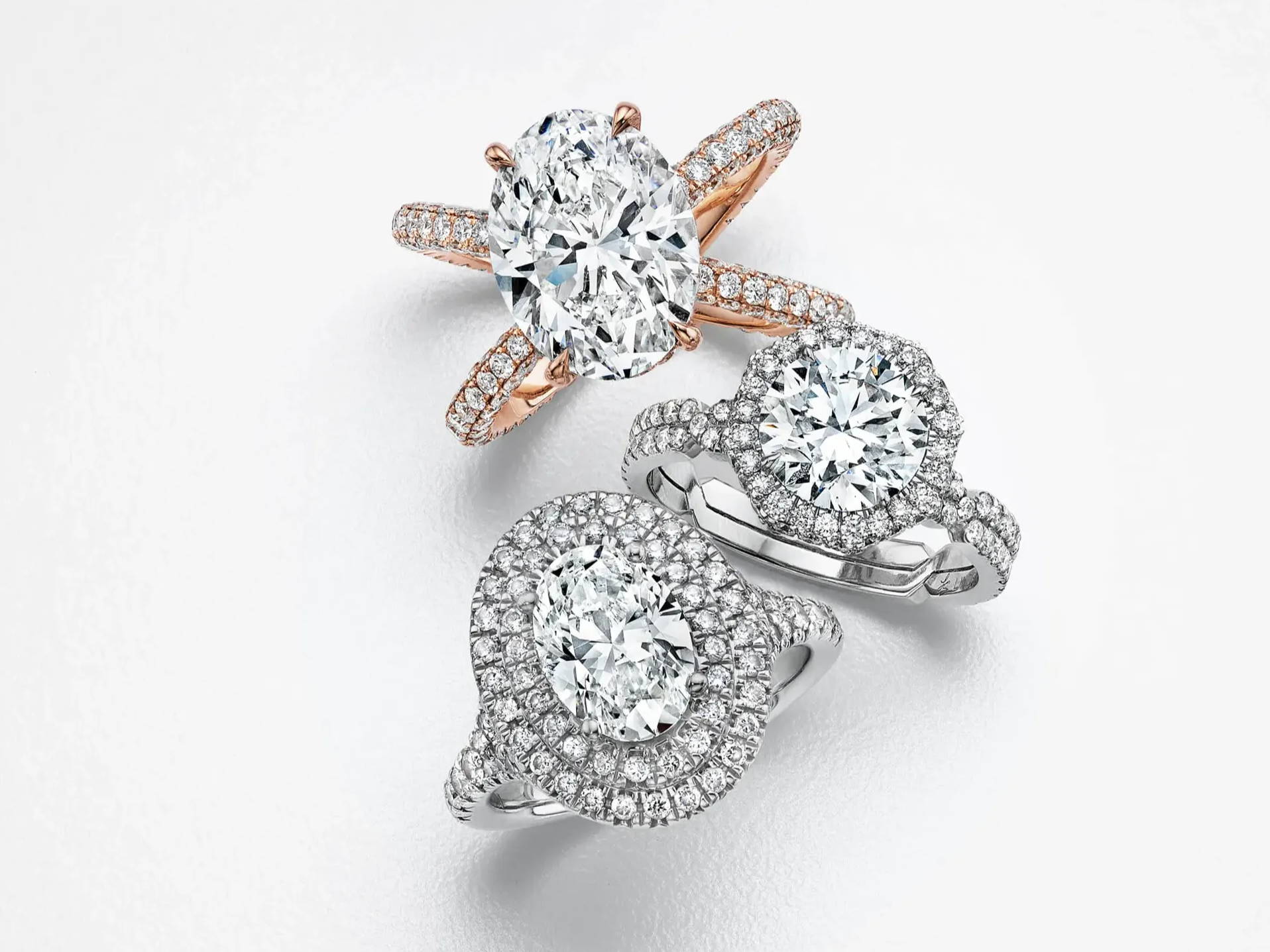 Choosing a luxury engagement ring is an exciting and personal journey. By understanding diamond quality, exploring precious metals and ring settings, staying updated on design trends, and following valuable tips, you can confidently navigate the selection process. Remember, the perfect ring is one that not only captures the beauty and elegance you desire but also holds deep significance to you and your partner. Let this comprehensive guide be your compass as you embark on the quest for the luxury engagement ring that symbolizes your everlasting love. As always, feel free to contact us if we can assist with anything at all.
DISCOVER OUR TOP ICONIC ENGAGEMENT RING STYLES
Contact us for more information on choosing a luxury engagement ring or with any other inquiries.