Posted by Lindsey Scoggins Studio on Jun 19th 2023
TIMELESS ELEGANCE: THREE STONE ENGAGEMENT RINGS

BY LINDSEY SCOGGINS STUDIO
When it comes to capturing the essence of eternal love and celebrating significant milestones, few pieces of jewelry can match the enduring beauty of three stone engagement rings. With their captivating symbolism and timeless elegance, these rings have become a cherished choice for couples seeking a meaningful representation of their journey together. In this feature, we invite you to explore the enchanting allure of three stone engagement rings—unveiling their symbolism, design variations, the emotional significance they hold for those embarking on a lifelong commitment, along with a few of our most popular three stone engagement rings.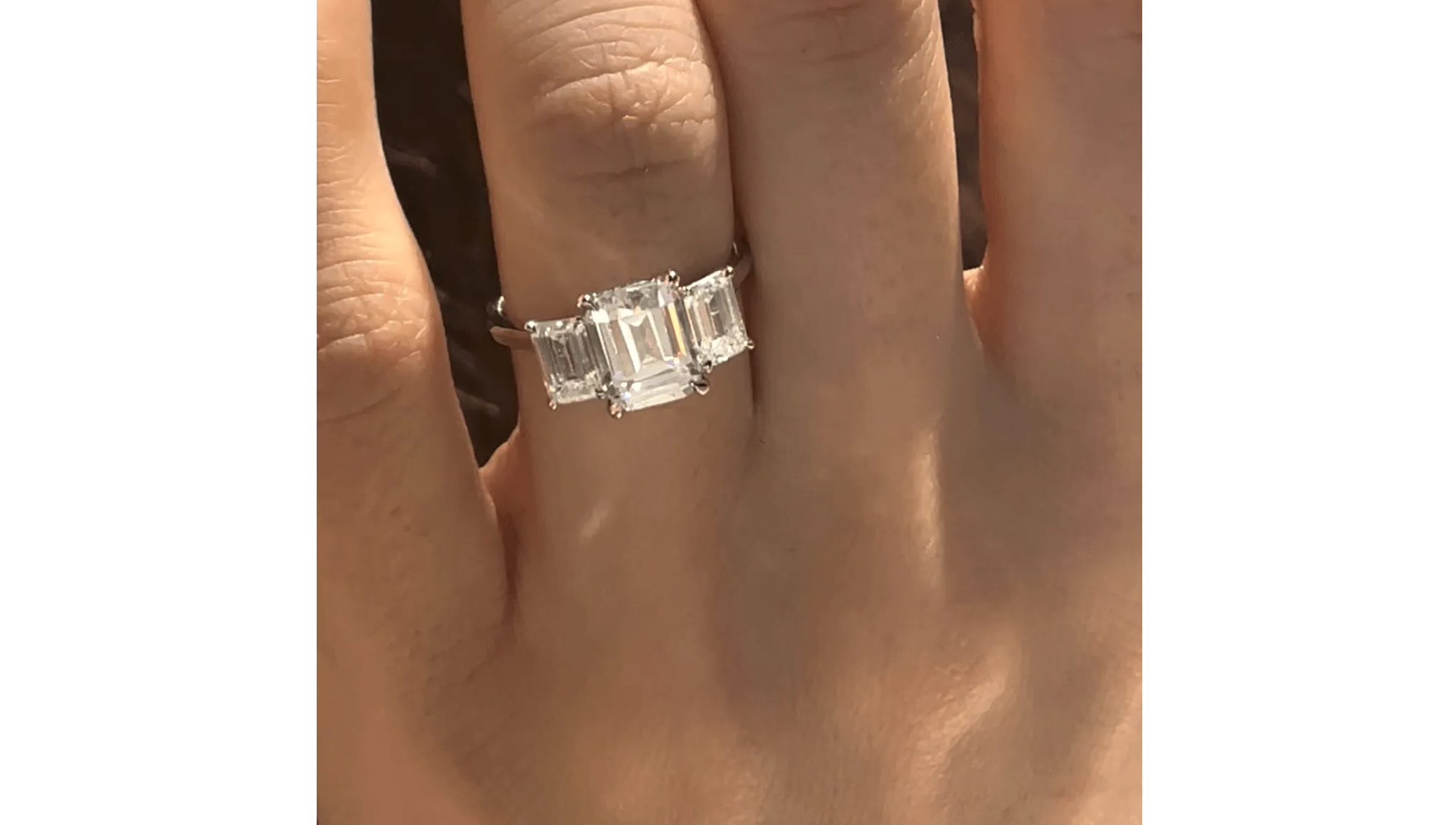 THE SYMBOLISM OF THREE STONE ENGAGEMENT RINGS

Within the realm of engagement rings, the three stone design holds profound symbolism. Each stone represents a distinct element of a couple's journey—past, present, and future. This representation encapsulates the enduring love that has blossomed, the deep connection shared in the present moment, and the promising future ahead. This beautiful setting serves as a constant reminder of your enduring bond. While we love this traditional take, we invite you to give your own unique meaning to your three stone engagement ring in any way that feels right to you.
CUSTOMIZED DESIGN VARIATIONS
There are so many unique setting and design variations for three stone engagement rings. From classic and traditional settings to contemporary and modern interpretations, each style offers a unique aesthetic appeal. Start by choosing your preferred diamond shape - round, oval and emerald cut are our favorite shapes to work with but we can use any diamond shape that you prefer. Choose the traditional look of three stones of the same shape with smaller side stones, opt for trapezoid side stones for an emerald cut three stone engagement ring or add baguette diamonds for a more delicate three stone option. Our signature band styles are another way to make your ring even more special and uniqe. You can customize further by adding other personalized design details like halos, bezel settings and so much more. We can create any variation of your preference to design the perfect style that aligns with your personal taste and symbolizes your love story.

SYMBOLIC & SPECIAL DIAMONDS OR GEMSTONES
Aside from the setting choice, there are so many ways to customize with your choice of diamonds or gemstones. Diamonds, renowned for their brilliance and durability, often take center stage, symbolizing everlasting love and timeless beauty. This is the most traditional choice. Alternatively, couples may choose gemstones such as sapphires, emeralds, or rubies, each carrying its own unique meaning and charm. We love the look of a diamond as the center stone with vibrant gemstones on each side. A three stone setting is a beautiful way to incorporate inherited or heirloom diamonds or gems that you might have. These can fit beautifully as an accent or center stone. There are so many personalization possibilities that arise from selecting stones based on birthstones or personal preferences, infusing your three stone engagement ring with additional sentimental value.

BESPOKE, PERSONALIZED STYLES & CUSTOMIZATION

There are countless opportunities for customization within three stone engagement rings. If you are looking for something entirely unique, we can design a special setting just for you. The above deisigns are just two examples of bespoke designs that we can bring to life. Engraving meaningful messages or initials, incorporating additional design elements, or selecting specific metal types can also add a personal touch to your ring. Choose design elements that resonate with your unique love story.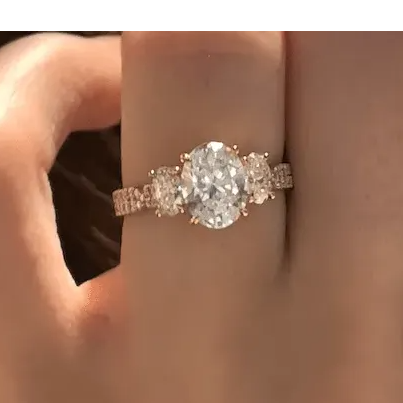 A TIMELESS SYMBOL OF YOUR LOVE
A three stone engagement ring is sure to become a treasured heirloom—a constant reminder of love, growth, and shared dreams. These rings embody the timeless elegance of enduring love. With their symbolic representation of the past, present, and future, three stone rings serve as a constant reminder of a couple's journey and the promise of a shared future. From the design variations to the personalization opportunities, these rings are as unique as the love stories they represent. By choosing a three stone engagement ring, you can celebrate your everlasting bond and create a cherished symbol of love that will stand the test of time.
DISCOVER MORE THREE STONE ENGAGEMENT RINGS
Contact us for more information on three stone engagement rings or with any other engagement ring or jewelry inquiries that you might have.