Discover our wedding and anniversary band collections - Eternity, Still, Note to Self, Chance, Time, Three Phases, Continuum and Links. Each collection is a unique take on the classics with nods to our Signature Engagement Ring collections. Beautiful statements when worn alone or paired together with an engagement ring or existing rings.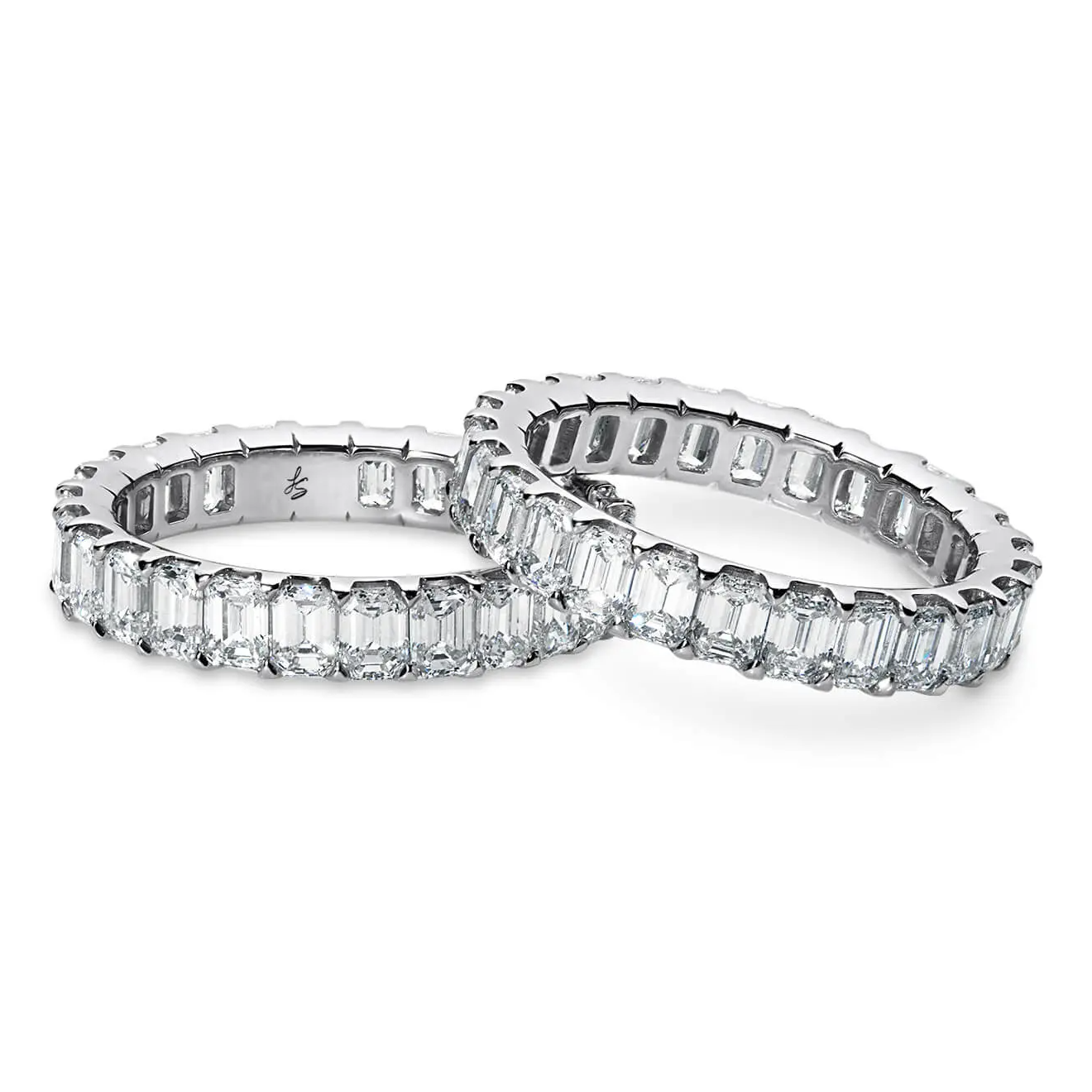 From bezel set emerald cut to classic round diamonds and everything in between, we offer all types of eternity bands.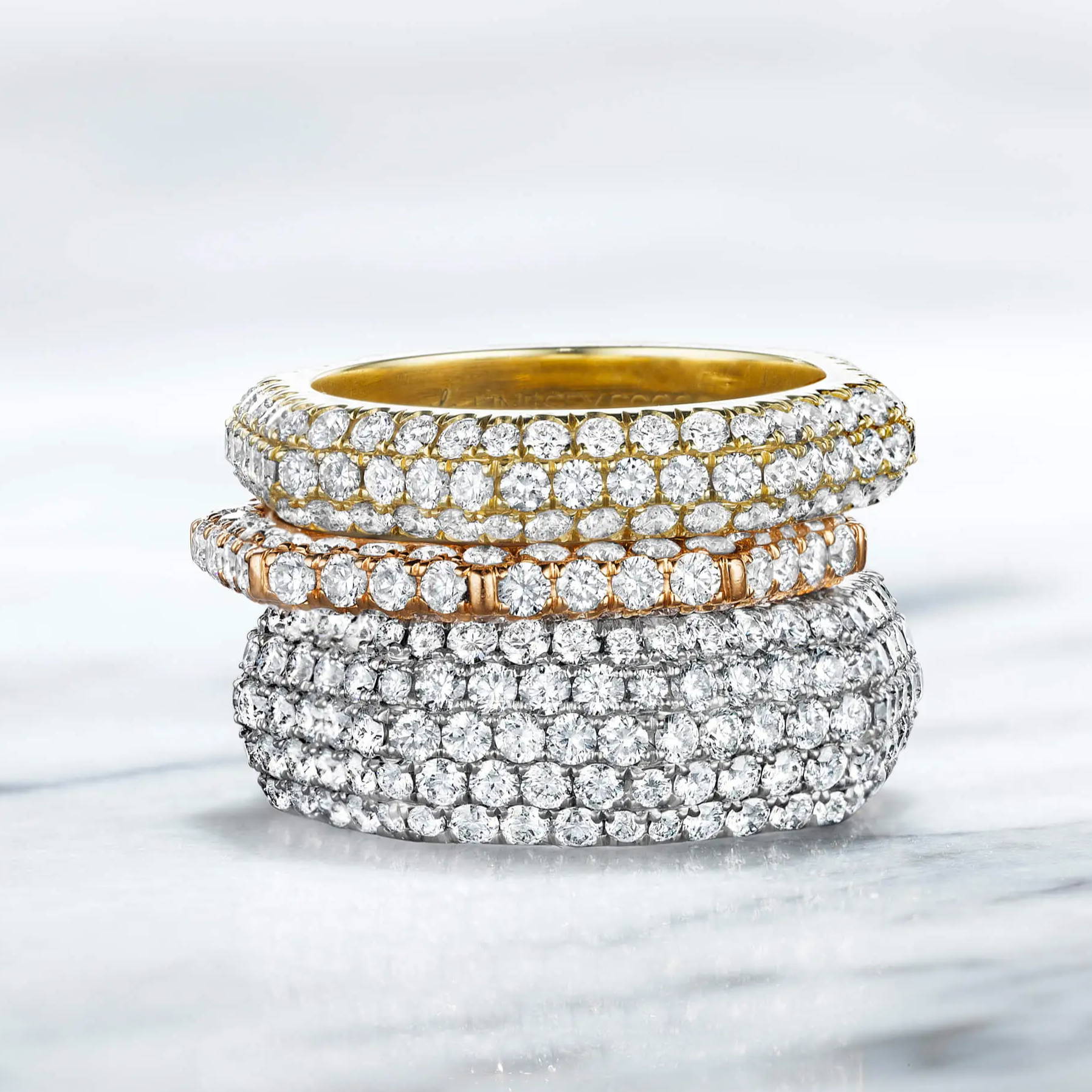 The STILL collection offers bold and elegant diamond octagon shaped bands symbolizing renewal and reflection.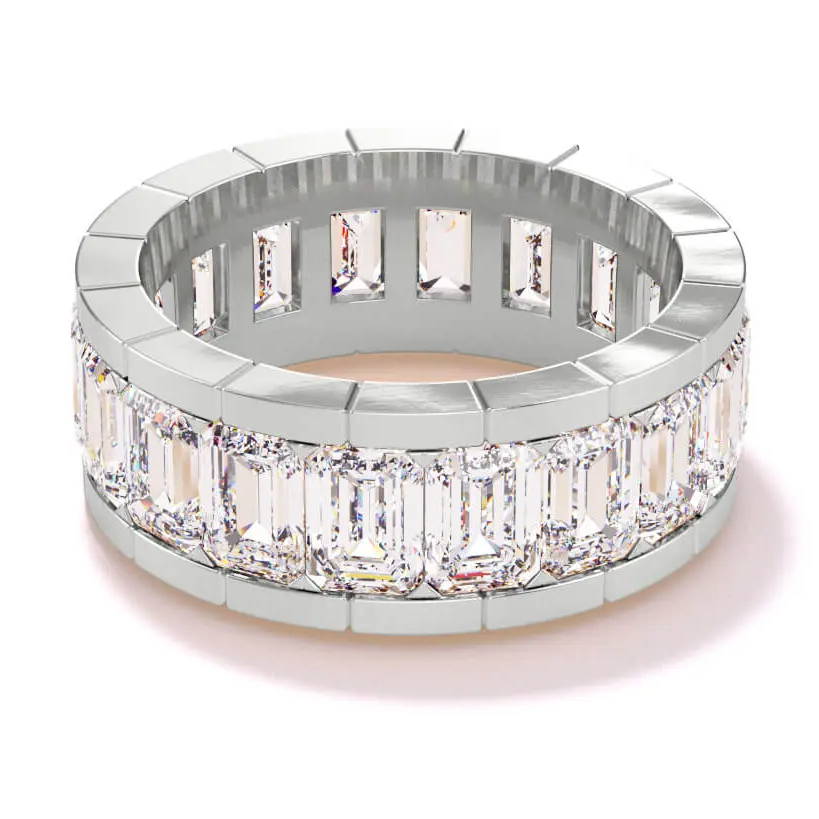 Our Note to Self collection features brilliant diamonds on one side with room for engraving or the message of your choice on the other.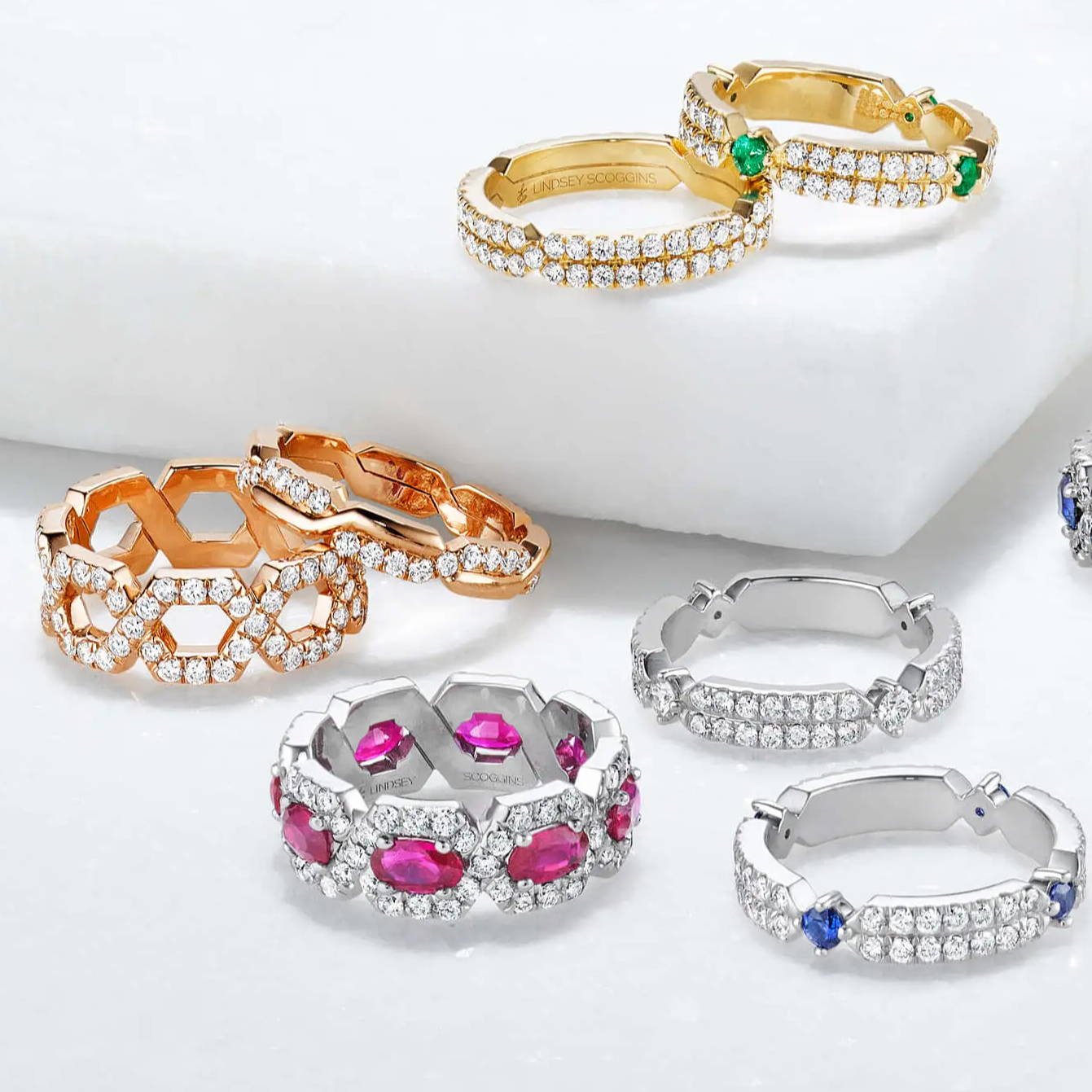 The CHANCE collection bands represent serendipitous connections, fom a random rendezvous to a fork in the road.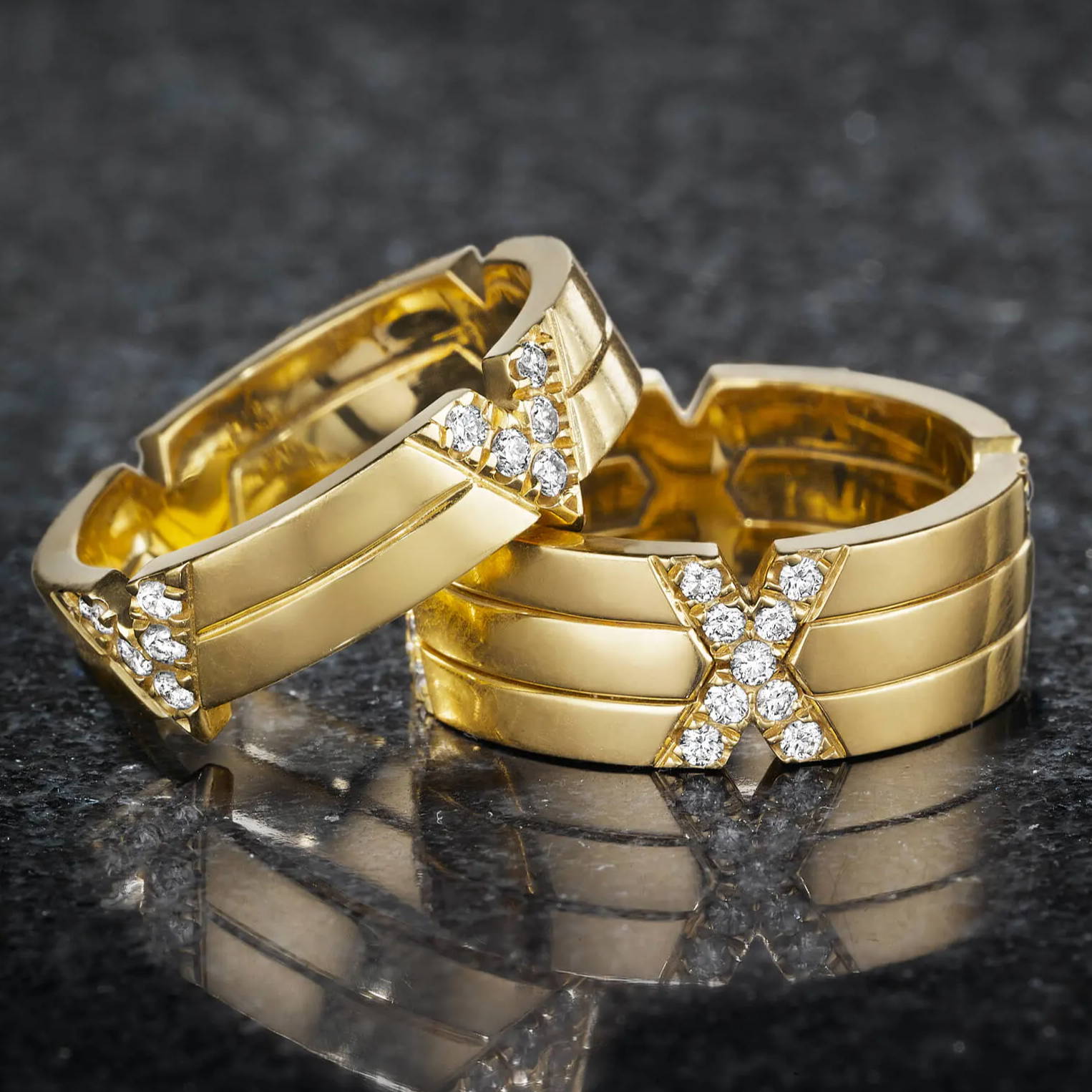 The rings in the TIME collection are designed to snugly nestle into each other to create a Roman numeral combination of your choice.
Designed to reflect the three phases of love: curiosity, chemistry, commitment. The beveled detail gives each band a modern edge.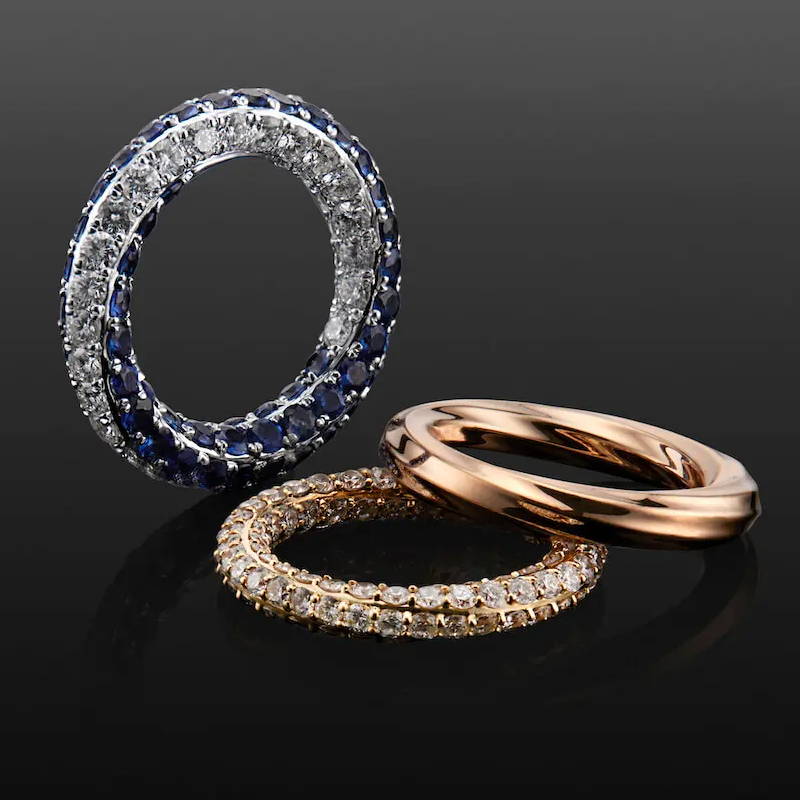 The Continuum bands are uniquely designed to feature one or two rows of diamonds that twist together to create an endless orbit of diamonds.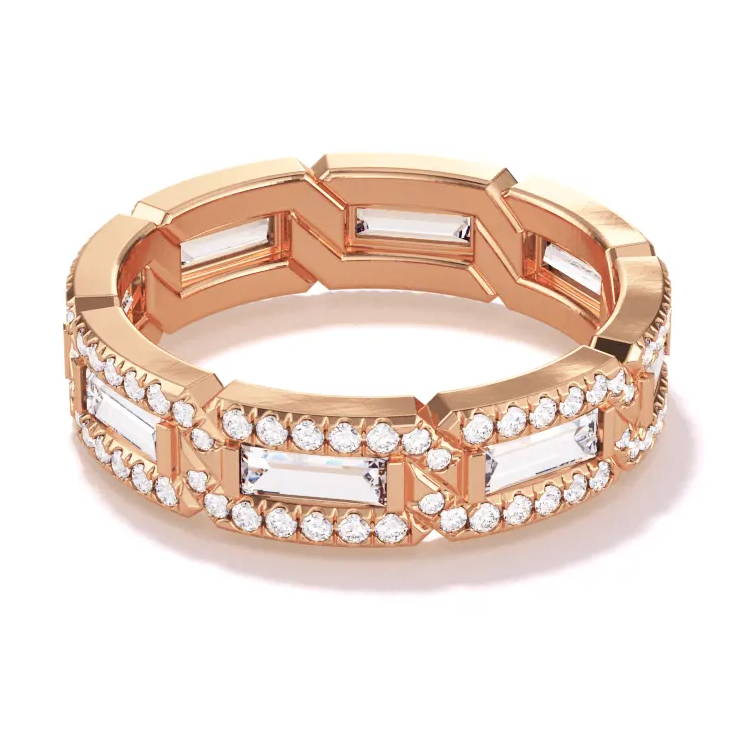 The LINKS bands symbolize bold and unbreakable bonds. Forged in 18 karat gold or platinum to form an edgy yet delicate design.
BEHIND THE BRAND
My passion for jewelry began while I was in college. My mother had a small collection of family jewelry that she redesigned and had made into beautiful rings, presented to my sisters and me on each of our 21st birthdays. A love affair with the sentiment and significance of diamonds was born. Starting a career in the jewelry industry after earning a degree in architecture may sound like a leap to some, but I quickly found that designing jewelry involves many of the same elements: the uniting of beauty and integrity, the planning, the attention to detail.
The process has intrigued me ever since I began working for North America's largest jewelry retailer, buying and sourcing diamonds. I traveled the world to develop relationships with jewelry manufacturers and diamond suppliers to ensure our product was perfect for our customers. After a decade of advancing within that company, I moved to New York City from my home state of Texas, where I developed high-end product lines for a jewelry supplier and made licensing agreements to bring well known names in the design world to the jewelry industry.
MADE IN NEW YORK CITY
Your ring is made exclusively for you in New York City's diamond district by the finest jewelers in the world. It is specifically crafted to fit both your finger and your diamond. Within each engagement ring setting, all diamonds are calibrated within two hundredths of a millimeter and are hand selected to ensure the highest quality. Learn more about our diamond curation process here.
Your ring arrives with an IGI (International Gemological Institute) appraisal that will not only validate the quality of the materials and estimate a replacement value, but it also includes a screening process to confirm that every diamond is natural and not lab grown. Your center diamond is graded by GIA, and that certificate will also be included in your package. An independent appraisal from IGI is all the paperwork you need to secure insurance for your jewelry and valuable items. We suggest securing an insurance policy before receiving your ring.
Please visit our FAQ page or contact us directly with any additional questions.
Contact us with any questions, to learn more about our wedding and anniversary band collections, or to schedule an appointment to meet with us in our New York City Studio or virtually.