Posted by Lindsey Scoggins Studio on Feb 1st 2022
CUSTOM DESIGN STORY: A GREEN SAPPHIRE ENGAGEMENT RING

BY LINDSEY SCOGGINS STUDIO

THE STORY OF A UNIQUE AND BEAUTIFUL GREEN SAPPHIRE AND DIAMOND ROSE GOLD ENGAGEMENT RING


We're predicting that green diamond engagement rings are going to have a moment following Jennifer Lopez's latest engagement to Ben Affleck with a stunning green diamond engagement ring. We made a beautiful green sapphire and diamond engagement ring for a client a few months ago and wanted to share the story of bringing that piece to life. Our client came to us to commission an engagement ring for his soon to be fiancee. He already had the beautiful light green sapphire that he wanted to use as the center stone of the ring. He knew that he wanted the ring to be rose gold and incorporate marquise diamonds into the band. Our original design proposal included options with a pave halo around the center stone, a double halo, and different variations of marquise diamond bands. The designs all have a classic and timeless feel with unique and modern details. The green sapphire center stone makes this ring a truly standout piece and it has a very similar look to a green diamond engagement ring if you are going for the J. Lo look. Read the full custom design story below.
We proposed a few different versions that included all of the elements that our client was looking for. While these seem fairly similar, each has unique elements that separate each design from the rest. While we made the winning design with a green sapphire, any of these designs would make a beautiful green diamond engagement ring.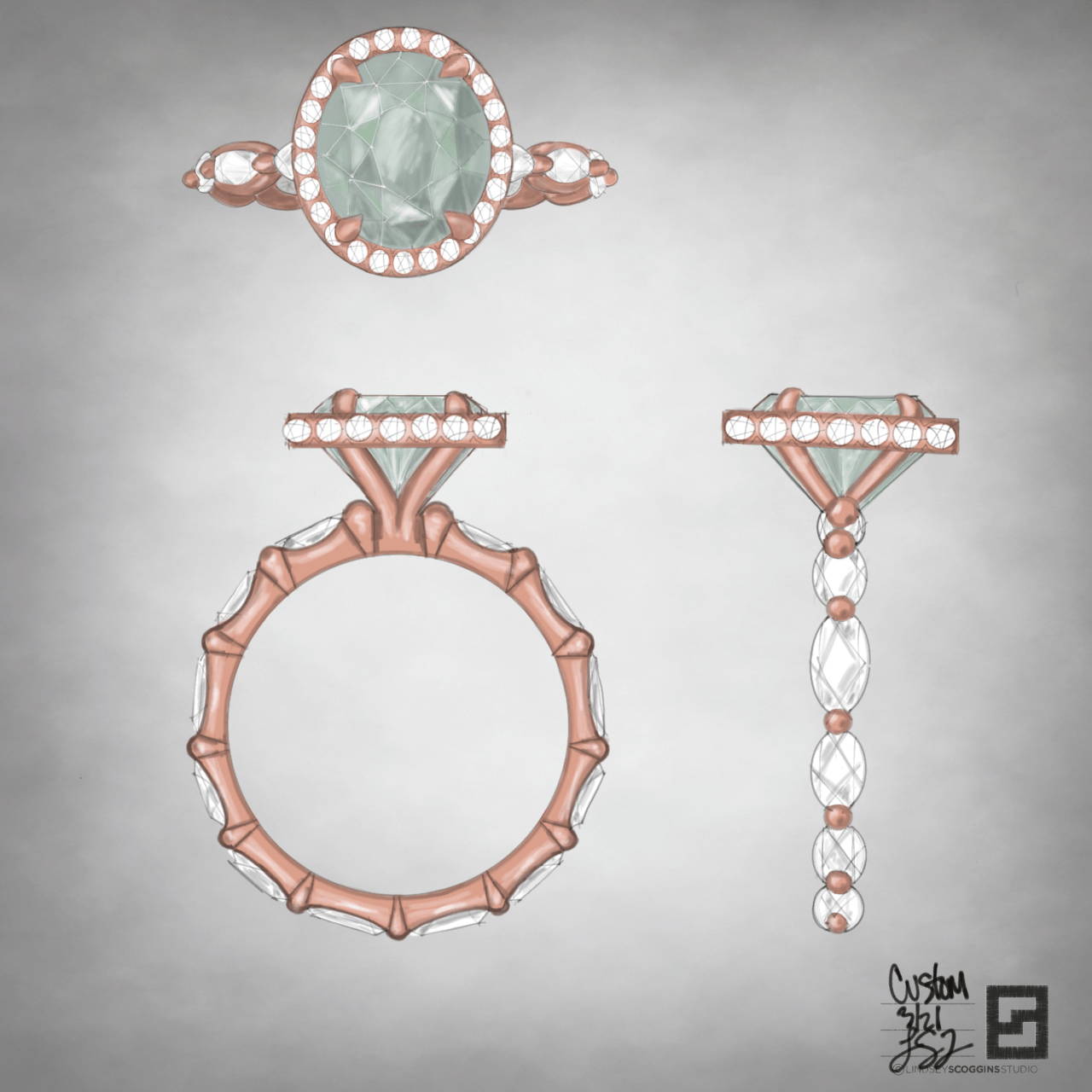 This design features a pave halo, hidden halo and prominent marquise diamond band.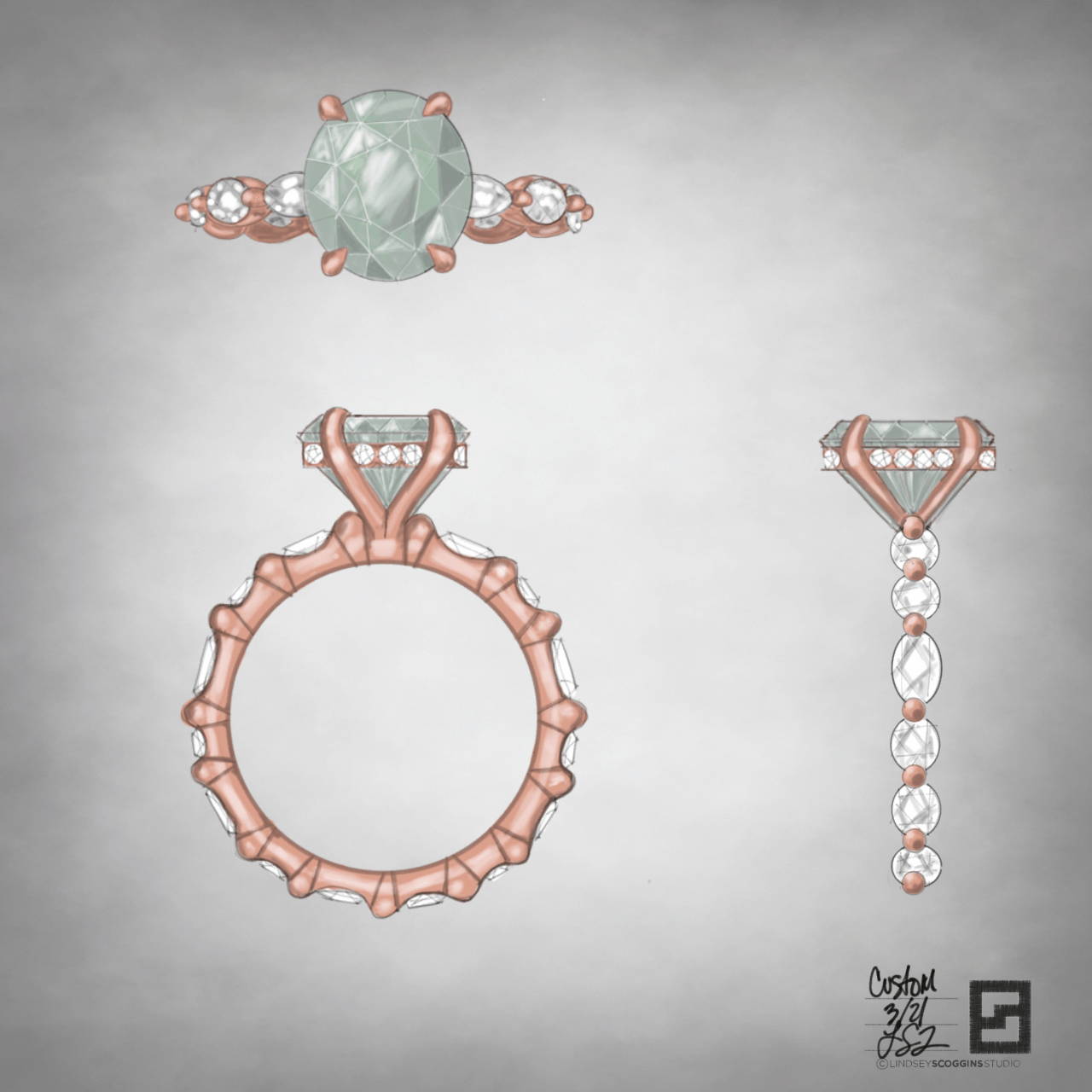 A beautiful option without a pave diamond halo around the green sapphire.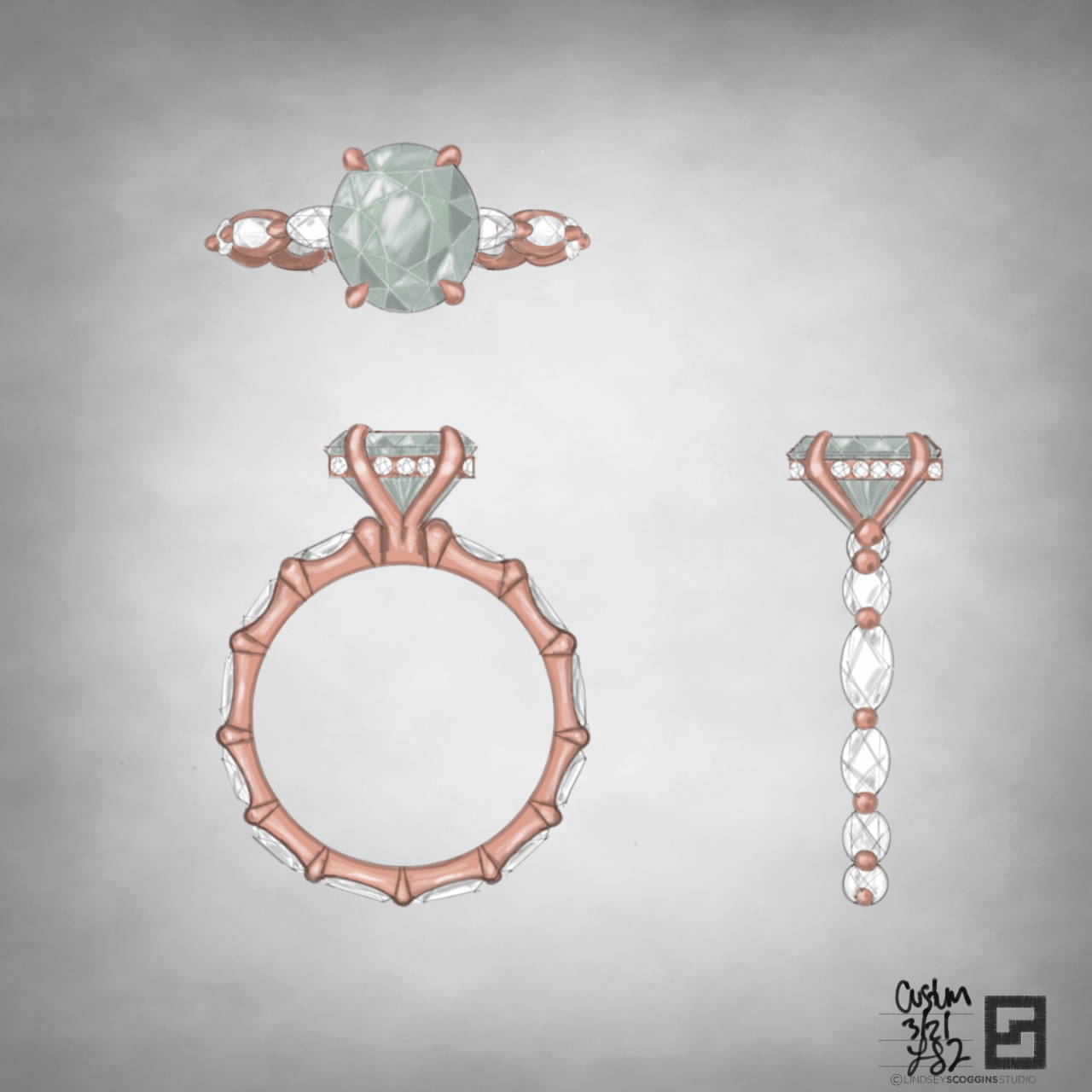 The hidden halo is a special design detail of this option.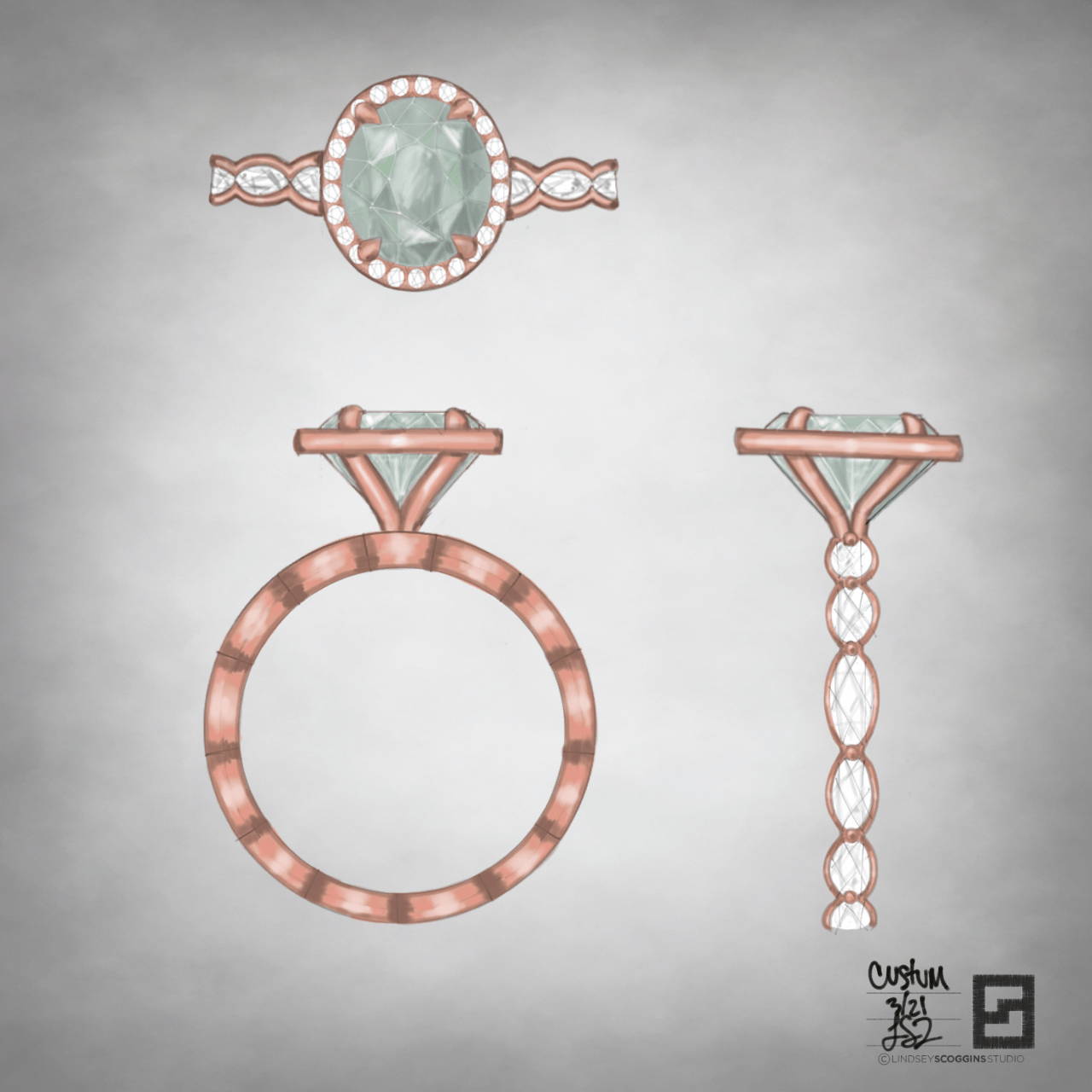 The winning green sapphire and diamond engagement ring design.
The final ring is a beautiful and unique green sapphire and diamond engagement ring. The mesmerizing sapphire center stone has a deep rich green tone from certain angles and in different lighting it appears to be a softer turquoise shade of blue. This ring feels magical with its ability to seemingly change colors in different settings and lighting as you'll see in some of the images below. The intricate diamond details highlight the center stone and create a radiant effect. Congratulations to a beautiful couple taking the next step in their love story. Here's to their future being even more magical than this stunning engagement ring.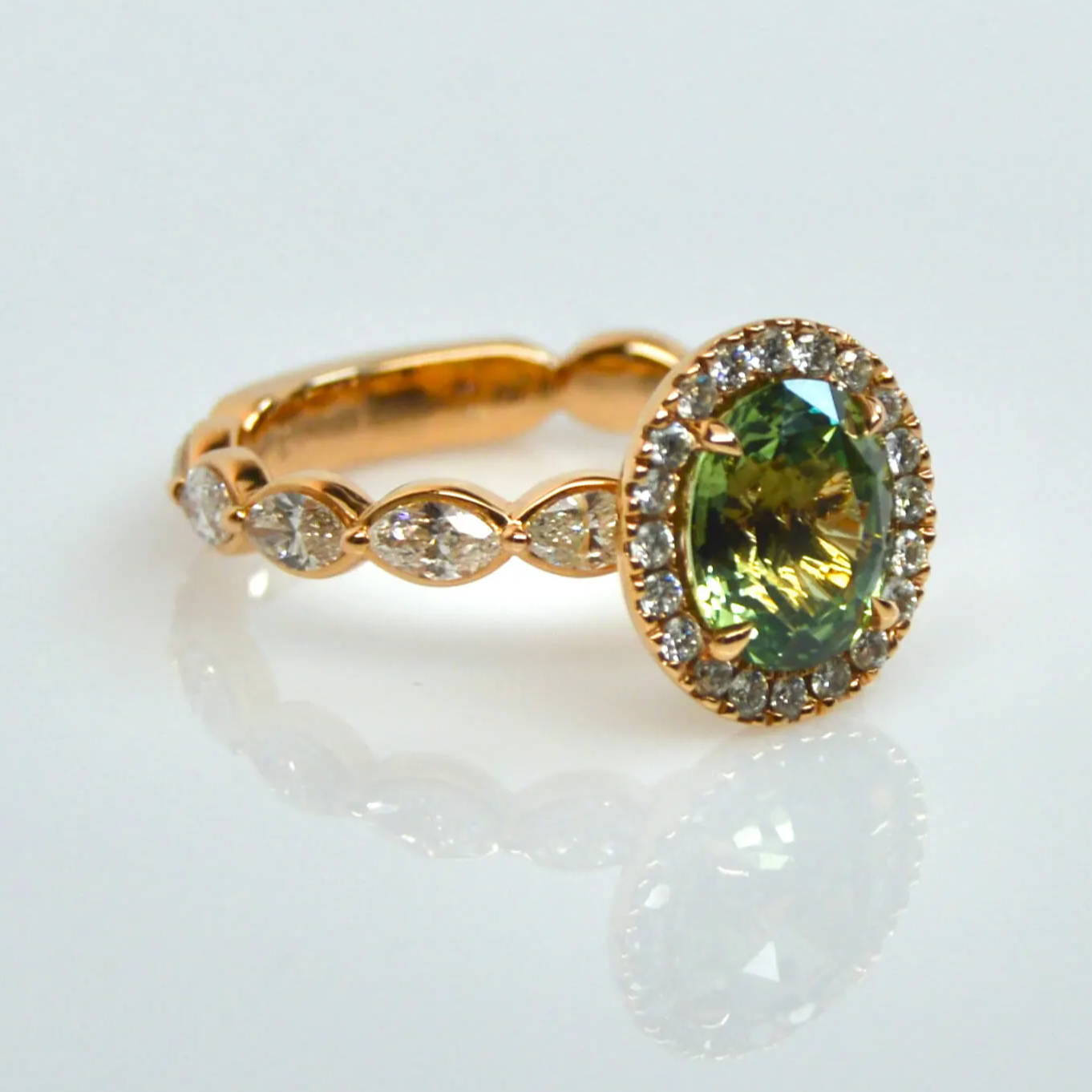 The beautiful finished green sapphire and diamond ring in profile.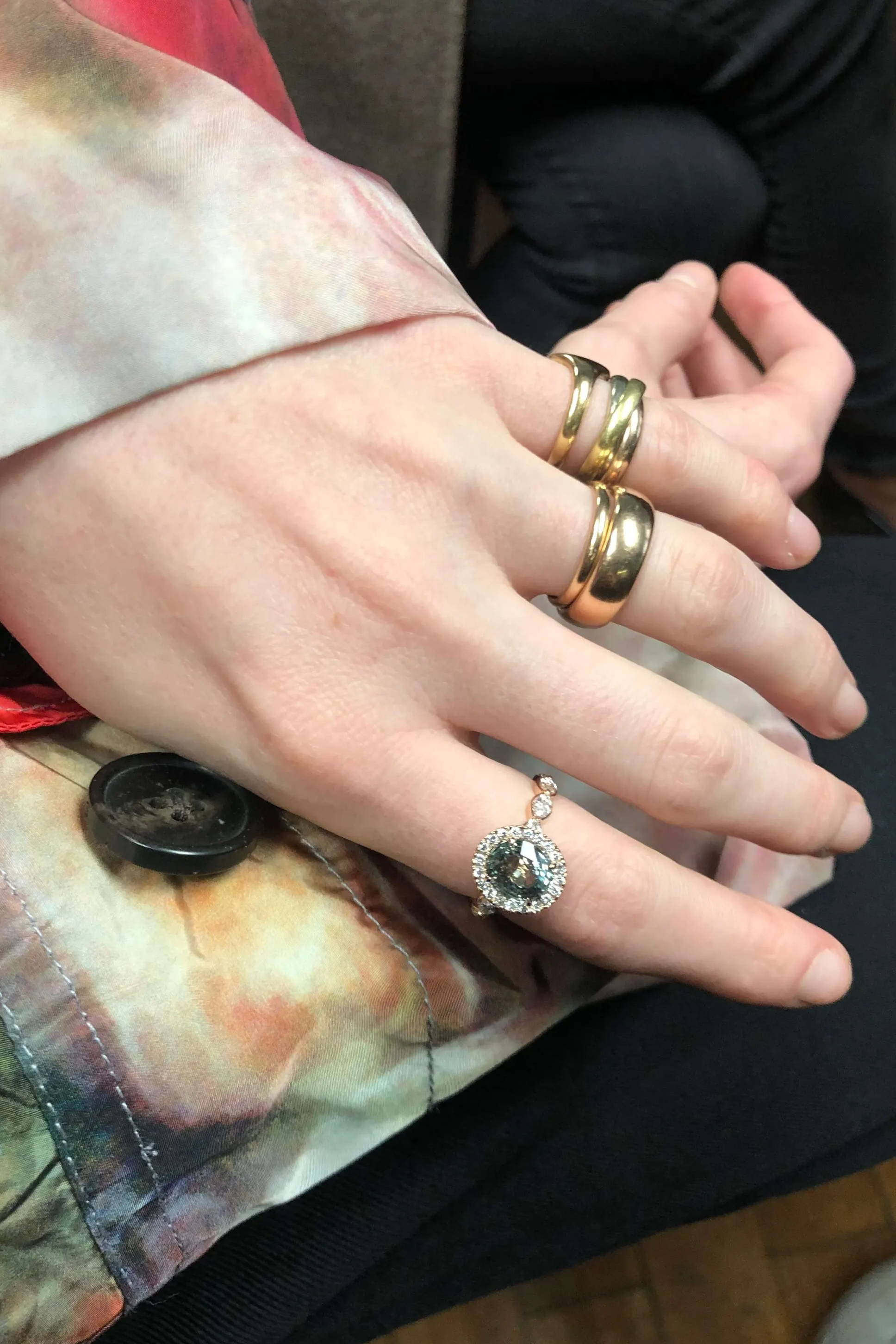 This green sapphire and diamond engagement ring pairs perfectly with solid gold bands.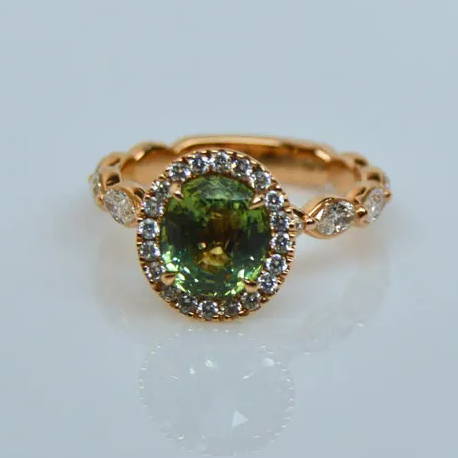 The green sapphire looks extra green in this lighting.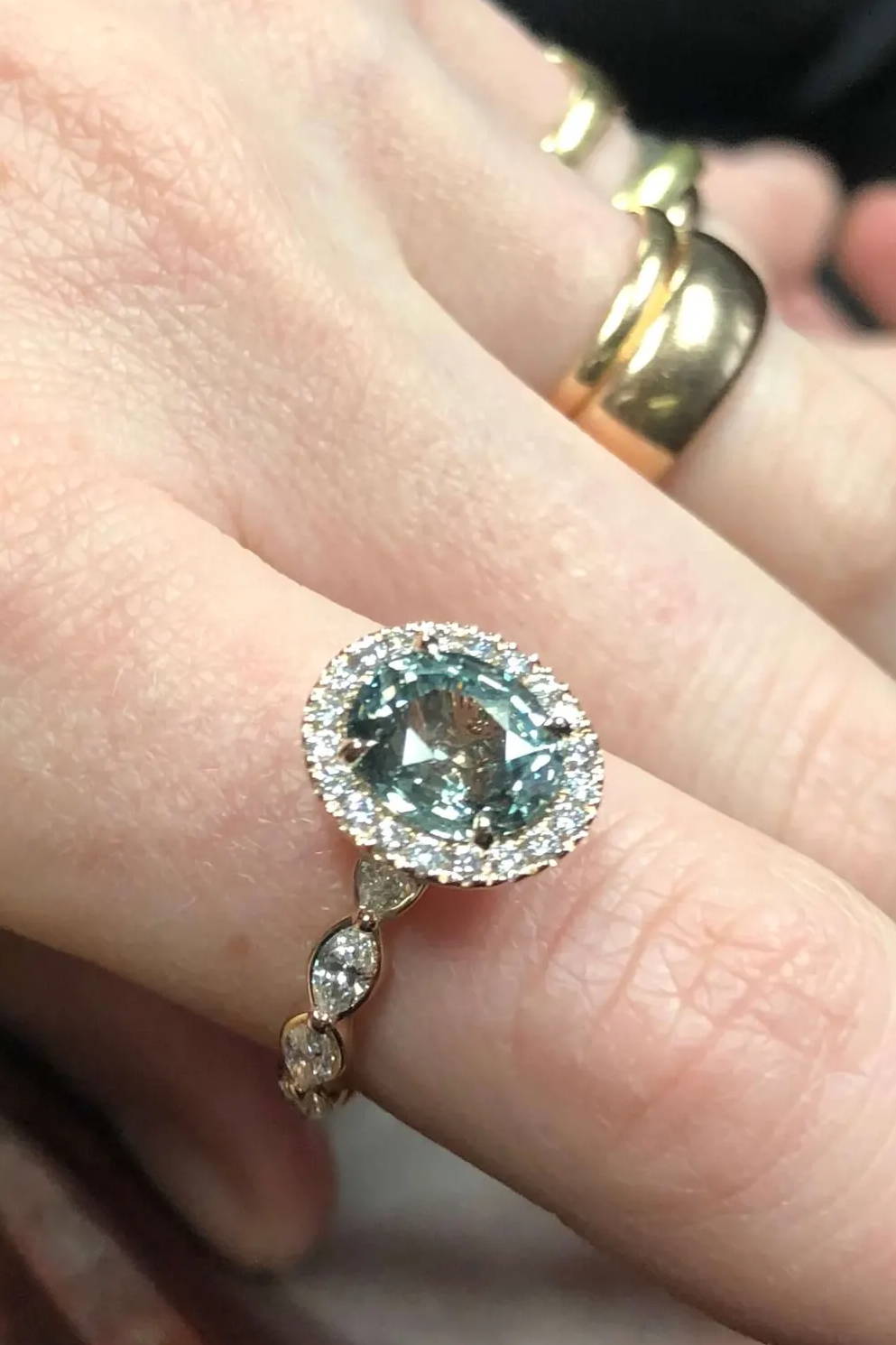 We love how blue the sapphire looks in different lighting.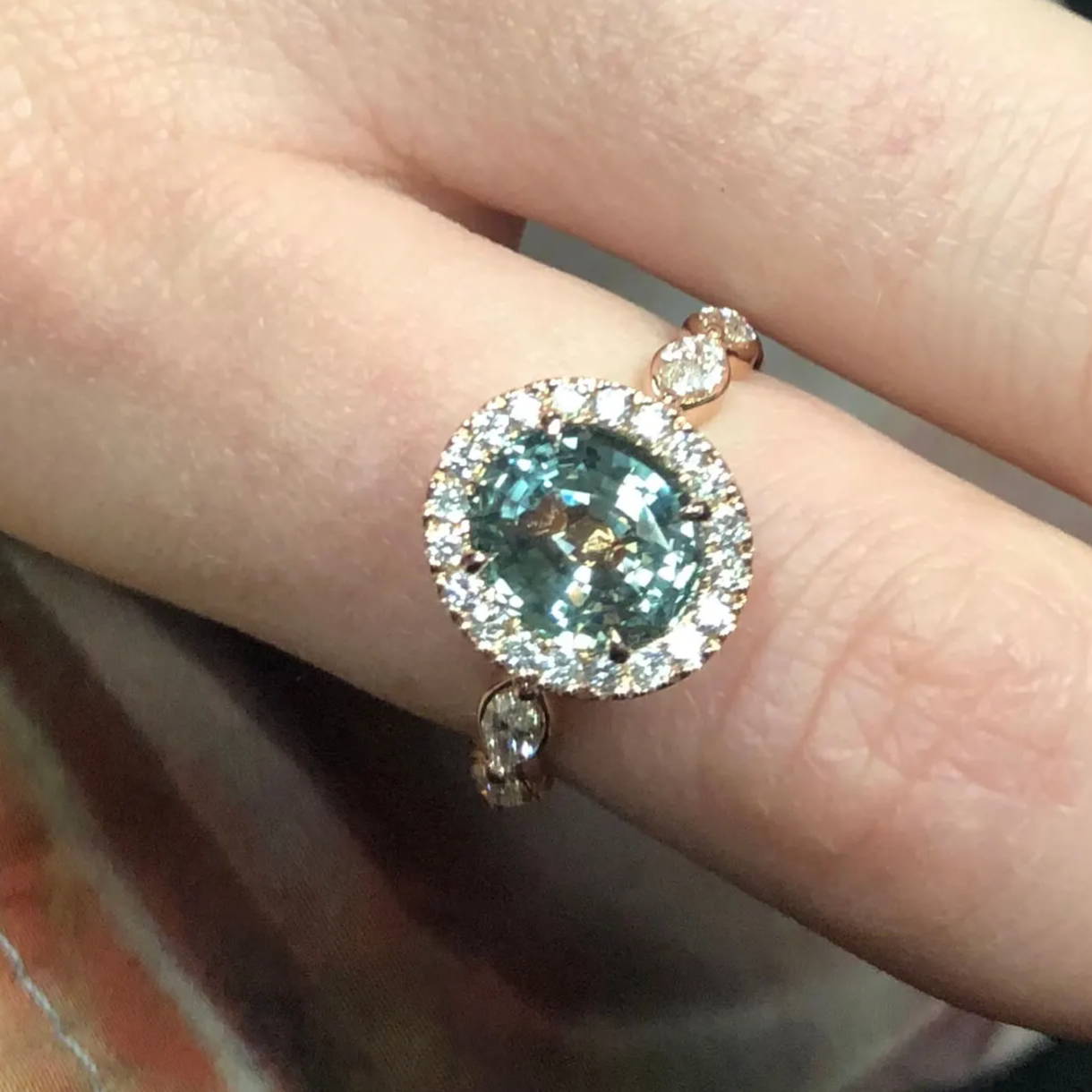 The pave details make the sapphire appear to sparkle even brighter.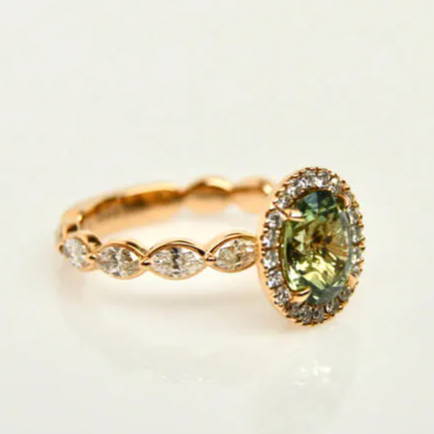 The marquise diamonds appear to float with a delicate gold wire wrapping around each one to join them together.
DISCOVER SOME OF OUR ENGAGEMENT RINGS THAT ARE AVAILABLE FOR COMMISSION

The below design options are all available for commission and can be customized to meet your needs and individual taste. Whether you're inspired to use a precious gemstone or diamond, or have a specific metal color in mind, we can design one of a kind options for you to select from. All of our engagement rings are made specifically for each client, so your ring will fit you perfectly and can be tailored in any way that you would like. All of these designs would make beautiful green diamond engagement rings.
Contact us to schedule a custom design session, for more information on any of the engagement rings shown here or to commission a green diamond engagement ring or green sapphire and diamond engagement ring.