Posted by Lindsey Scoggins Studio on Jan 14th 2022
CUSTOM DESIGN STORY: AN EMERALD, DIAMOND & GOLD EVIL EYE BRACELET

BY LINDSEY SCOGGINS STUDIO

THE STORY OF OUR LATEST ONE OF A KIND EVIL EYE BRACELET


We designed this one of a kind emerald and diamond 18k gold evil eye bracelet for a client who had a specific vision in mind for her piece. She wanted her evil eye bracelet to be set in gold and include pave diamonds with emerald eyes placed throughout the bangle. We originally talked about including four eyes across the bracelet but decided to add a fifth because four is an unlucky number in Chinese culture. In a serendipitous turn of events our client found out that her family of four would be growing to five after we decided to add the fifth eye to the bracelet, strengthening the symbolism of this piece to also signify each member of her family. This 18k gold evil eye bracelet uses bezel set emeralds and two and a half carats of diamonds to create a piece that is not only beautiful but is also a symbolic and special talisman. Read more and see this one of a kind 18k gold evil eye bracelet below.
This is the CAD design of the evil eye bracelet. It is precisely calibrated so that each diamond and emerald are perfectly placed.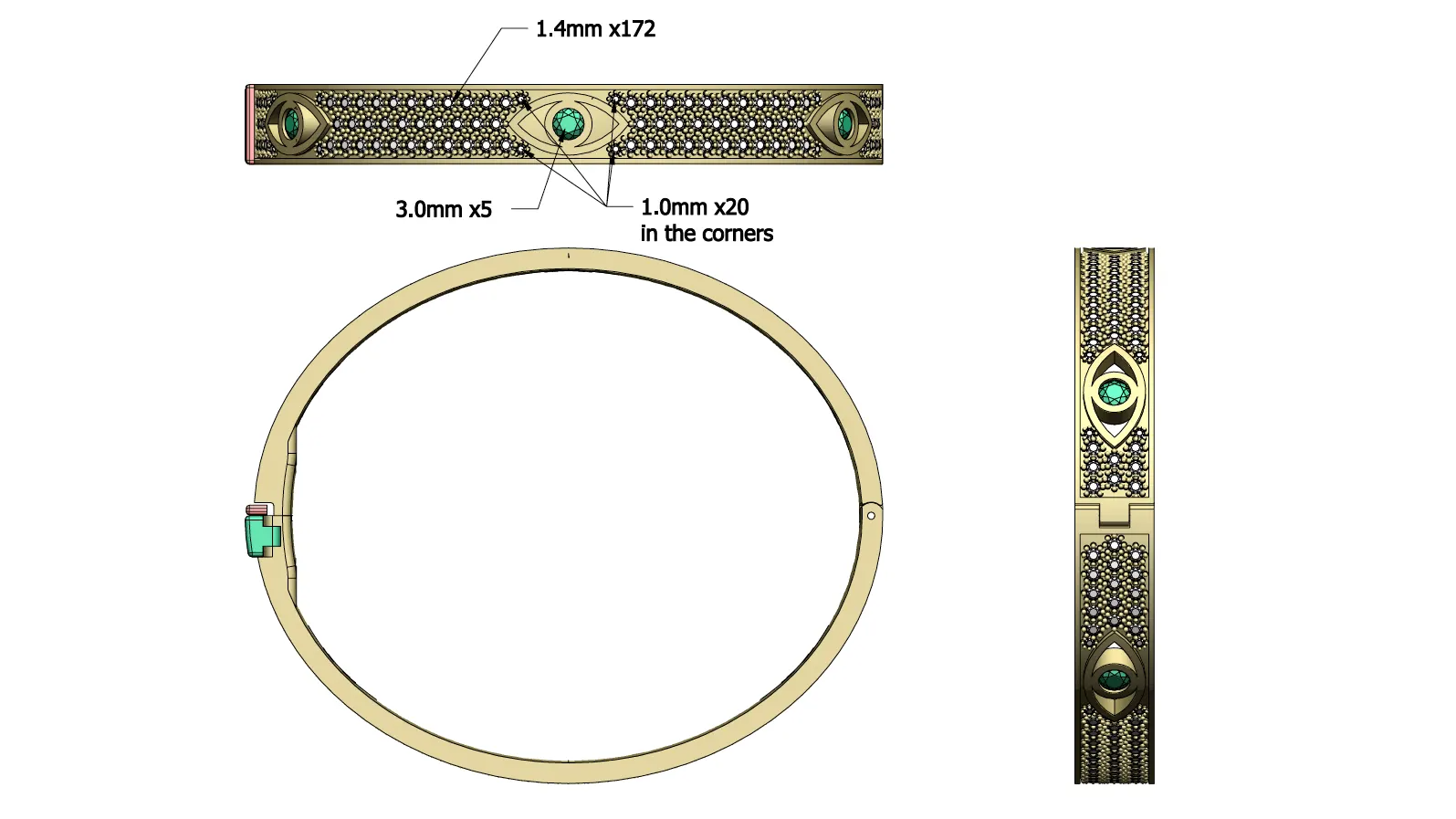 The final piece is a beautiful and sentimental 18k gold evil eye bracelet made of the finest materials. The numeric symbolism of the number five and the historical meaning of the evil eye make this bracelet much more than just a beautiful piece of jewelry but also an important and significant daily amulet and future heirloom. With 2.5 carats of prong set diamonds and five bezel set emeralds, this 18k gold evil eye bracelet is a stunning bespoke design.
DISCOVER MORE BRACELETS & BANGLES

Browse a few more of our bracelets and bangles that are available for commission. These styles all look great layered with our Oath cuffs, diamond tennis bracelets or chain link bracelets. These designs are also great starting points if you'd like to customize further or get an idea for a totally one of a kind design. All of these pieces can be made with any metal color of your choice and with any additional diamonds or gemstones. They can also be customized with unique details, engraving or anything else that you might have in mind. All of these designs would pair beautifully with this one of a kind 18k gold evil eye bracelet. Contact us to inquire about design possibilities or for more information.
Contact us to commission a custom designed emerald and diamond 18k gold evil eye bracelet of your own, for more information on any of the jewelry shown here or to chat about anything else.