Posted by Lindsey Scoggins Studio on Jul 20th 2021
CUSTOM DESIGN STORY: SAPPHIRE AND DIAMOND TOI ET MOI RING

BY LINDSEY SCOGGINS STUDIO

THE STORY OF ONE OF A ONE OF A KIND SAPPHIRE AND DIAMOND TOI ET MOI RING


This stunning sapphire and diamond toi et moi ring is a one of a kind piece that we made for a client who wanted to surprise his wife with a new ring for their tenth anniversary. They were renewing their vows in Vegas and he wanted to make the day even more special - this ring definitely made for a very memorable gift. The ring includes two perfectly matched cushion cut stones set into two pave diamond bands that are interconnected. To commemorate their tenth anniversary, we wanted to include an "X" detail somewhere in the design. On this ring, it fit perfectly into the back of the platinum band and is a nice hidden detail. Discover the full custom design story behind this beautiful sapphire and diamond toi et moi ring below.
ABOUT THIS SAPPHIRE AND DIAMOND TOI ET MOI

The initial design options included the cushion cut diamond and sapphire design that our client chose along with an asscher cut diamond and emerald option that we also loved. The cushion cut sapphire and diamond happened to be the exact same size with slightly different shaping but very similar measurements. The sapphire was slightly rounded on the corners, but as you can see these two stones are the perfect pair. The diamond is approximately 1.5 carats and the sapphire is 1.68 carats. Set in platinum, this ring is the ultimate tenth anniversary surprise. This ring is a modern yet classic toi et moi that we hope our client will cherish for generations to come. The stunning diamond and sapphire pair perfectly together just like the couple whose story this ring symbolizes.
This ring is statement making yet classic enough for everyday wear. We love the extra brilliance that the pave diamond band adds to the design, ensuring that the sapphire and diamond center stones are always in the spotlight.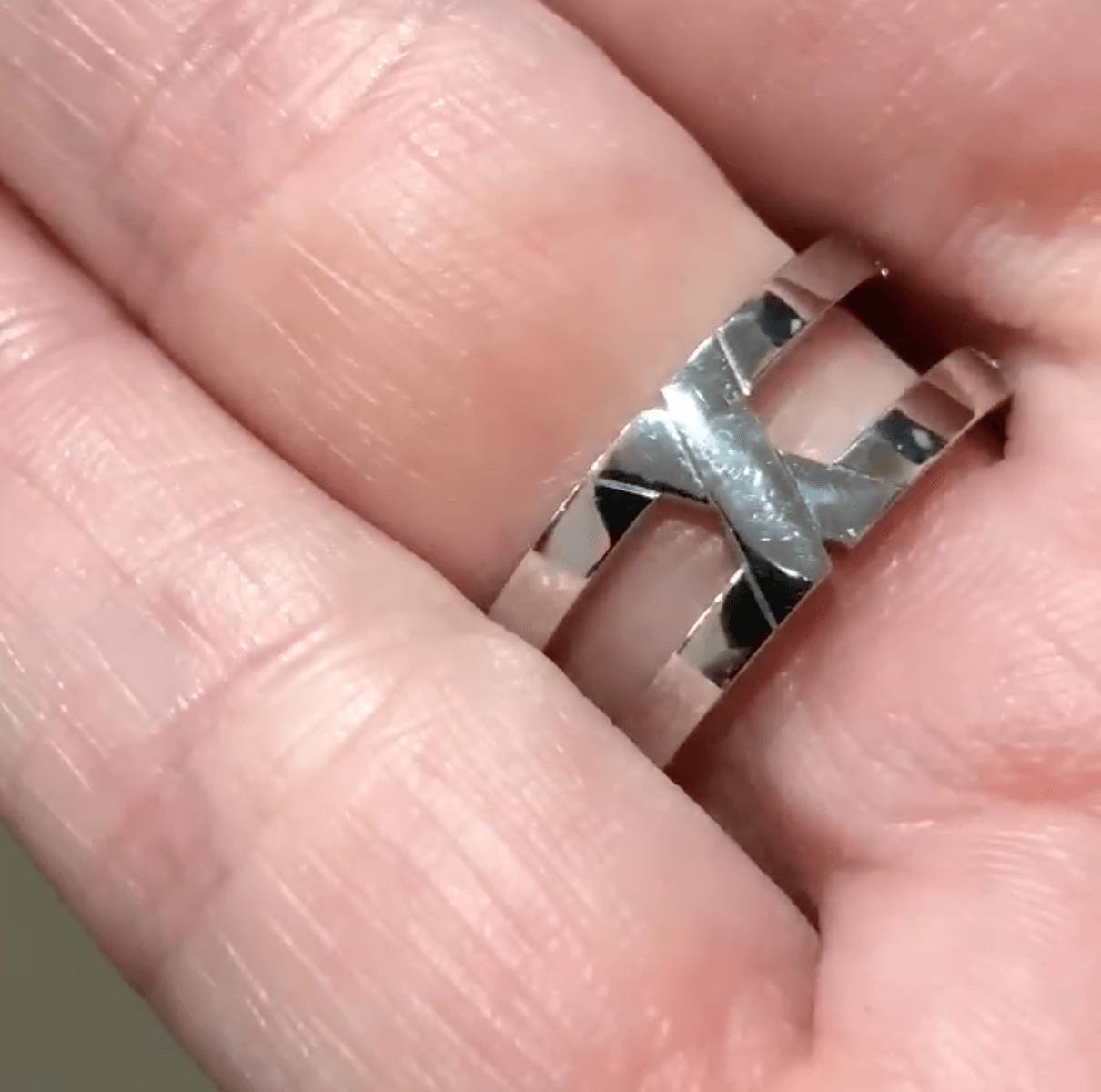 The "X" detailing on the back of the band symbolizes ten years. This is one of our signature design elements that we frequently incorporate into our designs. While subtle, it is special to know that there is more meaning to your ring than what meets the eye at first glance.

DISCOVER MORE TOI ET MOI RINGS THAT ARE AVAILABLE FOR COMMISSION

All of these toi et moi ring designs are available for commission with any gemstones, diamonds and metal color of your choice. We can also customize these if you are looking for something specific, or can design something entirely one of a kind that will be exclusively yours.
Contact us to work with us to commission a custom toi et moi ring or for more information on any of the designs shown here.