Posted by Lindsey Scoggins Studio on Jan 13th 2022
ALL YOU NEED TO KNOW ABOUT ETERNITY BANDS

DISCOVER DIFFERENT TYPES OF ETERNITY BANDS, SEE OUR TOP 17 DESIGNS AND LEARN ABOUT CHOOSING AN ETERNITY RING AND ETERNITY BAND WEDDING SETS.

BY LINDSEY SCOGGINS STUDIO


Finding the perfect eternity band can feel daunting. There are so many different types of eternity bands and it can be hard to tell which style will look best with your engagement ring or will fit your style most closely. We're sharing our top 17 designs to help you in your search. Whether you're looking for a large diamond band or a petite thin eternity band, we have countless different types of eternity bands for you to choose from. Shop our top 17 eternity bands below and contact us with any questions or for more information on any of the styles shown here.
Different Types of Eternity Bands
Different Types of Eternity Bands
There are so many different types of eternity bands to choose from. Whether you're looking for a classic round diamond eternity band or something more unique like our Continuum bands that twist together to form an infinite loop of diamonds and metal, there are so many types of eternity bands to match any type of style. Start by choosing the diamond shape, size and metal color and then compare options from there. We recommend considering if you plan on wearing your eternity band as part of a bridal set or as a stand alone ring. Explore a few of our different types of eternity bands below.
EMERALD CUT DIAMOND ETERNITY BANDS
ROUND DIAMOND ETERNITY BANDS
CONTINUUM COLLECTION PAVE ETERNITY BANDS
The eternity bands in our Continuum collection are uniquely designed to feature one or two rows of diamonds twisted to create four sides, wrapping around the finger in an endless orbit of diamonds. Each band is meticulously customized to fit perfectly and has to be recalibrated for each specific ring size. Available in one or two pave styles and with diamonds or colored gemstones of your choice.
STILL COLLECTION PAVE ETERNITY BANDS
A full circle shaped by the experiences of a lifetime creating an octagon as a symbol of renewal and reflection, the STILL collection offers bold and elegant diamond anniversary bands and pavé eternity bands that are made just for you. Choose from a single row rose gold eternity band or a platinum five row domed pave band for a bolder look.
THREE PHASES COLLECTION PAVE ETERNITY BANDS
The Three Phases collection was designed to reflect the three phases of love: curiosity, chemistry and commitment. The beveled detail gives each band a modern edge. Choose the classic look of our triple row pave band or our triple row mega band for an amplified row of diamonds framed by pave diamond rows.
Eternity Band Do's and Don'ts
Eternity Band Do's and Don'ts
1 - Learn to use your middle knuckles when you can. This avoids putting pressure on the diamonds and scratching and warping the metal. This will become second nature to you after a while. Instead of making a fist to grip something think about keeping some air between your fingers and palm.
2 - Take off your rings when you are working with your hands. This includes cooking, cleaning and bathing to reduce soap scum and grime building up on your diamonds.
3 - No luggage. Put that heavy bag in the trunk and that carry-on in the overhead bin with your other hand (or someone else's hands).
4 - Vacation: Be cautious while traveling, not just because of security, but also because sand, sunscreen and diamonds don't mix. You also definitely don't want to lose an important piece in the water.
5- Unbox carefully. If you tend to get physical with Amazon boxes, just know those daily deliveries can be hard on your ring.
6 - Door knobs! These are sneaky but can damage the metal on your ring with frequent contact and pressure. Precious metals are malleable and can begin to warp with repeated actions.
7 - Be careful while wearing other rings. Our eternity bands are designed specifically to protect the diamonds if you choose to stack multiples, but others leave the diamonds exposed on the sides. Diamonds scratch diamonds! Consider a thin spacer band if you plan to stack your rings.
8 - Furniture moving: Do we really need to explain this? Yes. Take off your rings.
9 - Clapping: Rings are not tambourines. Nicole Kidman can show you how.
10 - Wear and Care: Remember your fine jewelry is like any luxury item - made to be worn frequently and for a long time, but not without some TLC and occasional maintenance.
SEE A FEW MORE ETERNITY BANDS IN ACTION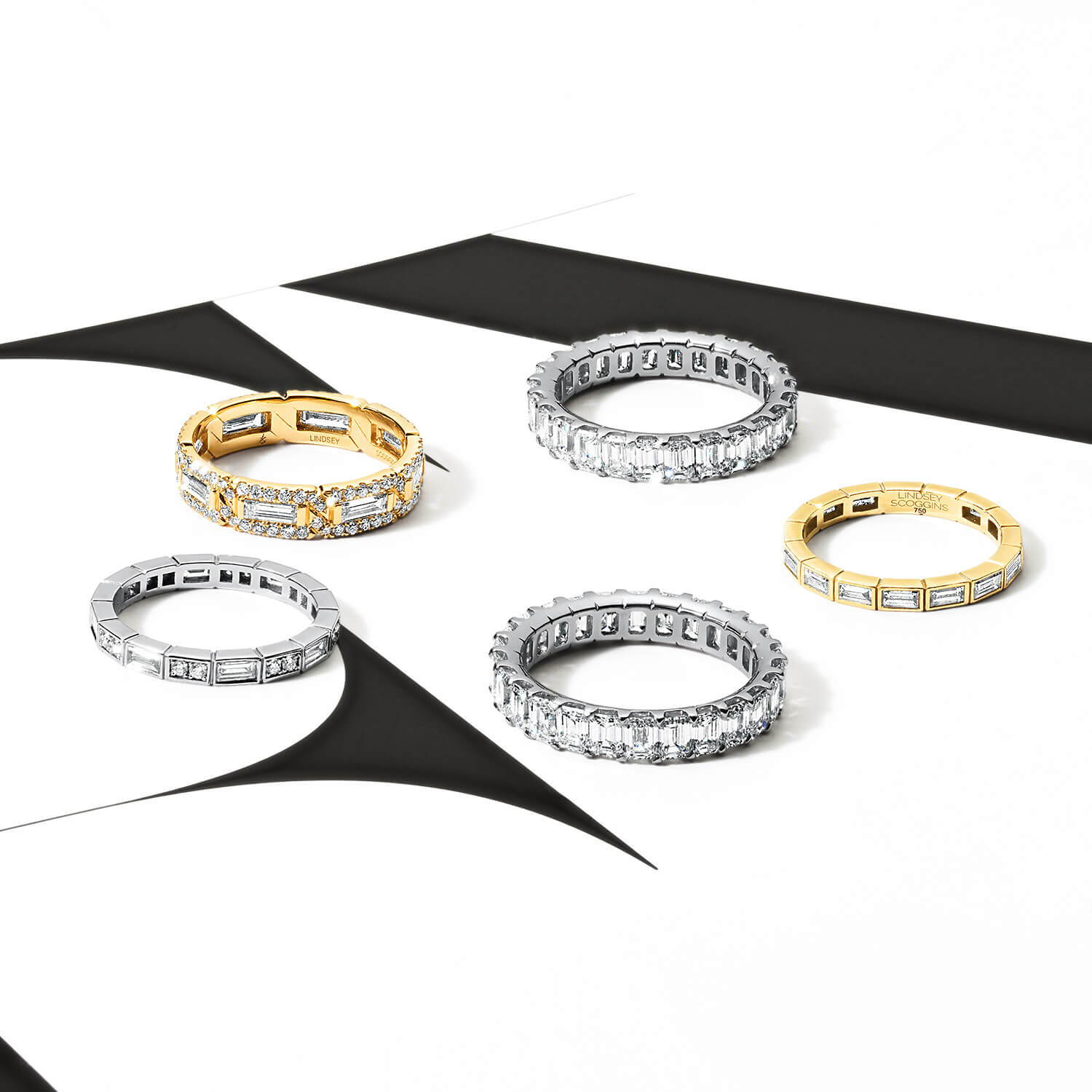 DISCOVER MORE WEDDING AND ETERNITY BANDS TO SHOP
Visit our Engagement Ring Studio for more...
Contact us to inquire about any of the eternity bands and wedding bands shown here, with questions about different types of eternity rings, choosing an eternity ring or to begin the custom design process.