Posted by Meredith Jayme on Apr 11th 2022
JEWELRY BOX: LESLIE MOORE

LESLIE MOORE BUYS JEWELRY INTENTIONALLY - NOT JUST BECAUSE IT'S COOL.

Longtime client, Leslie Moore, values pieces with an origin story and enjoys the process of creating something that is meaningful and tells a story. Her jewelry box includes tanzanite earrings and a ring from her trips to Tanzania, a green tourmaline engagement ring that replaced her original that she lost years ago, and unique gemstone and diamond earrings that we made with a selection of her interited stones. She also has some very exciting pieces in the works at the moment (we chatted with her after a custom design session at our Austin, Texas residency) including a modified version of our Endless Tower necklace using an heirloom aquamarine, a Kintsugi style turquoise bracelet and a multi-strand pearl bracelet and earrings using pearls that her father hand-selected from a pearl farm in China. Get to know Leslie and take a peek into her jewelry box below.

WHAT DO YOU LOVE ABOUT JEWELRY?
I like moveable pieces - I'm speaking specifically about earrings - that highlight your expressions because they're moving with you. I love that it's something that comes to life as you're wearing it.
HOW WOULD YOU DESCRIBE YOUR STYLE?
I think it's modern and unique. I like to have stuff that nobody else has and I like my jewelry to be meaningful. So that's one of the reasons I really like this (my green tourmaline ring) is that we got something that actually meant something to both me and my husband. Or I like jewelry that's from a place or something like that.
WHICH PIECE OR PIECES DO YOU WEAR MOST REGULARLY?
I always wear this (my green tourmaline ring) and my wedding band. And actually, the second time I've ever had it off in my life was when I sent it to get this band to match (Leslie's green tourmaline ring has a band that matches her wedding band). So I think I wrote that to you, Lindsey. She sent a pack for me to mail it in and it was my intention to not take the ring off until I got to the store and I almost sealed it up without the ring and sent an empty envelope.
LS:
I was so surprised when you shipped me that piece. You just put it loose in the envelope - it scared me.
LM:
But it's one of those things we're back and forth on because number one, this is just a basic band but it's so special and I've never really taken it off. So this is the piece I wear all of the time. I go through phases a lot where I wear different pieces. My tanzanites are very important to me and I wear them a lot - the earrings and the ring. Those are from two different trips when we went to Tanzania. So on one I got the ring and on one, I got the earrings, just the stones.
WHERE DO YOU FIND THE STONES WHEN YOU'RE TRAVELING?
It really varies. This was when we were traveling and the hotel had a gemologist on the roof one night…
A few pieces from Leslie's collection that are going to have a new life with updated designs very soon. Leslie came to us with the idea of repairing her turquoise bracelet with the ancient Kintsugi technique.
DO YOU HAVE A FAVORITE PIECE AND WHY?
LM: This (the green tourmaline ring). And I don't think we talked about this but this stuff isn't as meaningful to my husband. He's like, sure, get whatever you want, but I want us to want it. So it took me like a decade to get him to get to the "us" part.
MJ:
So he was involved in your latest ring?
LM:
Yes, he and I had a conversation with Lindsey about what we did and what we liked and that kind of stuff. This was nine years after I lost my original engagement ring somewhere in my house. I have no idea where - I think it went down the drain.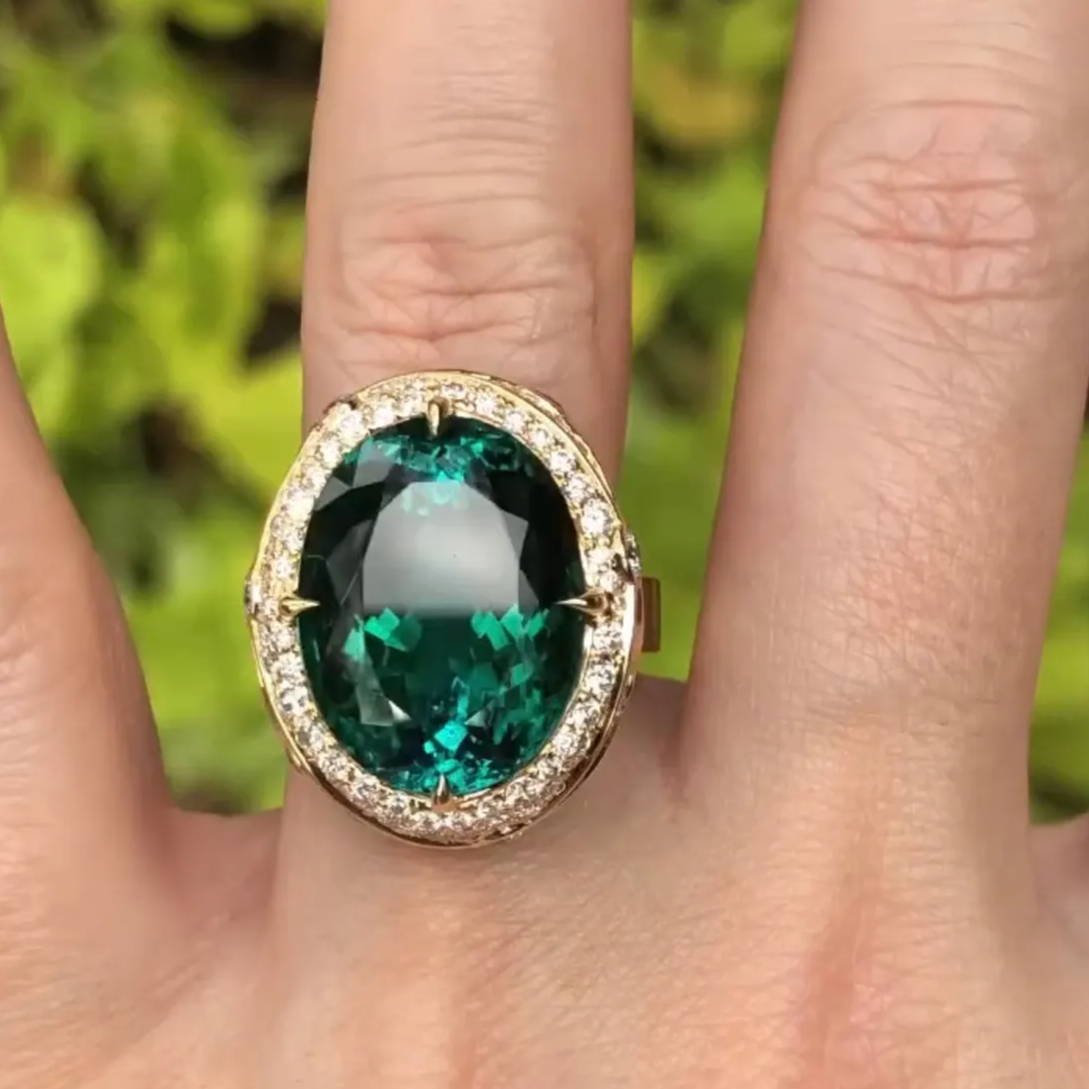 Leslie's stunning green tourmaline ring. We call this the Flight Path ring. Read the custom design story here.
DO YOU HAVE ANY HEIRLOOMS THAT YOU INHERITED FROM FAMILY?
I do. I have the aquamarine that was my Great Aunt's. She lived in Bolivia and got it when she lived there. And then I have the pearls that my Dad got in China.
MJ:
Those are so special. I think that's really a very rare thing - that he selected and strung them himself on his trips to Asia.
LM:
That's probably it… It's funny because I don't think about my family as having a lot of jewelry or heirloom jewelry and that kind of thing.
MJ: You're definitely creating new heirlooms - lots is in the works here.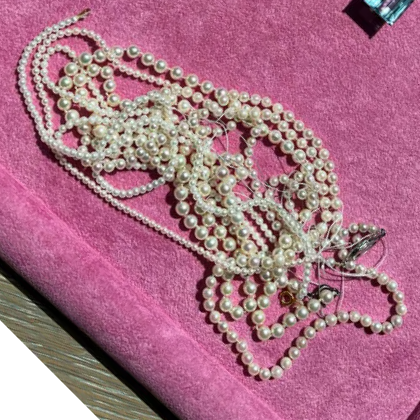 Leslie's inherited aquamarine pendant from her Great Aunt and some of her pearl strands from her father.
HOW WOULD YOU DESCRIBE YOUR DECISION MAKING PROCESS WHEN PURCHASING JEWELRY?
I usually have a jumping off point like a stone that I want to have set or something that I want to have done. I did that actually with my earrings - they were from heirloom pieces too. Lindsey made those a long time ago for me. They're a bunch of different colors - after I said that I don't like all sorts of colorful things - I have those. They're beautiful. They're different. They're pink, green, purple and orange.
So I always have a jumping off point of something that I would like to have made and then I like to work with Lindsey to make it look modern and special.
LS:
We did a video chat before the pandemic to design those earrings. I think we were in our closets. It was before the pandemic - we didn't know how to do it then.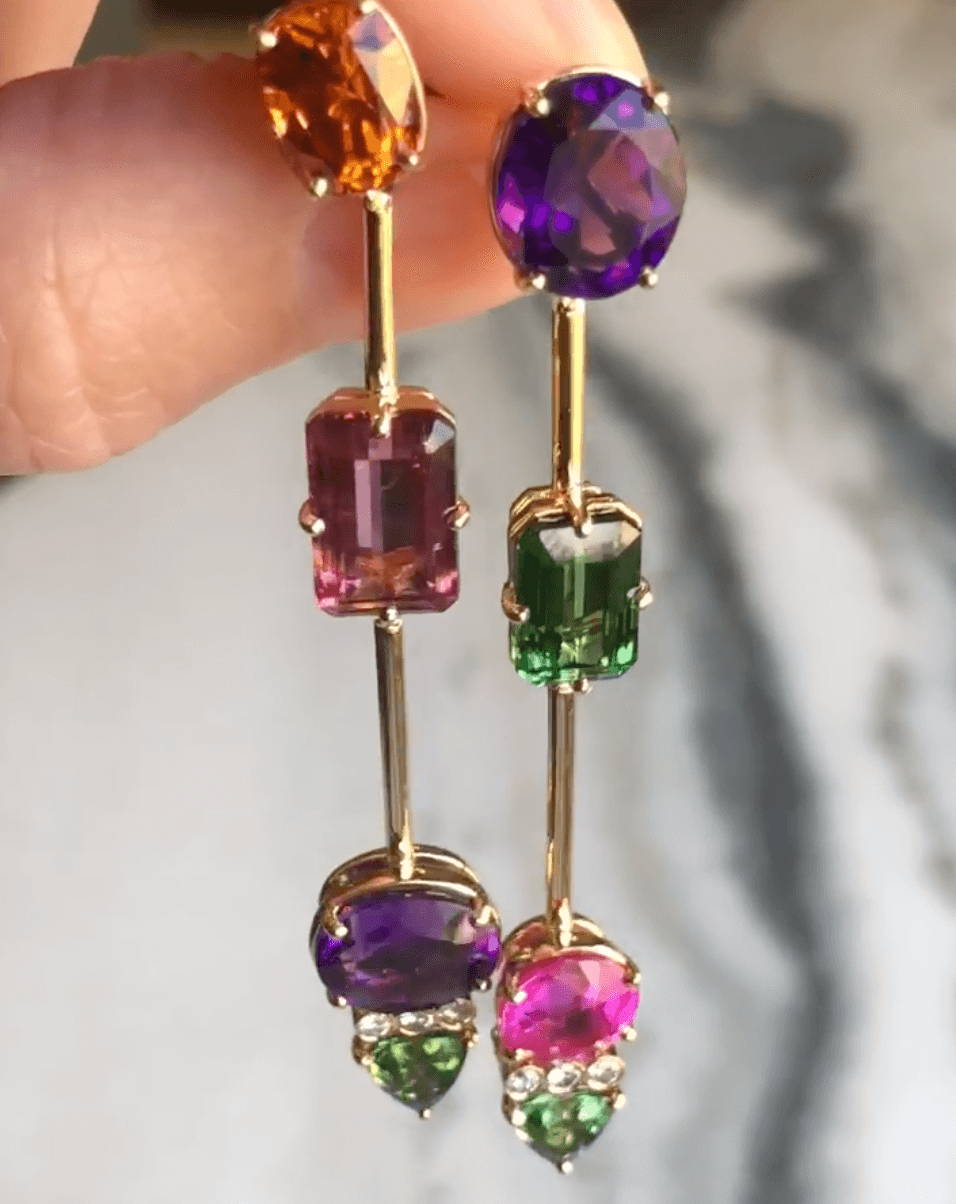 Leslie's custom gemstone earrings.
WHAT DO YOU PLAN TO INVEST IN NEXT?
We have an incredible necklace in the works with your Aquamarine.
LM:
Yes. And I'm really looking forward to that pearl bracelet that just kind of popped out of me pulling those pearls out of the closet this morning. I think that will be fun. And we're also doing earrings, so pearl drops with maybe an orange gemstone on top… those are still in the works.
The original Endless Tower necklace design that is going to be modified to include multi colored gemstones and Leslie's gorgeous aquamarine. Read the custom designn story of this piece here.
IS THERE ANYTHING ELSE YOU'D LIKE TO SHARE?
I guess I'll share this. This is something that I got from my mother in law. My grandmother in law and my mother in law, were big into jewelry and I love their big pieces. They see them as investment pieces to pass down and that kind of thing - and so that's a new world to me and I kind of like it.
MJ:
I think that's how jewelry should be - thinking about it as a forever item.
LM:
Yes, and changing it up which I guess my family actually has always done - the stones at the top of the aquamarine are some random things from different rings throughout time. So I think that is something that's interesting.
And here are the gemstone earring designs. I asked all my friends which one they like and Lindsey wrote back "democracy in action".
So these were the amethysts and the tourmalines with these little round pieces - my mom had a pair of earrings that looked like that and then that amethyst was on the top of them. Actually, I think the tourmalines were the studs... I took those pieces and then I added in a stone that was my grandfather's. They thought it was a pink tourmaline - but it wasn't - and then that's the stone I had in my mind so that's the one we found.
Our interview concluded by chatting a bit more about yellow diamonds, finding gemstones on Leslie's trips around the world and some of the design details in her in-progress pieces. Stay tuned for the custom design stories! These are going to be some incredible additions to Leslie's already incredible jewelry box.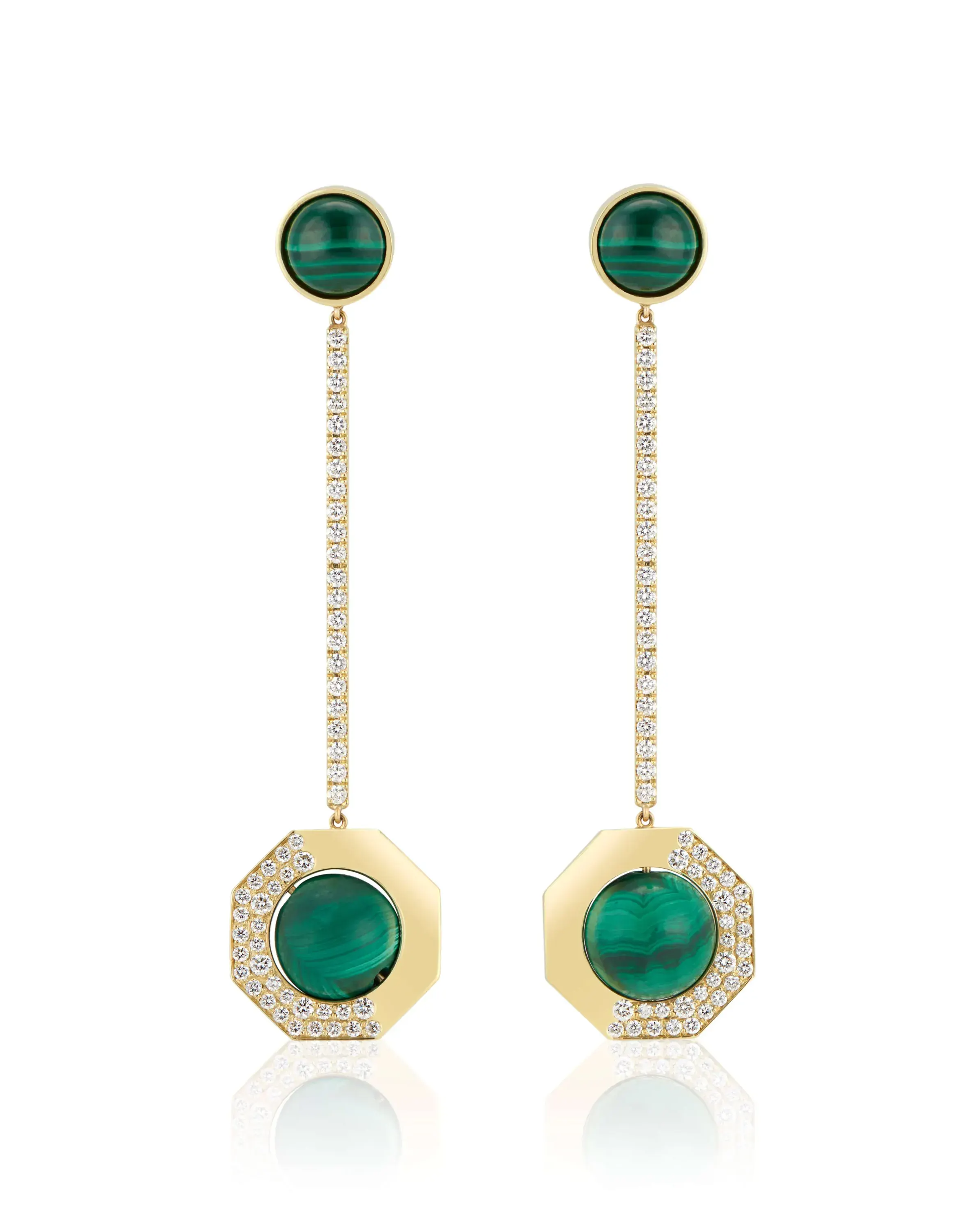 The most recent addition to Leslie's jewelry collection - our malachite and diamond drop earrings.
BROWSE SOME DESIGNS FOR COMMISSION THAT WE THINK WOULD LOOK GREAT IN LESLIE'S JEWELRY COLLECTION
Contact us to inquire about any of the pieces shown here or to commission something new for your jewelry box.